As the fitness industry keeps growing, it's becoming more challenging to stand out. Long-term, we know that the member experience is what differentiates one fitness business from another: The service and experience you provide members needs to be exceptional so that they love being a member of your studio.
But before a prospective member has ever even heard of you, where does it all begin?
Whether it's an advert they see or a recommendation from a friend, the name of your fitness business is usually the first thing that someone will encounter. Tying in with your broader brand identity, it's the first thing that gives people a sense of who you are and what you do.
Coming up with gym name ideas can be challenging. In this article, we'll look at the steps you need to take to come up with a gym name that represents your brand effectively and highlight three examples to inspire you. First, we'll discuss why it's so important. Skip ahead to:
What's in a Name?
A strong name sums up everything about your business. It can convey your core values, tone of voice, personality, and, ultimately, the vision of your fitness business.
Business names tell people what you do, why you do it, and who you do it for.
In the fitness industry, you need to be clear and grab attention from the get-go, so people know what to expect from you. The name of your fitness business should reflect your unique take on the industry.
On a collective level, a name can become a cultural phenomenon. Think about catchy gym names like Barry's Bootcamp; everyone knows the name, even if they've never stepped foot in a class.
Then there's Google: the name of the search engine is so popular that you don't search for something online – you Google it.
3 Reasons Your Gym Name Matters
The first step to getting your brand out there is to create a name that sticks.
It Influences Perception
The name of your gym matters a lot because it can affect how your customers will view your brand as a whole. There is a strong connection between the brand and the name, marketing materials, website, logo, and public perception.
In this way, the name of your fitness business becomes the foundation for your branding strategy.
It Attracts Attention
One of the ways to attract attention as a gym is through your name. Your name will be on all your marketing materials, website, ads, and so on.
The right business names attract the right customers. Your gym name has the potential to engage potential members and set you apart from competitors.
It Helps People Remember Your Gym
The name of your gym is the first thing people will see, and that moment sets a precedent for the whole relationship between a brand and a customer.
Make your first impression a lasting one – your name is what will stick with potential customers after they've seen your ad and heard your sales pitch.
Examples of Great Gym Names
Like every gym member is different, every gym is unique. Various fitness businesses offer different services, class structures, and facilities, and they target different audiences. The three examples below convey their unique vision exceptionally well, in different ways, and it all starts with their name. 
ConBody
Website: https://conbody.com/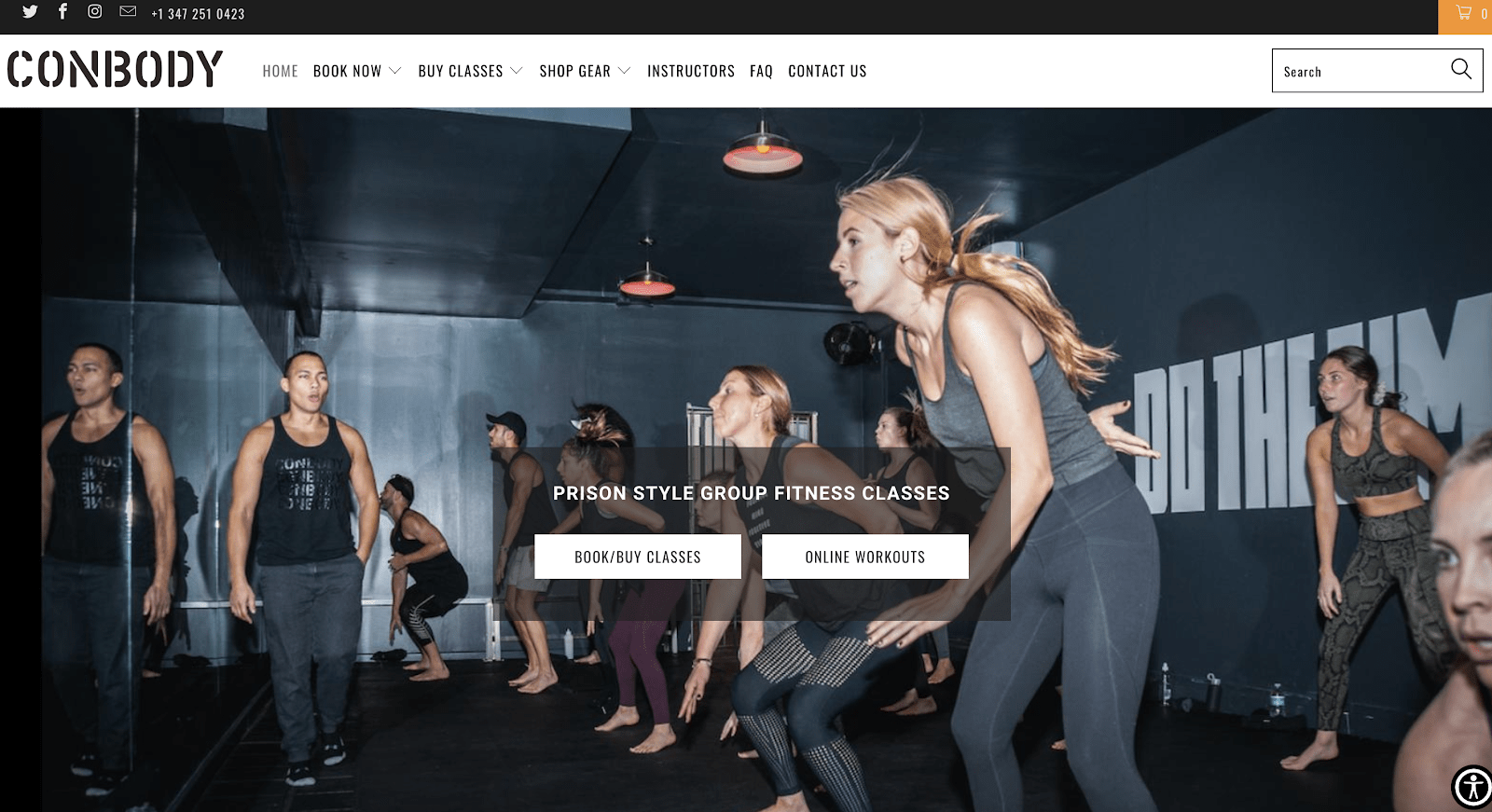 True to its name, ConBody is a workout program that was created by Coss Marte while he was serving time in prison. The classes are all based on a workout that Coss himself could complete within the confines of his 9'x 6' cell. ConBody illustrates that a name is a perfect chance for you to tell your story.
Girls Just Wanna Box
Website: https://girlsjustwannabox.com/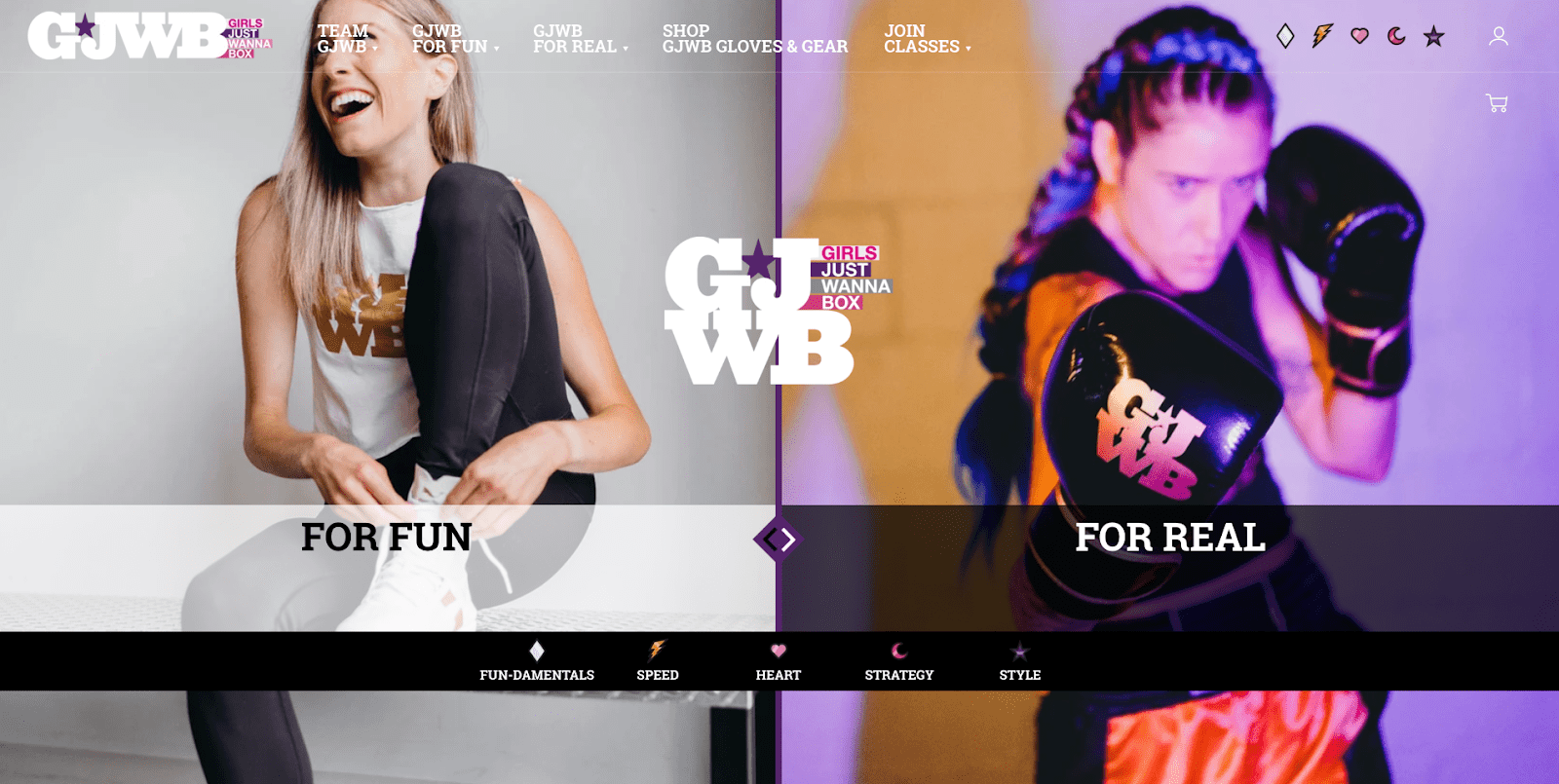 During her time training to box competitively, Kristina Ejem saw first-hand how much of a disadvantage she was at by being a female in boxing. Due to limited opportunities to spar with women and compete, she identified a niche in the market. From this, Girls Just Wanna Box was born. A concept designed to bring real boxing training specifically to women, this brand highlights the power of targeting your audience directly with your gym name.
7 Steps to Creating a Strong Gym Name
Now that we have identified why a great gym name is essential, we will go through the steps for generating gym name ideas and landing on the best choice for your fitness business.
Identify Your Audience
When it comes to choosing business names, you need to have a target audience in mind: to send out the right message, you need to know who you want on the receiving end.
Start by considering and researching general demographics like age, gender, income, and education. For more inspiration, check out this guide for help with creating a gym persona.
Creating personas for your business is helpful, as you'll be able to develop a foundation to lay your marketing ideas upon. Keep in mind that a persona is just a general concept to go off; in the long-run, you'll need to go deeper and personalize the member experience to foster loyalty.
The Customer
Engagement Playbook
for Your Fitness
Business
Discover more
Check out the Competition
Once you have your target audience in mind, check out local competitors who are trying to appeal to the same demographic to see how their branding and tone comes across. They need to have a similar target audience to you; if you're a boutique studio, you'd be wasting your time comparing yourself to health clubs or a large fitness center.
Use this as an opportunity for inspiration and see how their names and brands tie together. You'll be able to ensure you don't choose a name that's too similar – you don't want prospective customers getting mixed up and ending up at their gym instead of yours!
Define Your Archetype
In a nutshell, archetypes are universally familiar situations, elements, or characters no matter the time or place. They represent long-lasting truths, and these models of thinking are a part of brand psychology.
There are several types of brand archetypes, and finding the right one for your gym will make it easier to come up with name ideas.
Take a look at some well-established fitness brands, like these three examples who are killing it on social media, and try to determine their archetype. You can then apply this mindset to create your own and add it to your fitness branding framework.
Use Online Tools to Expand Your Gym Name Ideas
A quick search for 'business name generator' will pull up plenty of options online. Although they might not give you the most creative gym names, they can certainly help with inspiration.
When you're exhausted from brainstorming and need to add a few more ideas to your list, this is a good way to bulk it out.
What's great about these tools is that they are entirely free to use by anyone. When you're coming up with your initial list of ideas, aim to have a selection of around ten to provide a good base.
Start Simple
It's a good idea to start with straightforward gym name ideas because when it comes to business names, simple is memorable.
It's all about coming up with something catchy that encapsulates what your fitness business is about. Check out the three simple and effective fitness business names below:
Barry's Bootcamp
SoulCycle
F45 Training
All three of these boutique fitness brands convey what type of workout they offer: Barry's is a Bootcamp, SoulCycle is cycling, and F45 Training will offer 45-minutes of training.
If your gym business offers a variety of workout options, you don't need to be this specific, but think in terms of simple phrases that convey health and fitness. General examples include 'Next Level,' 'Gain Train,' and 'Fit Lift'.
Starting with simple ideas means you have a base to build on when it comes to incorporating your wider business vision.
Test Your Gym Name Ideas
It can be challenging to come up with great ideas on your own, and a fresh perspective can help. Other people can inspire you and help you think outside the box and settle on the best option, especially if you're in a cycle of changing your mind. Curate a shortlist of your favorite ideas and then ask for feedback.
From your experience in the fitness industry, you'll likely have made many fit pro connections along the way, so start with them to help you narrow down your options.
If you want to collect feedback from more people than those in your immediate social circle, then consider surveys and focus groups. You can use a tool like SurveyMonkey to send your ideas, or you can run a focus group where you bounce your ideas off of a small group of people.
You'll want to get feedback from people who would fit into your target audience. So, even if it means standing out in the street and flagging people down – you need to find them! Consider prompting people to answer the following questions:
Is this a memorable name for a gym? If so, why?
In a few words, what does this name make you think of?
What kind of fitness would you expect from a gym with this name?
Check if The Name and Domain Are Free
Once you've decided on your name, make sure to check if the name is free. Other businesses may already be using it!
You don't want to face lawsuits down the line or when you build up your gym.
As far as the domain name goes, it needs to be like your business name or at least its initials. 69% of people search for a local business online at least once a month, and it's the first place your potential members will look for you when they hear about your gym.
Search online for web hosting companies and check the availability of your domain name, or use an aggregator tool like Name Cheap.
Securing your domain name is one thing, but having a great gym website is a whole different ball game. After your name, your website is likely one of your first customer touchpoints, so check out these 18 effective gym website ideas if you need some inspiration.
In Summary
Coming up with gym name ideas for your business relies on a mix of research, knowing your demographics, and testing them out.
When you've landed on your best option at the end of this process, finally, it's essential that you like the name. You're the one who needs to stand by it, so when you make up your mind, you need to feel proud to do so.
The Customer
Engagement Playbook
for Your Fitness
Business
Customer engagement is the way in which a brand
connects with its customers on a deeper level than a
simple business and consumer relationship.
Discover more