Transform Your Business. A Digital Platform to Drive Your Growth.
Acclerate your global expansion plans and
offer a next-level experience to your members.
Request demo
We're helping fitness franchises scale faster across 60+ countries and come back 50% stronger
after COVID-19.
Expand Globally, Take Payments Everywhere
We're helping franchises take payments in places where they never could before. Enter growing markets quickly and ensure you can take payments on a single platform.
Glofox has coverage of 100 countries and counting, so you have the ability to start a studio and take payments anywhere in the world. Our payment gateway has been built to scale and seamlessly integrates with additional providers as required.
Our scale across thousands of independent and franchise locations means we have negotiated preferential rates for Global payments. Our platform gives you complete transparency into fees, control over payouts to your network, and we're beating our competitors failed payment rates by up to 50% with the added benefits of a streamlined integration, simple fee structures, and no country-specific regulatory processes to keep on top of.
> $300M Processed Annually
Maintain Control With Streamlined Enterprise
Reporting
The Glofox platform provides you with a 360 degree view of performance across all your locations from one simple and easy to use dashboard.
With insights into sales, revenue, bookings, and activity across your entire network you can focus on the numbers that really matter and take action and provides you with the insight requited you to empower individual locations.
Generate your own reports at every tier – HQ, master, franchisee – or use our in-built reports that benchmark performance across the fitness industry. Harness these reports to ensure you keep a current and watchful eye on your growing network and the industry to measure compliance, consistency, and ensure long term success.
Increase Customer Value With Engaging
Member Experiences
We help the world's biggest fitness brands deliver exceptional member experiences that
maximize conversions and lifetime value.
Deliver an on-brand Mobile Experience to Keep Members Engaged
Provide a consistent member experience and make it easy for your members to see your schedule, consume your content, and book into their favorite classes - either onsite or online to keep your members engaged and consistently deliver value to your members.
Deliver a Seamless Digital Experience to Your Members
Deliver live online workouts to new and existing members. Keep your community engaged and support customers so they can exercise, socialize, and stay healthy.
Add Value to Memberships With Exclusive On-Demand Content
Give your customers the convenience of pre-recorded workout videos, nutrition, and wellness tips. Build a library of ready-to-consume content and control who gets access and when.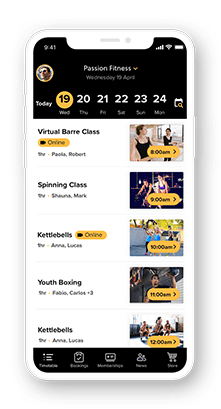 Build and Nurture Relationships with Members at Every Stage of their Journey
Provide your members with a personalized experience, promote loyalty, and keep your members coming back. Glofox helps you understand the data, highlighting the members who may require additional attention so that you can ensure your staff delivers a first-class member experience to everyone at your studio.
Deliver Communications to Members Across Multiple Platforms
Offer a seamless user experience between channels that's consistent across all platforms using Glofox Member App, SMS Messaging and Push Notifications. Combine these tools to create a smooth communication workflow to boost your engagement rate and customer retention rate compared to single-channel methods.
Maximize Retention Through Meaningful Member Engagement
Target your members with marketing, personalized content, and services using Glofox member filters Reach the right person with the right message and optimize your messaging strategy by filtering your audience based on their booking habits, attendance, membership or the number of credits they have remaining.
The World's Biggest Brands Love Us Because
Their Members Love Them
Glofox provides me with an entire lifecycle of each client, tracked very cleanly and simply.
It's easy to get to, easy to figure out and easy to use.
Scott Kinworthy
F45 Studio Owner and Network President
Once we started using Glofox, our admin time shot down by 95% immediately. It boosted my productivity and gave me the physical and mental availability to be in the studio and on the floor where I could really make a difference.
Stephen Weinmann
Founder BikeRowSki
The platform's capabilities around franchise management and international business operations are particularly powerful for us as we continue to build our network of franchise partners with several planned openings in the coming months.
Matteo Cerruti
Chief Experience Officer at TRIB3
We're excited about modernizing our entire technology stack, delivering the best experience to our members and to our staff worldwide, and maintaining visibility and control as we scale the business.
Ty Menzies
CEO, Lift Brands
Give Your Franchisees the Tools and Best
Practice They Need to Succeed
Spin Up New Locations and Migrate Data with Ease
We work through the complexities of data migrations with you and create a plan that work for everyone. Configure your account so that every new location recieves the same experience.
Free Your Staff from Admin and Equip Your Team to Sell More Memberships
Keep your staff on the floor and engaged with your members. Our staff mobile is app is fast, functional, and easy to use. You can manage multiple venues on-the-go and ensure your staff keep on top of everything using the app to sell memberships, manage their schedule, take bookings and check members in while tracking client activities in real-time.
Quickly Onboard Your Team and Train New Staff
We have developed a world leading user onboarding program to make sure that your staff are prepared, trained, and ready to start using our software.
Convert More Visitors to Trials with a Website Optimized for Lead Generation
Attract leads and convert them to members quickly and efficiently using the Glofox Lead Capture form which sits directly on your website. Leverage your online workouts to generate more leads and ensure each lead creates an account, signs up for your introductory offer and books their first session in seconds.
Maximize Your Membership Sales
Build a discliplined sales process to ensure that every lead gets worked on time and nurtured. Combine automated email, text, and calls to engage more leads and sell more memberships.
Get More Trials through a Seamless Website Integration and Social Media
Engage with your clients and leads and drive revenue through your social media using Glofox website integration booking links. Showcase your schedule and memberships and process bookings directly from your studios Facebook page.
Deliver a Complete Solution by Integrating With
Modern Digital Applications