Having a strong online presence has become an essential part of running a successful fitness business in 2021, and Instagram is arguably one of the most effective social media platforms for building community and increasing brand awareness.
Since its early days as a photo-sharing platform, Instagram has come a long way. Today, its range of features and methods of increasing visibility, reach, and engagement are constantly evolving.
In 2018, Instagram's worldwide active users reached 1 billion, and by 2023, the number of active users in the US alone is predicted to grow to 125.5 million. With 90% of accounts following at least one business on Instagram, it's an excellent marketing channel for any fitness business.
But for fitness brands, social media marketing is about more than simply promoting products, services, and offers. Instagram shouldn't be used as a one-sided tool; it's a great opportunity to create a two-way conversation to engage with your target audience, increase brand awareness, and build community.
Success on social requires a combination of endurance, flexible strategy, tenacity, and creativity. So how are the best fitness brands maximizing Instagram's potential, and what key takeaways can you apply to your fitness business?
Competition is Fierce for Fitness Brands on Instagram
Competition among brands to get noticed in the fitness world is fierce, even for its pioneers. Over the last few years, innovative brands have emerged, disrupting the fitness world through social media and giving established brands a run for their money. Everyone is trying to get noticed in some way, so what are brands doing to stay relevant and resonate with people in a highly competitive market?
In this article, we'll take a look at 3 examples of fitness brands leading the way with their social media marketing and the loyal customer base they've built.
Standing out is no easy task, but it's something these brands do exceptionally well, all in different ways. They prove that when it comes to marketing on social, the key is to build a community: engage and inspire people, encourage them to share their stories, and become a part of the journey. Social media marketing is much more than a one-sided conversation pushing products.
4 Fitness Brands Making an Impact on Instagram
1. Nike
Instagram: @nike

You can't talk about fitness advertising without talking about the biggest sportswear brand in the world. Nike's marketing strategy has always been unique; take a minute and try to think of any Nike campaign, and it's unlikely you'll recall the brand talking about the quality of its products or the design. It's much more likely that you'll remember the story behind the ad.
A pioneer in its field, Nike is known for many things. From its 1984 Jordan Brand, which became one of the most athlete-endorsed brands of all time, to its iconic 2017 Breaking2, its marketing strategy is never just about its products.
Breaking2 attempted to break the two-hour marathon barrier and knock a few minutes off the men's world record time of 2:02:57. The campaign was a huge success and received global media attention. The hashtag #Breaking2 generated 84,459 mentions on social media in just two days and totaled 140,029 mentions during the 6 months from when the challenge was announced to the day itself. 13.1 million viewers tuned in to watch the live video of the attempt.
Nike manages to cleverly use Instagram's hashtag feature to bring meaning to its message across its various campaigns. While hashtags are generally used to categorize Instagram content, Nike uses them to build community, tell a story, and engage its audience. Like their campaigns, the hashtags are meaningful and encourage users to share the brand's content. In a 2019 interview with Wes Warfield, Nike Social Media Manager, he spoke about how Nike customers and their stories are a core focus for the brand's social media strategy:
"We want to be a part of our customer's journey and a part of people's real-life stories, and if you buy our product, great," says Warfield. "But buying from Nike isn't entirely the point. We began to invest in people (the community) on social media because that's where they are, and that's where they spend time. Social media is where people share the experiences, and it's where they're asking support-related questions. It's a massive community and a great chance to build relationships."
Ultimately, the brand demonstrates that you need to be flexible and try different methods on different platforms – they approach each social media channel separately to best appeal to each platform's audience.
The Takeaway: Tell a Story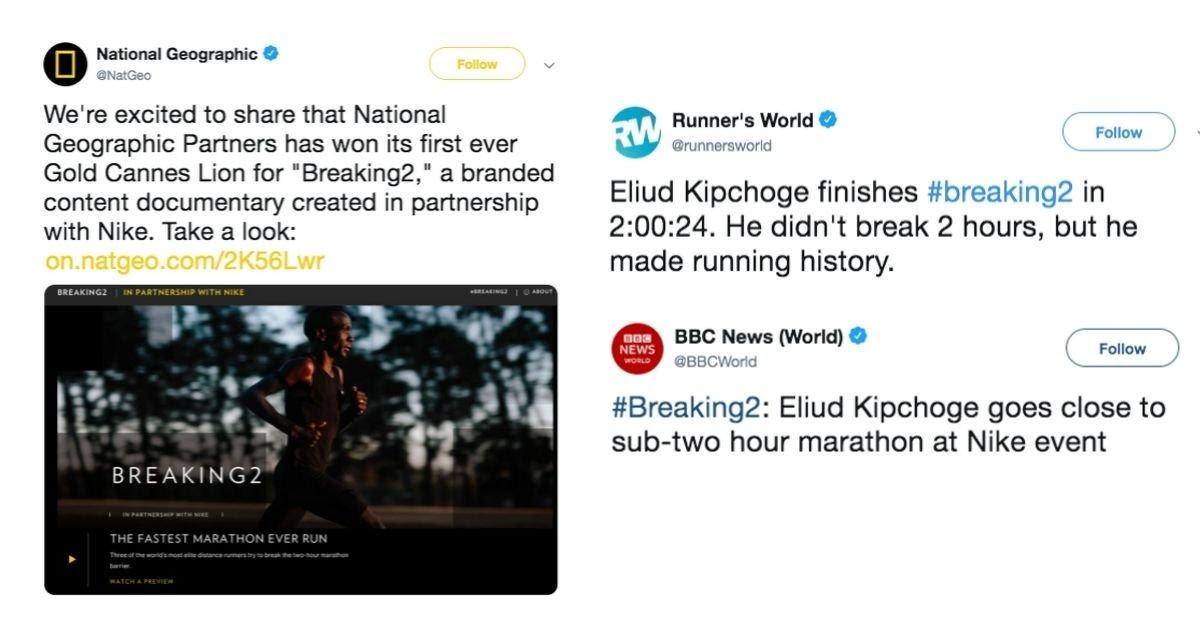 When you think of Nike, you likely think of their shoes; it's the product they're most famous for. And while the athletes in Breaking2 wore Nike activewear for training and competing, none of the campaign's marketing mentioned products.
A quote from Apple founder Steve Jobs summarises Nike's advertising success perfectly:
"Nike sells a commodity. They sell shoes. And yet, when you think of Nike, you feel something different than a shoe company. In their ads, they don't ever talk about their products. They don't ever tell you about their air soles and why they're better than Reebok's air soles. What does Nike do? They honor great athletes, and they honor great athletics. That's who they are; that's what they are about."
The Breaking2 campaign's success is just one example; the brand excels in its marketing efforts when it plays to its strengths. Storytelling is what Nike does best, and it's at the heart of everything the brand communicates.
2. LNDR

LNDR is a UK athleisure brand founded by three active women who wanted to create a brand around "the lifestyle that we wanted to live." Based in London, the brand was founded in 2015 by Joanna Turner, Sarah Donnelly, and Donna Harris and designed to produce activewear with a clean aesthetic and premium fabrics.
Designed by women, for women, the brand emphasizes that it's time to put an end to fast fashion, with better products and less of them. Its clothing is made with cutting-edge technology and a fanatical attitude towards quality and fit; according to their website, it can take factories up to 20 times longer to knit LNDR seamless leggings, for example, compared to other brands.
LNDR's brand voice is straight-forward and aims to cut through the 'fluff' of marketing; they're here to say it how it is:
"Women don't need a hand-up or empowerment from brands. No motivational quotes to help them get out for a run or say, 'It's OK to eat a cupcake.'"

– Joanna Turner, Co-Founder, LNDR
The Top 10 Barriers
Slowing Your Fitness
Business Growth
Discover more
In just under 3 years, the brand's presence has exploded on Instagram. In 2018, LNDR had around 21 thousand followers; today, they're close to 1 million. This sudden spike comes down to one event that catapulted LNDR into the media spotlight: LNDR is the fitness brand that took Nike to court and won.
In January 2018, Nike launched a new campaign called "Nothing beats an LDNR." The campaign was heavily promoted across various platforms, including social media and an athlete endorsed TV advert including Sir Mo Farah, Harry Kane, and Skepta.
The brand immediately filed for an interim injunction with the Intellectual Property Court, which they won. It later made permanent at trial, preventing Nike from ever using the term LDNR again. Speaking about the trial, Joanna Turner, one of LDNR's three founders, said: "Nike's campaign gained a huge amount of exposure very quickly. From our point of view, it was educating the public that 'LDNR' was either a Nike trademark or that there was a collaboration between our two brands. We felt that we had no choice but to protect our brand and identity, and the trademarks that support them, which are critical to our continued growth."
The Takeaway: Voice to Your Values
As soon as you tap through to LNDR's Instagram page, the tagline sends a strong message; this brand isn't afraid to speak up: "Everything you need. Nothing you don't. No bllsht."
This message is apparent in everything they share online, from the 'about us' section on their website, where they also proudly include a short version of the Nike story, through to the no-nonsense copy on each Instagram post alongside the brand's hashtag, #NoBllsht.
When they were faced with Nike's 'Be a LNDR' campaign, standing up to right a wrong against the world's largest activewear brand was a move that aligns with the brand's core messaging. LDNR spoke up and stayed true to its values – as it always has done with its marketing.
3. The Squad
Instagram: @t_h_e_s_q_u_a_d

The Squad is a gym and fitness center in Cork, Ireland, that offers personal training and group fitness classes. The brand has survived and thrived online in recent months with its community of loyal, happy members, but they haven't achieved this just by providing excellent online workouts.
With almost 8,000 followers on Instagram, The Squad has an engaged membership base and a loyal following on social media. They've built an impressive community, one that has enabled the brand to expand its global awareness. As the fitness industry shifted online in light of the pandemic, its established Instagram presence enabled the brand to reach a previously untapped audience:
"Our Saturday classes were averaging 60 plus people every week from all over the country. There were some on a couple of calls from places like America or in Abu Dhabi, or people in London who knew us from following us on Instagram. It was insane."
The Takeaway: Build a Community
Owners Kate and Josie have built more than a fitness business: they've built a tight-knit community. The Squad's content is personalized with a conversational style that's inviting to followers. While naturally, The Squad shares content that promotes the business – this isn't the sole focus of everything they share. They engage with their audience and build relationships, encouraging members to share their experience with photos and stories using the hashtag #ImWithTheSquad.
4. Gymshark
Instagram: @gymshark

Gymshark has grown incredibly since its launch in 2012. But how did the brand snowball from a small online retailer to a globally-recognized brand?
A driven entrepreneur at just 19, founder Ben Francis created Gymshark because of his passion for fitness. Francis realized there was a gap in the fitness apparel market. He wanted to sell clothing that he would like to wear himself, and at the time, that didn't exist. So he invested in a screen printer and sewing machine and began creating it himself.
Gymshark's rapid growth began once the brand's started using influencer marketing. In 2012 'influencer marketing' wasn't the popular marketing strategy it is today, but it occurred naturally to Francis. Initially, he sent Gymshark products to his favorite high-profile bodybuilders hoping that they would wear and review the brand on YouTube.
"At the time, no one else was doing it. It came totally naturally to us because we were just fans of the guys." Francis explains in a YouTube video. "The concept has always been around, but people just weren't doing it with YouTubers and people like that at the time. It wasn't really a planned thing, but we were one of the first people to do it in our space, and then we lead."
The strategy was an immediate success, and the brand quickly pursued a further 18 influencers who had a combined following of over 20 million people. To engage and build larger communities, Gymshark held influencer events – where followers could come and meet their Instagram idols. In the lead up to the event, the influencers would connect with their followers by promoting the event and conveying their excitement to meet the fans.
The influencers, now known as 'Gymshark athletes,' naturally became brand ambassadors after developing a genuine affinity for the products. Since realizing the benefits of influencer marketing, the tactic remains a substantial part of the brand's marketing strategy today.
The brand's 3 Instagram profiles have a combined following of almost 10 million users, with the hashtag #Gymshark tagged almost 10 million times.
The Takeaway: Utilize Fitness Influencer Marketing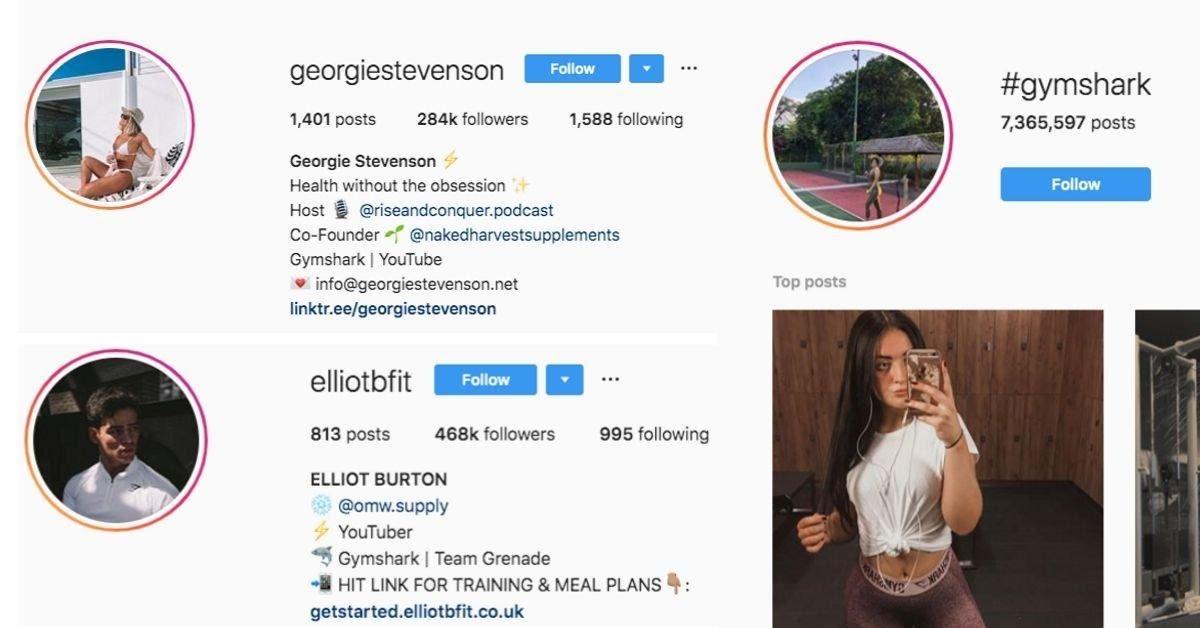 Gymshak continues to leverage influencers' followers through the Gymshark Athlete program, including high profile fitness influencers, including Elliot Burton and Georgie Stevenson. The brands' success is built entirely on influencer marketing, and it's a strategy that every fitness business can utilize. The overwhelming popularity of the Gymshark grew from using aspirational athletes and the sense of community the brand created with them.
For your fitness business, it doesn't need to be an all-star athlete with thousands of followers. Seek out accounts with smaller, niche followings and explore your options for working with a local Instagram influencer. You could also reach out to the members who already should about your brand on social to see if they're interested in becoming a brand ambassador for your business.
In Summary
One thing is clear with all of these examples; successful fitness brands share a message with audiences. They invite them to be a part of something bigger than themselves. The brand's voice and core values are always conveyed consistently.
Nike tells stories, LNDR promotes its values, The Squad builds communities, and Gymshark inspires.
As highlighted in the ultimate 5 step fitness studio branding framework, every fitness business needs a set of values that sits at its core. It creates a message and a voice that you'll use to resonate with your target audience through all of your communications.
So if you haven't already defined your fitness business values, now is the time to find your voice – and use Instagram to share it.
The Top 10 Barriers
Slowing Your Fitness
Business Growth
In this e-book, we will list the most common barriers that
slow fitness business growth and list some of the tips to
help overcome them.
Discover more