Experience
Member App
Staff App
Glofox Pro Advanced
Account Balance
Gift Cards
Growth
Livestream Classes
On-demand Content In-app
Targeted Push Notifications
Targeted Email Notifications
Targeted SMS Notifications
Integrated Website Lead Capture
Integrated Facebook Lead Capture
Advanced Lead Workflows
Lead & Member Filters
Lead Conversion Reporting
Social Booking Links
Book a Friend
ClassPass Integration
MailChimp Integration
POS / Store
News and Community Management
Class Performance Reporting
Trainer Performance Reporting
Failed Payment Member Filter
Ongoing Failed Payment Retry
Failed Payment Retries
Failed Payment Reporting
Attendance Reporting
Activity Reporting
Operations
Class, Course, and Event Scheduling
Website Integration
Attendance Tracking
Check-in Barcodes
Kiosk
Member List and Profiles
Global Search
Digital Sign-up, Waiver, T&Cs
Integrated Payment Processing
Transaction Reporting
Strike System
Dynamic Waitlists
Family Accounts
Private Classes and Memberships
Facility Management
Class Levels
Personal Training Appointments
Future Cancellation
Pause Membership
Future Pause Membership
Member Reporting
Revenue Reporting
Add-ons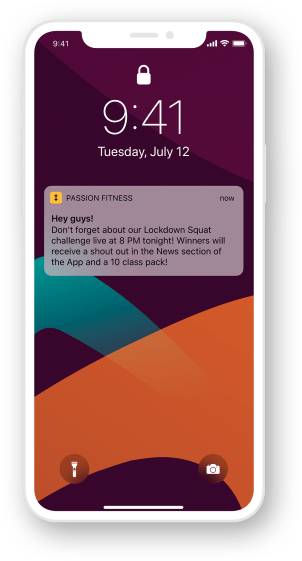 SMS
Personalize your members experience and capture their attention with SMS messaging. Send one-to-one messages or target specific groups with reminder or up-coming classes, challenges or offers.
Branded App
Elevate your brand presence by having your Studio's brand and logo represented in the app store. Take advantage of the exposure and opportunity to deliver your app to over a billion customers around the world.
FREQUENTLY ASKED QUESTIONS
Is my data and my member data secure with Glofox?

We are Level 1 PCI compliant when it comes to processing payment data through our partners. Our technical architecture and procedures ensures all data is protected to the highest standard. Also, Glofox has all the features you need to be General Data Protection Regulation (GDPR) compliant.

What support will I get setting up my account?

If you opt for one-on-one onboarding, you will have a Customer Success agent help you import your customer data into our system and get set up for success. All clients get free access to our Knowledge Base and Virtual events on how to grow your business with Glofox.

Is there a limit on how many members I have in the system?

Our mission is to help your business grow, so adding new users will always be free.

Does Glofox support payments in my country?

Payment processing is currently available in 100+ countries. Talk to us to learn more about our payment partners.

Do you offer any discounted plans?

Yes, we offer a 20% discount on annual billing.

Can I change my plan later on?

Absolutely! You can upgrade or downgrade your plan at any time.
SECURE PAYMENTS & DATA COMPLIANCE