With significant growth over the past decade, the fitness industry has changed – a lot. Boutique fitness continues to reshape the entire wellness space, with statistics from the IHRSA revealing that boutique gym memberships increased by 74% between 2012 and 2015, compared to just 5% for fitness centers.
This surge is mostly because boutique fitness studios are offering a more personalized experience to members with an emphasis on community. As a result, we're seeing big-box gyms transform to keep up with a new focus that reflects the growing importance of the member experience.
But when you dig a little deeper – what's behind this shift?
Once upon a time, people were happy enough to show up at the gym, grab some free weights, and get on with their workout. But today's broader consumer fitness trends have transformed to include much more than exercise alone.
In this article, we'll discuss how consumer trends are impacting the fitness industry. Skip ahead to:
Trend vs. Fad
Fitness trends are the driving force behind what people want from their gym experience. But before we highlight what's trending for today's consumers, let's be clear on the difference between a trend and a fad. The dictionary defines the two as below:
Trend
/trɛnd/
noun
1. a general direction in which something is developing or changing.
Fitness trends are generally longer-lasting and will correlate with broader consumer habits. For example, figures reveal that consumers are continuing to spend less money on buying things, and more on doing things. Overall, we now care more about the experience, and this trend is a significant aspect of today's health and fitness industry.
Fad
/fad/
noun
an intense and widely shared enthusiasm for something, especially one that is short-lived; a craze.
Fads are more specific to the industry. Shorter in duration, usually because they're unsustainable in the long-run, a fad doesn't impact the fitness industry long-term. Fad diets are the perfect example. They promise fast results but aren't a sustainable way for people to maintain health. And the second they fall off the diet wagon, they're back to square one. When the next shiny new miracle-diet comes along, the circle repeats.
When it comes to health and fitness, the clear difference is that trends in society have a knock-on effect on the way that consumers view and approach fitness. Fads, on the other hand, come and go.
5 Consumer Fitness Trends Impacting the Fitness Industry
The significant shift in consumer fitness trends relates strongly to societies changing view of health and fitness overall. Fitness and wellness are now more holistic. By this, we mean it's a lifestyle choice, rather than a couple of hours a week you feel you have to commit to. It combines various aspects, including nutrition, mental health, and of course, physical activity.
Below we'll discuss 5 of the trends that impact the fitness industry today. We'll also include examples of gyms and fitness studios that embrace these trends, as well as advice on how you can too.
1. Feel Good Exercise
There's a growing emphasis on exercise to feel good, not necessarily to look good.
That's not to say that people only exercise to feel good – we know that each gym member is unique with different goals and motivations. But for the most part, looking good is no longer the primary reason that people want to workout.
With the boutique fitness boom, it's clear that people hit the gym for more than just a six-pack. They're having fun, getting fitter, and they feel a part of something. Brazil-based studio Pin Up Pole Studio is a prime example of this trend in action.
Pin Up Pole Studio
Pin Up Pole delivers its feel-good factor through pole dancing, encouraging confidence and fun in every class. Bringing together like-minded people, it's group fitness that gives members a tough but fun workout. The concept fully aligns with the 'Feel Good Exercise' trend and delivers on member experience – which keeps them coming back.
2. Community-Driven Workouts
A recent study from Latent View revealed that an engaging community is one of the top reasons people go to the gym. Millennials and Generation Z clearly drive this trend for the simple reason that they currently make up 80% of total fitness club members.
Generations like this love to combine exercise and socializing. Their gym session is as much about sharing experiences with like-minded people as it is about having a great workout. And they are willing to pay for it. Research shows that Millennials are willing to spend up to 21% more than any other generation on exceptional customer service. It's clear they're happy to pay more if it means a great member experience and feeling part of a community.
The Customer
Engagement Playbook
for Your Fitness
Business
Discover more
Group training bolsters community more than anything else. It's placement at number three in the ACSM's 2020 survey, shows how important it's become in the industry. The benefits of offering group classes are clear, so it's a worthwhile investment for your gym. To get you inspired, here is an example of group training with community at its heart. Girls Just Wanna Box is a studio that was created to bring it's members together.
Girls Just Wanna Box
"We didn't want a 1000 member gym, lacking personalization and authenticity. We wanted to create a community."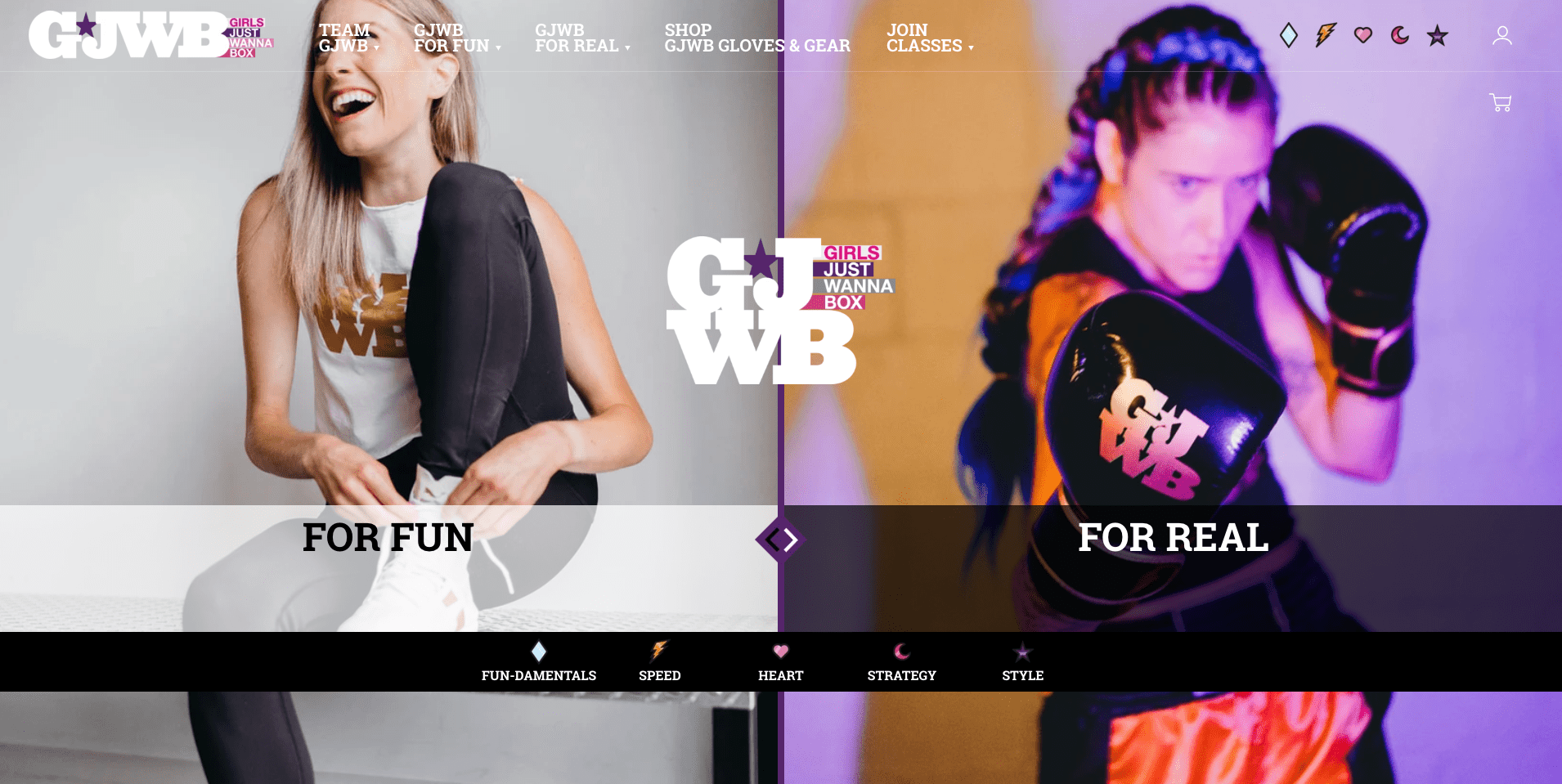 During her time training to box competitively, Kristina Ejem experienced first-hand the disadvantage of being a female in a traditionally male-dominated sport and saw a gap in the market. Girls Just Wanna Box was born, and the program provides members with a community of like-minded people who are focused on empowering and supporting one another.
3. Plant-Based Nutrition
Changing attitudes towards nutrition have influenced the fitness industry in a big way. One notable example is the growing popularity of plant-based nutrition. This trend is an important one to understand as a fitness business owner because if it matters to your members, it matters to you.
Sustainability matters now more than ever, and this is an issue that extends across all industries, fitness included. Vegetarians, vegans, and flexitarians are becoming more common-place terms, and they all symbolize society's conscious efforts to move toward a more plant-based diet.
It's predicted that by 2040 only 40% of the global population will be eating meat. 35% will be consuming lab-grown meat, and 25% will be consuming vegan meat replacements. Recent documentaries have shed further light on the movement and highlighted its relevance in the fitness industry. 'The Game Changers' film is a revolutionary documentary about meat, protein, and strength. The film features interviews with iconic plant-based athletes, including James Cameron, Arnold Schwarzenegger, Jackie Chan, and Lewis Hamilton; the documentary is on a mission to prove that plant-powered fitness is the future.
How to Embrace the Trend at Your Gym
As this trend continues gaining momentum, it makes sense to find ways that your fitness business can embrace it. Try testing the water by offering a #MeatFreeMonday nutrition workshop. It's an excellent opportunity to gauge how many of your current members are interested in the topic and ask for feedback on what else they may find useful. Experimenting with trends in this way opens up new opportunities for you to provide members with more value and stay relevant.
4. Convenient Access
People have come to expect convenience in everything they do. The majority of today's consumers, especially Millennials and Gen Z, rely on it. Lifestyle-adjustment companies such as Deliveroo, Uber, and HelloFresh have fuelled the demand, and they have been incredibly influential in how we function as a society.
Essentially, these companies have created a culture that expects easy access to everything – including fitness. With examples in recent years, including Peloton, Fiit app, and Mirror, the demand for convenience and innovative tech have sparked a newfound interest in at-home workouts.
Technology now plays a vital crucial role in consumers' lives. It's only natural that this filters into the fitness industry. And while digital fitness is rapidly expanding, it doesn't mark the end of real gyms. Outside of the home and digital fitness, members aren't just turning up to a class at their gym and hoping they get a spot. They're managing their fitness schedules like the rest of their lives – through an app. People are now spending 2 hours and 51 minutes a day on their phones, so it's clear that the key to convenience is in the palm of our hands.
Keep in mind that a member app isn't just a one-sided service; it benefits both parties: it enables members to access and manage their classes easily, and allows you to reach them conveniently. Ramsay Fitness is an excellent example of a studio that uses its app to deliver a convenient member experience.
Ramsay Fitness
"We make sure that each of our members has a good experience with us. When I see a new-sign-up, I'll send them a message through the app saying I'm looking forward to seeing them."
Convenience is essential to today's consumers, and in the fitness industry, it's a crucial part of the member experience. Maintain a high level of contact with your members to keep them engaged.
To make your fitness business as convenient as possible, you need to get in front of your members. Whether it's a special offer or member success story or upcoming event, you should actively put your studio in front of your customers, where it's most convenient for them to see you. WhatsApp currently has 1.5 billion active users, and your members are likely among them. Set up a group so you can easily communicate with them and enable them to do the same with each other.
5. Wearable Technology
With a market volume of $14,528m, wearables were the fitness industry's most significant growth segment in 2019. It's a tough trend to keep on top of, as technology changes so quickly, but it came out at number 1 again in the ACSM's Worldwide Survey of Fitness Trends for 2020. Plus, the worldwide smart fitness wear market is predicted to hit $4.5 billion by 2023.
Many fitness businesses are already integrating this fitness tech into their classes. Let's look at Orangetheory Fitness as an example.
Orangetheory Fitness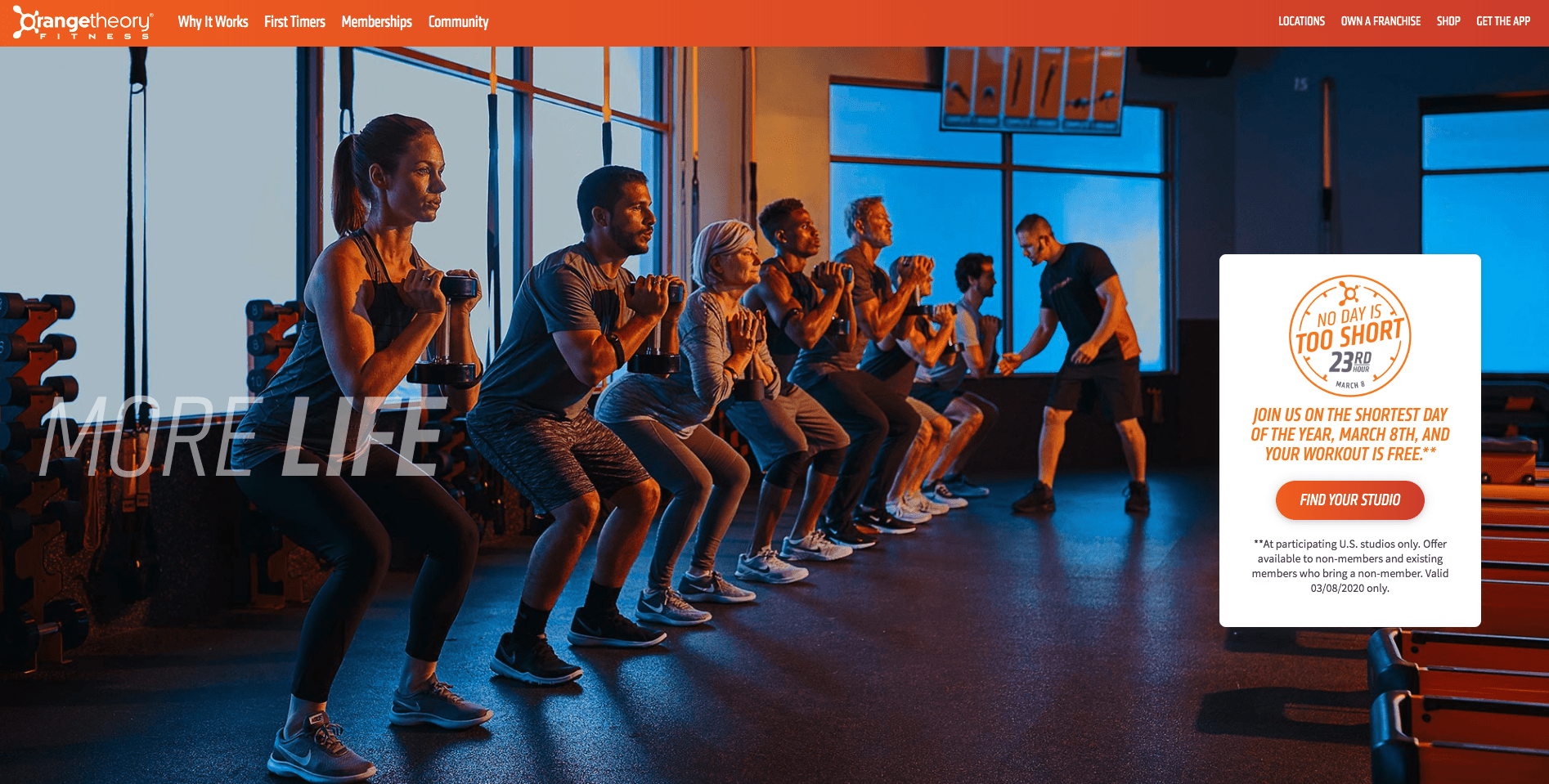 In this studio, classes are built on heart rate training. Dr. Joel French, Orangetheory's senior director of research, fitness, and wellness, explains that this unique approach makes the classes accessible to everyone: "The heart rate system allows everyone to push themselves to exactly where they need to be. You can have that elite athlete training right next to a grandmother, and they can get the same kind of workout in the same class." Orangetheory brings new ideas to the fitness industry; its members can exercise and, at the same time and view their heart rate levels to achieve maximum calorie burn and reach their fitness goals."
How To Embrace the Trend At Your Gym
This trend focuses on performance monitoring and motivation for members. The main benefit of wearables is that they encourage members to track their progress, and this, in turn, makes them accountable for their efforts. Tying in with the broader consumer trends focused on wellbeing, most fitness trackers also enable the user to track their quality of sleep.
Perhaps wearables aren't something that you want to incorporate in your studio just yet. But how else can you keep members motivated? You don't necessarily need live performance tracking or advanced tech – keep it simple with before and after pictures, or even a monthly fitness assessment. Keeping them focused on the bigger picture should always be your end goal.
In Summary
When you break these trends down, they come back to two key aspects: There's an emphasis on convenience and a comprehensive view of health, fitness, and wellness as a whole.
For fitness professionals to continue catering to these prominent trends, they need to keep up with what matters in society as a whole and embrace the way this impacts what people want from fitness.
The Customer
Engagement Playbook
for Your Fitness
Business
Customer engagement is the way in which a brand
connects with its customers on a deeper level than a
simple business and consumer relationship.
Discover more