From boxing and boot camp to cardio and strength training, there are hundreds of gyms in Washington DC with something for everyone. 
We've previously curated some of the best gyms in cities, including Sydney, London, and LA, and this time around, we're kicking your training up a notch in D.C.
So whether you're a regular Washington gym-goer looking to change up your fitness routine, or just passing through, you'll get a killer workout at any of these fitness classes. 
Orangetheory Fitness
Website: https://www.orangetheoryfitness.com/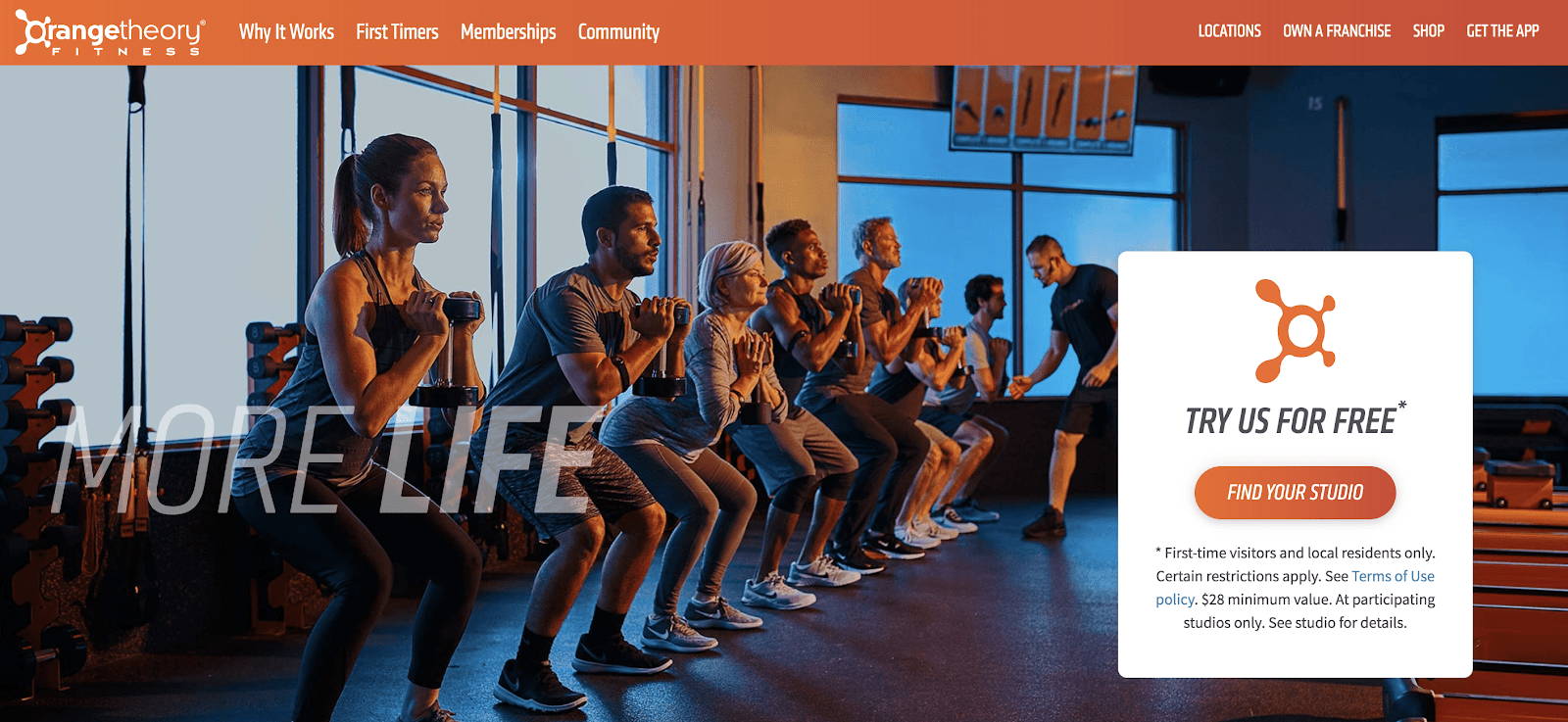 Fast-growing fitness franchise Orangetheory is not for the faint-hearted. Workouts are designed to get you to peak performance; you'll wear a heart rate monitor so coaches can tell you when to really push it. As you'll know if you like keeping up to date with all things fitness, tracking your progress with Orangetheory is soon to become more accessible than ever before. The brand unveiled its 'OTbeat Link' back in December 2019 – a custom-designed device that can be worn on your Apple Watch. 
Expect a combination of cardio and free weights during your 60-minute class; think TRK training, rowing, and 25 minutes on the treadmill. With workouts that can keep you burning calories for 36 hours after class, you'll leave feeling strong and sore.

CorePower Yoga
Website: https://www.corepoweryoga.com/
Forget your usual yoga class expectations – CorePower takes the practice to the next level. With boutique amenities, the franchise offers athletic style yoga with both non-heated and heated sessions. 
Beginners can ease themselves in with the beginner-friendly flow, which is an unheated class. If you're more advanced, sweat it out in Yoga Sculpt where you'll combine fast-paced movements with weight-training for 60-minutes.
Take your yogi commitment one step further and practice in paradise at one of the brand's yoga retreats. Locations include Costa Rica, Mexico, and Hawaii, to name a few. 
[Solidcore]
Website: https://www.solidcore.co/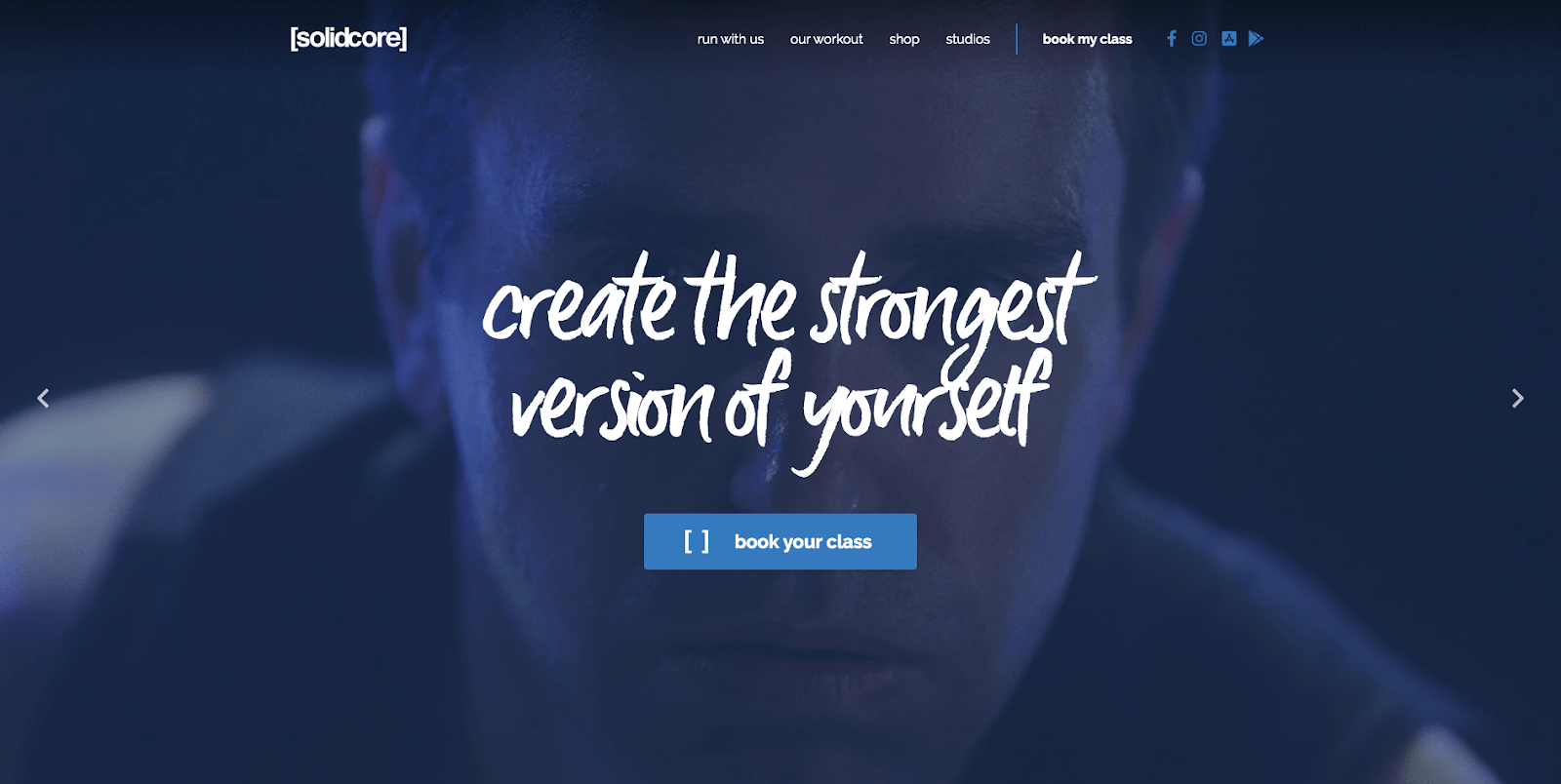 [Solidcore] offers a variety of reformer pilates workouts, and is known as one of Michelle Obama's go-to classes. Expect 50-minutes of high-intensity and low impact resistance training provide an effective workout for building lean muscle and burning fat.
For the duration of your workout, you'll be using the studio's custom-designed megaformer machine – [sweatlana]. With small classes, instructors are always on-hand to give you personalized attention, whether it's hands-on assistance or verbal instruction. 
Whatever the workout, you'll feel confident to push yourself, and trainers will offer exercise modifications if you're not comfortable. Choose from a range of standard or muscle-specific classes, but start with the beginner class if you're a newbie. 
Once you're familiar with the basics and structure of the classes, work your way through the variety of muscle-specific sessions. If you're tight on time, Core30 is the perfect option for squeezing in a quick workout. 
CycleBar
Website: https://www.cyclebar.com/
Wherever you are in your fitness journey – there's a bike for you at CycleBar. Expect a dark room with pumping music and lights that move with you – it's more like a nightclub than a gym at these classes.
The 'CycleStar' leading your class will motivate you throughout, pushing you to go further and perform at your best. Track your 'CycleStats' data, and you'll see where you're killing it and where you can improve – results are always emailed to you after class for your reference. 
There are three main classes to choose from, as well as 'Themed' classes, which are updated on the website. Expect a mix of hills, drills, endurance, and strength in the 'Classic' session, push your fitness to a new level in 'Performance' and refocus in 'Connect' –  a class with no monitors, just music. 
Off Road
Website: https://www.offroaddc.com/
The Customer
Engagement Playbook
for Your Fitness
Business
Discover more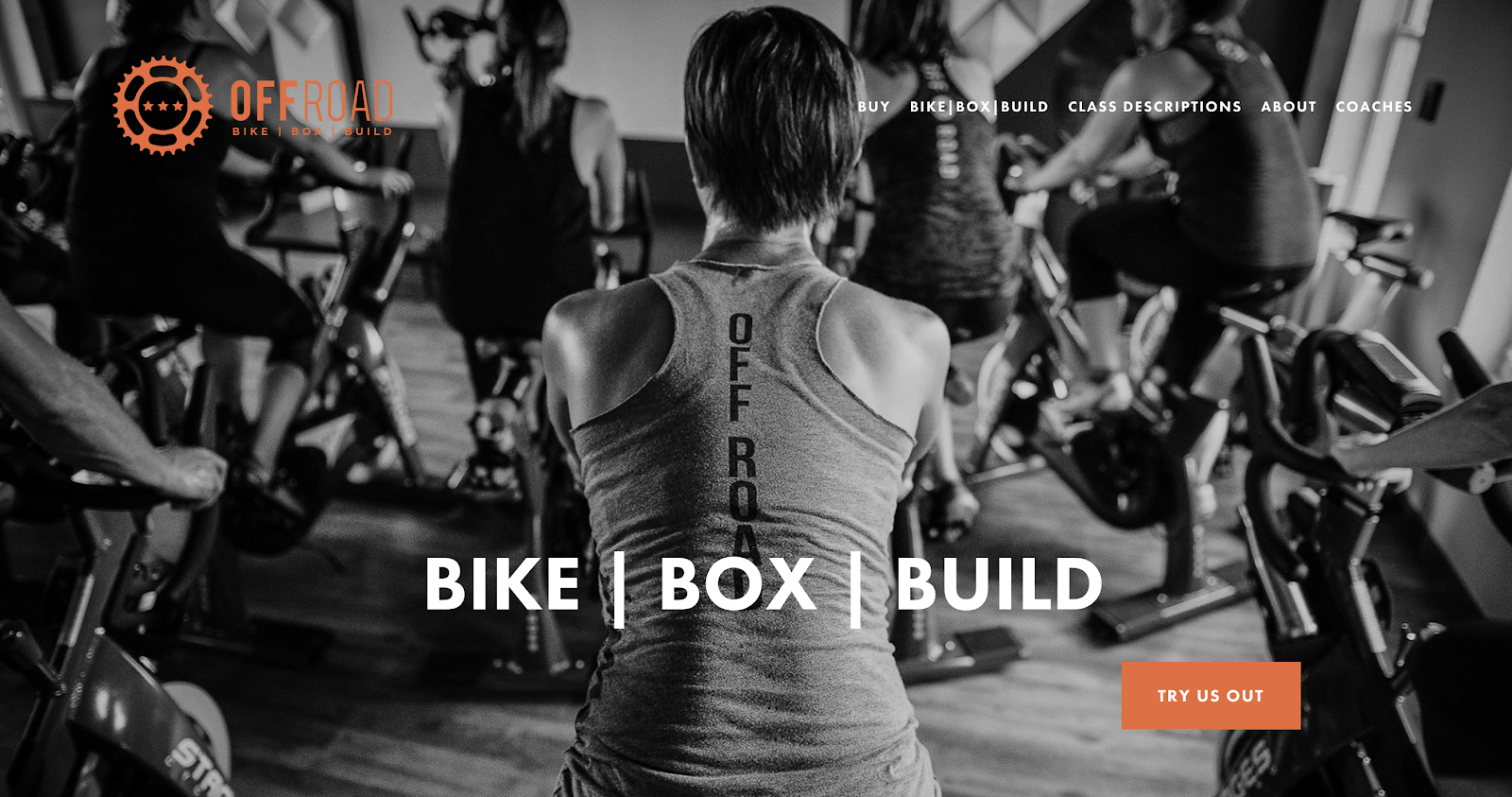 "Real fitness for real people."
With a range of fun classes designed to push you to new levels, you'll be guided by top-notch instructors as you bike, box, and build at this boutique studio. The intensity of the workout depends on how much you put in – Off Road is a relaxed team environment that welcomes all fitness levels.
'Box50' is the studio's signature boxing circuit workout. All levels are welcome, as the session covers basic boxing techniques, combos, and punches, as well as footwork and defensive moves. From strength to pad work and heave bags to speed bags, this has you covered.
The 'Build' classes are 30-minutes long and segregated to target different areas; core, lower, and upper. There's 'Build50' for a full-body workout – expect kettlebells, TRX, and resistance bands.
The studio's signature 'Bike50' class will lead you through intervals, hills, and flat roads for 50-minutes. 'Bike50 VX' takes things up a notch following a similar format, but with real-time performance tracking. You can work based on your power zone and push yourself to new levels. 
New moms can get back into fitness at 'Baby & Me,' which features 40-minutes of cycling and ends with 15-minutes of core work specially designed with postpartum moms in mind. In this class, the music is low, and participants are welcome to bring babies into the room for the duration.
MADabolic
Website: http://www.madabolic.com/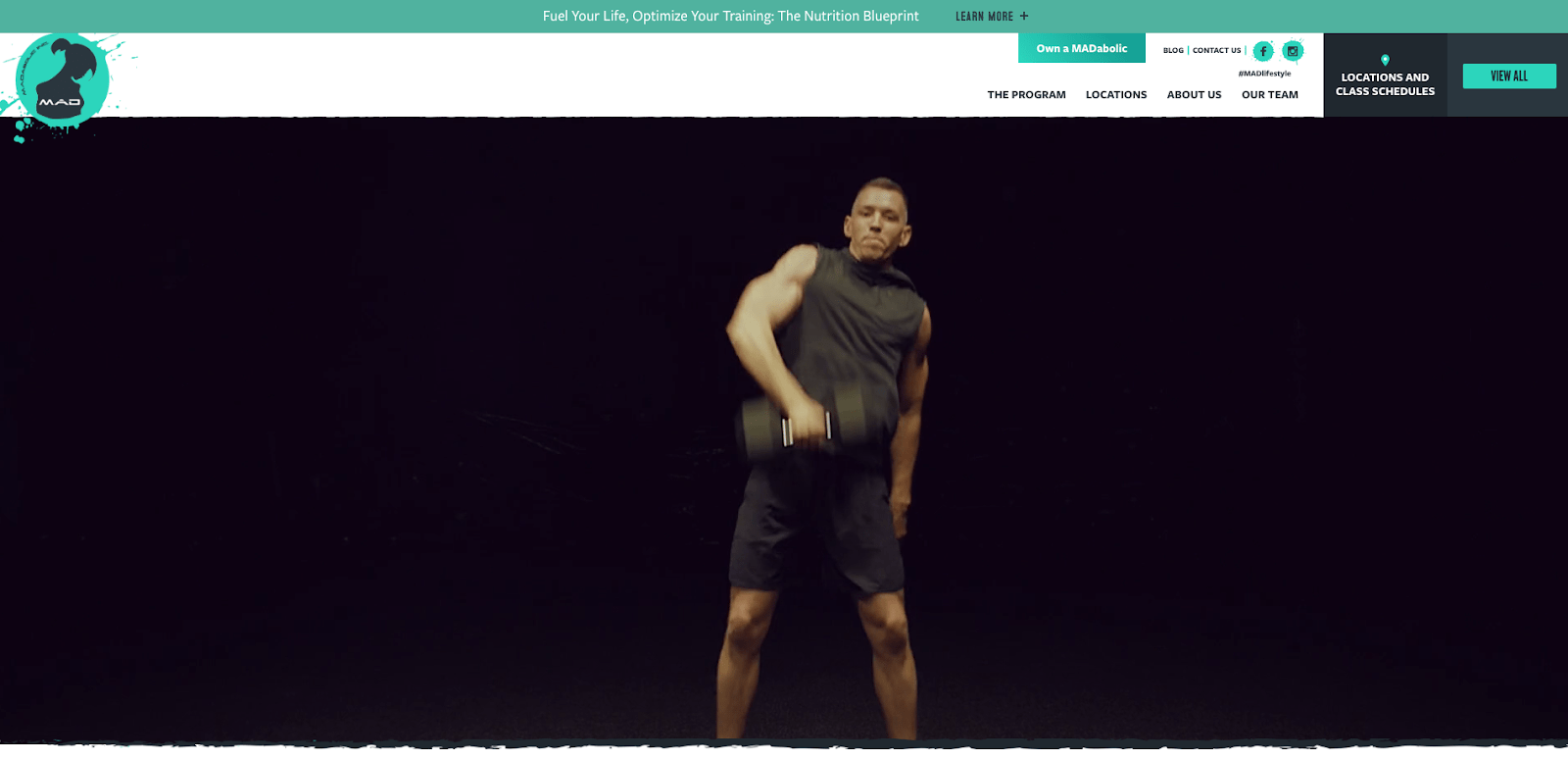 MADabolic is a strength-driven interval training franchise. Three unique classes have three areas of focus, styles, and pace. 
Expect a gradual build in intensity at 'Momentum,' and energetic class where you'll focus on athleticism and endurance. A 2:1 work to rest ratio features throughout this class, with intervals designed to peak in the final minutes – you'll work up from a pace of 70, 80, and then 90%.
'Anaerobic' is an all-out maximum effort class that focuses on power and speed. The pace is 100% throughout; expect heavy movement combined with cardio sprints and an intense 1:1 work to rest ratio.
'Durability' focuses on stability and stamina. At a pace of 80%, this workout is a steady grind – but it's not for the faint-hearted. Moves are designed to encourage slow and methodical movement, matched with a more extended rest period of 3:1. Expect to go steady and heavy with weighted carries, unilateral stability, and primal mobility work. 
Cut Seven
Website: https://cutseven.com/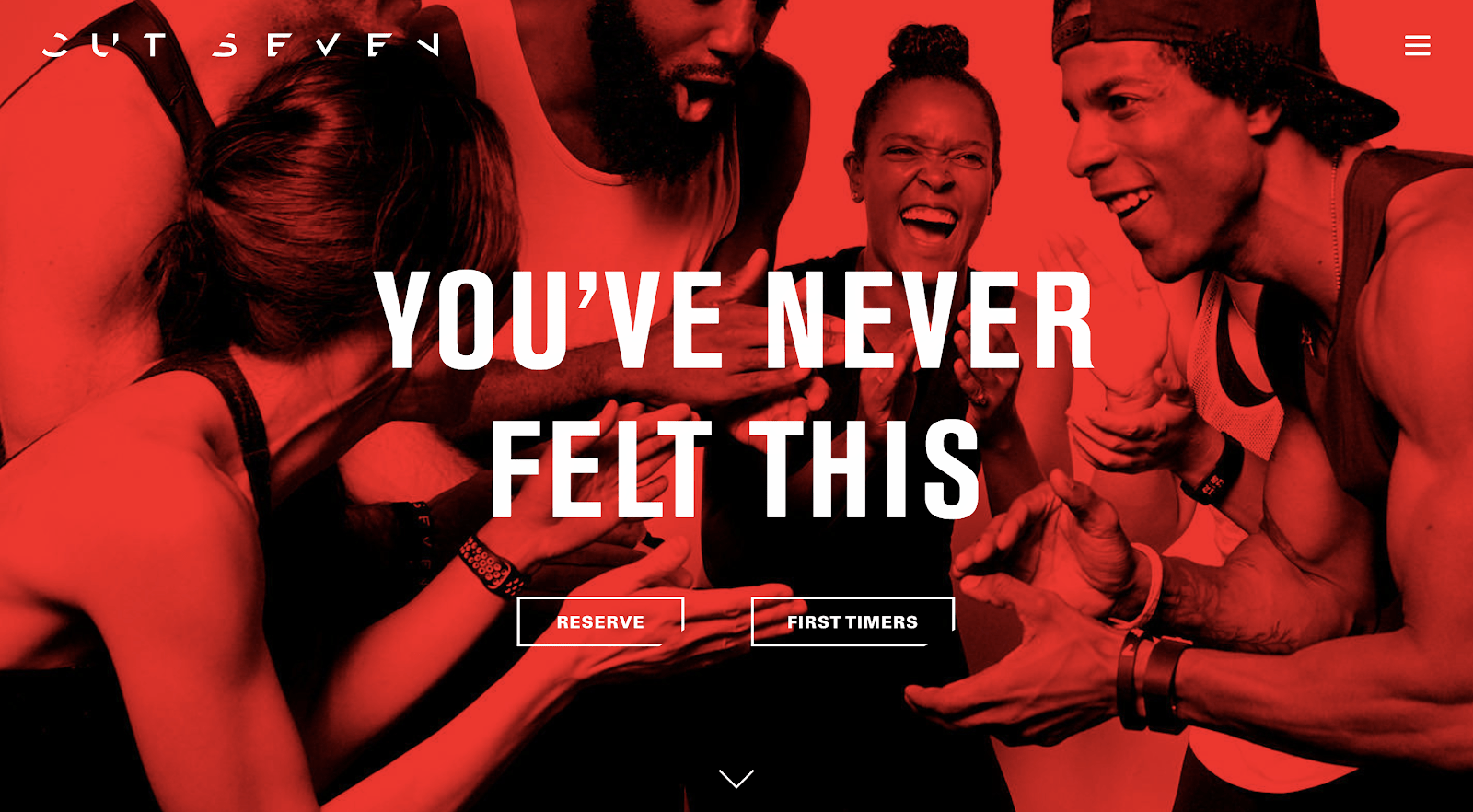 Workouts are designed to show visible results in a short space of time, as classes focus on different muscle groups every day, to achieve complete muscle failure with optimum recovery. Classes are divided into cardio, strength, a combination of the two and total body. There's also 'Rebuild' where you'll roll-out and repair your muscles for the next workout.
'Heart' is a fast-paced cardio workout where you can expect sleds, battle ropes, and hurdle drills. In 'Strength/Heart,' there's a variety of cardio and strength training exercises for maximum calorie burn. You'll be sprinting one minute and deadlifting the next. 'Strength' days will target specific muscle groups to the point of failure. Expect high-intensity with fully-loaded resistance and dialed back on reps. You'll be sore – but it's worth it! The studio coins it's 'Total Body' workout as its most rigorous. Expect heart and strength components as you target all seven muscle groups.
202Strong
Website: https://www.202strong.com/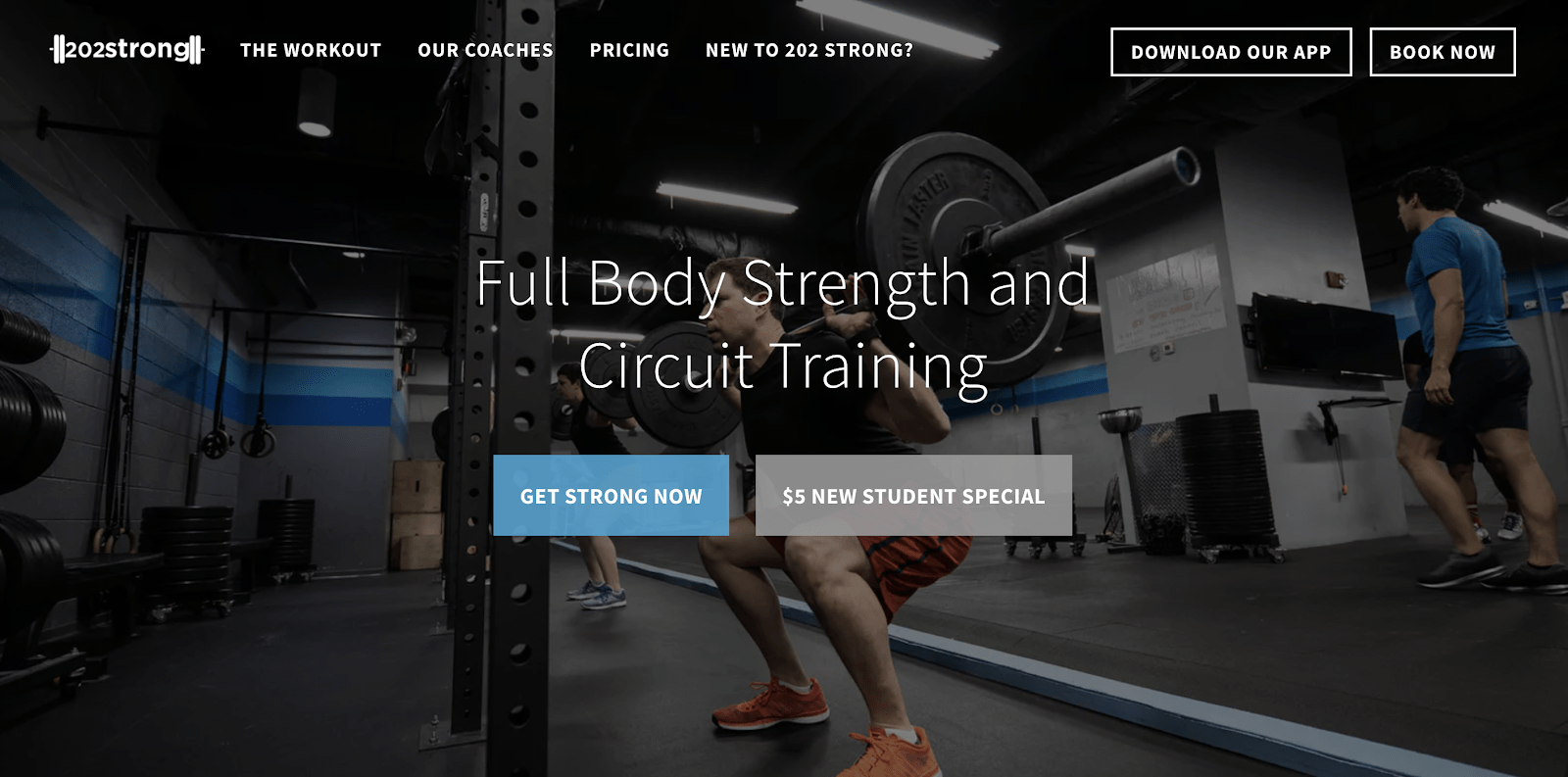 202Strong is founded on the principles of bringing true strength to fitness, with real results and an inclusive approach. 
Coaches are highly-trained and will guide you through every step of your fitness journey. You can expect one-on-one attention as a standard of service here, with the motivating energy of working out in a group. 
With a focus on precision and form, '202Strong' is the studio's signature class. Learn how to lift with improved form over a 6-week strength cycle. You'll perfect barbell lifts for six weeks, enhancing strength and form each time and finish each class with a full-body circuit.
'Girl Strong' focuses on welcoming women to strength training with no intimidation. Members can surround themselves with like-minded women and work on barbell exercises to improve strength and form, as well as push fitness to new levels with StrongCircuits. 
The Customer
Engagement Playbook
for Your Fitness
Business
Customer engagement is the way in which a brand
connects with its customers on a deeper level than a
simple business and consumer relationship.
Discover more