Over the last year, our industry has faced its biggest challenge to date. The pandemic has accelerated digital fitness, and by quickly pivoting to online workouts, many gyms have survived and thrived, ready to come out on the other side stronger than ever.
As vaccines rollout across the world, there is a light at the end of the Covid tunnel: at some point this year, gyms will reopen, and this time round, they'll stay open.
We know by now that there have been significant changes in the fitness industry, and not everything will go back to how it was before Covid-19. But after spending so long socially distanced and isolated from 'normal' experiences, there's no doubt that members will be keen to return to gyms, once it is safe to do so.
And despite a turbulent year, there has been massive growth in the fitness industry over the past decade, especially for boutique fitness – a change that continues to reshape the entire wellness space. With pioneering brands like Barry's Bootcamp and SoulCycle leading the way, boutique fitness went from being a niche offering to a popular mainstream choice for the majority of consumers. It's safe to say that the sector will bounce back and continue growing through 2021 and beyond, albeit at a slower rate than pre-Covid.
But how did boutique fitness become such a phenomenon, and what does the future have in store? Here, we look at the rise of boutique fitness, 3 brands at the forefront of this change, why it's so popular and what we can expect to see in the future. Skip ahead to:
What Sets Boutique Fitness Apart?
Think of a typical traditional gym: large open spaces with different weights, machines, and equipment spread around for members to help themselves to. Compared to traditional fitness chains, the boutique studio experience is much more intimate – they aren't just selling access to their facility or equipment. Studios will offer niche workouts and classes usually focused on a specific type of fitness, like high-intensity interval training, for example.
Boutique fitness isn't running on a treadmill for 30 minutes after work, or awkwardly lingering around the weight rack waiting for someone to finish so you can nab their weights.
Instead, boutique fitness is an experience; training in a small group setting with everyone in the community feeling accomplished after. Unlike the traditional gym model, members are a part of something that's about more than exercise alone.
Pre-covid, this shift in customer desire had begun to mirror those of other consumer-facing industries: Kevin Logan, U.S chief economist for HSBC, noted that there had been a steady drop in consumers purchasing clothing and shoes. Instead, spending was increasing in areas including eating out, travel, and recreation, and these behaviors highlight a shift in what's become important to consumers.
Boutique fitness is meeting a friend after work to sweat it out for 45 minutes in a spin class and grabbing dinner after. People are willing to fork out over $30 a pop to attend one of these classes, visiting on numerous occasions throughout the week. Boutique fitness is social, fun, and ultimately, it's a lifestyle.
For the last year, people have missed out on the social aspects of boutique fitness. While gyms have pivoted to provide exceptional home workouts and community-building virtual events, gym goers will be craving these in-person human connections more than ever post-covid.
The Rise of Boutique Fitness
Businesses across all industries will adapt to meet changing consumer needs and keep up with trends. Undoubtedly, Covid-19 will have a long-lasting impact on the global economy and consumer expectations. But long before the pandemic, shifts in these areas created the perfect storm for boutique fitness to rise.
Economic Change
The world has experienced many economic changes over the years, and this has massively influenced the fitness industry.
The middle class has been steadily shrinking; a 2011 study by Stanford showed that the share of middle-class American families dropped from 65% in 1970 to 44% in 2009, and 2010's recession accelerated this further.
As a result of these changes, we entered the 'hourglass economy,' seeing an increase in the upper and lower class spectrum, with a decrease of those left in the middle. From this, businesses across a range of industries were forced to adapt, splitting into high and low-end business models to cater to the dominating markets of the economy.
Boutique Fitness exploded onto the scene to cater to those at the high-end of the economic scale, offering premium services at a premium price. Now, these are household names in the fitness industry, with examples including F45, SoulCycle, Orangetheory, and Barry's. We'll explore some of these brands in more detail further into the article.
Consumer Expectations
In the fast-moving age of consumer technology, consumers expect convenience at their fingertips more than ever before. Game-changing brands like Uber, HelloFresh, and WeWork have completely revolutionized the way many eat, commute, and work. This is particularly relevant for the millennial generation.
Boutique fitness was practically made for millennials; 3 out of 4 of this generation prefer spending money on experiences rather than things. They're entering their prime spending years, and they're the most significant generation yet. Millennials define health and wellness in a new way. For them, it's more than exercising and eating right; it's a lifestyle.
Millennials want unique experiences and convenience. So when it comes to fitness, the concept of an inflexible, traditional gym membership doesn't appeal. The rise of digital fitness has taken this to a new level of expectation: now more than ever, consumers want convenience and flexibility.
Boutique fitness, whether online or in-person, ticks all of the millennial boxes, which is why they are continuously investing in the industry and influencing its future.
3 Reasons People Love Boutique Fitness
With thousands of boutique studios specializing in everything from yoga and cycling to boxing and dance, there's something for everyone. They have a unique appeal compared to more traditional gyms. Below are 3 key reasons that people love boutique fitness – and the reasons they'll return for the experience as the world opens back up.
1. Personalized
One of the major attractions to boutique fitness is personalization and tailored fitness. Studios tend to specialize in a particular type of fitness and usually have small classes of around 8-12 members. This means that the instructor has more time to give you individual attention.
Smaller training groups give instructors the space to adjust the form and pay closer attention. Something that they might not be able to do within a large class or gym environment. It usually takes around three classes to get up-to-date with any unfamiliar technology and catch up with class lingo. Studios provide that coach-member relationship in a way that's not intimidating.
2. Community
The community vibe or tribe keeps clients coming back again and again. Just the size of a smaller class makes it feel like you're already a part of a supportive network. The majority of boutique studios place a strong emphasis on this sense of community, as it drives loyalty.
Supporting a community culture online has become an essential part of running a successful gym in our changed world. By maintaining an online community, you can improve the customer's experience. Plus, when it comes to fitness, some benefits come from working out in a group. When you're trying to nail the last round of drills at boot camp, watching your friend finish it off often gives you the motivation to complete it.
Research shows that the healthy actions of others tend to rub off on us. One study found that participants move towards the exercise behaviors of those around them. Another study found that overweight people were more likely to lose weight if they spent time around their fit friends. Group classes radiate positivity and social support that you can't get from working out alone.
3. Variety
From strength training and HIIT to cardio classes and hot yoga, boutique fitness brings with it an extensive choice of classes. If you want to combine nightclub music and energy with cycling, then you head to SoulCycle, or you want to up your treadmill game but hate doing it alone, then head to OrangeTheory or Barry's Bootcamp for a treadmill-based workout.
You then have the option to stick to your favorite studio or use a service like ClassPass, so you have regular access to multiple studios and fitness clubs in your local area. Although a boutique studio tends to be specialized, the emergence of boutique fitness means these types of workouts are available for you to try.
The reason why one person may love boutique fitness can also be the same reason another person might decide it's not for them. Focusing on one type of workout means you can properly hone a specific skill and see how your fitness has progressed. Although there's less variety than a multipurpose gym, it also gives a level of focus, and as a gym owner, this means you can hone in on a specific target audience.
If you're in love with a particular type of fitness like dance, yoga, or cycling, you're more likely to find your tribe and commit to a studio that's going to enhance your love even further. A specialty studio is a great way to find other people that also love the same thing, further deepening that sense of community and creating the right atmosphere.
The Customer
Engagement Playbook
for Your Fitness
Business
Discover more
3 Studios That Paved the Way for Boutique Fitness Success
1. Barry's Bootcamp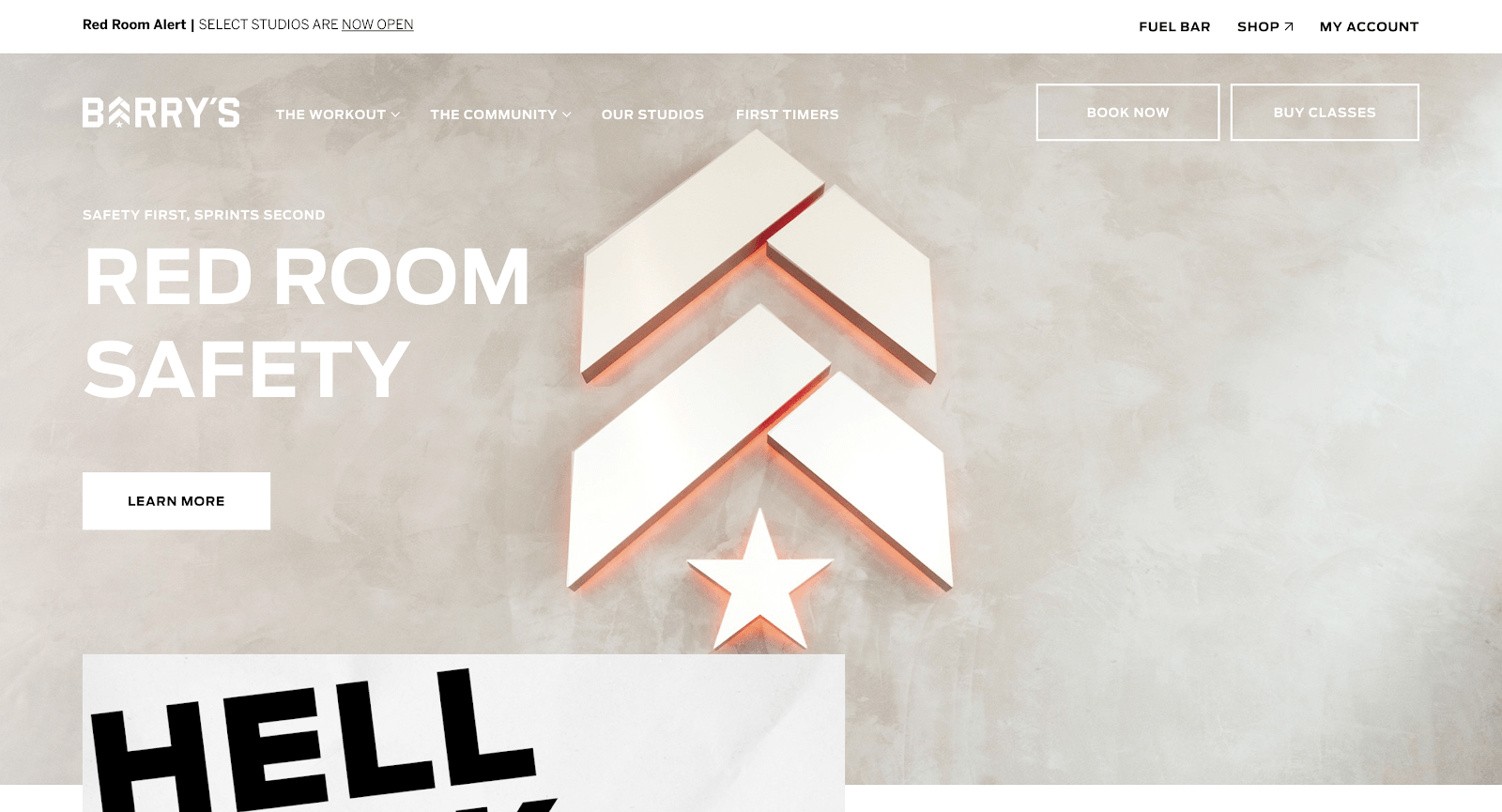 Founded in 1998, Barry's Bootcamp was one of the first brands to drive the boutique fitness boom. Group HIIT-based interval training wasn't the mainstream option it is today, but the Barry's phenomenon swept across the US, then went global.
Members gather in a dark room with low red lighting and loud music pumping from a curated playlist. High-energy workouts last between 50-60 minutes, pushing everyone through sprinting treadmill intervals and intense strength training floor workouts. Class types vary, covering everything from lower and upper body specific sessions, and total body workouts. Members can adjust their speed and weights to suit them, making classes open to all fitness levels.
To cater to members at home through Covid, the brand launched its online service "Barry's At Home" in 2020. Designed to suit every kind of home workout environment, classes are split into 4 categories: Weights, Bodyweight, Bands, and a few of the brand's traditional Treadmill and Weights classes. Members can purchase equipment from Barry's online store for the Bands class. The Band Together Fit Kit includes a resistance band and mini band for $32.
With over two decades of success, Barry's branched out with a new concept, Barry's Ride, in February 2020. The timing of the launch (weeks before the pandemic took hold of the world) was unfortunate. But the new class has been available to members online over the last year, and it will certainly be one to watch as the fitness industry opens back up. And on the whole, despite the pandemic, Barry's remained successful: 140k of Barry's members took classes every week through 2020, and its global presence continues to expand.
2. SoulCycle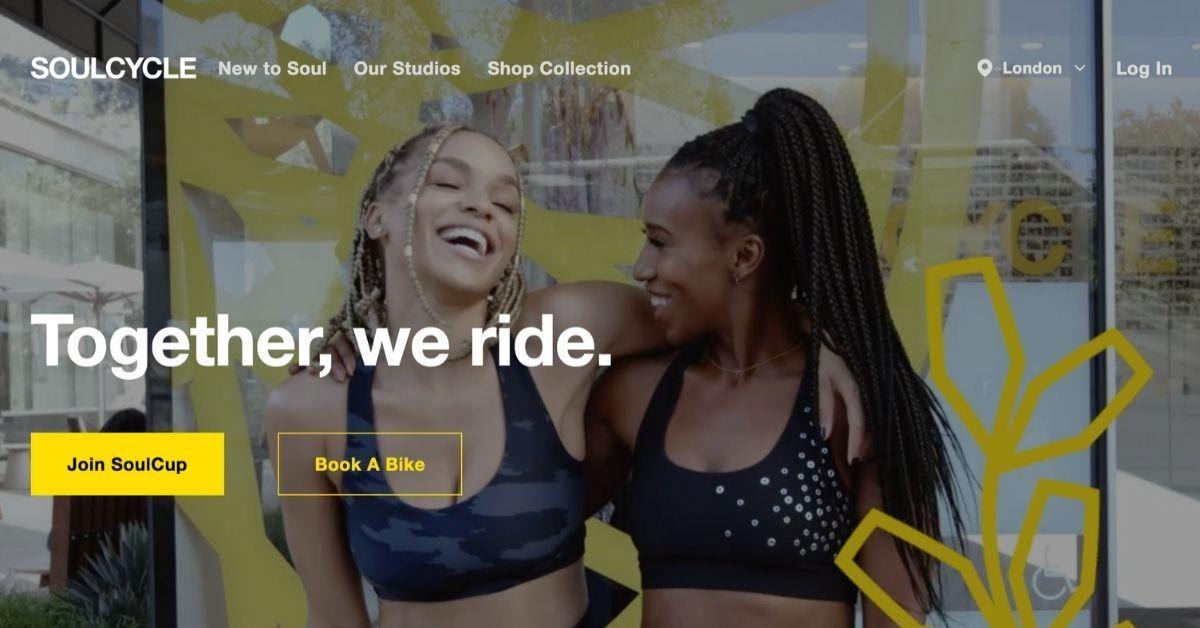 One of the best-known boutique fitness franchises in North America – SoulCycle is a cardio workout guaranteed to get you feeling good. Founded by game-changing duo Julie Rice and Elizabeth Cutler, SoulCycle reshaped indoor cycling.
Back when SoulCycle first launched in 2006, boutique fitness had barely begun, with most gyms still offering traditional memberships and services. Charging members per class felt like a risky move at the time, according to co-founder Elizabather Cutler. Nevertheless, this pricing model is what made the brand push to provide members with such a unique experience:
"There was no boutique fitness in NYC, and everything was membership-based. We felt that charging people per class was a challenge to ourselves and that each time people came, it could be a mini-experience."
The brand successfully created a unique experience for members; if you wanted the SoulCycle experience, you wouldn't get it anywhere else. Today, a quick search in Google News for "SoulCycle" brings up a recent article that paints the brand in far less flattering light than that of its romantic candlelit studios.
Yet despite the article detailing a dark side, it can't be denied that the brand pioneered a revolution. Again, like Barry's HIIT concept; today boutique spinning studios have become a norm in the fitness industry. But it all started with SoulCycle: it grew a cult-like following, long list of celebrity clients, and became recognized as a global lifestyle brand.
3. Orangetheory Fitness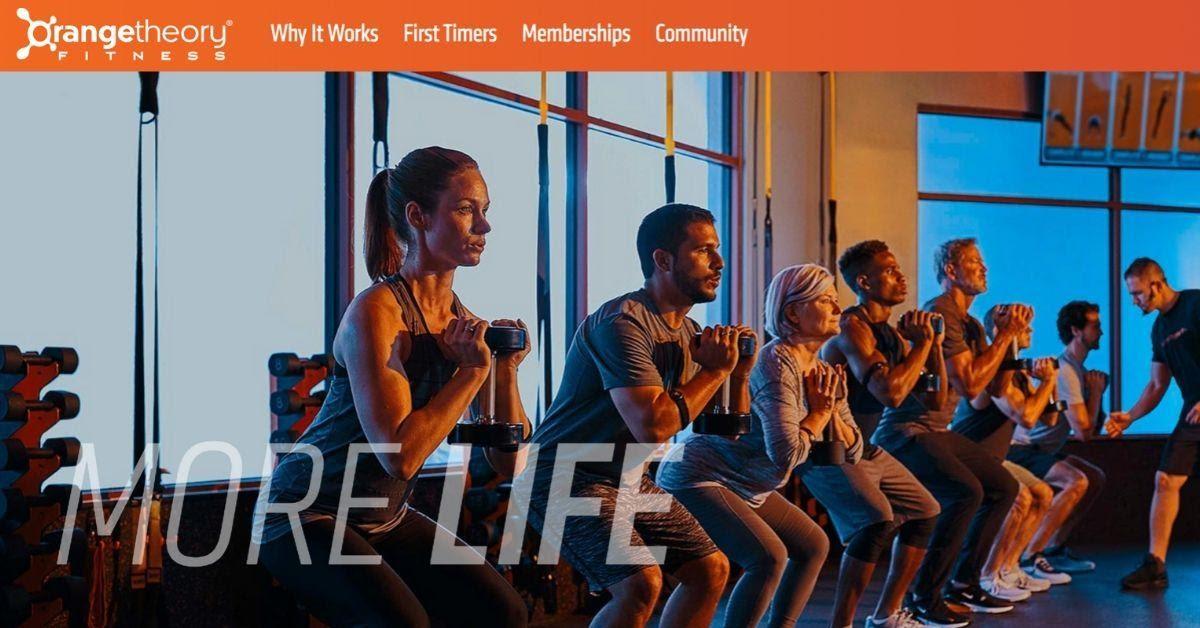 Orangetheory Fitness is based around heart rate training. Dr. Joel French, Orangetheory's senior director of research, fitness, and wellness, explains how this makes the classes accessible to everyone:
"The heart rate system allows everyone to push themselves to exactly where they need to be. You can have that elite athlete training right next to a grandmother, and they can get the same kind of workout in the same class."
This studio brings new ideas to the fitness industry; its members can exercise and at the same time and view their heart rate levels to achieve maximum calorie burn and reach their fitness goals.
Much like Barry's, the boutique brand is a massive player in the fitness franchise industry. Eight years after opening its first studio in 2010, it surpassed $1 billion in systemwide revenue in 2018. The brand has over 1,100 studios all over the world and is still growing, spurred on by its successful pivot to online workouts.
Orangetheory has stayed at the top of its game amid lockdowns. Through times where the brand has been able to reopen some locations, it was ready with a video to educate and inform members, but most of all, to get them excited to go back to the studio:
The clip is just over 2-minutes in length and invites members to see for themselves how Orangetheory is preparing its studios for reopening.
The Future of Boutique Fitness
When it comes to boutique studios, SoulCycle revolutionized spin, Barry's Bootcamp revolutionized HIIT, and Orangetheory revolutionized performance tracking. But this is not where revolution ends in the boutique fitness space.
It's just a question of who or what will transform the industry next.
These 3 key brands encouraged mass interest in the fitness trend, inspiring a host of new concept studios to open. Since then, boutique fitness itself has already changed a lot.
1. Technology Shapes Up
Technology has long-played a part in boutique fitness, and it will continue to influence the entire fitness industry. With many confined to working out at home over the last year, there's been a huge uptake in fitness trackers and there is now a growing consumer desire to see how they're performing with workouts. Incorporating technology into your gym physically brings additional value to the entire member experience.
From live-streaming classes in the Peloton Studios to making full use of wearables and tracking members' progress and fitness levels, technology allows boutique fitness studios to innovate and disrupt the industry entirely. Expect more classes utilizing software to enhance the member experience, with everything from VR and wearable tech bringing people together to achieve shared goals and competitions.
The Takeaway for Gyms:
Boutique studios will need to continue adapting to consumer demands, using tech to deliver unique experiences to members, as well as revolutionizing the fun side of working out.
2. Deliver Value and Meet the Consumer Where They Are
There will be a new demand for flexibility and convenience from gyms long after Covid. Yes, as the industry opens back up, many will return to their pre-covid gym routines. But they will also expect gyms to maintain a digital offering going forward, to provide the flexibility and convenience they have grown accustomed to over the last year. Behaviors and expectations have changed, and Les Mills CEO Jean Michel Fournier echoes this advice in a recent podcast episode from Forbes. He points out that fitness businesses must be prepared to meet the consumer wherever they are.
The Takeaway for Gyms:
As fitness businesses begin implementing scalable hybrid business models, we'll see competition in the digital fitness space surge once again. But as Emma Barry points out in a recent episode of The Fitness Founders Podcast, the truth is that no one can say exactly how hybrid gyms can best position themselves in a newly competitive market. Still, she has a positive outlook on the resilience of the fitness industry, and the future of boutique fitness:
"There will be a proliferation of pricing models, and I don't think anyone knows the answer yet. We're going to have to test it in a market that's in a recession. But the good thing about health and fitness is that it's resilient to recessions, that was shown in 2008/2009, and previous recessions. Even if growth is slow in the economy in general, health and wellness always seems to do quite well."

Emma Barry
Even with an uncertain future, the fitness industry is set to bounce back. Creating an experience members won't find at another gym, and over delivering on value is how the gyms of the future will stand apart from competitors.
3. More Studios, More Niches
What if every gym, on every corner, offers the same thing? What if every online workout delivers the exact same experience? Eventually, boutique fitness, as we know it, will become oversaturated. As the industry continues to grow, so will the consumer desire to see new things from it. To continue succeeding when the competition is at its highest, brands and studios will need to expand their offering and continue to differentiate themselves from one another.
We already see digital fitness influencing the way people workout, a trend that will see gym-goers of the future embrace a balance of in-studio and at-home experiences.
The Takeaway for Gyms:
The future of boutique fitness ultimately lies in how the industry's leaders and entrepreneurs adapt and grow with it.
In Summary
With global demand for personalization in an environment that emphasizes community, tribe, wellness, and fitness, the boutique fitness industry will only continue to grow. Online and in-person: boutique fitness is here to stay. It's here to change, improve, and continue exceeding expectations as it has done for so long.
Online fitness has been a saviour for both fitness businesses and their members through 2020, and the digital fitness market will continue to grow long after Covid. But at the end of the day; boutique fitness is about more than exercise. Members are paying for a unique and engaging social fitness experience – something that can never be fully recreated through a tablet or laptop screen.
The Customer
Engagement Playbook
for Your Fitness
Business
Customer engagement is the way in which a brand
connects with its customers on a deeper level than a
simple business and consumer relationship.
Discover more