Given that the world has spent the last year in and out of lockdowns amid the pandemic, it's no surprise that technology is increasingly finding a place within people's fitness routines. There has also been a considerable shift in consumer mindsets: gym-goers are more curious than ever to know more about their overall wellness, which encompasses everything from working out and eating well to mindfulness and sleep quality.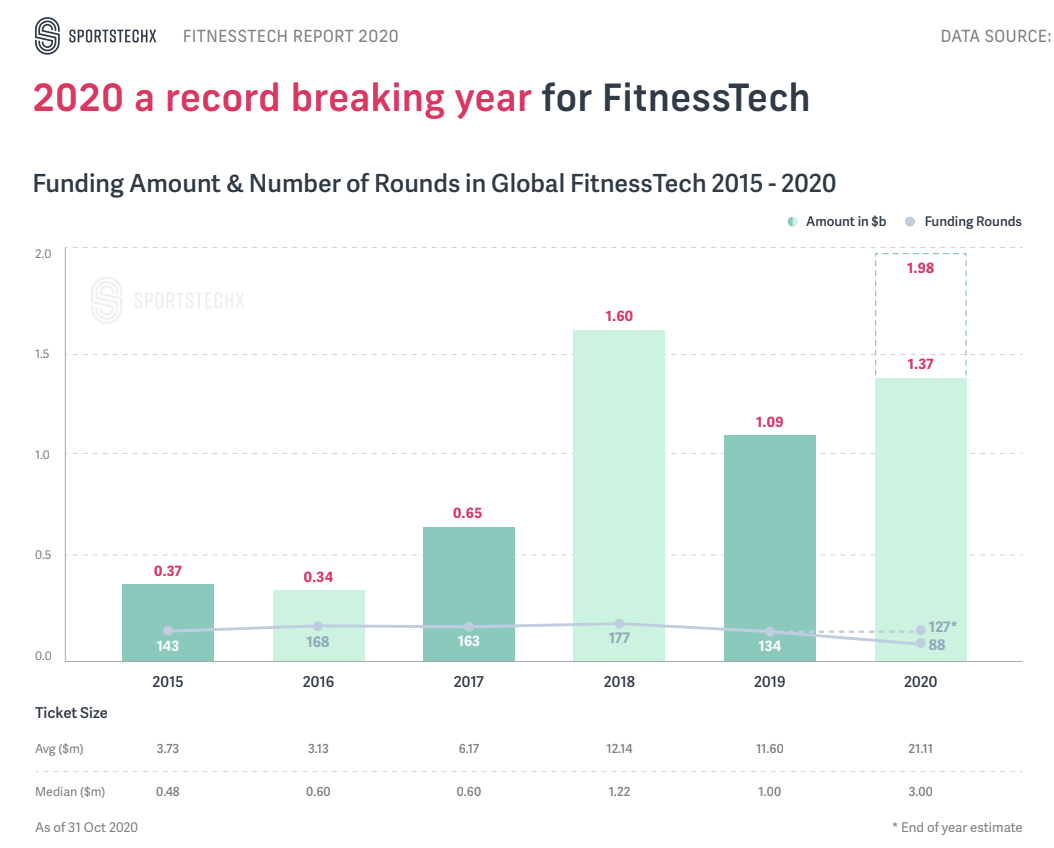 Today's most-used fitness tech ranges from apps and wearable technology to digital fitness platforms and equipment. Setting aside the novelty factors of new advances, the convenience that technology can offer is incomparable.
The combination of fitness tech and digital fitness has been reshaping our industry for some time; both sectors were growing increasingly year on year long before the pandemic. Now more than ever, this shift is both from the aspect of the consumer (gym goer) and the suppliers (gyms/ personal trainers.)
Here, we look at the latest fitness technology trends and what they mean for your members and your fitness business.
8 Types of Fitness Technology Enhancing Home Wellness
As the fitness industry pivoted online to survive, fitness businesses and members alike have invested in home fitness: gyms have improved their online offerings, members have improved their home set-ups, investing in a range of equipment, apps, wearables, and fitness trackers for the long-term.
We're were recently joined by Byran O'Rourke on The Fitness Founders Podcast. Bryan is the president of the Fit Tech Council, with a range of leadership, speaking, and advisory roles across the fitness industry. In this episode, he shares some excellent insights the growing influence of technology in fitness over the past few years, how major tech companies are moving into the health and fitness space, and what large franchises and independent operators need to do as the market becomes more competitive:
The fitness industry has had to adjust to a new normal, the gyms of the future will be hybrid, and gym members will be tracking their progress and working out both in the gym and at-home.
With the swift progress of wearable technology, AI, and even mixed reality, the health and fitness tech market is making leaps and bounds, making it an exciting time for both customers and developers.
So what types of home-fitness technology are people investing in?
1. Home Gym Equipment
According to a global report from Research and Markets, the home gym equipment market is expected to grow at a CAGR of close to 9% by revenue from 2019-2025. The market is witnessing the launch of new fitness devices, which are digitally advanced and technologically innovative. Let's take a quick look at a few examples.
JAXJOX
Website: https://jaxjox.com/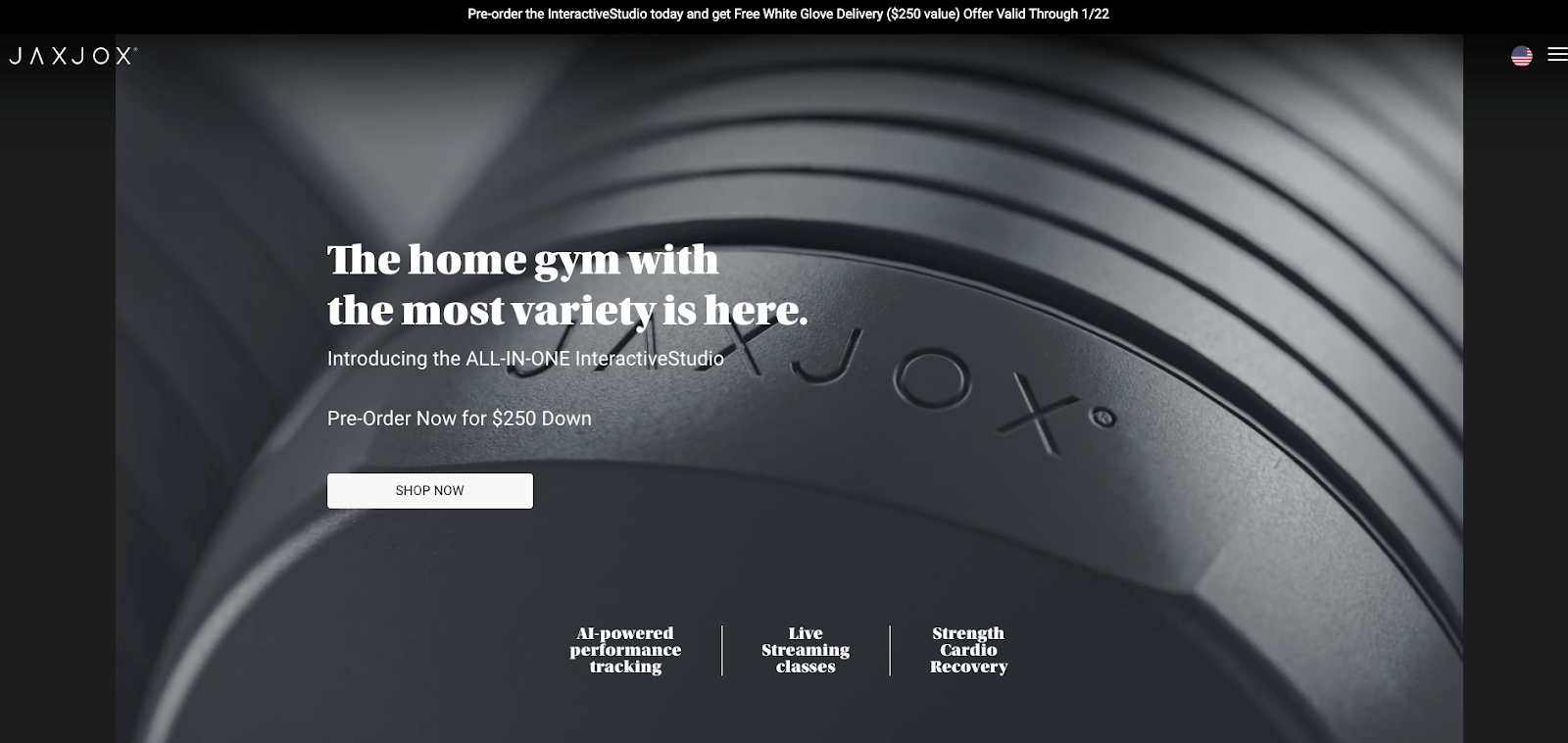 JAXJOX produces a range of connected, adjustable equipment. Its InteractiveStudio™ combines smart adjustable equipment, AI-powered performance tracking, and interactive personal training for a complete 360° training experience at home.
KettlebellConnect is a smart kettlebell that has multiple weight options. It has a stacking system that allows users to lock on added weights in seconds, making it time and space-efficient. The kettlebell also features sensors that enable users to track each training session's content, intensity, and duration. Other products in its range include Dumbbell and Foam Roller Connect.
Nordic Track
Website: https://www.nordictrack.com/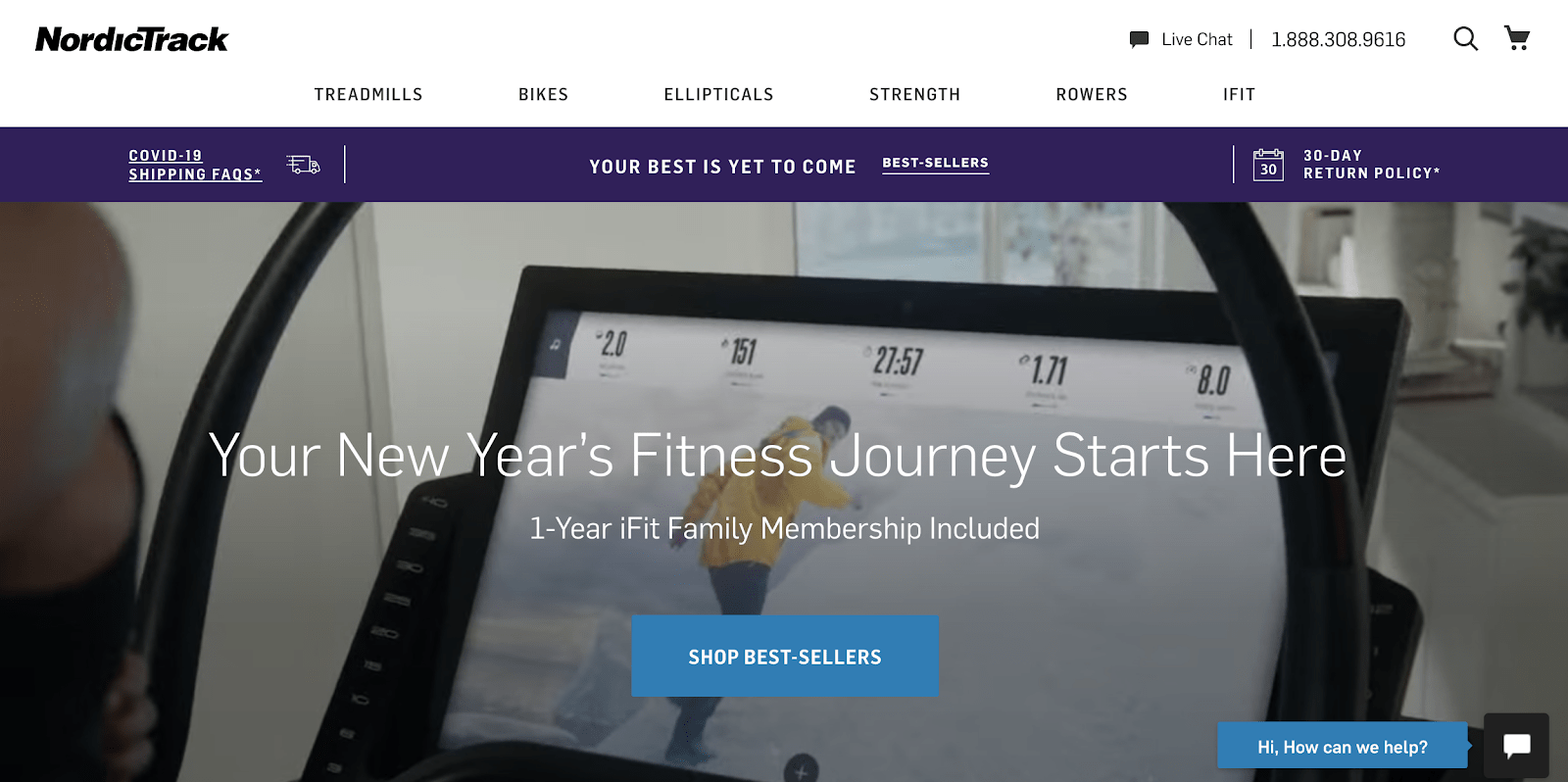 Next to Peloton, NordicTrack is one of the most popular stationary home bikes. The brand produces a range of home equipment, including ellipticals, rowers, treadmills, rowers, and interactive strength training equipment. Colleen Logan, vice president of marketing the parent company of NordicTrack, told Vox that the company experienced huge demand through 2020, with sales increasing by 600% in May.
2. Fitness Apps
Fitness apps have never been more critical. According to the World Economic Forum, fitness app downloads grew by almost 50% in the first half of 2020. It's a significant increase that highlights just how popular home fitness has become, and there are now hundreds of subscription-based options available. One stand out brand has been leading the way and leveraging the consumer appetite for home fitness apps since 2018.
Fiit App
Website: https://fiit.tv/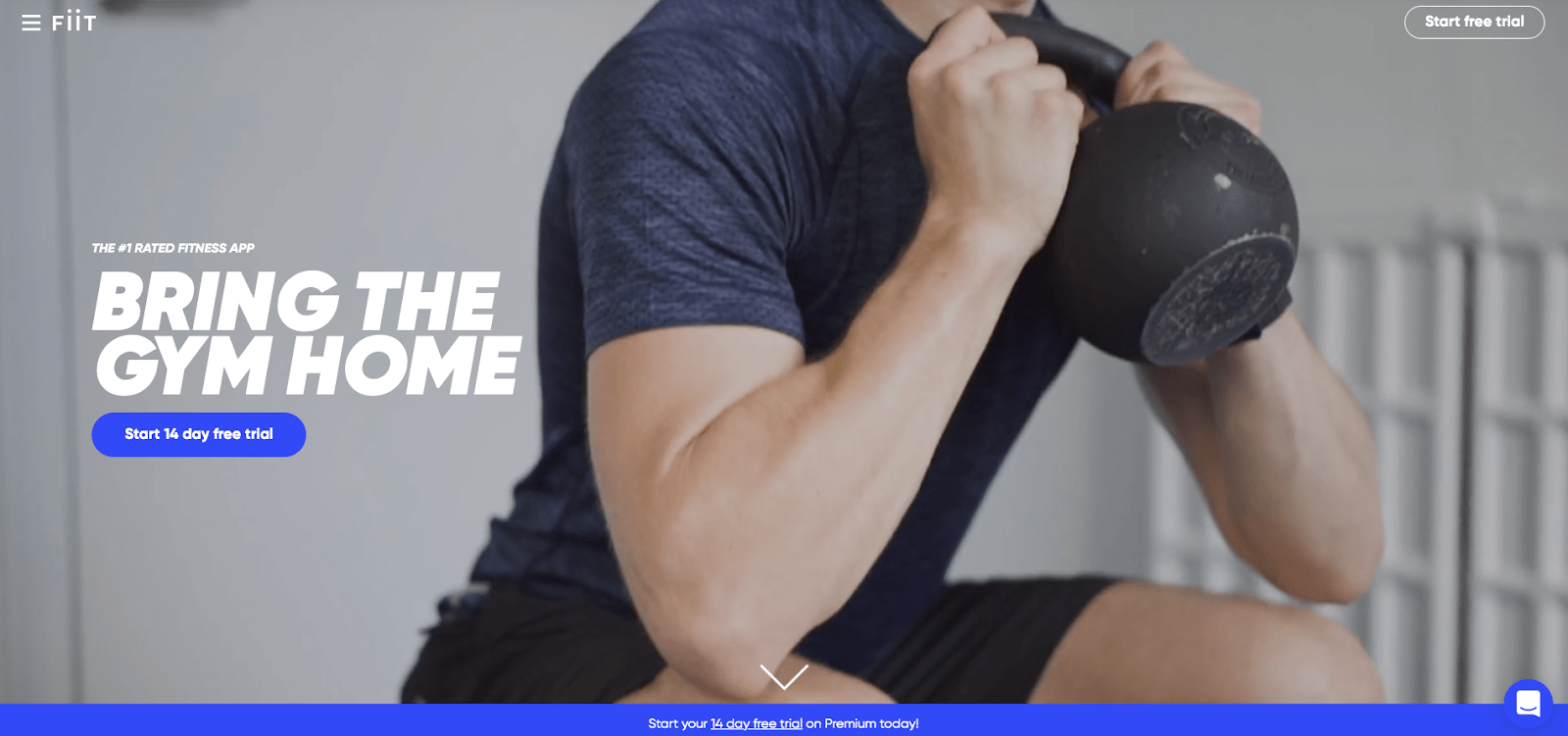 Fiit App was coined the 'Netflix of Fitness' long before the pandemic. With a huge selection of live and on-demand workouts led by high profile fitness experts, users have always been able to choose from a free or premium subscription. The free version granted access to 75 classes, while premium includes over 600 classes, 20+ training plans, and the ability to connect with a heart rate monitor to see live stats, track progress and connect to live leaderboards in group classes.
The Customer
Engagement Playbook
for Your Fitness
Business
Discover more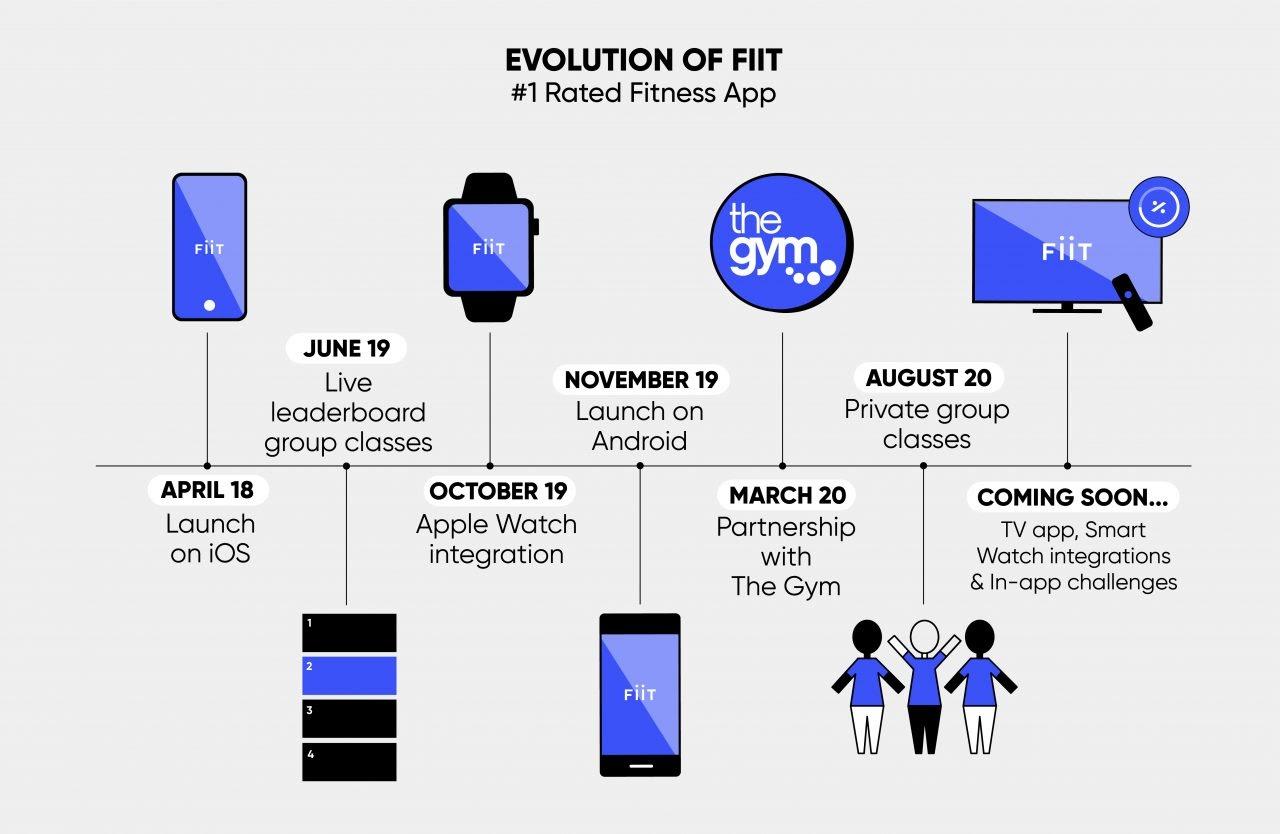 The free version of the app has always acted as the perfect stepping stone for members to experience Fiit before committing to a Premium subscription. But in January 2020, the brand went one step further and introduced a 14 day free trial of Premium. After experiencing the free trial, over 50% of its members signed up for a 12-month membership. And so, from October 1st 2020, the brand made its free membership obsolete, choosing to focus its efforts on improving the premium offering.
This growth-focused move means the brand is still providing new members with a value-oriented incentive with the 14-day free trial. For the business, it will likely mean higher conversion rates and more members.
3. Wellness Apps
Many people have turned to apps in the last year to help give their lives structure amid the pandemic. Whether it's a 10-minute meditation on Headspace or tracking sleep with an app like Sleep Cycle, wellness app usage is set to increase.
According to app insights company, Apptopia, mindfulness and meditation app Calm came out on top for wellness app downloads last year, followed closely by FitBit, MyFitnessPal, and Headspace. Let's take a quick look at a couple of the wellness-focused apps growing in popularity.
Headspace
Website: https://www.headspace.com/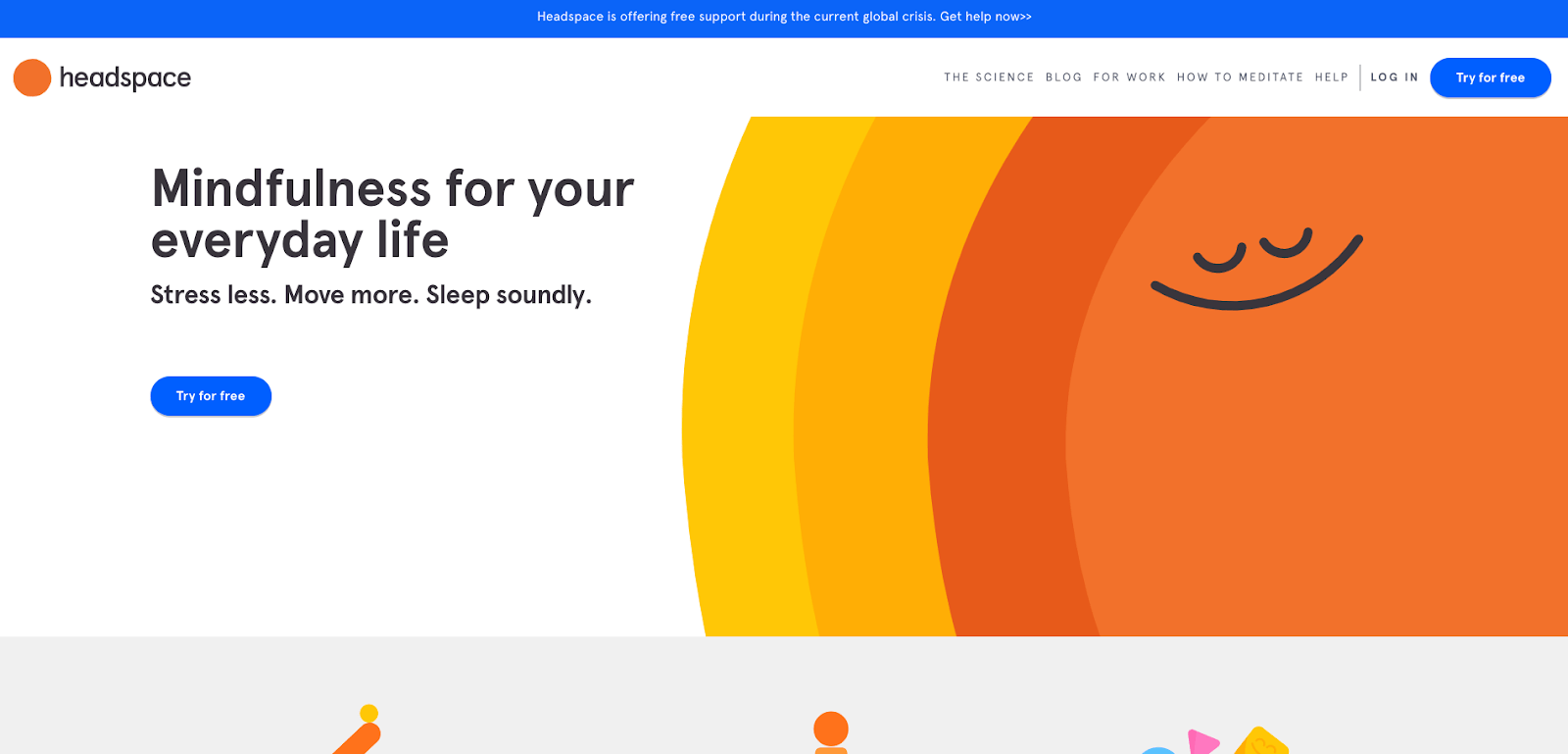 Headspace is a meditation and mindfulness app designed to help people live happier, healthier lives. As users complete different areas, the app breaks down each session into a timeline so you can track your progress. Insights include your average session length, your total time meditating, and how many sessions you've completed in total. An internal study found that only ten days of the app reduced stress by 14%.
Sleep Cycle
Website: https://www.sleepcycle.com/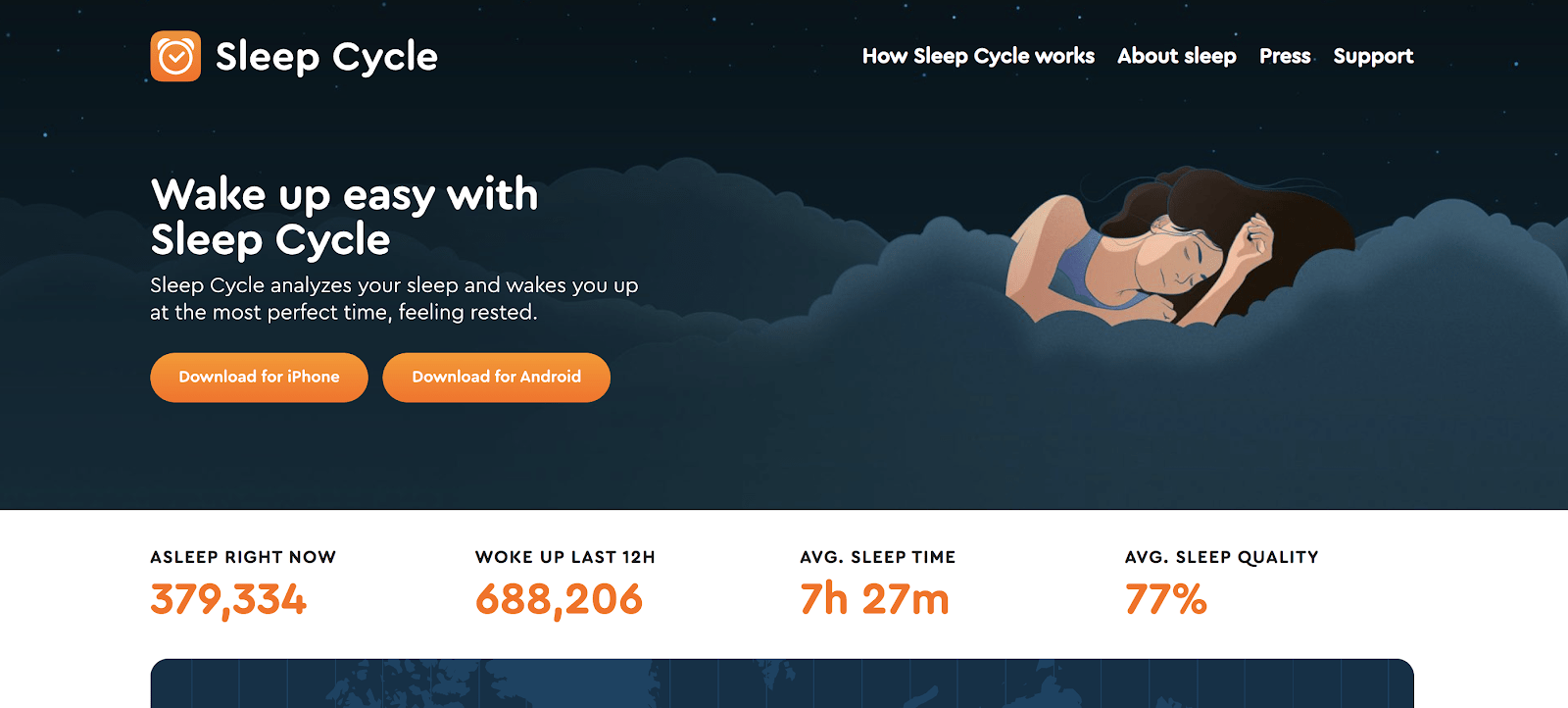 With no wearables necessary, Sleep Cycle monitors movement and sound analysis through a user's phone to track their sleep cycle throughout the night. Sleep Cycle will wake users with the information it collects when it detects they're at their lightest sleep, so they wake feeling less tired. The app also provides a full sleep analysis to help people learn how to sleep better.
4. Fitness Trackers
Composing a major share of the wearable device market, smartwatches were forecast to generate over 27 billion U.S. dollars in end-user spending by 2021, and the total end-user spending on wearables was expected to reach 63 billion U.S. dollars by 2021.
Today, a fitness tracker is more than a fashion accessory. They provide valuable data for those who are serious about their progress and developments, and there is an option out there for everybody. Apple has now added an electrocardiogram (ECG) function, which allows for a more detailed analysis of its users' heart health. Meanwhile, Fitbit's latest watch works with more advanced heart rate sensors that use algorithms to reveal insights on your heart while giving instantaneous feedback allowing you to make the most of every workout. Users can track all of their activities, from home-workouts to spin classes to sleeping patterns.
5. Virtual Reality
Virtual training and coaching are becoming an indispensable tool in the fitness world. Many health clubs are now encouraging the use of professionally coached classes brought to customers via streaming. Apps like Endomondo allow users to simulate the experience of having a personal training session with a coach through their headphones. Indicated as the new cutting edge tool in training, virtual reality has already been embraced by thousands of gyms and fitness clubs internationally, most remarkably in big-name brands such as Pure Fitness and Virgin Active. Beyond the fitness club scene, athletes are finding a new way to communicate and share with fans; Floyd Mayweather has developed his own Mayweather at home boxing.
6. Online Coaching
Many coaches are now offering digital training services. Gym goers are increasingly searching for services that work around them, i.e., not a gym with specific hours. This is where long-distance online coaching excels. Services are often given at a reduced rate (from their physical competitors), it can be made available 24/7, and it is increasingly becoming an attractive alternative for many. For the more gym-shy, this is also a handy tool. It can also be a way of introducing a whole new clientele to the fitness industry.
7. Machine Technology
Smart technology is making its way into gyms, with the likes of Peloton bikes. They saw a significant gap in the market and jumped in to elevate at-home fitness to match an in-class experience. Peleton equips stationary bikes or treadmills with monitors that consumer uses at home. These monitors stream workouts live or on-demand and offer users unique options centered on user preferences. To further add to the experience, users can choose whether to sync their workouts to worldwide leaderboards and add a fun element of competition! Another great device in this category is the Mirror; this slick device allows users to follow various real-time fitness classes.
8. Wearable Technology
We can't live in a world filled with technological advances and not be fashion-forward about it too. New pioneering workout gear allows customers to meet fitness objectives faster with high-tech clothing that is both smart and stylish. Record all of your running data with Under Armour's Gemini 2, check your running form with the Sensoria smart sock, or measure heart rate, cadence, and steps with this Hexoskin high-tech tank.
Fitness Trends: How Facilities Must Respond
The fitness businesses of the future are hybrid, with a focus on incorporating a range of apps and new tech to empower members to track and motor their efforts.
Fitness technology and online fitness have been the savior of our industry. For success in the future, gym owners must embrace this shift and use it to its maximum potential:
Enhance member experiences by tracking activities and outcomes.
Use technology to design winning marketing campaigns. Create valuable and relevant content for your members.
Incorporate technology to assemble data and info about your members and their fitness habits.
Create better programs based on this information.
Cater to members wherever they are, whenever they want to workout with a hybrid business model.
In Summary
Times are changing, and technology is creating significant shifts within industries. Consumers now have many more options on how they accomplish wellness, and fitness clubs will need to make the relevant changes to allow for these advances.
The Customer
Engagement Playbook
for Your Fitness
Business
Customer engagement is the way in which a brand
connects with its customers on a deeper level than a
simple business and consumer relationship.
Discover more