The fitness industry is constantly evolving, none more so than in the last year. The pandemic has been the biggest challenge that our industry has faced to date, but by quickly adapting to online workouts, many have survived and thrived, ready to come out on the other side stronger than ever. Despite a turbulent year, fitness industry leaders like Barry's Bootcamp have managed to evolve their offering to meet the needs of their members old and new. 
Founded over 20 years ago, Barry's is a pioneering brand behind the boutique fitness boom. Opening the doors to its first studio in West Hollywood in 1998, the studio was one of the first on the scene to provide HIIT training in a group setting. Today, the brand has over 70 studios spread across 14 countries. There's something every fitness entrepreneur can learn from the global franchise that revolutionized our industry and has experienced continuous success for more than two decades. 
Here, we take a look at the origins of Barry's Bootcamp, how it became the brand it is today, what they offer, and 3 key things you can learn from this hugely successful franchise. Skip ahead to:
How Barry's Began 
It's 1998 in Los Angeles, and celebrity fitness instructor Barry Jay has worked his way up from the front desk to a highly sought-after fitness instructor. He then has an idea for a new fitness concept; a one-stop strength training and cardio workout held in an immersive group atmosphere. 
Things move quickly, and with the help of his partners, John and Rachel Mumford, the first Barry's Bootcamp opens in the heart of West Hollywood. Barry Jay might not have known it back then, but the Barry's Bootcamp journey is just beginning, and boutique fitness is born. 
From New Fitness Concept to an Industry Revolution: Barry's over the Years
The first iconic shift in Barry's history begins with a devoted member, Joey Gonzalez. Following his first-hand experience as a client, Joey falls in love with Barry's and becomes an instructor in 2004, working his way through the ranks to manager, director of operations, and eventually partner. Joey quickly became dedicated to growing the brand, spending his time traveling across the US opening to open new locations. He took on the role of COO in 2009, the year Barry's expanded outside of LA for the first time, opening its first studios in San Diego.
By 2011, Barry's Bootcamp was generating buzz across the country as it went on to open more studios in New York and launched its first signature Fuel Bar. Between 2011-2015, Barry's goes International. Studios open across the world in London, Norway, Boston, Miami, Nashville, and San Francisco. Joey Gonzalez is appointed CEO in 2015, and the brand's expansion continues through New York and the Hamptons, with the retail collections growing online, across studios, and launching into Bloomingdale's.
Over 40,000 clients take Barry's classes every week by 2016. By now, the brand has built a well-known celebrity fan base, including Ellie Goulding, Mandy Moore, David Beckham, Harry Styles, and Isla Fisher. Its cult-like following paves the way for worldwide expansion. Between 2017 and 2018, Barry's opens its first studio in the Middle East, along with development in London, Milan, Stockholm, Norway, Toronto, and a new host of locations across America.
In 2018, Barry's Bootcamp becomes a global phenomenon. For its 20th year in business, the brand hosts its largest class ever in L.A and celebrates with the Decades Festival. With more than 500 guests of friends and family, the event featured everything that fans had come to expect from a Barry's experience; an arcade room, food trucks and cocktail bars, performances from Snoop Dog and Leona Lewis, and an exclusive Lululemon popup.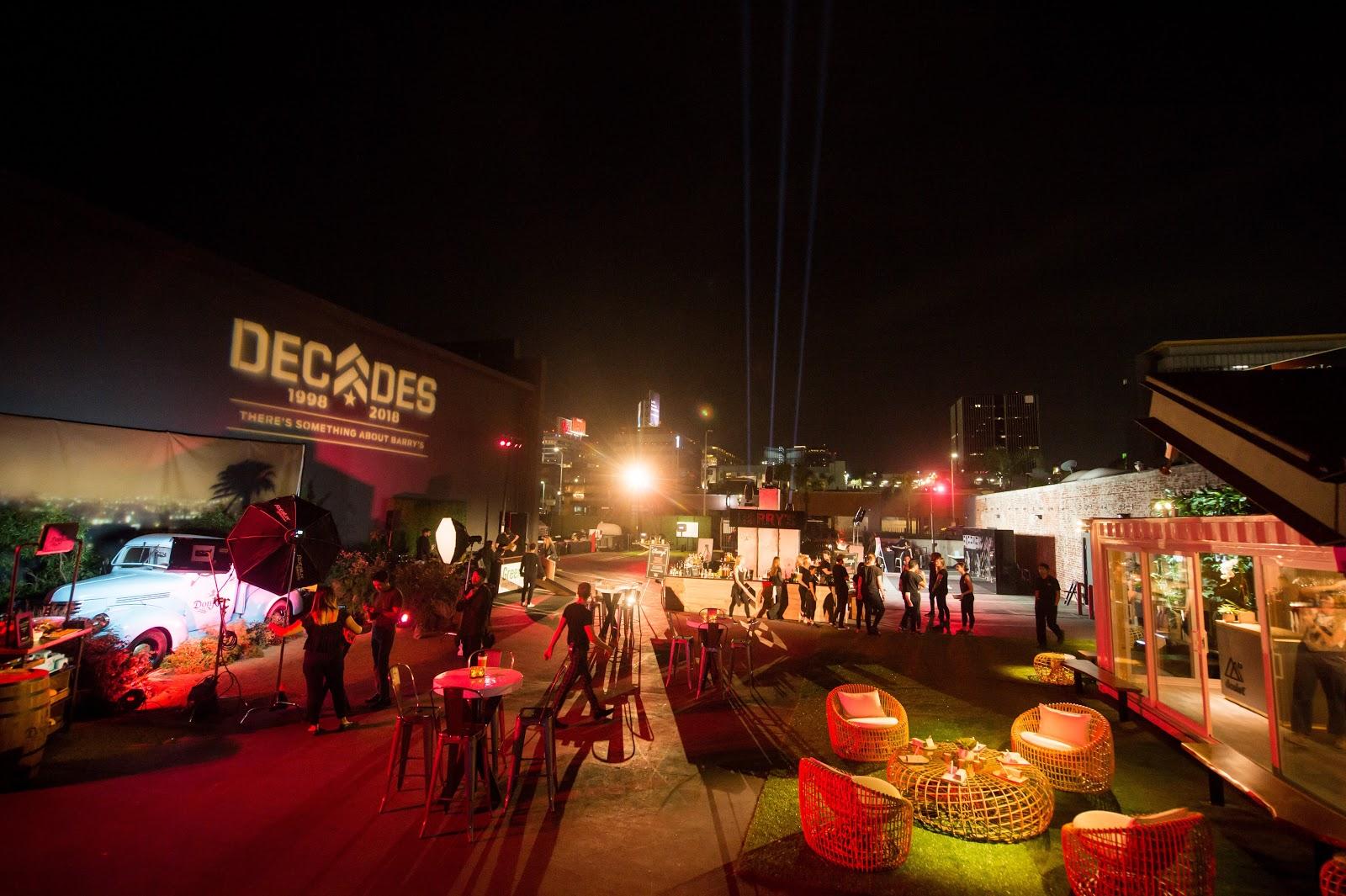 Two years later, they launched a new spin concept Barry's Ride, just a month before Covid-19 began forcing gyms across the world into lockdown. But the pandemic never put a stop to Barry's success. Having established a cult-like following amid celebrities and general fitness fans over the last two decades, the launch of Barry's At Home was another triumph. Over the last year, 140k of Barry's members took classes every week, and its global presence continues to expand.  
What Does Barry's Offer?
Being a pioneer in the concept of HIIT-based interval training has certainly helped Barry's become a "go-to" for this kind of workout. But it's the immersive experience that draws members in and keeps them loyal in the long run. Here, we'll quickly break down what to expect from a Barry's Bootcamp class. 
The Barry's Workout
"Barry's is a vibe. The red lights hit, the beat drops, and you lose yourself in the energy of the Red Room. You'll run faster, lift heavier, and you won't do it alone."

– Barry's Website
Barry's infamous Red Room does what it says on the tin: Expect a dark room with low red lighting, loud music pumping from a curated playlist, and high energy throughout every workout. Classes vary from 50-60 minutes, where members will move between sprinting treadmill intervals and intense strength training floor workouts, burning up to 1,000 calories per session. 
Classes types vary, splitting between total body and various options for upper and lower body focus. Members can adjust their speed and weights to suit them, making classes open to all fitness levels.  
Barry's At Home
Barry's At Home launch saw the brand move its high energy, motivating classes to an online setting. There are four types of classes and something that can work for every type of living room setup: Bodyweight, Bands, Weights, and a few of the brand's traditional Treadmill and Weights classes. 
Members can purchase equipment from Barry's online store for the Bands class. The Band Together Fit Kit includes a resistance band and mini band for $32. 
The Top 10 Barriers
Slowing Your Fitness
Business Growth
Discover more
Barry's Ride
Like its signature workout, Barry's Ride is currently available to members through Barry's At Home. The concept features low impact group cycling split into 25-minutes of riding and 25-minutes of strength training. 
3 Key Takeaways From Barry's That Every Fitness Business Learn From 
1. Create a Unique Experience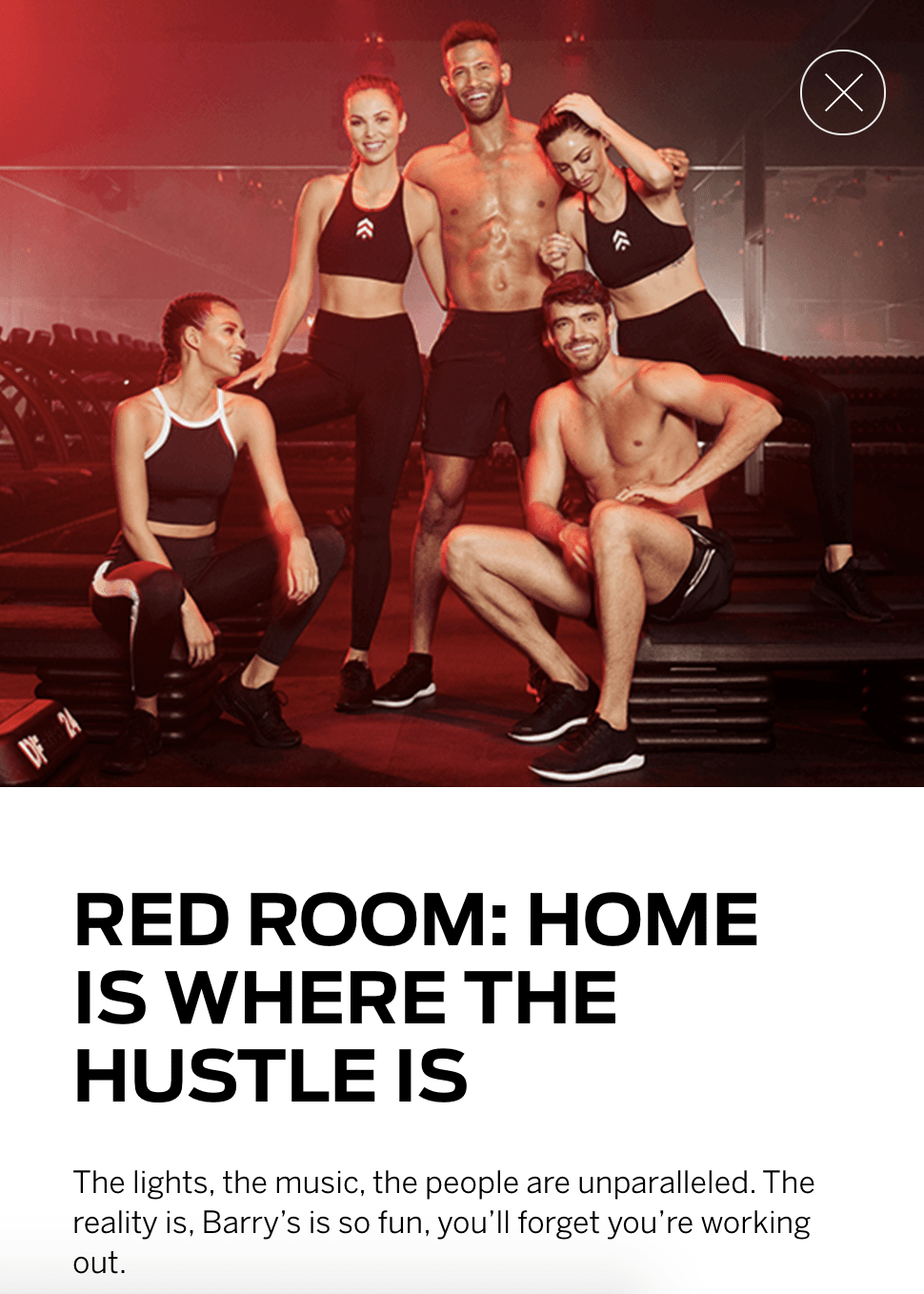 Being a boutique fitness pioneer meant that everything Barry's did was unique: from the group-nature of the workout itself, the Red Room environment the brand created, and its pumping curated playlists. Barry's Bootcamp was an experience in its own right, and this is what drew people in. 
Today, boutique fitness is mainstream, and competition is fierce. Working out as part of a group has become the norm, but people have come to expect more than just a workout because of its widespread popularity. 
Back in its early days, Barry's created something that members wouldn't find anywhere else. Today, the concept has been replicated throughout the fitness industry, which might apply to your gym. But just because the "Bary's experience" has become a consumer expectation, it doesn't mean you can't stand out from the crowd.
When someone joins your gym, they are not just paying for a workout. They're paying for the experience you provide with your community, the events, expert-trainers, and working out with like-minded people in an environment that spurs them on. Whatever kind of environment you create for your members – they won't get it anywhere else.
2. Set Your Brand Apart With Your Culture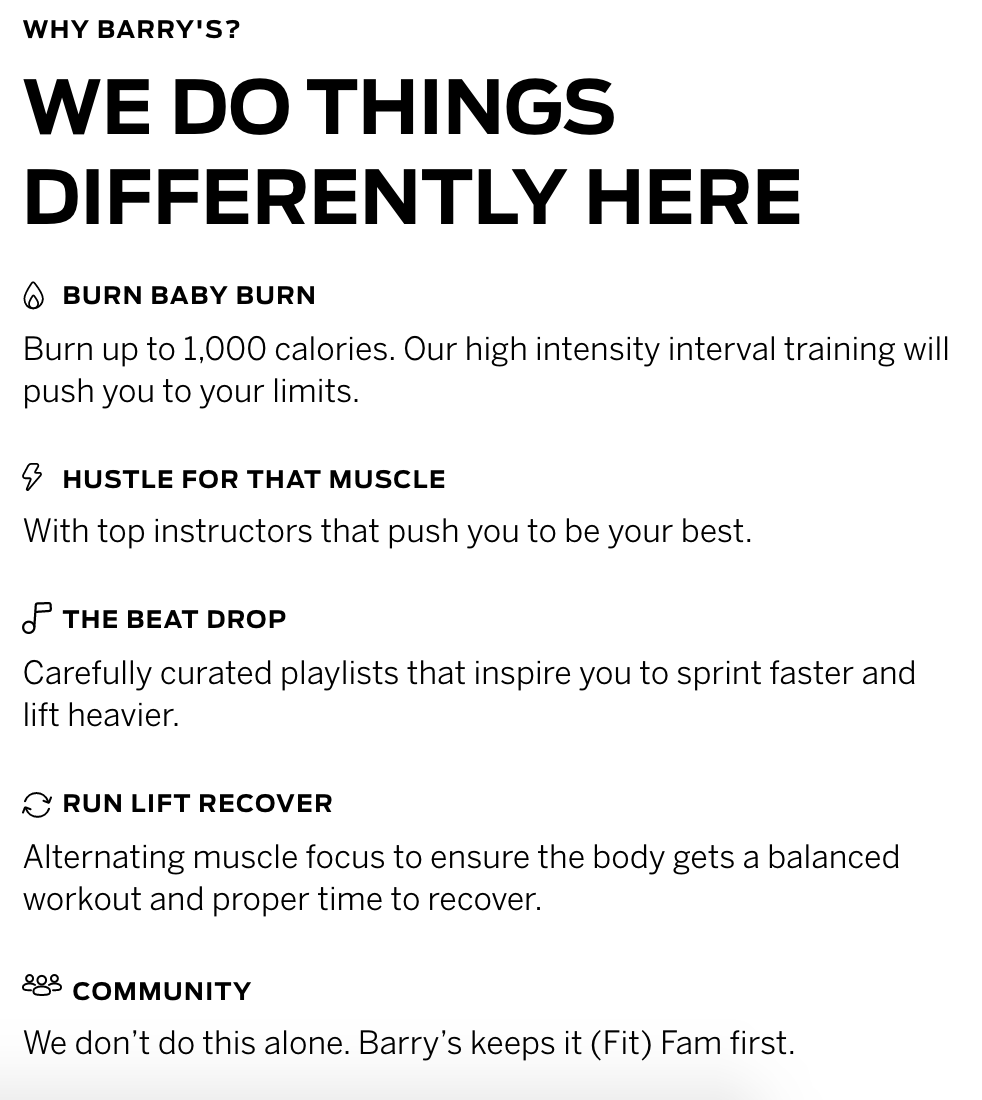 Much like the experience you create for members, your gym's culture comes down to providing something that's about more than workouts alone. It's a set of shared values and a connection that members won't find anywhere outside of your gym. 
A gym culture combines a few various elements, but ultimately, it's your brand's personality. The example on the right is taken from the Barry's website, explaining what to expect from the workout. What would it say if it were your gym? Whether online or at the studio, what does it mean to be a part of your community?
In today's fitness market, the options for working out both online and in-person are endless. Having a defined culture that brings your values and members together under one umbrella will drive brand loyalty and increase retention.
3. Consistency is Key
We've long preached the importance of developing a playbook for every aspect of your business from day one. It ensures everyone involved with the business is on the same page, and it's a document that will detail your processes for success. When Steve Pirt joined us on The Fitness Founders Podcast, he shared some great insights into how large franchises operate, how to communicate effectively with franchisees, and the importance of a proven playbook, especially in a fitness industry transformed by COVID-19. You can check out the episode below:
In essence, every gym needs a scalable model in place that can deliver consistently as the business grows. For Barry's, this consistency initially came from Joey Gonzalez, when he first became an integral part of the business:
"When I joined, there was no instruction manual, everybody did their own thing, so I decided to write the text on how to teach a Barry's class. I kept harassing the owners to allow me to become a partner and invest my money, time, and energy to expanding the brand. Eventually, my passion shone through."

Joey Gonzalez, CEO, Barry's
No matter which studio you visit and whether you're online or in-person, every Barry's class experience is the same for each member. The quality of the workouts, instructors, and overall experience is never compromised; because everyone involved behind the scenes is working from the same manual. 
In Summary 
In 1998, Barry's Bootcamp was just an idea, a fitness concept that hadn't really been done before. In reality, a few similar ideas were likely floating around at the time, but none of them took off like Barry's. 
Barry's Bootcamp transformed the fitness industry by successfully creating a fitness experience that members were truly excited about. The consistent delivery of a combined experience and culture is how Barry's has become a household name in the industry and mainstream culture. 
The Top 10 Barriers
Slowing Your Fitness
Business Growth
In this e-book, we will list the most common barriers that
slow fitness business growth and list some of the tips to
help overcome them.
Discover more