Fitness is one of the fastest-growing segments in the franchise world. Gym and fitness franchises in the U.S. account for $4 billion of the estimated $34 billion fitness industry. Current industry leaders like Anytime Fitness, Orangetheory Fitness, and Snap Fitness are storming the fitness franchise industry.  
Fitness franchises are a great opportunity to enter into a tried and tested business model with proven marketing strategies. Franchises continue to grow in popularity and offer the chance to take a slice of the multibillion-dollar fitness pie. In this article, we will discuss the steps you need to take from start to finish when investing in a fitness franchise. 
What is a Fitness Franchise? 
If the thought of starting your own business has always been very appealing, but you haven't quite wanted to strike out on your own, then franchising could be for you. Franchising provides a ready-made business model, ongoing support, and greater access to financial help. Franchises have already put in the groundwork of building a brand and a loyal customer base. When buying into a franchise, you're buying into a brand that has already built trust and awareness. 
Fitness franchises can vary massively; there's likely something out there to suit your interests and passion. If you've longed to be a gym owner, then Planet Fitness or Gold's Gym may be for you. Boutique fitness franchises are also a fantastic option. Brands like F45 and Fit 36 have attracted a considerable fitness following. Chief among the reasons for this comes from their unique approach to group training. We've already done the research to get you started, here are 10 best fitness franchises to invest in. 
Why Should You Invest in a Fitness Franchise?
The fitness franchise industry is booming and showing no signs of slowing down. The main benefits that come from investing in a fitness franchise are that someone else has done the heavy lifting. Therefore you can capitalize on the brand without putting in years of building it in the first place. This does not mean, however, that everything will be plain sailing. As we discussed in a recent article, there is a difference between starting your own fitness center and buying into a fitness franchise, and you should understand the potential restrictions that come with making your decision. 
Investing in a proven business model means that strategies have been tried and tested. Franchises are said to have a 15% higher survival rate in the first year than start-ups. This business model presents a solid business opportunity with one in five consumers more likely to buy a product or service from a franchise.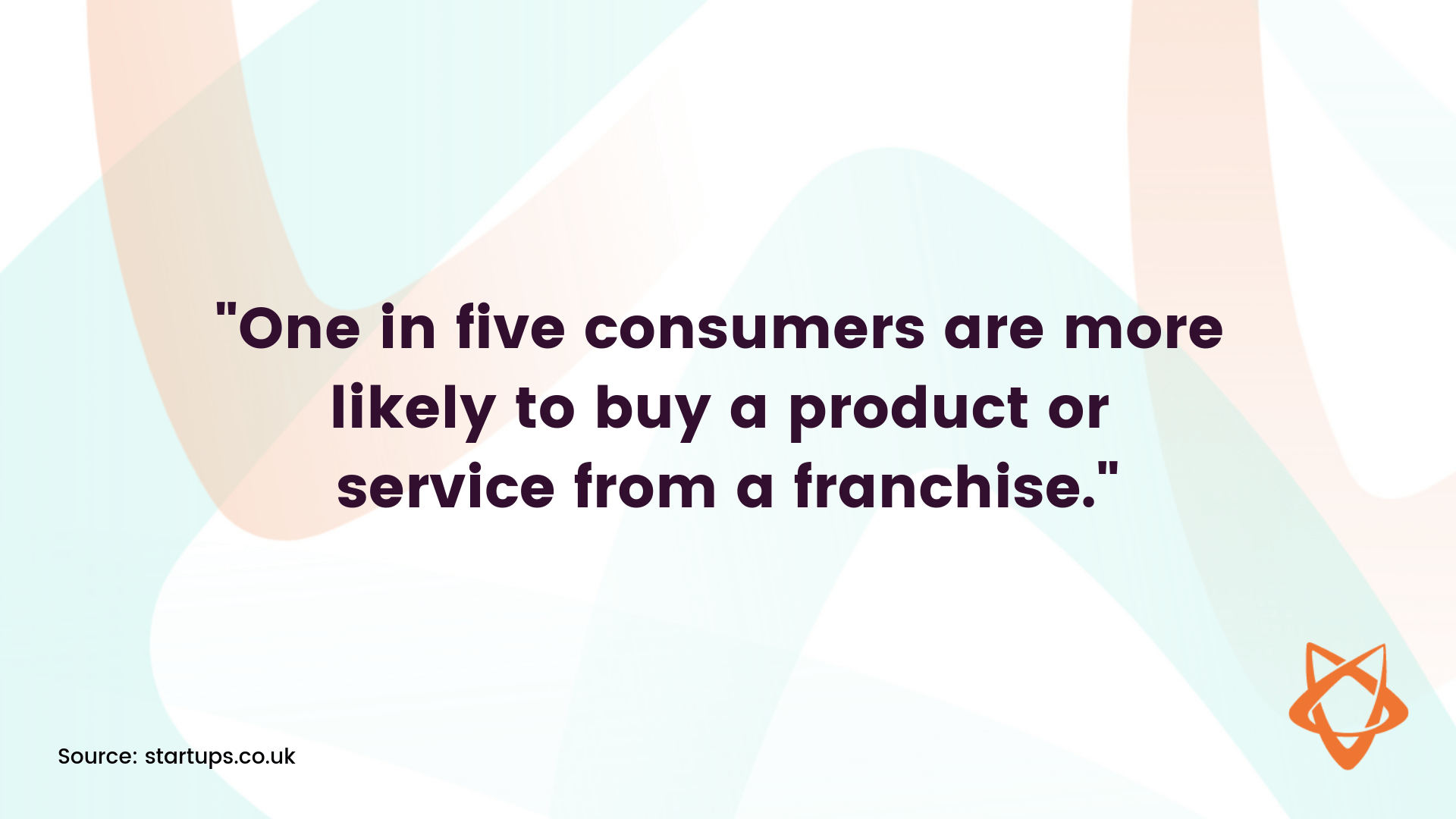 Unlike opening your own business, you are supported throughout the entire process of setting up a franchise and beyond. As the business model is available as well as marketing strategies, there is less freedom with certain decisions. The upside to this, though is usually the extra support that comes from it. If you're interested in making every decision and building a brand from scratch, then fitness franchising may not be for you.   
How to Buy into a Fitness Franchise in 8 Steps 
In any industry, starting a new business is challenging and requires plenty of research and planning. Buying into a fitness franchise is no different. Investing in a fitness franchise isn't just an easy option. However, with careful planning and a full understanding of the requirements, you can buy into a thriving fitness business and reap the rewards. 
1. Research Potential Franchise Opportunities 
The first step when buying into a franchise is to research all the potential opportunities. There are numerous franchises available, and it's important to find the right one for your qualifications, budget, and personal interest. There are several websites, such as FranchiseGator that allow you to search for franchise opportunities based on location, investment, and industry. Once you've nailed down potential fitness franchises that interest you and feel would be a good suit, it's time to carry out more in-depth research to help you make the right decision.  
To help you decide if franchising is for you, listen to these fantastic podcasts:
Franchise Euphoria

– Josh Brown, a franchise lawyer, discusses strategies, insights and best practices for running a franchise.

Franchise Today – Listen to franchising experts on industry trends, best practices, and mobile franchising.
Social Geek Radio – a weekly podcast discussing the social technologies used in franchising. Topics include franchise growth and franchise marketing.
2. Check Franchise Requirements 
In general, franchisors set minimum requirements to make sure all their franchisees are qualified. They two areas they focus on most is professional experience and personal finances. This is because the success or failure of franchisees can directly affect the reputation of the brand. Qualification requirements can vary significantly depending on the franchise and the type of industry you're buying into. Factors that are taken into consideration include your credit score, cash on hand, liquid assets, and management experience. 
As well as researching franchise requirement, it's a good idea to carry out a self-analysis of your personal skills in terms of management and experience. This will help you to choose the right franchise based on your skills. Typically, the cost of investing in a franchise can fall anywhere from $50,000 to over $300,000. 
For example, Anytime Fitness is a huge name in the health and fitness world and has thousands of franchise locations across the globe. The total initial investment needed can range from $100,000 to $490,000 with a franchise fee of $37,500. Anytime Fitness provides franchisees with training, assistance with market selections, an online operations manual, and more. On the other hand, a franchise like Pure Barre allows you to jump on the barre workout craze from an initial franchise fee of $46,500. 
The Customer
Engagement Playbook
for Your Fitness
Business
Discover more
3. Find Franchise Opportunities 
Now that you've gathered information on your budget, assessed your skills, and set a timeline that works for you, it's time to start narrowing down franchise opportunities. Don't be tempted to buy into a franchise just because it's trendy at the time; look for something that suits your needs and experience. Contact franchisers for more information and start the initial application of becoming a franchisee.  
During the research stage, find reviews from other franchisees and get real feedback on what it's like to invest in that specific franchise. A few other things to consider when buying into a franchise include:
Ongoing costs – this includes rental fees, marketing, advertising fees and royalty fees. 

Training and support – find out what training and support your franchise offers and if there is a one-off cost for the training or if it's included in the price.
The total investment required – this includes franchise fees, the cost for employees, leasehold, furniture, fixtures, marketing, and training expenses.
Competition – research existing businesses nearby that compete against you as well as other potential franchise locations that may be nearby.
4. Review the Contract or Agreement
Once you've been in contact with a franchisor, meet the requirements, and have initiated the process of buying into the franchise, you'll be provided with a formal agreement. This legal contract gives you the right to own and open a franchise under their rules and regulations. Make sure you carefully go over the agreement so that you fully understand everything you agree to. If you wish, hire a lawyer with franchise experience to navigate you through the process. If something has been agreed in person, check that it's been put in the contract.
5. Arrange Your Financing 
You need to obtain financing for your franchise for startup costs and the initial investment. In order to arrange financing, you will need a strong business plan with solid growth projections. As well as the initial investment, you'll also need to consider how you will be financing new equipment. Will you be buying it brand new or leasing equipment? 
Another consideration that will affect your finances is your location. If you plan on constructing a new building, this will require a larger amount of capital at the beginning. Renting a space means you'll have ongoing costs month to month
Buying into a franchise and starting your own business is by no means an easy task despite the brand already being established and successful. For some business insight, check out the following reads:
6. Decide on a Location 
If your franchise is not home-based or mobile like a personal training franchise or boot camp style fitness, then you'll need to decide on the right location. Franchisors may provide you with guidelines to ensure you meet any location requirements. This might mean being a certain distance from other franchisees, numbers of parking spots, or minimum area the fitness center needs to cover. 
As with many franchises, requirements change from brand to brand. The majority of franchise owners tend to lease their location as it requires less money upfront. However, if you have the funds already and plan on being in the same place for an extended period of time, then buying a location may be more beneficial for you. 
7. Training 
Franchisors can provide all the training and workshops you need for you and your staff to fully understand the services, products, and systems that you'll be using. Equip your team with the knowledge and skills they need to succeed and be an asset to the franchise. The franchisor may provide on-site training session at their headquarters, at a franchise location or virtually. This can differ depending on which franchise you're buying into. 
Some franchisors may offer training in marketing, bookkeeping, hiring and managing employees and even negotiating with suppliers. From training sessions, you should be fully aware of any policies and guidelines in place, products, and services through a combination of on-site training, hands-on work, and classroom-style learning. 
8. Prepare for the Big Opening 
Now that you've chosen your franchise, obtained funding, selected a location and are ready to go, it's time to prepare for the big opening! You may have to dedicate a big chunk of your first year's marketing budget to the grand opening of your new fitness center or health club. Your franchise may be able to help with this as you can learn from what's worked for the grand opening in the past. Learn from someone else's mistakes and avoid making the same decisions. 
Remember to promote the event through social media as well as word-of-mouth marketing. Don't forget the balloons, banners, and signs to make sure the day attracts a lot of attention. Will you be giving away free gifts or perhaps discounted memberships if new members sign up on the day? 
The franchisor will likely offer support and assistance in the opening of your new franchise. This will mostly be centered around promotional and marketing programs aimed at building a loyal customer base. A successful grand opening creates excitement, invokes curiosity in the community, and is the perfect opportunity to build relationships. Take a look at our article on how to put on a successful gym grand opening for more information. 
In Summary 
As fitness has become more of a way of life than a trend, entrepreneurs are taking advantage of this by investing in fitness franchises. Carry out in-depth research and careful planning when deciding which franchise to buy into. The health and fitness franchise industry is one of the most popular franchise opportunities. Choosing and investing in the right franchise for you could be the career move you've been looking for. 
The Customer
Engagement Playbook
for Your Fitness
Business
Customer engagement is the way in which a brand
connects with its customers on a deeper level than a
simple business and consumer relationship.
Discover more