The gym and fitness franchise industry in the United States has grown by 6.3% to reach $4 billion in annual revenue in 2019. Fitness is one of the fastest growing sectors in the franchising world. So much so that Inc.5000's list of fastest-growing franchises in America all share a common trend with the top three spots belonging to the health and fitness industry.
Public initiatives have shed light on the importance of health and fitness with campaigns surrounding diabetes and obesity. The fitness franchise industry has benefitted from this. As a result, fitness has become a lifestyle choice, with many people becoming much more health-conscious.
Building a business is hard, creating a brand and running day-to-day operations while remaining profitable and getting enough sleep to function can seem near impossible. This is what makes buying into a fitness franchise so appealing. In this article, we will be talking about the basics of a fitness franchise, the benefits and real-world examples who are crushing the fitness franchise market.
The Health and Fitness Franchise Industry is Growing
One out of every five Americans is either hitting the gym or at the very least paying for a membership. With a population looking to lose weight and get in shape, the industry is on the rise. 
This section will help you decide if franchising is for you and how you could benefit from it.
Is Franchising for You?
With a fitness franchise, you're joining an already established company. As with any franchise business, the concept is that the owners of the business or franchisors sell the rights to their business. The agreement includes the name, logo and business model. The idea is that the business owner has already gone through the process of creating the brand, raising awareness, and gaining customer loyalty. Essentially, franchising shows you how to replicate someone else's success.
By joining a fitness franchise, you have access to a ready-made business plan, training, and much more. All of this sounds great; however, if you're looking to see your name lit up and make every single business decision, then franchising may not be for you. Certain limitations come from working with franchises.
When you're operating a franchise, you are running a tried and tested business, and you will be required to follow the systems already put in place. Therefore, you can't be selective about the elements you want to run and neglect others. This may influence your decision.
If you're considering buying into a franchise, there are a couple of things you need to consider. First of all, there can be substantial startup costs. If you're looking to capitalize on the success of a prominent brand in the industry and bring it to a new location, you will pay varying startup costs.
The startup costs can differ massively from brand to brand with some being much more expensive. A bootcamp has a very different equipment inventory to say a Gold's Gym and therefore the costs attached with it. Costs include one-off fees as well as ongoing royalty and ad fees.
For example, Planet Fitness asks for an initial investment ranging from at least $700,000 to over $3 million with ongoing fees, including a 5% royalty fee. The initial contract length is ten years. To open a gym, a franchisee also needs a considerable sum of money in the bank with liquid assets as well.
Other costs to think about include:
Equipment

Renting or buying space for the fitness center

Buying into the franchise
As well as specific costs, you will also have cash outlays while waiting for the fitness center to open. In terms of location, will you have local clients that will love the idea and sign up for classes or memberships?  
As with any business decision, do your due diligence and homework before signing the contract. It's not a simple decision and requires lots of number crunching and questions to be asked. Be sure to carry out in-depth research. As well as that speak to other franchisees and get real-life feedback and reviews before jumping into a fitness franchise.
Although not fitness-specific, the resources below are great if you're considering buying a franchise or even thinking of turning your own business into a franchise.    
What are the Benefits of a Fitness Franchise?
Many benefits come from a fitness franchise. The franchise owner has done the heavy lifting, which allows you to capitalize on the market without putting in years of establishing a brand. With an established brand comes customer loyalty and a wider reach. Franchises can help provide a blueprint for success.
You're investing in a proven business model, one of the main reasons why a person may choose to go into a business with a franchise. In many instances, franchises can be cheaper to open than if you were doing it alone. The brand may already have relationships set up with suppliers and can buy large volumes of equipment, meaning the cost of kitting out your gym may be cheaper.
Unlike opening your own business, a franchise offers support throughout the whole journey from before you open your gym to beyond. Business support, marketing materials and direction, and training are all readily available from franchises. This means that an individual with a passion for fitness doesn't necessarily need to have previous experience to start a business. A franchise can offer career opportunities that will provide all the industry-specific training you need to run a successful business.
9 Best Examples of Fitness Franchises
The global health and fitness industry generates more than $80 billion in revenue every year. The United States is the single biggest market worldwide in both revenue and number of health and fitness clubs. Here are the nine best gym and fitness franchises right now.
1. F45 Training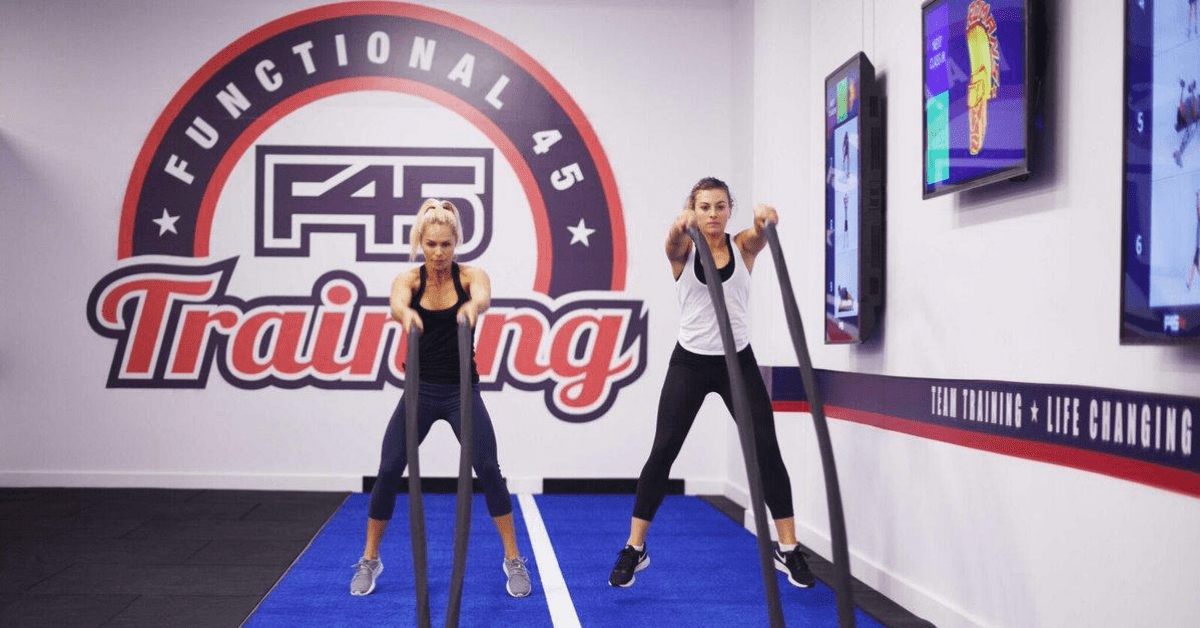 Source: healthclubmanagement.co.uk
F45 Training is a unique group workout studio that focuses on 45-minute high-intensity training classes. It was started in Australia in 2012 and is now one of the fastest growing HIIT franchises in the world. 
The training is a combination of circuit and HIIT style workouts, providing clients with a premium fitness experience that's designed to keep them motivated. Hollywood star Mark Wahlberg has recently become a minority stakeholder and is estimated to have invested $450 million through his investment group.  
The franchise offers ups a low set-up cost with high margins and a very engaged community. With a dedicated community, the membership model allows for maximum returns even with low membership numbers.
2. GymGuyz
Source: worldfranchisecentre.com
GymGuyz is a home personal training franchise company that incorporates one-on-one fitness, corporate fitness, and group training. Other services include weight loss, weight training, senior fitness, pre, and post-natal exercise, and much more. They aim to provide customized and convenient workouts for all their clients.
The GymGuyz franchise started in 2013 and allows you to be up and running in as little as eight weeks, with training and support for every owner. The cost of the initial investment can start from about $55,000 and requires ongoing fees.
The Customer
Engagement Playbook
for Your Fitness
Business
Discover more
3. Pure Barre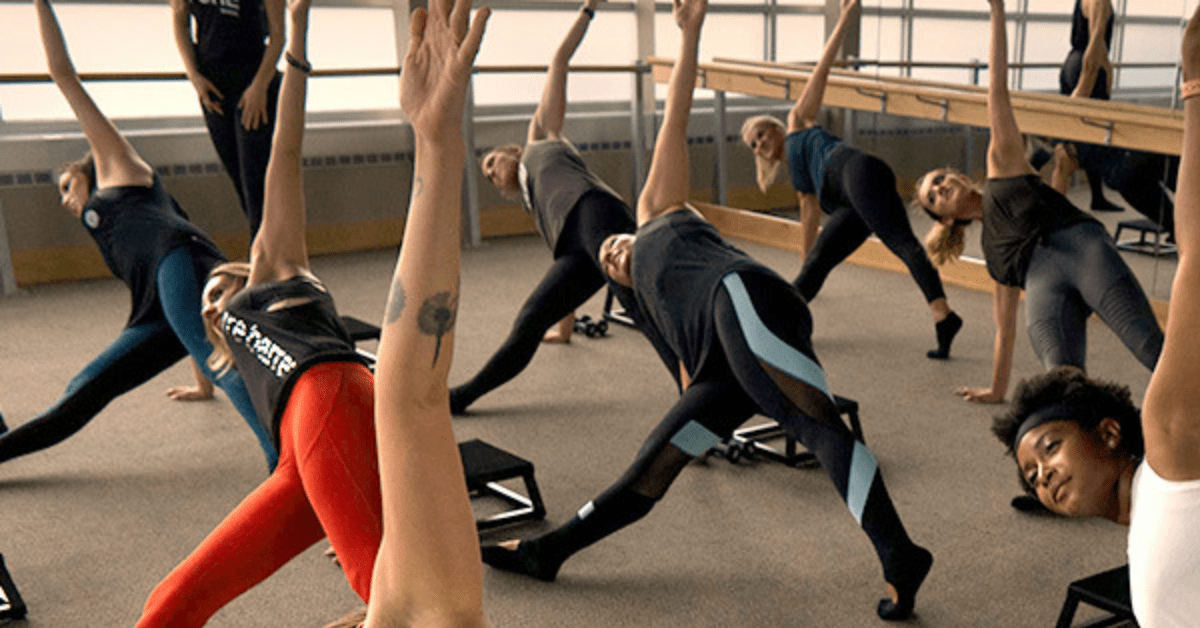 Source: Purebarre.com
With more than 500 locations across the U.S and Canada, Pure Barre combines the ballet barre and great music to tone, lift and burn. Workouts focus on the hips, abs, arms, and thighs. Aside from the physical benefits, Pure Barre aims to provide mental health benefits, similar to yoga.
Pure Barre originally started in 2001 but didn't start franchising until 2009. The company offers multiple revenue streams for franchisees, including classes, teacher training, and premium active wear. The franchise is considered the largest barre brand in the world
4. Orangetheory Fitness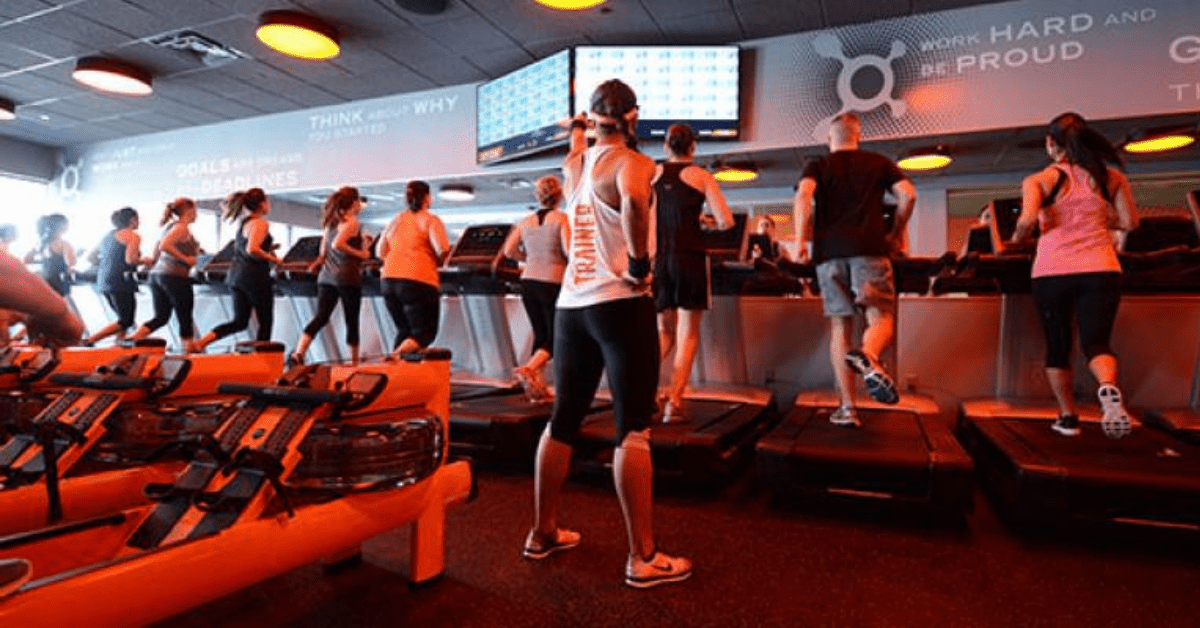 Source: clubindustry.com
Orangetheory delivers science-based workouts that are proven to produce results. Members gain access to exercise equipment in a fun and creative environment. Services also include 60-minute trainer-led group workouts that get your heart racing and burn calories. The brand has more than half a million members worldwide.
The franchise currently has over 500 locations across the United States as well as several franchise units outside the country. The company provides new owners with comprehensive training and support while allowing them to change lives for the better.   
5. Planet Fitness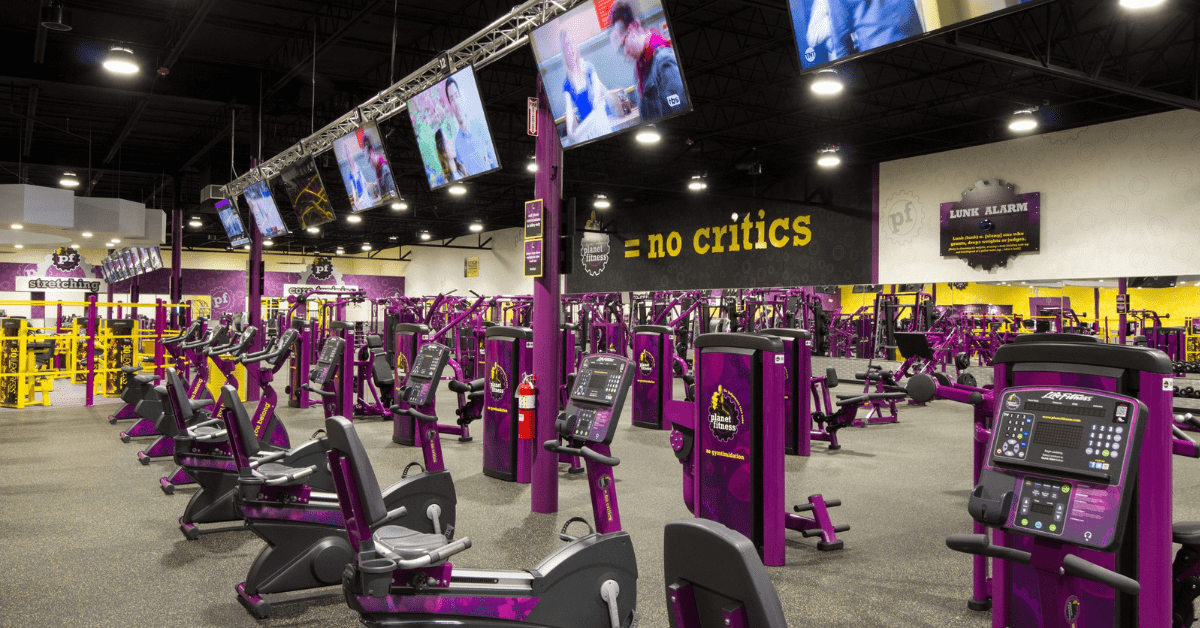 Source: detroitfreepress.com
Planet Fitness has more than 1,800 locations with more than 12 million members. The gym is open 24/7 and gives members access to clean and spacious facilities. Services also include free training with certified trainers, customized workout plans, and help using the equipment.
Founded over 20 years ago, Planet Fitness started franchising in 2003. The company requires a relatively high initial investment as well as ongoing fees.
6. Anytime Fitness
Source: insidermedia.com
As suggested in the name, Anytime Fitness offers clients complete convenience and flexibility to be able to work out 24 hours a day, every single day of the year. The business has a unique security system which allows members to access the gym, whether it's staffed or not. They also offer personal training, group training, and fitness consultations.
Created in 2001, Anytime Fitness began franchising in 2002. Fast forward a few years; they now have more than 2,300 franchise locations all over the world. The technology-driven business continues to top the list of some of the best franchises.
7. Club Pilates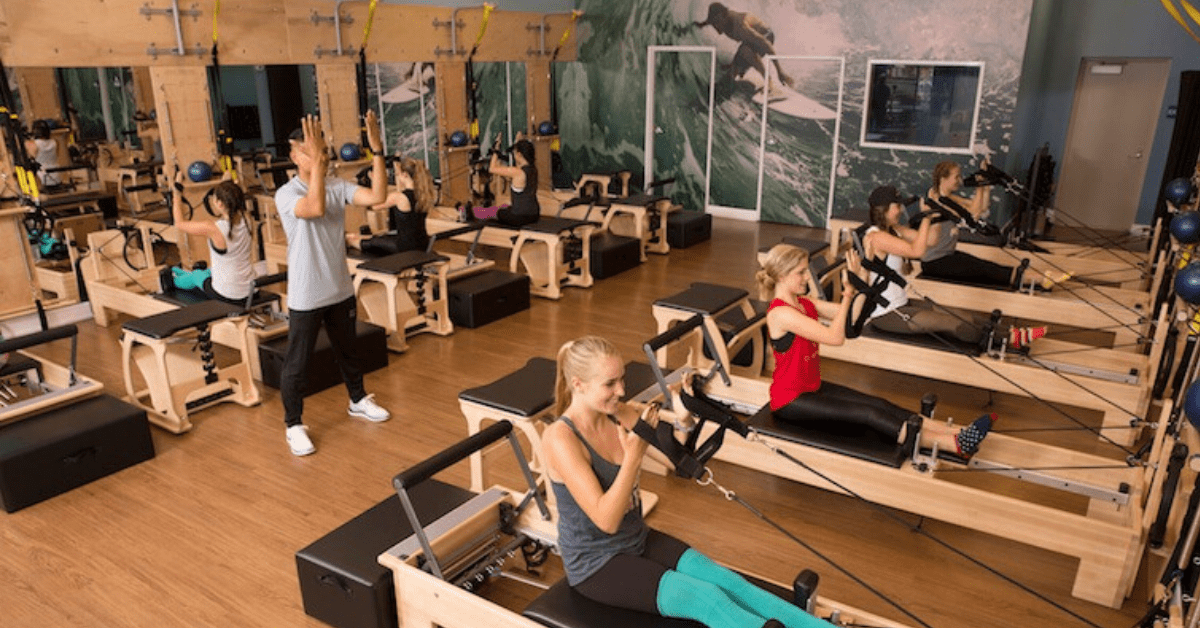 Source: wellandgood.com
Club Pilates will have more than 650 locations open across the United States by the end of 2019. In addition, it is the largest network of reformer-based Pilates studios in the world. The franchise has seen incredible growth and is ranked as the fastest growing franchise in both Inc. 5000 and Entrepreneurs Magazine. With more than 2,300 instructors nationwide, the company offers up a flexible business model to fit around your customers and personal lifestyle goals. Club Pilates is owned by Xponential Fitness, a leader in boutique fitness.
8. Crunch Fitness
Source: bizjournals.com
Crunch Fitness provides members personalized fitness training, group training, and classes such as yoga, Zumba, Pilates, barre, and more. The chain has more than 300 locations across 29 states and five countries. As well as that the franchise is set to open more than 1000 additional franchise locations.
The company was founded in 2010 and started franchising the same year. Crunch fitness offers up a well-known global brand, proven sales generation, and tech-forward thinking to support new owners and put them on the path to success.  
9. FYZICAL Therapy & Balance Centers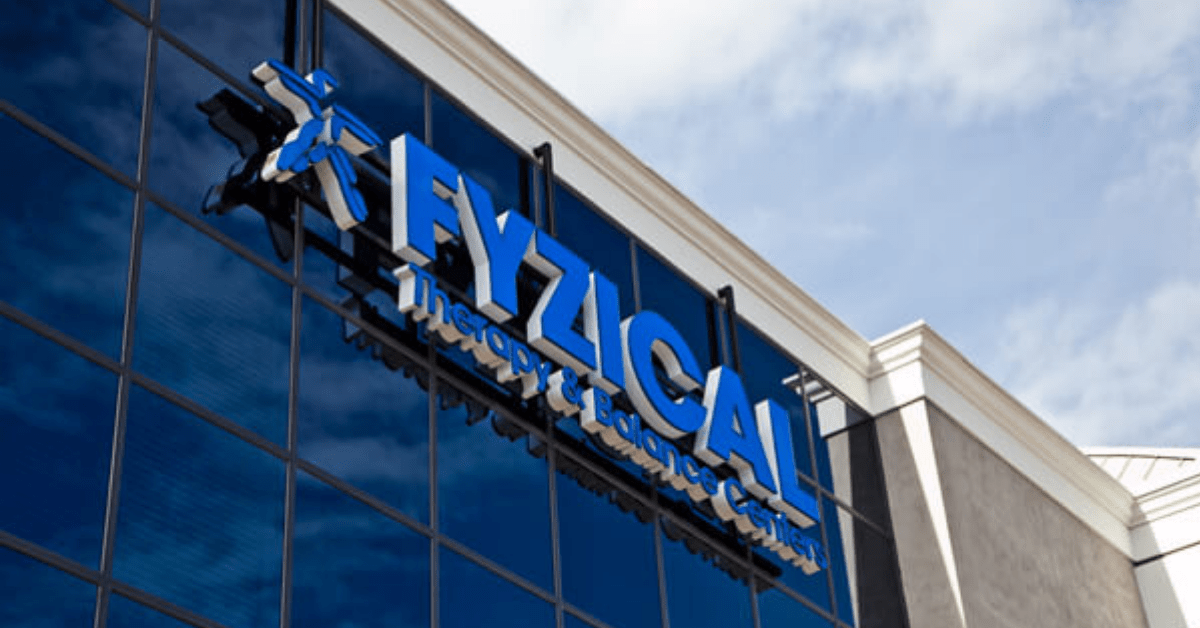 FYZICAL Therapy & Balance Centers use a whole-body holistic approach to connect a diagnosis to a customized care plan. The company offers clients physical therapy and balance and fitness programs. The franchise currently has 335 clinic locations in 40 different states. The company offers up a profitable business model with support and training.
Founded in 2012, FYZICAL is projected to have 538 locations by the end of 2019. The company aims to make private practice owners major players in the healthcare industry by providing access to cutting-edge treatments.  
Before you start any business venture, the best thing you can do is research as much as you can about the industry and business. Here are some podcasts to help you decide if franchising is right for you.
Franchise Euphoria

– franchise lawyer, Josh Brown, discusses his insights, strategies, and best practices for starting and operating a franchise.

Social Geek Radio

– a weekly podcast that talks about technologies used in franchising, topics include franchise growth and sensory marketing

Franchise Today

– listen to franchising experts on best practices, industry trends, and latest news.
In Summary
Buying into a fitness franchise is a great way to get a slice of the fitness industry pie. It comes with the building blocks for success with business training and support. If you're considering a fitness franchise, there's a strong demand and plenty of options to choose from. Fitness franchises are thriving, creating communities of like-minded entrepreneurs.  
The Customer
Engagement Playbook
for Your Fitness
Business
Customer engagement is the way in which a brand
connects with its customers on a deeper level than a
simple business and consumer relationship.
Discover more