Since the mid 2000s the fitness industry has experienced huge growth in terms of market share and cultural impact. According to IHRSA, since 2008 gym membership has increased by 37.1% and the US fitness industry totalled $36billion in 2019. Culturally, the rise of boutique fitness concepts has brought fitness into the mainstream. Gyms are no longer exclusively for the serious weightlifter or the guilty ridden January masses. Well branded, group based fitness franchises like Barry's Bootcamp, Orangetheory, Core Power Yoga and Crunch live have changed the market in a big way, transforming fitness into an identity rather than a chore.
Then in 2020 this all changed. Gathering people into a fitness center for a 45 minute high intensity, sweat inducing session changed from a positive experience to something that could spread a deadly virus. This head-spinning transformation impacted the industry enormously and innovation was necessary. So fitness operators all around the world moved their businesses online. An online fitness class, once thought of as a potential rival became the saviour of the brick and mortar industry.
Moving your whole business online is much more than opening up your laptop and streaming through Zoom or your Youtube channel. The sales, marketing and operations side also change. This article will take you through everything you need to know about online fitness and the areas you need to cover to make your transition to an online gym successful. This is not just about surviving, it's about thriving.
Skip ahead to:
What Is an Online Gym?
An online gym is basically what it says on the tin. Members attend an on-demand or live class through a link provided by the gym or studio. This is usually done on a video hosting platform like Zoom. Equipment is either loaned to the members or they can purchase the equipment themselves. Fitness studios will need to have a dedicated exercise space with lighting and a good camera. If your trainer needs to stay at home due to lockdown restrictions, you need to make sure they have all the resources and fitness equipment they need to put classes on anywhere.
The online gym is not a new phenomenon. Their roots are in the celebrity driven workout videos of the 1980s and 1990s. These best-selling exercise tapes provided an alternative to the gym and have always been a fixture of the fitness industry. Popular exercise tape genres included yoga, pilates, dance cardio and aerobics With advancement of online and streaming technology, the at-home workout market then began to be serviced by companies such as Peloton, Mirror and Beachbody. By providing immersive experiences to people in their homes, they have set the benchmark for the online workout.
What Are the Benefits of an Online Gym?
Online fitness had been growing steadily in the shadow of the brick and mortar industry before it exploded into public consciousness in early 2020. But what are the benefits of running an online offering for your business? Let's look at 3 of the most compelling benefits.
Survival: The only ways to keep your business afloat in the last year was to offer an online service. Many gyms did just this as it was the only way to offer their members a service during lockdown. If they didn't, clients would likely use the countless online services that are in the market now.
Greater Market Reach: With online the barriers to entry to your business have disappeared. With online, people from all over the world can join your online gym.
Better Member Experience: Convenience is often cited by members as the key benefit of online. If you can provide that in-studio experience in the comfort of their living room, you give them the choice and control of when and where they work out. This puts the needs of the member first and builds a better all round experience for them.
Is the Online Fitness Boom Here to Stay?
The industry has changed so much in a short period of time. Now that doesn't mean that brick and mortar is finished. In fact IHRSA reports that 94% of gym goers plan to return to their normal gym routines once gyms reopen. However there is no doubt that consumer behaviour has changed since the beginning of the pandemic. Working out from home has become the norm and articles like this have been regularly published, listing the best online classes out there. According to the data, gyms and studios have been responsive to this, with six in ten gym goers stating that their facility offered digital workouts.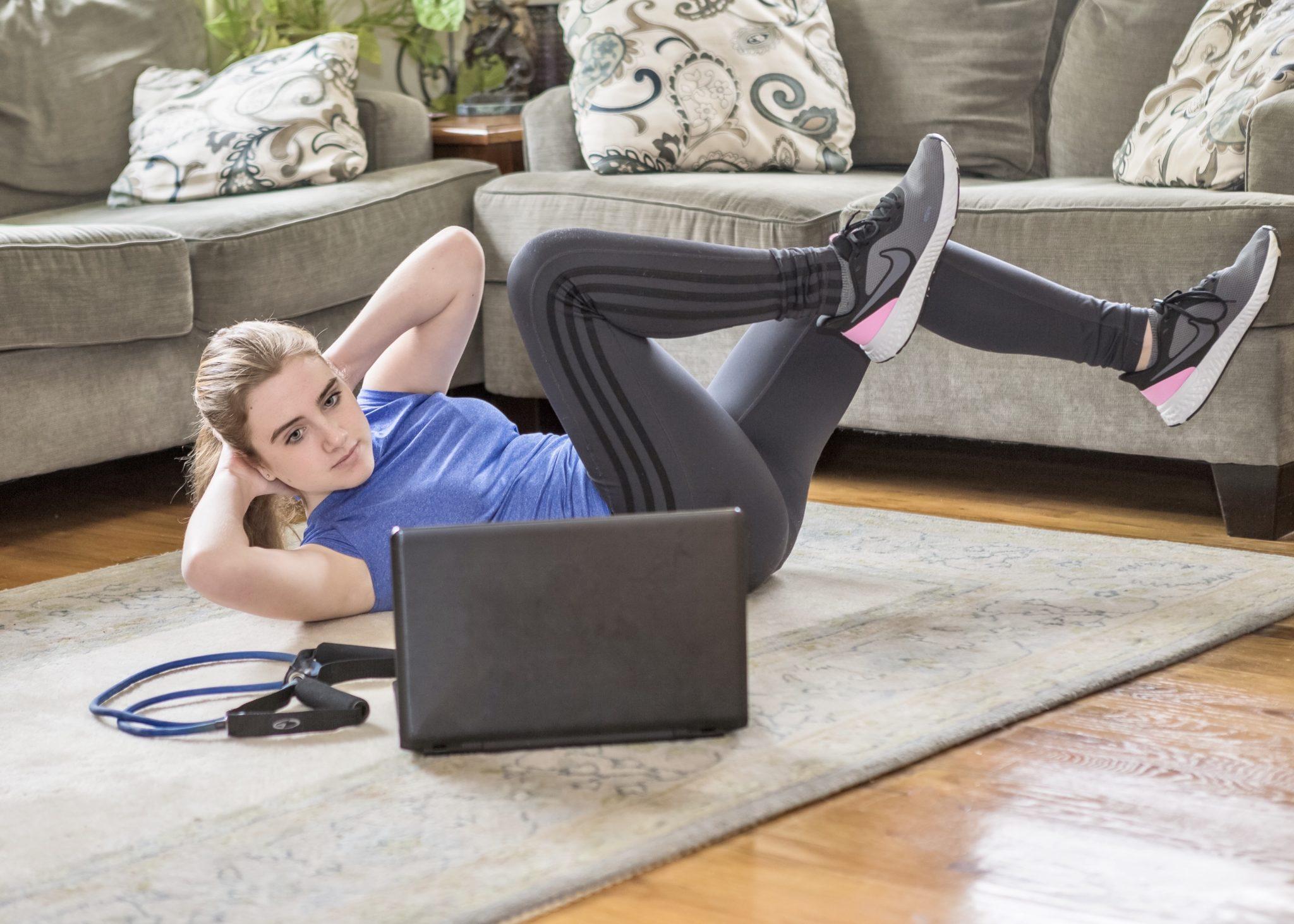 The new direction of the industry was summed up by Les Mills Media CEO Jean-Michel Fournier. In an interview with the Futures in Focus Podcast he made the made the point that the industry has now become "consumerised" which means the consumer now is in control of their workouts. He says gyms need to become "anytime, anywhere" and meet the consumer where they are. Jean-Michel also points out that home gym equipment was one of the most popular investments during lockdown. The actual revenue for the home gym equipment market is expected to reach $31 billion by 2025.
How Big Is the Online Fitness Market?
According to Global Market Insights Inc. the market value of online fitness will be $30 billion by 2026. But the online fitness market didn't just spring up overnight. Pre-COVID, this sector of the industry has been growing slowly. Industry experts like Bryan O'Rourke, who was a recent guest on our podcast, have predicted the rise of online fitness technologies for a number of years. The events of the last 12 months have propelled online fitness to new heights.
Online offerings like Peleoton have grown their market share and recognised brick and mortar enterprises like Barry's Bootcamp, CorePower Yoga and Orangetheory have launched well branded online services that reach a global audience. Big tech players like Apple, Google and Facebook are starting to muscle their way into the market, possibly threatening the customer base of the smaller operator.
How Do You Set up a Successful Online Gym?
The benefits of setting up an online gym are clear and it's evident the industry is heading towards a long term adoption of online. The next step is setting this up and making it a success. There are 6 key areas to cover which will be explained in more detail below.
1. Protect Your Business as You Move Online
Renegotiate your leases: As a brick and mortar business, you may be paying rent for a property to house your studio. A common problem that has emerged is how to afford the rent for a place they can't be used. You will need to approach your landlord and see if an arrangement can be made to pause, defer, or reduce your rent. Consult with your accountant and any legal assistance you may have before doing this.
Look into government support: Around the world, governments are providing financial support for their citizens and their businesses with financial aid. In the US, the Small Business Association (SBA) supports small businesses and entrepreneurs across America. They operate a number of programs that you can avail of. The main funding options are the Paycheck Protection Program (PPP) and the Economic Injury Disaster Loan (EIDL) and you can find out more about these on the SBA website.
Check out our podcast with Certified Public Accountant Eric Killian where he goes into detail on protecting your business and government support.
2. Retention When You Move to an Online Gym
Communicate early and be positive: Studio owner Brittany Welk emphasized that regular communication with your members is very important in the first few days of moving online. At times like this, there is a lot of uncertainty so you need to make sure you communicate with members early and often. Send out regular updates on why the gym is closing, what the new virtual timetable will look like, and what fitness equipment they need. All this needs to be delivered in a positive and uplifting tone.
Provide real value to your members: As well as improving the quality of your online workout class, you need to evolve your offering. Provide members with value worth paying for at the same price they were for your regular offering. Think of services like nutrition seminars, mental health talks and one on one coaching. Also, consider adding classes different from your normal schedule. For example, if you are a HIIT studio, offer yoga or pilates classes to give members a low-impact class option to help with recovery.
3. Keep Your Members Accountable
Accountability is the key differentiator: Once you enter the online fitness world you will see how competitive the market is. Not only are there established businesses like Beachbody and Peloton but also fitness influencers with large followings who are doing free workouts every day. To gain the edge over these competitors you need to hold your members accountable so they get the result they want. They are more likely to stay if this is the case. People pay for you to pay attention. Read more about holding members accountable in this in-depth article.
Create a communication template: In general, you should probably contact the member twice a week. Once after the weekend and once near the end of the week is a suitable schedule. A Monday and then Thursday cadence would be good for this type of communication.
The Customer
Engagement Playbook
for Your Fitness
Business
Discover more
Here is an example of your Monday Message:
Hey [name]
How did your weekend go?
Did you stick with your nutrition plan?
Hit me up if you have any questions.
And here is an example of your Thursday Message
Hey [name]
How is your week going?
Have you got all your workouts in so far?
Remember to send in your progress pics and weight for this week.
Let me know what time suits you tomorrow to have a chat about the week.
With your Thursday message, try and set up a face to face call. Go through any issues the member may have with their fitness goals.
4. Invest in the Right Equipment
Camera: For pre-recorded workouts, choose the highest-quality recording and exporting settings for editing. Keep in mind that if you're planning on live streaming with a DSLR, your camera will need a HDMI port, and you'll need an external converter to USB. This video is useful if you're planning on live streaming with a DSLR using Youtube live. For a step-by-step guide to live streaming your workouts on Youtube, check out this article from our Knowledge Base and also check out this list we put together of the best cameras for filming workouts.
Sound: The best options for capturing audio, especially for any live streams, are wireless ones. If you don't have any kind of microphone initially, improvise with what you have. You're likely moving around a lot and don't want this to interrupt the quality of instruction, especially long-term. We'd suggest taking a look at wireless earbuds, The Optoma NuForce BE Sport4 wireless sport earbuds come widely-recommended. Prices vary across retailers but start from around $80, check out their review on TechRadar here.
Lighting: If you don't have access to lighting equipment, natural lighting can work as long as it turns out bright and balanced on camera. Test this out before you go ahead with filming to ensure you have no harsh shadows or dark spots. Prices for professional filming lights online vary, but a quick Amazon search shows options starting from around $40 – a worthwhile investment going forward with your workouts.
5. Creating Online Workouts
Don't sacrifice the quality of your brand: A lot of gyms and studios quickly jumped onto live streaming platforms like Facebook and Instagram Live and likely shot their workouts on an iPhone. However, you will need to improve the quality of your production as time passes. Gym owner Jack Thomas launched the platform BASE Anywhere, which allows members to access a range of high-quality workouts, live-streamed sessions, nutrition coaching, and much more. The idea is to come out of this in a strong position not only financially, but brand-wise also. If you are a premium brand, it's worth investing in keeping this consistent throughout this time.
Carefully plan to limit stress: Careful planning will give you a better chance to continue the quality of your brand you have worked so hard to build-up. From the get-go, map out a 7-day schedule for your classes. If you plan on delegating sessions to your trainers, you'll also need to work together on a staff schedule to keep everyone on the same page and maintain consistency. For most fitness business owners right now, moving to digital workouts is entirely new. Just remember that it's probably new to your members, too, making it the perfect time to work with each other. Ask for feedback, like Ambition Fitness, in the example below: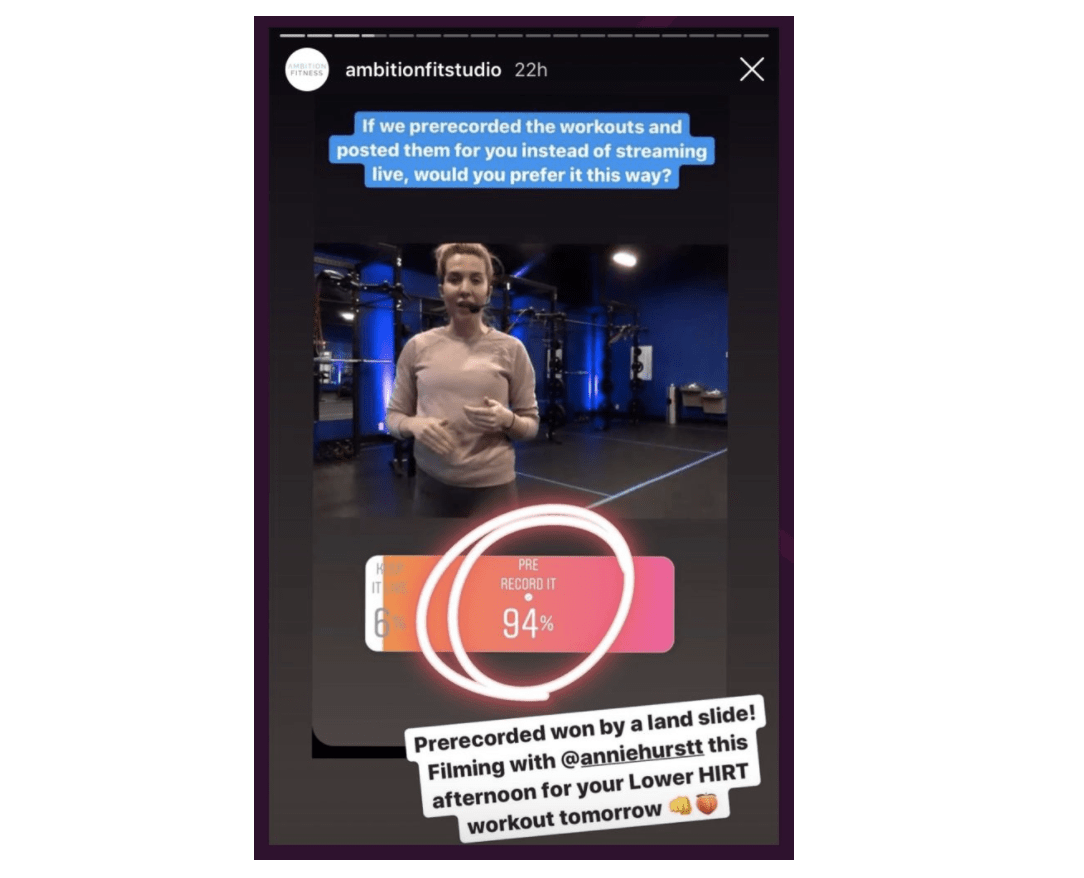 6. Growing Your Business As You Move Online
The opportunity is huge right now: A lot of fitness facilities have taken the position of waiting until this until things get back to some sort of normal. However, this would be a mistake as there is still an appetite in the market for fitness services. For entrepreneurs, running any kind of business brings up a host of challenges to overcome. With every challenge comes opportunity and now is the time to take this opportunity. This, coupled with the relatively cheap price of digital ads at the moment means you need to act now and fast.
Get used to selling over the phone: When we spoke about driving revenue for an online gym with Alex Hormozi, the first crucial takeaway from his advice on selling over the phone is that you need to dive in and do it. You might make mistakes initially, but you'll learn and develop your approach as you go. From his experience, Alex notes that it takes 25 attempts to get the same number of closed deals compared to in-person selling; "it just basically takes 25 attempts of sucking to kind of figure out the flow of how the script works."
Charge for your service and deliver: Right now, people have more time on their hands than ever, and as a result, their buying behavior has changed. People want to invest in something that will provide them with a long term benefit – in this case, their health and fitness. Jack Thomas advises that your pricing and value go hand in hand; "It really puts you in a different mindset – you immediately have an obligation to deliver a great level of service once you're charging for it."⁠ Remember that you have a competitive advantage over free online classes and programs because you're providing more than just a workout.
In Summary
Moving your business online is essential to your survival right now and is the best way to continue as a fitness business. The first step is to protect your business and retain your members. The next step, once you have calmed things down, is to actually grow your business to survive through COVID 19 and beyond. For now, though, be it the living room, bedroom, kitchen, or studio – you and your members are still in this together.
The Customer
Engagement Playbook
for Your Fitness
Business
Customer engagement is the way in which a brand
connects with its customers on a deeper level than a
simple business and consumer relationship.
Discover more