Wondering who the top influencers are in the US? We're rounded up a list of 21 top fitness influencers to get inspired by. 
Team Glofox
We've all seen them: ultra-toned athletes, flexing and straining and lifting all over our TikTok and Instagram feeds. Fitness influencers are one of the most popular branches of internet superstars out there, and they've had a massive impact on the health and fitness industry over the past decade. If you're a gym owner, knowing the who's who is vital. 
Engaging content and vast social followings combine to make these influencers many people's go-to sources for workout routines, nutrition tips, and overall fitness inspiration. It's not easy to stand out from the crowd posting online, but these 21 influencers have done it. Their content's all different, but studying their diverse approaches can help you figure out how to become a fitness influencer—or build your gym's audience. 
In this article, we'll dive into the top fitness influencers in the United States, including many of the top female fitness influencers. We'll explore their reach, content, and what aspects of their social strategies have made them so beloved. Along the way, you'll pick up tricks for growing, supporting and monetizing your audience, which is… like the name of the game for us at Glofox. So come on, let's go!
7 of the top influencers on TikTok
TikTok is all the rage, and fitness influencers have flocked to the app for its video-first approach to showcasing content. Let's get to know seven of the top fitness influencers on TikTok:
Demi Bagby
With more than 14.4 million followers, Demi Bagby is a dynamic fitness influencer, capitating her sizable audience with incredible acrobatic skills and her bubbly personality. Her content often features impressive flips, tricks, and other superhuman stunts. She preaches authenticity and a positive mindset, two values that have helped her grow her following to what it is today. Demi's loyal followers often say they're inspired to pursue their fitness goals without fear or hesitation.
Jesse James West
Jesse James West, with 1 million followers, boasts in his TikTok bio that he's spent 24 hours in prison. While we can't verify that, we can say for sure that Jesse's content provides endless entertainment—from workout videos and fitness tips to motivational content, Jesse's infectious positivity and goofy energy is a perfect combination for boosting his follower count. Fitness enthusiasts can learn a thing or two from Jesse's ability to connect with viewers on a personal, relatable level.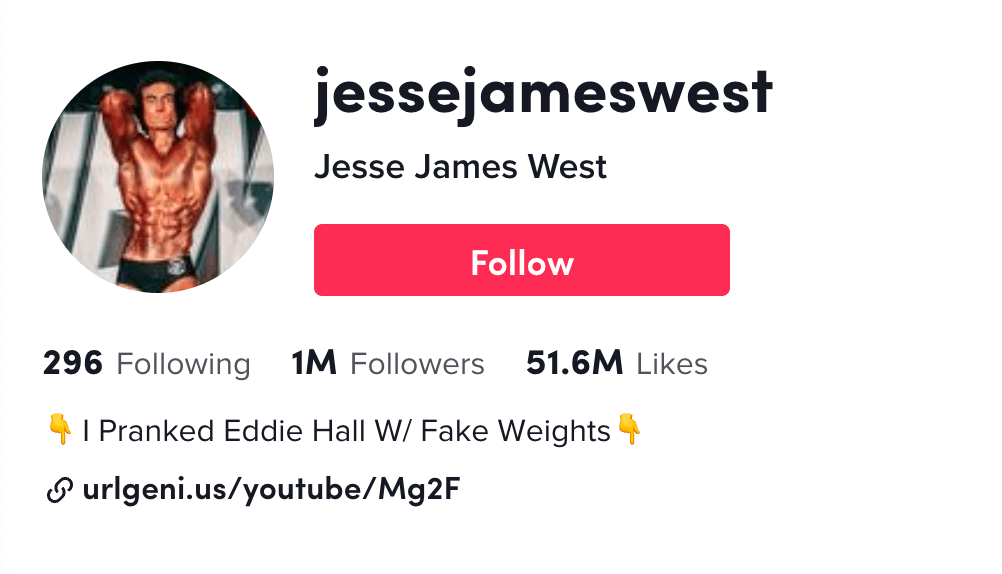 Antonie Lokhorst
Antonie Lokhorst is another rising star in the fitness influencer world, boasting a total of more than 4.1 million TikTok followers. His engaging and unique content focuses on functional training, bodyweight exercises, and creative workout challenges. Antonie's dedication to fitness innovation and his emphasis on the importance of proper form draws in both those who are new to the gym and people who are looking to step up their already-impressive workout routines. (Plus, he's just funny.) 
Rebecca Louise
Rebecca Louis is a fitness influencer with a sizable TikTok following of more than 500,000 eager fans, Her TikTok features a wide range of fitness content, from ab workouts to mountain climbing stories. She's relatable, down-to-earth, and shares practical fitness advice and workout tips to help her followers achieve their goals in the gym. Rebecca is also one of the few people in the world to have climbed the intimidating and unforgiving Mt. Everest! 
Steve Prince
Steve Prince has nearly 1 million followers on TikTok. He's amassed his significant following thanks to his inspirational weight-lifting and sports-focused content. Steve is known for his teeny-tiny tank tops and his massive biceps—not to mention stories about the gym and the exercises that have helped him self-shred. Want a thicker back or a stronger core? Steve's got exercises that'll turn you into a literal tree trunk.
Ulisses
Ulisses Williams Jr. is a highly regarded American fitness influencer known for his incredible physique and dedication to bodybuilding. With a massive following of nearly 3 million fans on TikTok, Ulisses inspires and motivates his fans with his intense workout routines, fitness tips, and healthy lifestyle insights. It's not all about fitness, though. Ulisses also shares humorous videos that give followers an inside look at his charming personality.
Jennifer Tavernier
For Jennifer Tavernier, it's all about positivity. She's a prominent fitness influencer who empowers her followers through her own passion for health and wellness. With nearly 1 million followers on TikTok, she gives advice and tips on mobility, strength and healthy eating. She shares all about her fitness journey and how she recovered from childbirth. Jennifer's workouts can also be done anywhere—from hotel rooms to airport lounges!
The Customer Engagement Playbook for Your Fitness Business
Read it now
7 of the top Instagram fitness influencers
If TikTok is the new kid on the block, Instagram is the long-reigning cool guy. Fitness influencers have been dominating the app for years, and their Instagram popularity shows no sign of slowing down. Here are seven of the top Instagram fitness influencers:
Simeon Panda
With an impressive following of 8.2 million on Instagram, Simeon Panda's toned abs and giant biceps are visible from all the way across the internet. His content ranges from weightlifting tips to advice about supplements, to his fitness journey with his partner, Chanel Panda. Given his massive strength, we might even call Simeon the Thor of Instagram fitness influencers! 
Jen Selter
With more than 13.8 million followers, Jen has spent the past several years building her fame through her workouts—many of which focus on maximizing your gluteus. She shares a mix of workout videos, lifestyle posts, and exciting collabs with healthy lifestyle and beauty brands. You'll recognize her from a mile away, 'cause she's always decked in the latest and greatest sportswear drops. Catch Jen working out or stretching on the beach!
The Customer
Engagement Playbook
for Your Fitness
Business
Discover more
Sommer Ray
Sommer Ray has more than 25.8 million followers, but she isn't your typical Instagram fitness influencer. Much of her content is centered around lifestyle and brand collabs, but she also posts workouts, wellness, and fitness advice! Sommer's content often features her intense training sessions and her journey as a bikini model, as well as her global travels and adventures. Rudely, she's also a DJ—like, can you save some talent for the rest of us, please?
Massy Arias
Massy Arias' content is anything but messy. Her approachable yet professional nature helped her garner more than 2.7 million followers on Instagram, and her focus on holistic wellness sets her apart from many other fitness influencers. She shares workouts from her fitness program, MAWarriors, and isn't shy about showing off her beautiful family, either. Massy's workout routines, healthy recipes, and empowering messages help to inspire and motivate her loving followers.
Chris Heria
Chris Heria is a renowned calisthenics expert, the founder of the fitness brand Thenx, and boasts an Instagram audience of over 1.5 million. People who study his every move, from bodyweight routines to weightlifting and recovery techniques. It can't hurt that he's got a myriad of eye-catching tattoos that complement his toned physique. Chris' content often includes tutorials, challenges, and motivational posts.
Whitney Simmons
With more than 3.5 million followers, Whitney Simmons is a popular fitness influencer who promotes a holistic approach to health and fitness. She shares workout routines, lifestyle tips, and personal experiences—all along with her signature grin and giggle—to encourage followers to prioritize self-care. She often partners with fitness brands like Gymshark and Rare Beauty. Whitney is also an advocate for body positivity and often shares her journey with psoriasis to remind her audience that nobody's perfect. 
Amanda Bisk
Amanda Bisk is a former Australian pole vaulter turned yoga and fitness instructor. Her clean, curated content inspires her followers to find balance, flexibility, and strength through workouts, yoga and healthy lifestyle tips. It's not all about the body, though—Amanda also shares mindfulness guidance to promote holistic well-being and mental health. 
7 of the top female fitness influencers
Female fitness influencers play a vital role in the fitness industry. Many of them challenge harmful, sexist stereotypes and bring diverse perspectives to the table (to counter all the bro-science). Here are seven of the top female fitness influencers to follow for inspiration:
Kayla Itsines 
She's got 15.8 million followers on Instagram, she's made a massive impact on the fitness industry, and yes—she's Kayla Itsines. She's famous for her Bikini Body Guides and the high-intensity workout posts she shares online. Kayla's quietly building a fitness empire through social media, and her followers have been along for the whole ride. The insights she shares about her personal life (including her physical and mental recovery from a recent pregnancy) are brave and valuable. Kayla puts her community first and that's why her followers adore her.
Jessamyn Stanley
Jessamyn Stanley is an influential yoga teacher and body positivity advocate with a strong following of more than 560,000 on Instagram. She promotes inclusivity in yoga, challenging physical and racial stereotypes and encouraging self-acceptance. As an author, yoga teacher and dynamic entrepreneur, Jessamyn is a prime example of a well-rounded fitness influencer. Keep shining out there!
Jen Widerstrom
Jen Widerstrom, known for her appearance on "The Biggest Loser," is a renowned fitness trainer with over 295,000 followers on Instagram. She shares female-centric workout advice and wellness tips along with motivational messages—many of which can be found in her recently-published book, "Built to Move." Jen's no-nonsense, kind approach to health and wellness is admired by many of her followers. 
Kaisa Keranen
Looking for a bada** female fitness influencer? Look no further than Kaisa Keranen, a fitness coach with more than 1 million Instagram followers. She's the founder of fitness community JustMove by KaisaFit, where she often showcases her creative and challenging workouts, emphasizing functional movements and body positivity. But it's not all serious wellness stuff—Kaisa has been known to scarf down a slice of greasy pizza every now and then, too. (Cheat days are important!)  
Cassey Ho
Cassey Ho, the founder of Blogilates, inspired millions during the pandemic with her beginners' Pilates workouts. She has more than 2.3 million followers on Instagram, where she shares workouts and snippets of her exciting and everyday life events. Cassey has ventured into the entrepreneurial space and is now promoting her line of workout and athleisure clothing.
Anna Victoria
Anna Victoria shares strength and cardio workouts with more than 1.1 million followers on Instagram. Her content is female-focused, empowering women to embrace their bodies and work hard at the same time. Anna often promotes her FitBody app, which focuses on strength training and body transformation, and shares before-and-after photos of her followers' fitness journeys.
Brittany Dawn 
For Brittany Dawn, wellness isn't just about physical health; it's about faith. Her fitness content exists side by side with posts about her religious beliefs and moral values. Brittany's podcast, Chiseled and Called, touches on the fitness industry, Brittany's faith journey, and her everyday life. She promotes a balanced life, where physical wellness fits in smoothly with everything else that women have to juggle. 
So, what's next?
You know we didn't show you all those influencers for nothing. Now that you've got your finger on the pulse on the top fitness influencers in the US, you're probably feeling pumped about the idea of building your gym's own social audience. (Pun fully intended, 'cause everything we do is on purpose.)
With Glofox, you'll be ready to promote monetizable services to promote to your social following (like a merchandise line) and deliver high-quality training at scale. Our platform gives you a lightning-fast way to streamline your operations, manage memberships, and engage with gym-goers across all your locations. You'll build a more valuable audience, and strengthen your business fundamentals while you're at it.  
The Customer
Engagement Playbook
for Your Fitness
Business
Customer engagement is the way in which a brand
connects with its customers on a deeper level than a
simple business and consumer relationship.
Discover more