Streaming workouts is now an essential part of running a fitness business. Whether it's a quick five-minute ab workout on Instagram Live or an hour-long live stream on your digital fitness platform, streaming classes is vital. Digital fitness is key to generating revenue and creating diverse income streams. 
As countries continue to go in and out of lockdowns, you must continue to motivate and connect with your members. That means creating high-quality digital content that delivers a unique experience. You have the power to potentially reach a global audience with live streams and on-demand workouts. Here, we discuss everything you need to know about streaming workouts and how to create great content. 
Digital Fitness: Live Streaming Workouts and On-Demand Classes 
In March last year, many fitness brands took to Instagram and Facebook to live stream workouts and connect with their members. Fast-forward almost a year, and you're now looking at polished and sophisticated digital fitness platforms that run alongside your in-person offerings. While free workouts hosted on platforms like YoutTube, Instagram, and Facebook Live are great for creating buzz and showing your audience who you are, you need a platform to effectively monetize and share your video content. 
With a combination of live streaming and pre-recorded workouts, on-demand fitness has hit a new level of acceptance and popularity among consumers. Live streaming is growing across multiple industries, especially fitness; showing up for a workout video and sweating it out on screen with others has replaced the gym for many through lockdown. Streaming brings a level of authenticity that resonates with people; it feels as close to the real thing as possible.
When it comes to fitness studios and gyms, live streaming not only creates engagement but additional income. Members have the option to join a stream, or they can watch from your library of on-demand content. It creates a balance of real-life interaction and the opportunity to just follow along with pre-recorded training programs. Not everyone will be able to join your live streams; the key to success is a combination of on-demand, in-person, and streaming services.  
For more great insights on live streaming, check out this episode of The Fitness Founders Podcast with Mike Hansen. Mike has an extensive background in the fit-tech industry, gamification, and venture capital. Endorphinz is a full-service fintness streaming agency, and Mike is the co-founder who also looks after strategy. In this episode, he shares expert insights on what makes a live streaming strategy a success:
4 Thriving On-Demand and Live Streaming Platforms 
Thanks to the wonders of technology, fitness brands have continued to engage with their communities, bring people together, and continue to generate revenue. While some brands such as Peloton, CorePower, and Tracey Anderson already had the infrastructure to deliver effective workouts a home, others had to start from scratch. Let's take a look at five thriving digital fitness platforms for inspiration.  
1. Barre3
With over 160 studios, Barre3 is known for its full-body balanced barre workout with plenty of strength training, cardio, low-impact movements, and mindfulness; it's a popular workout. Barre3 now run in-person studio classes and online workouts through the Barre3 subscription. The digital platform includes on-demand classes, live streams, calendar scheduling tools, recipe demos, and fitness challenges. At $29 per month, each online barre class allows the brand to connect with even more people worldwide while delivering its unique Barre3 workout. 
2. Y7 Studio
Website: https://online.y7-studio.com/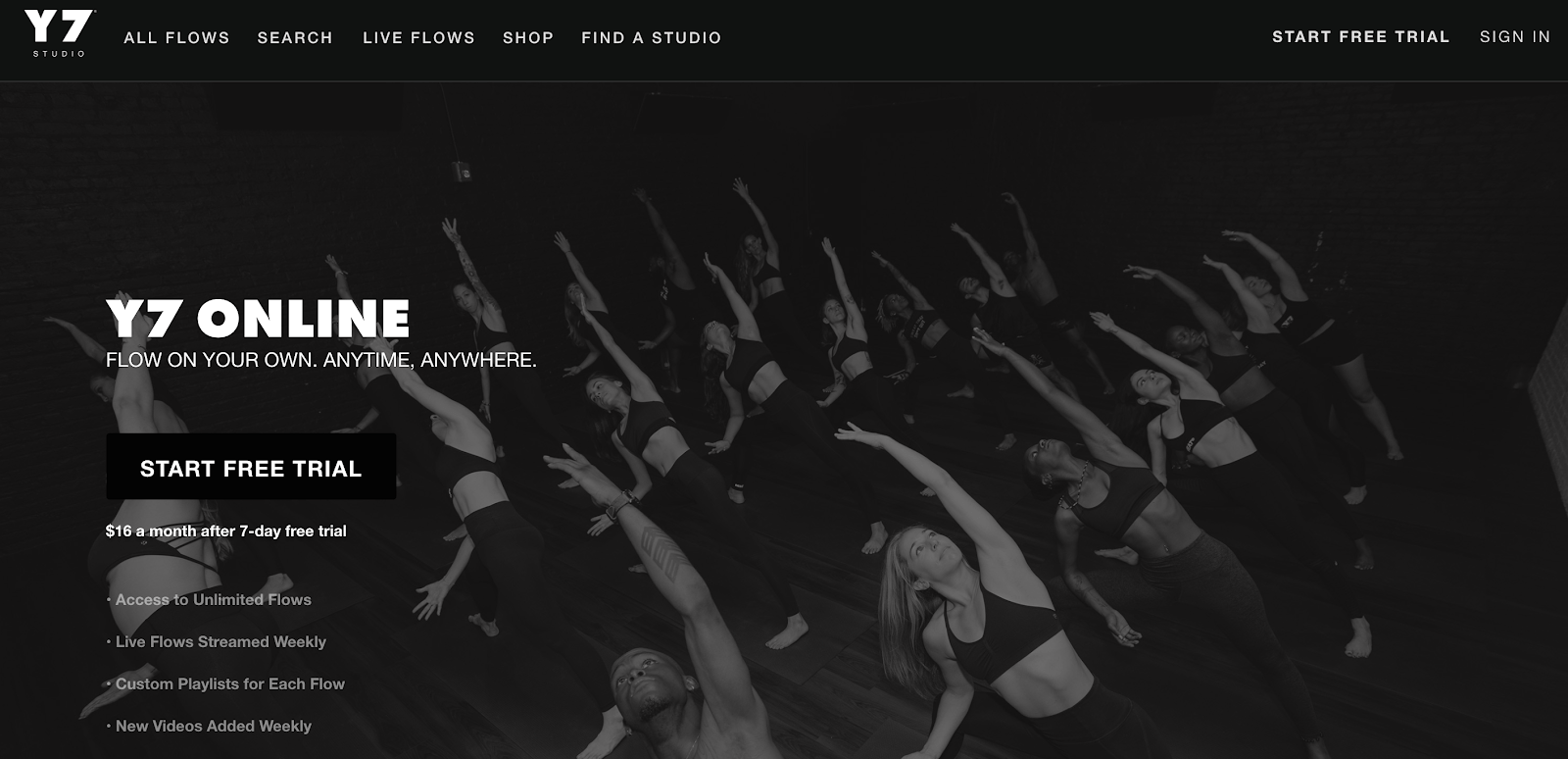 Y7 Studio is a music-based yoga studio with locations in New York, Chicago, and L.A. Yoga workouts have been hugely popular amid the pandemic; according to a digital health survey from Withings, there's been a global yoga craze during lockdown. Y7's online offering includes a range of on-demand and live stream classes. For $16 a month, members can access unlimited flows, complete with a custom playlist for each class. A yoga mat is welcomed, but not a necessity for joining the online classes, and curated music is a key feature for each class, used to create an in-studio experience for members. New videos are added weekly, consisting of the brand's signature Y7 classes and new formats. Live flows are streamed weekly and open for any fitness level; the brand uploads each live yoga class to its library of on-demand content online so members can revisit the session as many times as they'd like to. 
3. Barry's Bootcamp 
Website: https://www.barrys.com/barrysathome/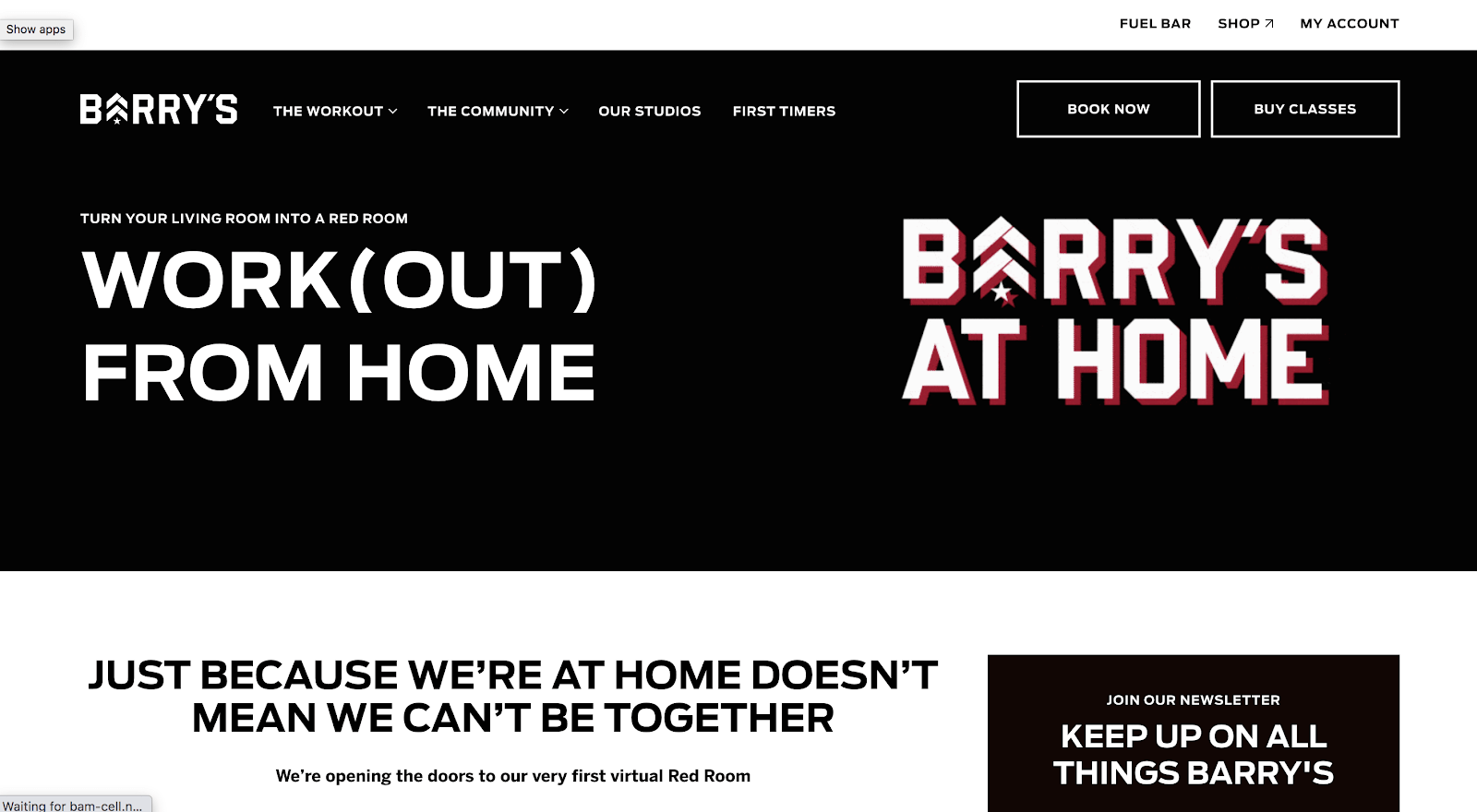 Barry's Bootcamp is known for its heart rate pumping HIIT workout for burning fat and toning muscle through a combination of cardio workout and weights. Before March 2020, the only way to get your Barry's Bootcamp fix was to head to one of their studios. Now, you can turn your own living room into an iconic Red Room. Instructors from across the country offer live streams with 'Barry's at Home.'. Members can buy a class and book in, buy any equipment they need for a certain class, and get an email reminder 20 minutes before class is due to start. From resistance bands exercises to bodyweight workouts, the classes set heart rates pumping. 
4. SaltDrop 
Website: https://www.thesaltdrop.com/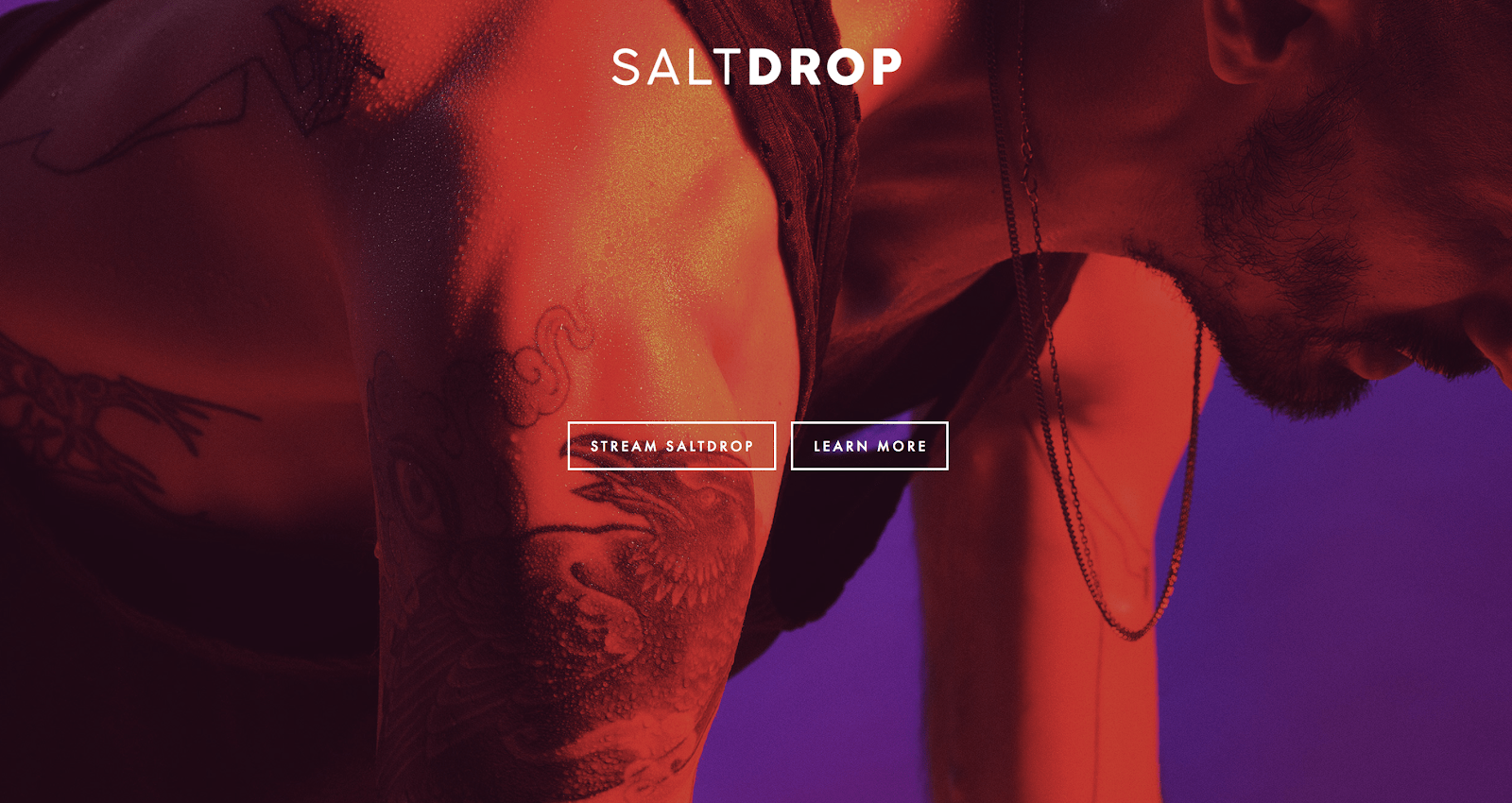 Based in New York, SaltDrop fitness studio is a sweaty, barefoot beat-driven body workout. It's a soulful and playful class that people of all fitness levels can enjoy. Following the coronavirus pandemic, the team at SaltDrop put their efforts into creating a digital fitness experience to continue to cultivate and grow their community. With a monthly subscription fee of $65, members can access the live content from anywhere, any time, and on any device. 
12 Ways to Create Engaging Live Stream Workouts and Fitness Classes 
Teaching a live streaming class isn't quite the same as your in-person class, so it's important to take the steps necessary to create engaging digital content that your members will love. After all, there's a reason your members pay to attend your class. Whether it's your energy, killer workout, or your fun instructors, you should be able to feel this across digital content in both live and on-demand workout videos. 
The Customer
Engagement Playbook
for Your Fitness
Business
Discover more
1. Live Stream vs. On-Demand 
When it comes to streaming workouts, you have the choice between going live or creating on-demand content. It's good practice to record each live streaming workout to repurpose it as on-demand content. This way, anyone who missed your class can watch again, and those who enjoyed it can come back for more. But when it comes to the bulk of your on-demand content, these virtual workouts should look a little more polished and offer members more variety. Think about your variety of classes, attendance, and type of class. If you're creating a Pilates fitness series, it makes sense to pre-record this type of content. But if you have a guest instructor, you definitely want to go live and create plenty of excitement around the event. 
2. Invest in Your Streaming Set-Up 
If you look at some of the best digital fitness platforms, you will notice that the entire experience is smooth and polished. The video quality, sound, and lighting are all fantastic. There is nothing distracting you from the workout like poor sound or a rubbish internet connection. Although a good smartphone is suitable for streaming on Facebook and Instagram Live, you will want to invest in your set-up as a hybrid fitness business. Think about your camera, lighting, microphones, monitors, and tripods. 
3. Upskill Your Team in Content Creation 
As you expand into live-streaming classes, the likelihood is that your existing fitness instructors will be teaching both digital and in-person workout classes. If you expect your team to create incredible digital content, you will need to give them the skills and tools necessary to do this. While you may hire a video editor or expert in digital content creation, you will need to upskill your team accordingly. When your instructors stream an in-studio class, they will probably have to set up the equipment by themselves. You must offer any training needed to deliver an excellent digital experience. 
4. Test Everything! 
When you start streaming workouts, you will probably hear that you need to test everything multiple times. It's far too easy to have patchy sound or the camera facing the wrong direction, or your lighting creating a distracting shadow. Before you go live with your class, test everything from your internet connection to your microphone. You don't want to have to stop halfway through a meditation session to fix a problem and distract members from being present. 
5. Think About Music 
Making the most of a great playlist to accompany your online workout is a great way to enhance the class experience. Depending on your brand and type of workout, you may want something fast-paced, or you may want something calm in the background. You have the option to create Spotify playlists to send to your members during the workout. However, if you include music in your stream, you will need to consider licensing rules and guidelines. 
6. Talk More and Proactively Offer Modifications 
During an in-person fitness class, you can bounce off your group and offer modifications as you see fit. But, with digital classes, you don't have the ability to see when your group needs help. This means that you need to proactively offer modifications and talk more than you would in-person. It may feel a little awkward at first, but it won't feel awkward for your viewers at home. Think about the types of modifications and adjustments you would make and how you can be proactive throughout the class. 
7. Show Off Your Personality 
One of the reasons people love live workouts is that you get real-time interaction and engagement. Show off your personality during a live stream while staying on brand. It allows you to provide the type of in-person experience your members love. Often, users develop instructor favorites and will keep coming back again for a specific person. This is something to keep in mind when hiring talent. 
8. Create a Unique Experience 
A unique member experience is essential for creating a successful hybrid fitness business. Your music choice, fitness instructors, and training methods all contribute to your digital experience. High-quality production will ensure that members focus on the workout and are not distracted by poor sound or visual content. 
9. Deliver New Content Regularly 
When members are paying for a digital subscription, they want to see the value. By adding new classes regularly and mixing up your live stream schedule, you can drive value and motivate your members. By keeping your members inspired and motivated to move, you can continue to grow and scale the digital arm of your business. 
10. Practice Consistently 
Practice makes perfect. It's an old saying but a good one. Not everyone is built to live stream with confidence on the first attempt. Give your team the opportunity to practice live-streaming workouts so that you can look to fix any mistakes early on and improve your content. You may find that not all instructors are great on camera, so you may have to hire instructors with good on-camera experience in the future. 
11. Automate Live Class Reminders 
Something as simple as a live class reminder thirty minutes before a stream can make a huge difference to the member experience. It's a good idea to automate live class reminders as you would do for in-person class reminders. Not only does it add value, but it should boost attendance. 
12. Use a Catchy and Informative Title 
When naming your live stream, think of a catchy and informative title. You will likely record the majority of live streams to use as on-demand content. Use an engaging title that describes the video quickly with the key parts of the video. This could be the body part you're working out, how quick the video is, or the results viewers can expect. 
In Summary 
A home workout is how you can continue connecting with your members digitally and expanding your reach. Streaming workouts gives you the ability to maximize your time with no limits on class size. Video streaming technology will continue to drive the fitness industry forward and play a key role in keeping fitness communities connected. 
The Customer
Engagement Playbook
for Your Fitness
Business
Customer engagement is the way in which a brand
connects with its customers on a deeper level than a
simple business and consumer relationship.
Discover more