No time to read? Listen to the article (narrated by a real person):
As we continue navigating the impacts of COVID-19 in an industry that is constantly changing, it's crucial to keep up-to-date with the latest statistics and trends surrounding gym memberships. Like all membership-based companies, people are at the core of your business. It's your members that help lead to your success and increase revenue; both online and in-person.
By staying on top of the latest information, you can use it to underpin business decisions and planning. Understanding the latest gym membership statistics means you can learn what will get members through your door (or booked in online) and how to keep them loyal in the long-run.
Here, we look at the gym membership statistics that have shaped the industry in recent years, and what's to come in the future. Skip ahead to:
Gym Memberships Statistics: Then and Now
In this section, we'll take a quick comparative look at the fitness industry pre-pandemic, so we can understand how COVID-19 has impacted the latest statistics.
The Fitness Industry Pre-Pandemic
Before the pandemic, the global health club industry finished the decade with record performance: worldwide, industry revenue totaled US$96.7 billion in 2019
More than 184 million members belonged to nearly 210,000 health and fitness facilities.
In 2019, over 1 in 5 Americans belonged to at least one health club or studio in the US.
The number of members was also up 2.7% from 2018 at 62.5 million, compared to 64.2 million members in 2019.
It makes sense that over this time as the number of health clubs and gyms has risen, so has the number of members. The fitness industry was thriving with year-on-year growth pre-pandemic, and the future looked bright, but 2020 became the year that changed everything.
The Fitness Industry and COVID-19
The 2020 IHRSA report forecast that 2020 would be a challenging year for the fitness industry.
But it was also predicted that the global health and fitness club industry would continue to recover as the industry reopens.
The report estimates that the US gym and health club industry lost $13.9 billion from mid-March to August 31, 2020.
This is no surprise given that the sudden closure of gyms and studios came as a shock: the industry was not prepared.
But with a quick pivot to online services, the fitness industry was able to survive and bounce back.
In a 2020 Glofox report, The Impact of COVID-19 on the Fitness Industry, our key findings revealed that boutique gym attendance and class bookings in some world regions bounced back to around 91%of pre-COVID levels toward the end of 2020. The report is based on an analysis of activity across a sample of 2,000 fitness businesses in the US, UK, Ireland, Australia, Singapore, Hong Kong, and Malaysia.
Findings from these industry reports including the IHRSA, The Glofox Report, and numerous figures collected from Statista, all tell a similar story: COVID-19 flipped the fitness industry on its head, but as online fitness swept to the rescue, our industry's future is still a promising one filled with exciting new opportunities.
Consumer Mindsets Have Changed. Here's What It Means for Gyms and Studios
Amid the pandemic, consumer habits have evolved at pace. There is now a greater emphasis on health and wellbeing; people are investing in various wellness apps, fitness technology, and online fitness services to support their physical and mental health through lockdowns. And over the last few years, with the rise of boutique fitness, many studios have completely transformed the way we think about the traditional gym.
The boutique fitness movement is backed by a generation of members who take a big interest in their health and fitness. Gen Z and Millennials are a group of consumers who are willing to pay a premium price for health-related services. They want connectivity, community, and an innovative approach to wellness. Xponential Fitness is considered one of the most innovative companies in the world according to the Fast Company. The brand owns different boutique fitness businesses including Purebarre, Stretchlab, Yoga Six, and Club Pilates Cyclebar.
Founded in 2017, the company now has approximately 1,700 studios under all of its brands, and despite the pandemic, Xponential Fitness experienced growth in 2020. The company opened new locations is Australia, South Korea, and Saudi Arabia, with more studios in development in Germany, Spain, the Dominican Republic, and Singapore.
Xponential is just one example that illustrates how the consumer demand for community, innovation and connectivity has been fuelled to whole new levels by the pandemic.
7 Gym Membership Statistics to Boost Your Membership Retention
To many people, the gym is about more than exercise. And while the experience may now be mostly online, this has never been more true. It's where people connect, socialize, and work toward their goals. If you've ever wondered what people do most at the gym or the odds that a gym member makes it past the six-month mark, we take a look at 10 gym membership statistics and trends so you can discover more about your members, increase engagement and boost retention.
1. A Successful Onboarding Strategy is Crucial for Retention
Just a 5% increase in customer retention can increase company revenue by 25-95%. What many might not realize is that your retention strategy starts the moment a new member signs up: there are studies to prove that if your members are correctly onboarded, they are likely to stay loyal for longer. In his landmark study, fitness industry retention and acquisition expert Dr. Paul Bedford found that 87% of members onboarded correctly still remained active after 6 months.
2. Group Workouts Help Keep New Members Motivated
Even with the best of intentions, it can sometimes take a lot for new members to stick to a routine. So, what can you do to help them stay on track?
The Customer
Engagement Playbook
for Your Fitness
Business
Discover more
In Strava's 2018 Year in Sport report, the findings explore how new year's resolutioners can improve their chances at sticking to exercise resolutions – but this can be applied to a new gym member at any time of the year. The report found that about 94% of users who set goals remain active nine months later. Strava's data also shows that when we work out in groups, we tend to run and cycle 21% further and work out 10% longer.
3. Half of New Members Quit Within Six Months
The majority of health clubs and gyms lose 50% of their new members within the first six months. Annually, a very small amount of health clubs lose less than 30% of their members. This presents a gym owner with a significant opportunity to connect with more members in a more meaningful way. Sadly, membership cancellations are part of the business. However, if you notice you're losing members at an uncomfortable rate, it's time to step in.
One way to pick up on problems that could be causing gym members to leave you is a gym membership cancellation survey. Take the chance to ask members why they are leaving. Of course, there are understandable reasons why a member may leave but, it could be something within your control. The survey lets you know the reason behind a cancellation. You can then fix the problem quickly, so another member doesn't leave for the same reason.
4. Home Fitness is Here to Stay
Home fitness has been growing since long before COVID-19, but its popularity has surged during the pandemic: the convenience and flexibility of online fitness can no longer be ignored as people strive to keep physical activity levels up with home workouts. Between Q1 and Q2 of 2020, at the start of the pandemic, home fitness app downloads grew globally by 46%. According to the report, 60% of Americans enjoyed their home workouts so much, they didn't plan on going back to a physical gym. The Glofox Insights Report reveals that increases in online fitness classes have had an enduring effect on people's behavior. In Ireland, when gyms had reopened and stayed open before the most recent lockdown period, online was shown to be helping increase activity levels beyond pre-COVID-19 levels. This, the report suggests, will drive fitness business owners to adopt a hybrid model as they search for revenue streams in the future.
5. At-Home Gym Members Are Investing in Equipment
As we know by now, with gyms and fitness studios closed, people are working out from home, causing a surge in sales of home gym equipment. A 2020 report prepared on behalf eBay.com collated data from around the online retail world to help put some numbers to home-gym trend. The report found that between March and April 2020, online sales of fitness equipment increased up to 20 times in some categories compared to the same timeframe in 2019. Comparing March and April numbers from 2019, sales of dumbbells alone had increased by 1980%.
For now, this means that members can get the most from working out at home. It's also somewhat of an incentive to stick to their online gym membership; buying exercise equipment can quickly become a hefty investment, and with each workout, users are getting the most out of their purchase.
In the long run, it means that members will be equipped to continue working out both at home and in the gym. This reinforces that providing a flexible hybrid offering is essential for gyms and fitness studios if they want to increase their memberships, and ensure long-term retention.
6. Top Reasons for Quitting the Gym
There are several reasons why someone may quit the gym. Top reasons often include pricing, members not actually using their memberships, losing motivation, feeling out of place, moving away, and not seeing results quick enough.
In today's online-gym environment, a lot of these common barriers are much more easily addressed: Digital offerings are more accessible and flexible than ever before, with various pricing tiers to offer value to everyone. A members' "local gym" doesn't actually need to be local anymore; they can join in anytime, from anywhere in the world.
In a study by The Retention People, they found that health club members are more likely to renew their gym membership if they participate in group exercises. During the study, researchers analyzed 10,000 UK health and fitness members and followed up with them over regular intervals to measure their habits and behaviors. They found that 48% when to the gym for one activity, 32% for two and 20% for three or more activities. The risk of canceling was 56% higher in gym-only members compared to group exercisers.
The key takeaway here is that live online classes are the best tool you have for retaining members in the long-run. Everyone who shows up is in it together and is held accountable for showing up, just like they would at an in-person class.
7. Consistency is Key
In 2019, more than 62.5 million gym members visited the gym 104 days per year while 9 million non-members hit the gym an average of 24 days a year. About 18% of members actually went to the gym consistently. Out of those who actively used their gym membership, 49.9% got to the gym at least twice a week. Another 24.2% made it to the gym at least once a week.
Flash forward to today, where there is no need to leave your home to 'hit the gym.' Now, 56% of Americans work out just as much online, while 16% actually exercise more than they used to before COVID-19.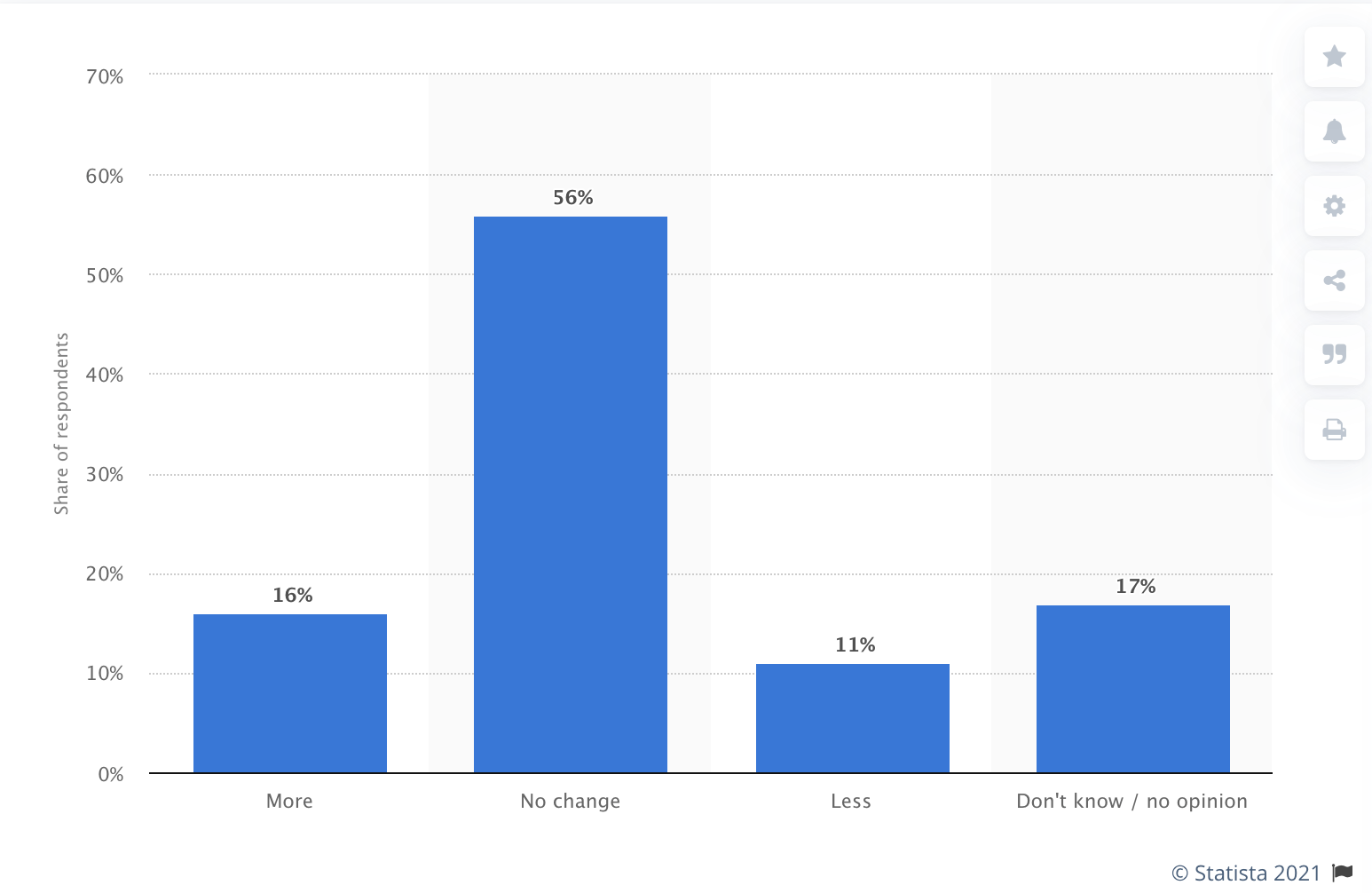 Removing time constraints with on-demand content gives gym members the flexibility to commit more time to exercise, while live workouts provide the consistency many people need to stay motivated and on-track.
In Summary
Gym statistics have changed drastically over the course of the pandemic. But at this point, it's clear that there is still demand for gym memberships, both online and in-person. The gym is about more than exercise and fitness, it's a place for people to connect, stay motivated, and see results. Whether it's to lose weight, get fitter or meet someone new, there are a ton of reasons that people are signing up for online memberships right now. By staying up-to-date with the latest gym membership statistics, you can make data-driven decisions centered around your members.
The Customer
Engagement Playbook
for Your Fitness
Business
Customer engagement is the way in which a brand
connects with its customers on a deeper level than a
simple business and consumer relationship.
Discover more