It's no surprise to hear that we're spending more time than ever staring at our phones in 2019. Around 45% of the world's population use social media, with 60% saying they are always connected and 98% having used it in the past month. People now spend an average of 2 hrs and 23 minutes on a social media platform every day, and 53 of those minutes get spent on Instagram alone. In the past, we've talked about creating a killer Instagram strategy for your fitness business. Now it's time to add Instagram influencer marketing into the mix.

In this article, we'll highlight how you can use influencer marketing on Instagram to grow your fitness business. First, we'll take a quick look at Instagram's growth and what influencer marketing actually means. Skip ahead to:
The Growth of Instagram
Flashback to February 2013 when Instagram was a toddler compared to its competitor social networks. With a modest 100 million users, the platform jumped to 200 million in March the following year. Before the end of 2014, users had increased again by 100 million, leaving Instagram with 300 million users by the end of December 2014. In 2016, the platform launched its game-changing feature, stories encouraging over 500 million of its users to share more than ever. Bringing us a little closer to the present, Instagram proudly announced that it had reached 1 billion daily users by June 2018.
With popular Instagram taking over – we're more connected through the media platform than ever before. But it's safe to say that social network feeds have naturally become more cluttered. Information overload leaves users scrolling mindlessly through their feeds and no longer relying on the home feed alone to see the content they like. People are following accounts that cater to a specific interest; knowing they can depend on that account to see relevant content each time. Competition to get noticed amongst the clutter is fierce. Audiences are taking their loyalty, interactions, and what they see into their own hands; by opting to put more of their trust in social media influencers. Enter: Instagram Influencer Marketing.
Recent figures from Traackr highlight the momentum of the influencer marketing industry, with the number of companies implementing influencer campaigns growing from 28% to 47%. In a recent report, Linqia revealed that this content has been extremely useful for those who have implemented the sponsored post/campaign. 57% of survey respondents reported that influencer content outperformed brand-created content. In a similar report from influencer marketing platform Tomoson; 51% of respondents believe they acquire better customers through influencer marketing. The study also found that businesses are making $6.50 for every $1 spent on influencer marketing.
What Is Influencer Marketing?
Influencer marketing focuses on targeting famous industry leaders with a high engagement rate on social media. These influencers will then promote brand awareness and drive brand messaging to a specific group of consumers. Sometimes in the form of a sponsored post, 42% of marketers now have an always-on strategy in place when it comes to influencer marketing. Over 68% cite Instagram as the most important social network for influencer marketing in 2019.

Source: Linqia
Benefits Of Instagram Influencer Marketing:
Reach a more extensive volume of your target audience
Promote brand awareness
Improve engagement rate with authenticity
Influencer marketing, combined with Instagram's mass presence in social media users today proves that your digital marketing needs to include Instagram influencer marketing. We've covered this briefly before as one of our 9 Top Social Media Tips For Fitness Business Success, and now we're diving deeper into the topic. Here's what you need to prepare a successful Instagram influencer marketing strategy for your fitness studio.
How to Work With Influencers
It's easy enough to come across social media influencers, but don't be tempted to start reaching out to every single one you see. There are a couple of simple areas to consider when you're starting to source influencers to work with. The points below will get you thinking about your strategy and ultimately, your long-term plan for Instagram influencer marketing.
1. Brand Alignment
There are literally thousands of fitness/wellbeing influencers on Instagram. Each social media influencer is usually best known for something specific. It could be their objective; see @lucymountain as an example for 'calling out fitness bs', or maybe their aesthetic. Are they best known for being a fitness model? Make sure you're thinking about your studio, your brand, and how your values align with your chosen influencers. You want to keep your brand consistent across social media. Influencers are versed content creators. So picking the right people to collaborate with will mean that the content they post about you will come across as genuine and authentic to your audience.
2. Target Audience
If you're considering the previous point on brand alignment; you'll naturally be thinking about your audience. Your audience should be at the forefront of your mind when devising any part of your digital marketing strategy; who will appeal to and resonate most with them?
3. Content
When you've found fitting influencers, make sure you brief them properly in keeping their content authentic. A recent survey shows that 90% of consumers say authenticity is important when deciding which brands they like and support. Transparency is key if a post is sponsored; followers should know they are viewing a sponsored post. An influencer will create a range of content for you. It could be an Instagram photo, sponsored post, video, or any type of media.
Your wider social media content strategy will help you choose which is best. Keep in mind that while you'll brief your influencer on your brand and target audience; they know what works for their audience. They know what's popular on Instagram and the type of post that will get high engagement from their followers. Determining your niche will help you find the best influencers to work with, but the best content post will come from collaborating with and listening to your influencer.
4. Calculate A Budget. Find Your Niche
Most studio founders would race through a thousand burpees (or at least try) to have the likes of Michelle Lewin or Kayla Itsines talking about their brand on social. While these vast players may seem like the pinnacle of your influencer marketing campaign, it's probably better to focus your efforts on smaller, more niche influencers. Cultivate relationships with accounts that have a more modest following of loyal and engaged users, but with a more narrow focus in terms of content. It's essential to shift your focus from quantity to quality; an influencers follower count isn't the be all end all.
For example, say you're a London-based boxing studio.
Which influencer is more likely to resonate with your customers and drive results:
– A U.S-based general fitness influencer with 250,000+ followers globally, great images, and high engagement.
– A London-based boxing influencer with 10,000 followers predominantly in the UK, great images, high engagement.
The Top 10 Barriers
Slowing Your Fitness
Business Growth
Discover more
It sounds simple, but that first impression of an influencer with a huge following could distract you from collaborating with someone more aligned with your brand and customers. This approach will benefit your Instagram influencer marketing performance in the long-run.
With a defined budget in mind, the Instagram influencer marketing industry is yours to experiment with. Generally speaking, influencers with a following of more than 100,000 will be more expensive to work with. Those with under 100,000 followers are classed as 'micro-influencers' so their pricing will reflect this.
Speaking about building a network of local fitness influencers on The Fitness Founders Podcast, Stuart Brauer, founder of WTF Gym Talk has some insightful tips on keeping your influencer strategy close to home:
"Instead of one person with 100,000 followers, how about 50 of your clients that each have 1,000 followers. Who follows Sally, who's been a member of your gym for two years? Sally's friends, family, and co-workers. So why don't you make your clients your influencer? You don't have to strike up a contract, not a deal. You invite them in for a photoshoot, give them a free shirt with your brand on it, take some amazing photos of them, give it to them for free. Give them the photos and ask that they share them whenever they want."
Considering the simple points above will help you begin mapping out your influencer marketing strategy. Defining a long term vision is key with any marketing campaign – especially when it comes to ROI, increasing engagement, and measuring performance.
How to Measure Campaign Performance
One of the most crucial steps in creating any Instagram influencer marketing campaign is to establish clear goals and objectives. This will enable you to track your campaign performance. Common influencer marketing goals include:
Increase your target customer reach
Increase sales/sign ups
Promote brand advocacy
Manage brand reputation
Increase engagement
While these goals are a great example of where you should begin, they're also broad. To make sure you're taking the right approach to the influencer marketing industry; dive deeper. Setting goals from a more granular level will make tracking your ROI easier – and most importantly, more accurate.
Clear, Well-Defined Goals Should:
Have a set tracking period. For example: set a timeline to track your engagement rate increase within the first three weeks of launch.
Be specific. A general goal to 'increase revenue' is hard to track. Define the increase you want to see, either in percentage or monetary value.
Be realistic. This is especially important if you're venturing into influencer marketing campaigns for the first time. It doesn't mean setting below-average performance goals; it just means keeping your determinations for success achievable. You can push the boundaries further each time.
Once you've established your goals, it's time to set some metrics to measure. You don't have to pick just one parameter to realize whether you've reached your goal. For example: say your campaign goal is to promote brand awareness. Your metrics could combine brand mentions, follower growth, engagement rate, number of impressions/clicks, etc. If you're struggling to determine what 'good' metrics might look like for your brand, look to others for inspiration. According to Linqia's study, almost 90% of marketers use engagement as a metric when it comes to influencer marketing campaigns. This is followed by Impressions at 67%, Brand Awareness at 65% and Clicks at 63%. At less than 50%, fewer are tracking influencer marketing efforts to sales.
Establishing Your Goals And Metrics Is The First Step
If you're new to Instagram influencer marketing, you want to start it right. Managing, monitoring, and hopefully exceeding goals and expectations is where your Instagram influencer marketing campaigns can start to take off. In the long-term, an influencer marketing platform can help with tracking your influencer marketing ROI and monitoring performance by making the process simple.
How to Use an Influencer Marketing Platform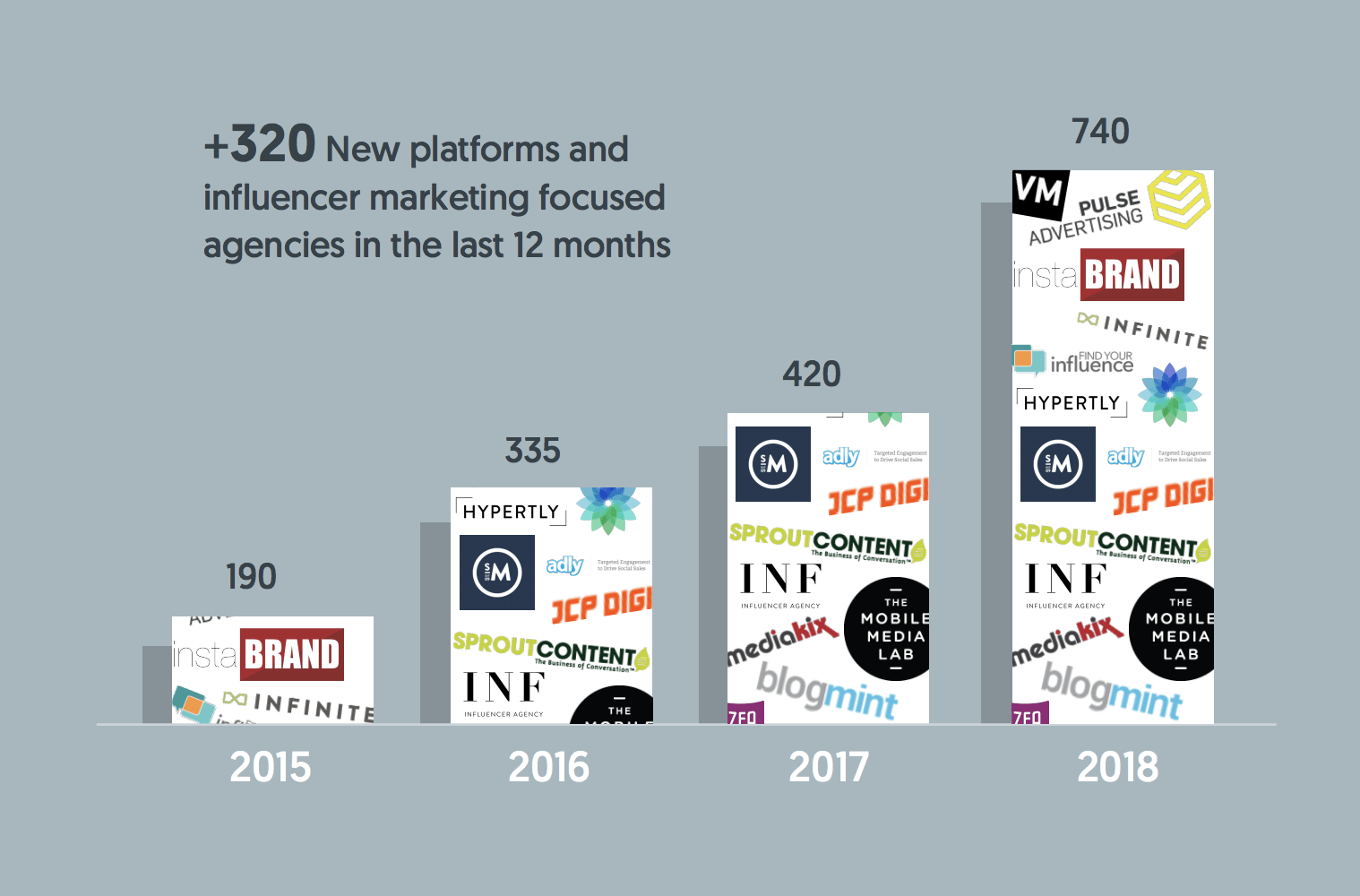 Source: Influencer Marketing Hub
Also referred to as an 'influencer marketing network,' an Influencer marketing platform is a software solution, created to help both brands and influencers with influencer marketing campaigns. They help businesses find fitting influencers, and influencers find suitable businesses. Depending on which platform you opt for, an Instagram marketing platform can provide discovery tools and access to massive databases. Find thousands of 'approved' influencers who have opted-in to receive prospective briefs from companies. The software usually features tools that will let you narrow down your search criteria. This makes it easy to find influencers who are aligned with your brand values and audience.
Easily Find The Right Influencer For Your Brand
From micro-influencers to those with millions of followers, influencer marketing platforms can help you to quickly find a vast range of appropriate influencers to work with on branded content and sponsored posts. Pricing for this kind of software will vary. If you're just getting started, Klear offers a startup plan that lets you work with up to 50 influencers a month. With a premium subscription an influencer marketing platform; you can get transparent insights into your content creator's social data. How many of their followers are real? Does your audience already engage with them? Activate, for example, offer great tracking tools and data insights.
Once a campaign has finished, your Instagram marketing platform can summarise your metrics so you can evaluate the campaign. Grin's CRM comes with a wide range of integration options and a comprehensive list of KPIs to choose from to measure campaign success. Keep up to date with campaigns by monitoring metrics including ROI, engagement rate, clicks, and conversions. These can be applied to each influencer and content piece separately, so you can evaluate each performance and compare the same KPIs.
It's well worth exploring the different options of influencer marketing platforms that are available. Understanding the features they offer will help you understand the complex dynamics of influencer marketing. Most of them will allow you to either access a trial or request a free demo; which is perfect if you're not sure where to start.
Benefits Of Using An Influencer Marketing Platform:
Easy access to a wide selection of relevant influencers
Accurate, simple tracking for key campaign metrics including ROI, clicks, conversions, and engagement
Admin of sourcing influencers and tracking performance is taken care of, so you can focus your efforts on developing future strategy, goals, and metrics
In Summary
Planning and implementing a successful influencer programme requires dedication with clearly defined goals and metrics. With careful planning and proper execution,  you'll be able to assess your campaigns and improve your performance quickly. Instagram marketing platforms are on the rise, so if you want clarity on influencer marketing and analytics for each campaign in one place, consider exploring those options.
Choose Your Influencers Carefully. Being selective with who you choose to represent your company will benefit your strategy and company image in the long run. Think of your Instagram audience and your target customer; who do you want to resonate with? What associations do you want them to make with your business? Follower count is by no means the only attribute you need to consider when collaborating with influencers.
Set Realistic Goals. Don't get carried away with unattainable goals; keep your success metrics achievable and push them further each time.
Track Your Performance. Whether it's engagement rate, brand awareness, or reach; establish your metrics and evaluate how they are performing throughout each campaign.
It's time to join the 58% of marketers who are adopting an 'always-on' approach fine-tune your influencer marketing strategy. Be patient and learn from each campaign, you'll improve as to go and get better each time.
Your Instagram influencer marketing strategy is a marathon – not a sprint.
The Top 10 Barriers
Slowing Your Fitness
Business Growth
In this e-book, we will list the most common barriers that
slow fitness business growth and list some of the tips to
help overcome them.
Discover more