In 2016, Instagram launched a game-changing feature, Instagram stories. With Instagram stories, people are sharing more than ever with 500 million Instagram accounts using them every day. Before IG stories kicked off, users mainly shared the most important parts of their life but now they can share everyday moments. 
As well as increase shareability, IG stories give businesses the opportunity to increase their visibility. Instagram and fitness have always gone hand in hand with countless hashtags and accounts dedicated to it. In this article, we will discuss why you need to include Instagram Stories in your social media and marketing strategy and the ways you can use it to grow your business.
Why Should You Be Using Instagram Stories?
With 1 in 3 Instagram stories being viewed coming from businesses, IG stories present a huge opportunity for gyms and studios. Instagram stories are on your profile for just 24 hours then disappear. Choose from photos, videos and Carousel ad formats to engage users. You can make the most out of your IG stories by keeping them as highlights. Highlights stay on your IG profile and can be categorized meaning users can have constant access to your best fitness or nutritional tip videos.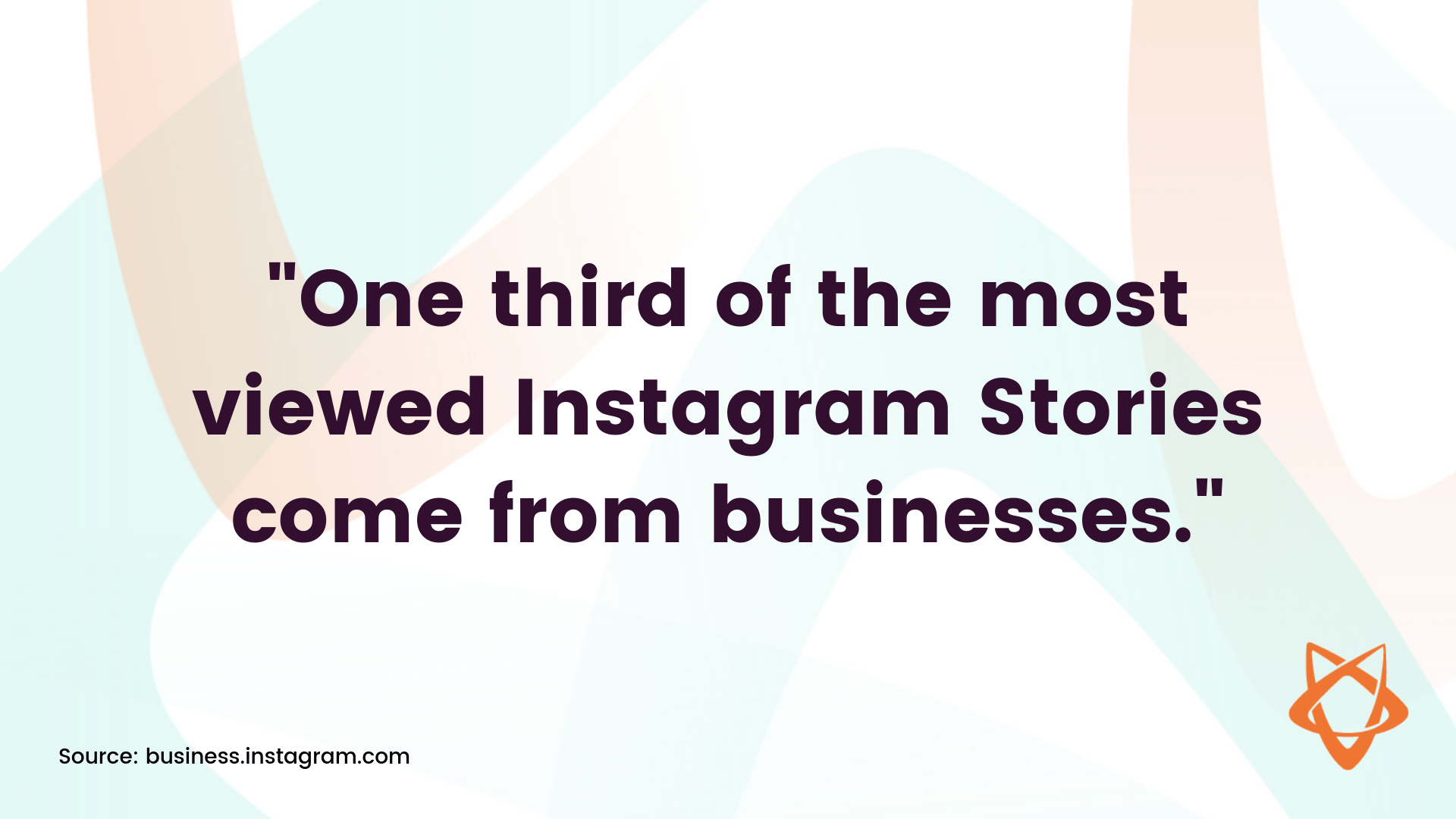 According to the latest statistics, Instagram has around one billion active users. Around 50% of business all over the world create at least one Instagram story during a typical month. One report found that 96% of U.S. marketers surveyed plan to continue using IG stories in the next six months. There are a number of ways you can use Instagram stories for your fitness business but before diving in, here are some tips to help you get it right:
Avoid using too much text 
Add your brand fonts to your story 

For IG story ads keep your message short and to the point 

Include your brand logo 

Stay true to your brand's Instagram aesthetic 

Experiment with video and photo 
4 Fitness Businesses Nailing Instagram Stories 
You've mastered posting on Instagram, developed your aesthetic and even have the perfect hashtags but, what about Instagram stories? Many brands haven't taken full advantage of IG stories yet and as the IG feature isn't going away anytime soon, it's time to up your game. Take some inspiration from these fitness brands nailing their Instagram stories. 
Nike 
One of the top fitness brands in the world, it would be easy for Nike to use Instagram stories to sell and promote their products but instead, they go down a different route entirely to make their stories stand out. Nike's unique stories showcase the progress of their followers. They share the journeys of many inspiring people like a triathlete with only one leg or a 700-pound man who's working to lose weight. 
Fabletics 
The fitness apparel company aimed towards women has a clear and concise idea of their audience. They use this information to create well-targeted stories aimed at their audience. This includes a look at behind the scenes during photoshoots, videos from Fabletic's founder, Kate Hudson, and clips of customers trying on items. The brand also adds value to their stories by providing free workouts for their followers to try while wearing Fabletics gear, naturally.   
Propel Water Fitness – Would You Rather 
The electrolyte water brand used their Would You Rather campaign to engage their audience in a fun and exciting way. The campaign is a great example of how integrating influencers in your stories can be successful. Propel used the voting feature on IG stories to ask the audience a number of silly workout questions. Each question was then followed up with advice from a fitness influencer who answered the questions on camera.  
Lululemon 
The powerhouse fitness clothing brand knows how to use social media and does it well. The online experience matches the in-store experience and they clearly put a lot of thought and planning into their social media and digital marketing efforts. The brand frequently features stories from their community, providing inspiration to their audience and keeping them engaged. 
8 Ways Gyms Can Use Instagram Stories to Drive More Business 
When new content delivery methods become available, businesses need to move and adapt to meet the demands of their audience. Instagram stories have been getting a lot of attention and for good reason. Here are eight ways you can use Instagram stories to drive more business and increase your visibility. 
1. Behind the Scenes 
Instagram stories are a great way to showcase your culture and offer potential members a behind the scenes glimpse at your gym. You can give your audience a better idea of what it actually means to be a member of your gym and what they should except. A typical behind the scenes IG story may include a virtual walking tour of your facilities or maybe a glimpse at new classes. 
Use IG stories to show off your human side, as a business owner, take to Instagram to speak to your followers directly, engage with them and build a relationship. This will help to create a sense of loyalty while increasing brand awareness. Create short and meaningful content around your message and provide an insight into your gym that your followers can't get anywhere else. 
Show off real and authentic emotional moments, this may be moments with your team or a member of your gym community. Real stories convey real emotions and show how a product or service could actually impact their life.   
2. Offer Exclusive Discounts on Stories  
Share exclusive deals and discounts on IG stories that are available to your Instagram followers only. You can then either ask followers to go to a link in your bio or include a direct link in your story where they can redeem the offer. As Instagram stories are only up for 24 hours, it adds a sense of urgency, meaning followers need to act immediately to get their hands on the exclusive discount. 
The Top 10 Barriers
Slowing Your Fitness
Business Growth
Discover more
Some ideas for exclusive discounts on Instagram stories include:
Access to group training packages 

Discounted personal training services 

Membership discounts 

Fitness apparel offers 

Free four-week personalized fitness or nutrition plan 
3. Workout Programs and Training Videos  
Everybody loves a simple workout they can do from home or at the gym. Post workout and training videos on your IG stories to help your followers stay fit no matter where they are. Create short videos explaining really effective routines that can be done from anywhere and preferably with no equipment. This is a fantastic way to show your authority in the fitness space and that you care about your followers.  
Although stories are online for a restricted period of time, by creating workout videos for Instagram stories you can then save them in your highlights and start creating a catalog of workouts. Use Instagram highlights to categorize workouts and let your followers know exactly what they will find. 
4. Before and After Transformations 
Before and after transformations provide real, tangible proof that your methods and your gym get results. By focusing on inspirational stories and transformations from your members, you can help to motivate others to get moving. You probably already have countless images available showing off your members' hard work. 
Posting photo or video before and after transformations should be a part of a bigger IG story strategy. Integrate these kinds of posts in your IG schedule, use them strategically uploading one each week or month. Remember to tag the person whose transformation it is to congratulate them and encourage them to share it with other people too. For tips on how to create a killer Instagram strategy, check out our latest guide. 
5. Healthy Recipes 
Healthy food and good nutrition is an integral part of fitness and seeing results. Whether you're a yoga studio or gym, posting healthy food and drink recipes and ideas is a great way to engage with your followers. What to eat, when to eat and healthy alternatives are all things that are so important when it comes to a healthy diet and achieving fitness goals. 
Establish your authority as a fitness guru and cover the varying elements that are involved with fitness. The majority of successful fitness brands and trainers share posts of healthy meals. Other ideas for Instagram stories based on healthy recipes include:
Short videos making healthy meals 

Take your followers on a healthy grocery shop 

Behind the scenes of a week's meal prep 
6. Story Takeovers 
When it comes to Instagram story takeovers, you have a couple of options. The first being to use fitness influencers to take over your story for the day. They would produce exclusive content that fans can't get anywhere else, using their own following to boost your brand visibility. 
Another option for a story takeover is to let a fan or member take over for the day. There's nothing quite like showing off the authentic love a person has for a brand or company. It might be taking your followers through their workout at your gym or speaking about their fitness journey. There is a lack of control when it comes to story takeovers with both influencers and fans.  However, the upside of engagement and audience reach can make it worth it.  
Here are some tips for an effective and successful story takeover: 
Promote it 

Offer a unique experience 

Show the whole day 

Use branded hashtags, tags and handles
7. User-Generated Content
Including user-generated content from your members is a great way to use IG stories to drive business. User-generated content is more memorable, in fact, it's 35% more memorable than other media like ads or brand-created content as well as 50% more trusted. User-generated content is more relatable, it reflects the true feelings of a product, service or place.  
One idea is to create a unique brand hashtag that members can use and tag. You can then put their stories into a highlights folder or just in your own Instagram story. If you're posting videos or photos from clients working out, make sure to tag them so that it will reach to their followers as well as yours. 
For social media marketing insights, here are three podcasts definitely worth listening to:
Hashtag Authentic

– Instagram expert Sara Tasker talks you through everything you need to know to help you succeed on the social media platform. Each week features different creative individuals. 

The Social Media Pubcast – host Jon Loomer invites digital marketing experts for a pint to discuss the week's topic. Topics include branding, Facebook advertising, business development, and more.
Marketing Over Coffee –  John Wall and Christopher Penn chat over coffee every week about the latest news in marketing to keep their audience up to speed with everything in the industry.
8. Polls for Audience Research   
Your followers want relevant and interesting posts that they can't find on your regular Instagram page or Facebook. Whether that's a glimpse into the running of your fitness studio or how you healthy meal prep, it needs to be relevant. Stories are a great way to show a unique side of your business. 
You can use questions and polls to not only drive engagement but find out from your audience what they want. If you're thinking of launching a new fitness apparel line but want to know what your followers think of the logo, ask them. Engaging users and asking questions is ideal for audience research while still increasing brand awareness. Don't wait for reviews on Google or Facebook, questions and polls are great for immediate feedback to learn from your audience. 
In Summary 
Tackling an unfamiliar social media feature can be daunting at first but creating awesome and engaging Instagram story content doesn't need to be difficult. Connect with your followers on a new level. Always stay true to your brand just as you would across all social media channels. With millions of active users, Instagram stories offer a different way to tap into a large audience and engage your followers like never before.  
The Top 10 Barriers
Slowing Your Fitness
Business Growth
In this e-book, we will list the most common barriers that
slow fitness business growth and list some of the tips to
help overcome them.
Discover more