The popularity HIIT wokrouts has been growing for some time, first being recognized as a notable trend back in 2014 on the American College of Sports Medicines's (ACSM) list of fitness trends. Now, six years on, HIIT is listed as one of the top fitness trends for 2020. The average class lasts around 45 minutes and it's designed for people who want the benefits of exercise but don't necessarily want to spend hours at the gym. 
With an increasingly time-constrained society, people are looking for effective and quick exercise, which is why high-intensity interval training has taken the fitness world by storm. Running HIIT classes at your gym presents an excellent opportunity to tap into the popularity of the trend. HIIT workouts generally vary in terms of the amount of equipment needed to take part. You can tailor an effective program that requires no equipment at all, which is especially useful for members who want to workout at home. There are countless well-known gyms, studios, and franchises who're making the most of HIIT and these leading examples are an excellent source of inspiration if you're ready to create your own program. We'll take a look at three of these next, before going on to 9 Tips for Running a HIIT Gym in 2020. Skip ahead to:
3 Examples of Popular HIIT Workouts 
There are HIIT gyms shooting up all over the world, each delivering their unique twist on the popular HIIT workout. Boutique fitness studios are capitalizing on the feeling of community and accountability that comes with group fitness. Although members come for a quick and effective workout, they stick around for the community and experience. Style, vibe, and look have a big part to play in a successful HIIT gym. Let's take a look at three popular HIIT workouts from around the world. 
1. Gymbox, UK-Wide Locations
Website: https://www.gymbox.com/
Gymbox's Trilactic class is a sweat-inducing HIIT session. The main USP of the HIIT class is the sheer number of exercises you get through in a 45-minute class. It keeps you on your toes as you transition through strength, cardio workouts, and agility in teams of three. The studio leverages the group workout buzz and makes you feel part of the community. 
2. Switch Playground, New York
Website: https://www.switchplaygroundusa.com/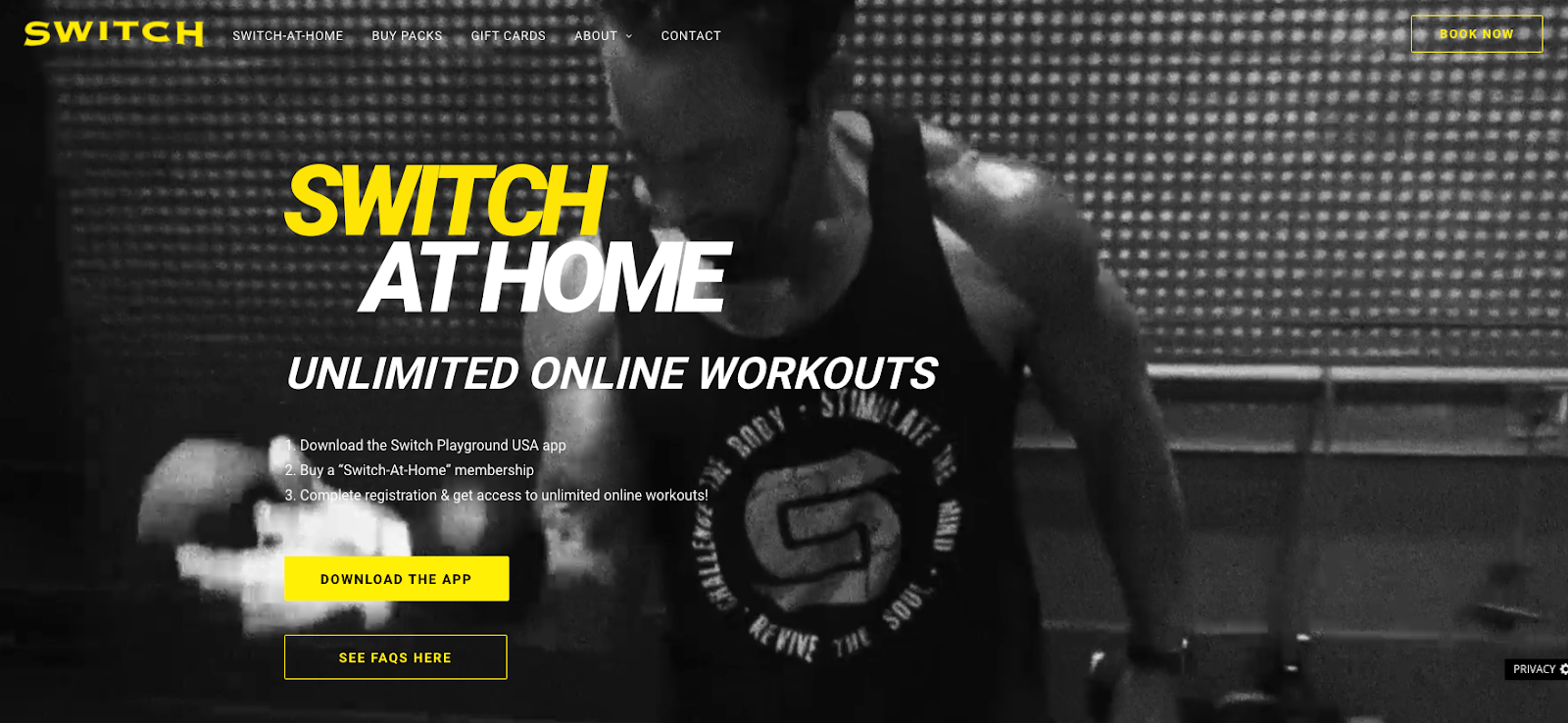 Switch Playground classes include 18 different stations to target every muscle group for a unique high-intensity interval training experience. With a live DJ, Switch Playground really focuses on creating a workout experience, not just a quick gym session. 
The HIIT studio continues to support members throughout the pandemic with its Switch at Home platform. Members can access live and on-demand studio classes for home workouts at any fitness level. The on-demand and streaming platform has two different membership options: a monthly membership for $29.99 and a drop-in option for $10 per session. 
3. HIIT at Fithouse, New York 
Website: https://www.fit-house.com/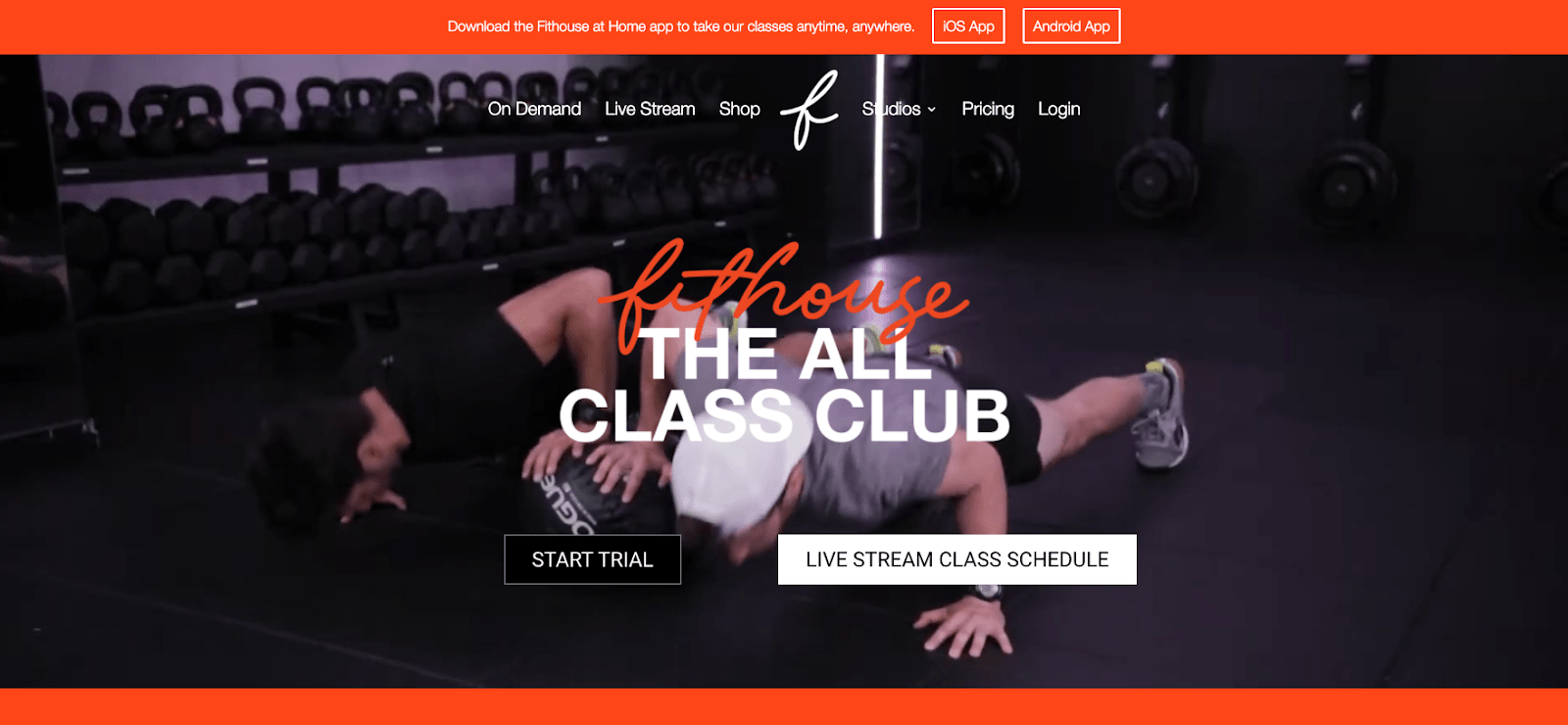 HIIT at Fithouse is a quick and effective workout that shifts through cardiovascular fitness and strength exercises. The class is designed to set your lungs on fire and really push members in less time. Currently, the Fithouse studios are closed due to the pandemic. Like other fitness businesses, Fithouse has taken their HIIT classes to the home with Fithouse at Home. 
Fithouse at Home allows members to access on-demand and live streaming classes from anywhere. Fithouse is all about making exercise fun and accessible for everyone. The studio offers one-off sessions as well as a monthly membership for live streaming and on-demand for $34.99. 
9 Tips for Running a HIIT Gym in 2020 
The coronavirus pandemic has forced many businesses to shift to a new way of working. The fitness industry has had to adapt in recent months so that they can continue to generate income and stick to social distancing guidelines. Running a fitness business in 2020 means that you have to be flexible and pivot quickly to adjust to consumer demand and COVID-19-safe guidelines. Here are nine tips for running a HIIT gym. 
1. Get the Right Equipment 
One of the key benefits of HIIT workouts is that you can perform an effective workout without a ton of equipment. You don't need bulky equipment like a standard gym. Instead, you can create a spacious fitness area perfect for your HIIT sessions. 
You can use items like resistance bands, kettlebells, jump rope, foam rollers, and weight training during a HIIT workout. With many fitness brands switching to digital fitness, it's a great time to kit out your members with home workout equipment. Create branded products or partner with local businesses to support your members, both online and offline. 
2. Create a Motivational Training Space 
Boutique HIIT gyms are very good at creating motivational training spaces. You want members to walk into your facility and feel motivated to workout. When designing your space, think about how it will inspire members to succeed and hit their fitness goals. 
By creating the right atmosphere and developing a brand that emphasizes community, you can set a motivational space to workout. When you combine your fitness community with an effective HIIT training style, you encourage members to keep coming back again and again. 
The Top 10 Barriers
Slowing Your Fitness
Business Growth
Discover more
3. Think About Premium Design and Style 
Boutique fitness studios emphasize the demand for chic and luxury fitness. Your design, style, and vibe can play a massive role in attracting and retaining members. Digme, based in London, is a boutique gym with beautifully designed studios. With bright changing rooms, premium products, and a smoothie bar for post-workout recovery, Digme has a premium, and high-quality feel that members love. Digme delivers both in-studio and on-demand services with Digme on Demand. 
For some design inspiration, listen to The Fitness Business Podcast's episode on designing a fitness facility that wows members with Dr. Frances H. Mikuriya. Frances is the founder of Body Machine Performance Studio and SpinAddikts, a private indoor cycling group based in London. 
4. Push the Sense of Community and Accountability 
HIIT workouts are hard. The intention is to push members and achieve results. High-intensity exercise group workouts create a sense of community and accountability. You must continue to grow your community online and offline. Brands such as SoulCycle and F45 have a community of loyal fans and keep going back. 
Group classes make exercise fun and exciting while increasing accountability. When you start to think that someone might ask where you are, you're more likely to go to your weekly session. Whether your HIIT gym is open at reduced capacity, re-opening soon, or you're focusing on your digital fitness offering, it's essential to continue to push the feeling of community and sense of accountability.
5. Digital Fitness Platform 
Running a HIIT gym in 2020 looks a little different. The world has changed, and the fitness industry has had to adjust to a "new normal." This means that many businesses have had to shift to a hybrid business model. By combining digital and in-person elements of your business, you can continue to generate income in the wake of a second peak and support members who want to workout from home. 
An excellent digital fitness platform tends to offer on-demand and live streaming video content that embodies your brand. Deliver unique workouts that your members love and be in a stronger position as you head into the colder season. The Fitness Founders Podcast explores this topic further in a recent episode on how the fitness world has changed and that businesses need to learn how to go hybrid or get left behind. 
6. Develop a Unique and Effective HIIT Workout 
Your HIIT workout is a part of what makes your gym unique and different from your competition. A results-driven and effective workout should capture your members' attention and leave them wanting more. Think about the length of your class. HIIT workouts can range from 10 to 45 minutes. Design your training around a specific timeframe. 
HIIT gym owners can put their spin on a HIIT workout to create a unique offering. Due to the number of exercises and movements you can do during a HIIT session, you have a lot of flexibility to develop your brand's workout. To show how different fitness brands have created other HIIT concepts, we've pulled together six of our favorite studios with unique HIIT workouts. 
7. Health and Safety 
The COVID-19 crisis has elevated the need for rigorous health and safety regimes at fitness facilities. Whether you're running your gym at a reduced capacity or are in the planning stages of re-opening, you need to think about your members' health and safety. Think about how you will follow social distancing if you can take some classes outside, and how you will enforce new COVID-safe guidelines. 
From new cleaning and hygiene protocols to managing your studio effectively, there's a lot to cover. It's essential to arrange contactless access and continue to monitor attendance both online and offline. We've put together a healthy and safety checklist to go through when managing your gym. It's key that you help minimize the spread of coronavirus and assure members that it's safe to return to your studio. 
8. Run Fitness Challenges 
It's a good idea to run fitness challenges on top of your standard class schedule. This gives members a goal to hit, rather than just heading to a block of classes. Fitness challenges work for both in-person and digital members. When members start to see results, this helps to keep up motivation levels. A lack of motivation may lead customers to go elsewhere. 
You have a lot of options when it comes to fitness challenges. You can start with something more straightforward, like a 30-day class challenge to burn calories and body fat. This encourages members to stream or visit as many classes in 30 days. For more complex fitness challenges, you can provide access to nutritional content like recipes and workouts for the specific challenge. Weight loss challenges or strength training challenges are a great way to help members hit fitness goals and achieve results. 
9. Market and Promote Your HIIT Gym 
The majority of businesses have been affected by the pandemic. In the face of adversity, it's essential to continue with your marketing efforts. Ultimately, your marketing efforts will help you in the long term. With an increase in social media usage, there's never been a more important time to get your fitness brand online in front of your ideal client with targeted advertising. 
You must continue to market and promote your HIIT gym. If you've recently launched a digital fitness platform, now is the perfect time to get relevant adverts in front of potential customers. Check out the podcast episode below for some expert advice on marketing your fitness business. David Steel, ⁠Erik Russell, Sam Holden, and Celia Lopez, join us at our virtual Conference Glofox Connect to talk about getting new leads, how to convert them, and how to accelerate growth:
In Summary 
It's clear that HIIT workouts are the future of fitness. As the trend continues to grow, it's becoming the exercise of choice for many people. With family commitments, work, and commutes, consumers are looking for ways to stay in shape with maximum effort in the shortest time. As you begin to leverage digital fitness and operate your HIIT gym as a hybrid business, you can continue to generate income, support your clients, and deliver a unique HIIT workout to your members at any time. 
The Top 10 Barriers
Slowing Your Fitness
Business Growth
In this e-book, we will list the most common barriers that
slow fitness business growth and list some of the tips to
help overcome them.
Discover more