In the fast-paced world of fitness, it can be hard to keep your finger on the pulse of what your members are looking for in their spin classes. Some people want a fast, intense, high-octane session, while others want to steadily scale the virtual mountain all on their own. There are a few ways you can find out the best method of boosting your spin class attendance, and we're going to share them all with you.
At ABC Glofox, we're lucky to have a close connection with many of our customers, allowing us to learn and grow from their experiences and insights. We often partner with businesses just as they're starting out, allowing us to work with them from their first class and beyond. This gives us a unique insight into every incremental step of the process, which we can then share with you to help your budding business flourish.
It can be a seriously frustrating experience watching your class attendance drop, regardless of what style of fitness you're offering.
Luckily, you're not alone – we've spoken with thousands of businesses who've experienced the same issues, and these are the top 5 keys to boosting spin class attendance that come up over and over again.
How to Boost Your Spin Class Attendance With 5 Simple Steps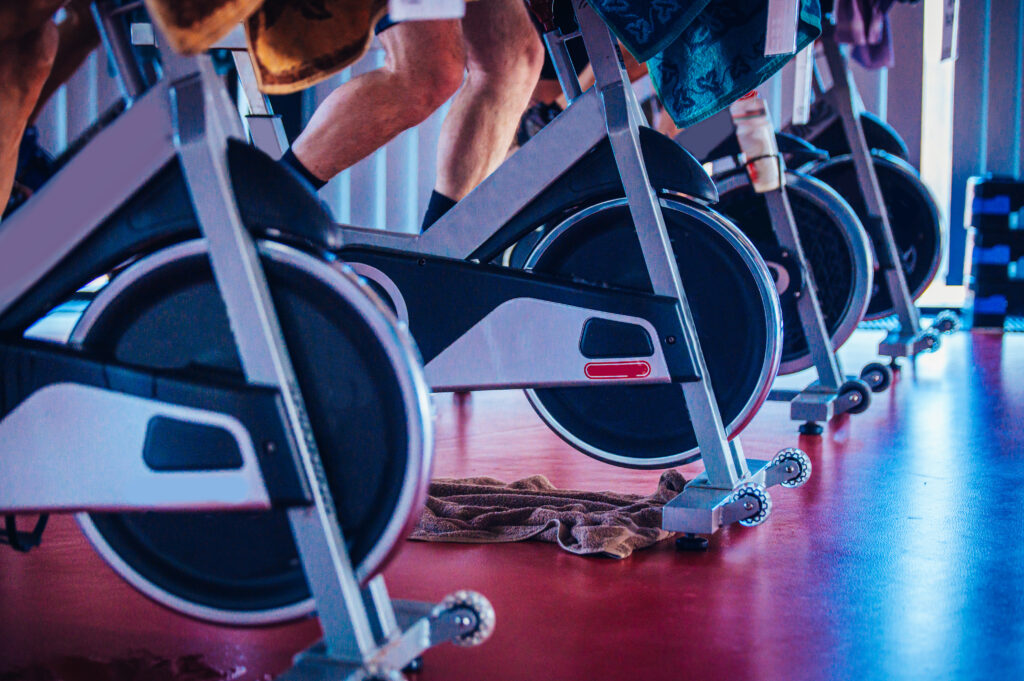 Strategy 1: Optimize Your Classes For Success
It may seem like an obvious step, but the very first thing you should do is make sure your class is providing what your members want.
Boosting your spin class attendance begins with understanding your clientele. Are your classes striking the right balance in terms of difficulty? Is your coaching approach aligned with the needs and expectations of your members? It's essential to find the sweet spot that challenges participants without overwhelming them.
One easy way of doing this is reaching out to your members with a survey or list of questions – that way, you can hear directly from them what your classes are missing.
Or, if you prefer a more hands-off form of analysis, you can check your spin class attendance on your fitness platform.
On the ABC Glofox platform, for example, you can check the attendance rate of all your classes, along with which coach held the class and what time it was at. This way, you can get a bird's eye view of class trends and behavior over a number of weeks or months.
Data-driven business decisions are one of the most sure-fire ways of developing long-term success. For fitness businesses, monitoring class attendance and activity is one of the most effective methods for getting a clear understanding of member behavior.
Additionally, fostering inclusivity and sensitivity is key. When developing your lesson plans, make sure you take into account injuries, sensitivities, and individual limitations. Not all your members will be at the same level, so make sure you're not pushing some members past their limit. Crafting a class environment where everyone feels welcome and accommodated can go a long way in retaining a diverse and loyal following. Moreover, scheduling classes at optimal times ensures that your offerings align with your members' routines. Use your fitness platform to find out what demographics attend your location at what time, and provide your services accordingly.
Strategy 2: Personalized Progression and Goal Setting
Remember that your members are coming to your classes for more than just a workout – they're also looking for a sense of achievement, community, and belonging. You can empower your members and give them this feeling by offering personalized progression and goal-setting opportunities.
Your members will appreciate feeling seen and acknowledged, so make sure you provide an experience that focuses on that personalized feeling.
A simple way of achieving this is by checking your fitness platform to see if there are any new attendants in your class. This way, you can start off on the right foot by welcoming them and explaining how the class will go.
If your new member feels welcomed and acknowledged from their first step into your class, they're exponentially more likely to return.
It's also a helpful idea to have a spin class attendance tracking system, allowing you to celebrate the milestones of your members. If someone has been to a class every week for a month, don't hesitate to celebrate their achievement, just a brief email or message could go a long way.
Community is everything in developing a committed and engaged member group, and one of the fastest ways of doing this is through recognition and an inclusive approach. 
Strategy 3: Make It Easy to Book, Easy to Personalize
One of the easiest ways to boost your class attendance is by making your members' lives easier.
Your scheduling platform should simplify the booking experience to make it effortless for members to secure their spots. With the ABC Glofox platform, we provide a win-win scenario for both you and your members.
For you as a business owner, you get a unique branded app that provides your members with a professional, high-quality user experience. Instead of having to build out an app all on your own (which can cost upwards of $50k) or having to use an open marketplace that promotes your competitors as much as your own location, you now have a unique space that your members can use effortlessly. 
Here's Victoria Thomas, founder of JourneyFit, explaining the power of a uniquely branded app.
For your members, booking through a purpose-built app is a dream compared to messaging coaches, managing spreadsheets, or constantly having to fill out online forms. The Glofox app is also highly customizable, meaning that not only can your members book a specific time, they can even book their favorite spot. The spot booking feature allows your members to choose the bike that's right by the window, further back in the class, or right front and center along with you, depending on their needs. 
You can even upload an image of your classroom, adding an extra touch of personalization to your spin class experience.
This is how easy it is for your members to book their own spot on our app:
We've heard from customers that this has been immensely helpful in providing a more tailored, personalized experience to their members.
Anyway, enough about us, what's most important is to make sure that your members can book your classes in an easy, accessible way. If it takes more than two minutes for them to complete the process, there's a significant chance they're going to drop off halfway through.
Strategy 4: Communication
Consistent and personalized communication is the cornerstone of a thriving fitness community.
To have a successful spin class business, you need to constantly be available and in touch with your members (without going overboard of course). Quick reminders of class times, discounts, or availability can go a long, long way in improving your class attendance levels.
We understand that sending personalized emails to every customer is practically impossible with a traditional system, which is one of the primary reasons why we founded ABC Glofox. To help our members improve their outreach, we developed a tool called Amplify.
Amplify, which is part of the Glofox platform, allows you to send automated, personalized reminders to your members without you having to lift a finger. This system analyzes your members' behavior to ensure that they're reminded of their upcoming class, congratulated on milestones, and even sends them a message when their membership is almost expiring. These messages can all be personalized by you and can significantly increase your member retention and class attendance. 
Even if you're not using our platform, it's vitally important that you maintain a constant connection with your clients. Keep them updated on all your upcoming events, and make sure that it's a two-way street as well. We mentioned this above, but always be available to listen to your members–it's one of the easiest ways to improve your class experience (and attendance).
Strategy 5: Rewards and Incentives
We all appreciate it when we're recognized for a job well done, and your members are no different. We mentioned this above, but if you've noticed a marked progression in a member, or even just seen someone consistently show up, don't be afraid to congratulate them and notice their achievement.
In the modern world, fitness businesses need to provide more than just a space to exercise. Many people are coming to your class to blow off steam, to connect with peers, or even just to get some time to focus on themselves–reward them for showing up, even if it's just by saying a few words of recognition in your class. 
If you have a fitness platform, it also helps to include automations that reward people for different milestones. If someone has made it to a certain number of classes, make sure to congratulate them (and maybe give them a discount on their next class too). If someone's just renewed their membership, make sure to reach out to them with a thank you message.
It's the little things that make great businesses, and one of the most important things you can provide for your members is a sense of recognition and reward. This is something we value deeply, and we've woven it into the foundations of our platform.
Conclusion – Stay Connected
Boosting your spin class attendance is a complicated problem that requires a multifaceted approach, but here are the main tactics you should focus on:
Do a complete audit of your class and member type: listen to your clients and find out what they like and don't like.
Make sure every member feels seen and heard
Make it as easy as possible to book a class (and spot)
Provide consistent and personalized updates for your members
Reward and recognize members for showing up
All of these steps combine to give your members a sense of belonging and community. Once your clients feel as if your classes are their personal space to grow and develop, you will notice a huge increase in attendance.
ABC Glofox can help you with all of these problems, along with providing you with a reliable, easy-to-use booking system that allows you to step away from the screen and back onto the studio floor. Our platform is developed and designed by fitness professionals, and is only used for fitness professionals, meaning it's an entirely tailored service for people exactly like you–boutique fitness business owners looking for a professional partner that can take their business to the next level.
Want to learn more about how we can help boost your class size and save you money? You can book a demo for a time that suits you right here.
The 6 Crucial Steps to
Opening a Gym or
Studio
Starting a fitness business is one of the most
challenging and rewarding ventures that a person can
take.
Discover more