When you are starting a gym business, one thing is obvious; you need gym equipment. Depending on what type of gym you are running, your equipment needs can vary. Running a full-service big box gym means equipment costs can run into the thousands. On the other end of the scale, equipment costs for a studio specializing in HIIT training will be much smaller.
In our Glofox Ultimate Guide to Opening a Gym, we listed gym and fitness equipment as one of the main overheads you need to consider when starting a fitness business. The majority of first-time fitness entrepreneurs have to operate on a tight budget in the first year. So it's vital that the equipment bought is effective and will give you value in the long term.
In this article, we will discuss the merits of buying used vs. leased gym equipment, the future of gym equipment, the top equipment brands, and the eight best places you buy gym equipment. 
Buying Used vs. Leasing Gym Equipment
When buying new equipment isn't an option, you have the choice between buying used and leasing. Which is better for you? Let's break these two options down and talk about the pros and cons of each. 
Buying Used Equipment
The advantages of buying used equipment are that you have one payment and you're done. Even though that initial payment is more, it will cost you less money in the long run.
Your equipment will become part of your gym value because you now own it; it becomes an asset. This will help you get more for your gym when you sell, and you can use it as collateral for a loan.
Another pro about buying your equipment is that you can hand pick and choose which pieces you want. Customize your gym to suit your member's needs and the size and dimensions of your gym.
Now the disadvantages. Buying used equipment can be a gamble. It will need more upkeep and maintenance, and you're stuck with the same equipment for years. Long term it may be better to invest in brand new machines. 
Leasing Gym Equipment
When leasing, you can switch out the equipment when they get out of date. You also can start out with nice, shiny equipment for a small initial investment. Of course, you won't have to worry about maintenance and repair because that will be taken care of by your vendor. Whenever you have a problem with any equipment, return it for a new one or repair. This means there are fewer headaches in the maintenance department.
However, leasing won't be a long-term investment in your business. Leased equipment can't be sold on and provides little future value.  
5 Best Brands of Gym Equipment
Precor: Precor is best known for its sleek and modern cardiovascular equipment like treadmills, ellipticals, and bicycles. But it also offers popular plate-loaded resistance machines. Precor isn't cheap, but it is an affordable option for someone who wants to buy equipment that will last for years. Precor prides itself on creating equipment that is customizable for the individual. You will be able to offer your members a workout that they can adjust to their needs when you choose to stock your gym with Precor equipment.
Life Fitness: This company has been around since the 1970s. They sell top quality gym equipment from racks to cardio, to cable machines, to entire gym systems. Life Fitness offers 400 or more products, giving you a comprehensive selection. Because so many people like this brand, you can find plenty of used Life Fitness equipment around at a fraction of the cost of buying new.
Cybex: Cybex is one of the top cardiovascular gym equipment manufacturers. They focus on making their equipment as innovative and ergonomic as possible. They have shock control in their treadmill to take the jar off the joints as well as their ArcTrainer. If you want to wow your members with unique features and top of the line futuristic looking treadmills and elliptical, Cybex International is the brand for you when you are deciding on where to buy gym equipment.
Hammer Strength: If you want a gym that handles the rough and tough, Hammer Strength equipment will go great in your gym. The name alone emits an idea of heavy-duty ability. Hammer Strength offers only plate loaded machines that will get your members lifting heavy. Therefore this would be a great choice of where to buy gym equipment for a powerlifting gym.
Marcy: Though this brand is known mostly for their home gym equipment, they have a very durable build and are worthy of a space in any commercial gym. They are easy to use and comfortable since they were designed for the everyday user. They are also affordable, and like Life Fitness, used equipment should be easy to find. Marcy offers cardio and strength equipment. They also provide many cage systems and things like rowers and affordable free weights.
What is the Future of Gym Equipment?
Technology is a part of our everyday lives. It only makes sense that our desire for a high-tech lifestyle would spill into our fitness needs. There have been some pretty amazing developments in the fitness world that takes our workouts to the next level.
The Customer
Engagement Playbook
for Your Fitness
Business
Discover more
Peloton is an excellent example of this. Their bikes and treadmills are interactive, and streams live workouts to you in the comfort of your own home. Tonal, which is an entire home gym that attaches to your wall, claims to be the smartest home fitness system that uses science and digital weights to bring you fitness results tailored to your goals. It delivers your daily workouts and adjusts its workouts based on your progress. The digital interface is terrific, and you can continuously upload new workouts since it is a web-connected program.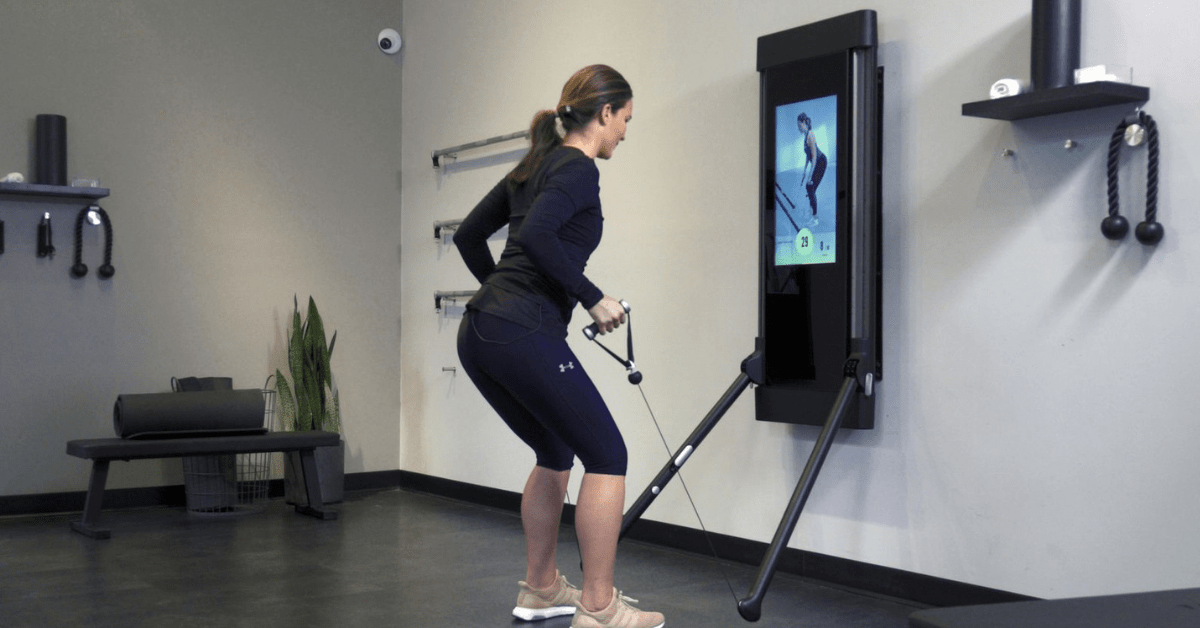 Source: cnet.com
Mirror is another futuristic workout system that is entirely interactive. When you have it off, it looks like a run of the mill mirror. However, turn it on, and this space-saving gym equipment will let you see and hear a personal trainer of your own. You'll even be able to see yourself to ensure that you are mimicking the personal trainer in performing the exercises correctly.
With all of these new technological advances in the home gym, it can be a hard thing to compete with. In fact, one of the taglines of Tonal is "YOUR GYM ACROSS TOWN IS NOW ACROSS THE ROOM." This slogan means that gyms will have to up their technology game to offer their members some of these choices.
Granted, these newer fitness creations aren't cheap, and you also have to pay for a monthly membership to continue to use the equipment, so having a few for your members to try could actually bring in new clients.
8 Places You Can Buy Fitness Equipment
eBay: This is a great online marketplace to find anything with a lower price. Often you get this discount because you are cutting out the middleman or you are getting them from a different country. This method is a risky way to buy equipment; however, because you can't be sure of what the equipment quality will be and be prepared to spend a few hours putting it together. You can find some used equipment here but not many and the shipping of anything that size is outrageously high.
Facebook Marketplace: If you are looking for local used gym equipment Facebook Marketplace will help you find it. It is a straightforward way to shop because you message the owner right on Facebook, and it makes the sale move smoothly. They often have a wide variety of equipment, but you need to be very selective. Make sure you look closely at the pictures and maybe even ask for more close-ups to ensure you aren't buying a piece of equipment that is missing pieces or broken in certain areas.
Craigslist: This is an excellent option for finding used gym equipment for an affordable price.  You may find listings from people who bought the equipment and used it for a year and didn't stay committed. You may also find secondhand dealers or equipment from gyms that are going out of business. The best thing about Craigslist is your ability to haggle. The worst is that you never really know who you'll be meeting on the other side and if the equipment will look as good as it did in the picture.
Sporting Goods Stores: This will have a large variety of equipment but definitely come with a higher price tag. They will know what they are talking about when it comes to the quality and use of each brand and fitness equipment. You can always try out the equipment that they have on the floor but some they may not have in stock or set up. Some of the most popular sporting goods stores are Dick's Sporting Goods, Academy Sports, and Big 5 Sporting Goods. They might offer you delivery and set up for a fee.
Play It Again Sports or other secondhand sports stores: These stores are great places to find quality used equipment. It's like buying from a used car salesperson. They do the hunting for you and spruce up the equipment so that you can get it cheaper than new but with the peace of mind that anything broken on it has been looked after. You will also get the customer service of a big chain store.
Garage sales: Buying directly from someone who owned the equipment through their garage sale is usually the cheapest way to buy equipment, but it's like finding a needle in a haystack. It will take more time and hunting than just going online, but sometimes you find the best stuff this way. If you are the type that likes to peruse, keep your eye open for signs that are advertising a garage sale with gym equipment.
Usedgymequipment.com: This is a company that buys used and broken gym equipment and remanufactures it to be like new. They then resell that piece to you for a discounted price. They have all of the big names like Life Fitness, Cybex, Hammer Strength, and more. The site also helps you even design the floor plan of your gym if you need help in this area.
Walmart and other retailers: These big chain stores sell a few pieces of gym equipment. It might be an excellent place to find your accessories like gym mats, dumbbells, balls, or jump ropes, but you might be disappointed in the variety of bigger equipment that they offer.
The Customer
Engagement Playbook
for Your Fitness
Business
Customer engagement is the way in which a brand
connects with its customers on a deeper level than a
simple business and consumer relationship.
Discover more