In 1982 science fiction film Tron premiered to audiences around the world. A feat of innovative filmmaking, it was lauded as a giant step forward in special effects. Looking back now, it may seem slightly primitive compared to today's special effects-laden blockbusters. In truth, though, it laid the foundation of modern effects-driven cinema.
The difference between it and previous science fiction films that relied on special effects was that a large portion of the film took place inside a computer. Tron was one of the first true mass-produced representations of Virtual Reality or VR as its more commonly known.  The film also influenced the look of very early VR that came after it's release. 
Today VR is considered commonplace among the technology we use, with Oculus Rift the most famous example of this. VR has also moved into the world of fitness with VR fitness companies starting to make a real impact on the fitness and sports industries, with some even listing clients like the Dallas Cowboys and the San Franciso 49rs. 
With its influence growing, we thought it would be good to explore what VR fitness is, how effective it is, and what companies are making (virtual) waves. 
Skip ahead to:  
A Quick Guide to Virtual Reality Fitness
VR, along with other at-home workout technology, will have a big say in shaping the future of the fitness industry as a whole. But what are its origins? Before we get more in-depth into the different aspects of VR, let's take a brief look at the beginnings of this technology and where it is today. 
What Is the History of Gaming and Fitness? 
The origins of VR Fitness lie in the concept of exergaming. This is the activity of playing video games that involve physical exertion. The earliest forms of this were games like the Power Pad for Nintendo or the Foot Craze for the Atari, released in the 1980s. Unfortunately, they experienced limited success. It wasn't until 1998 that exergaming really came to prominence with the release of Konami's Dance Dance Revolution. Originally released as an arcade game, it's considered a pioneer of the rhythm and dance genre in video games. Dance Dance Revolution was not only kickstarted this genre but was the springboard for exergaming to flourish.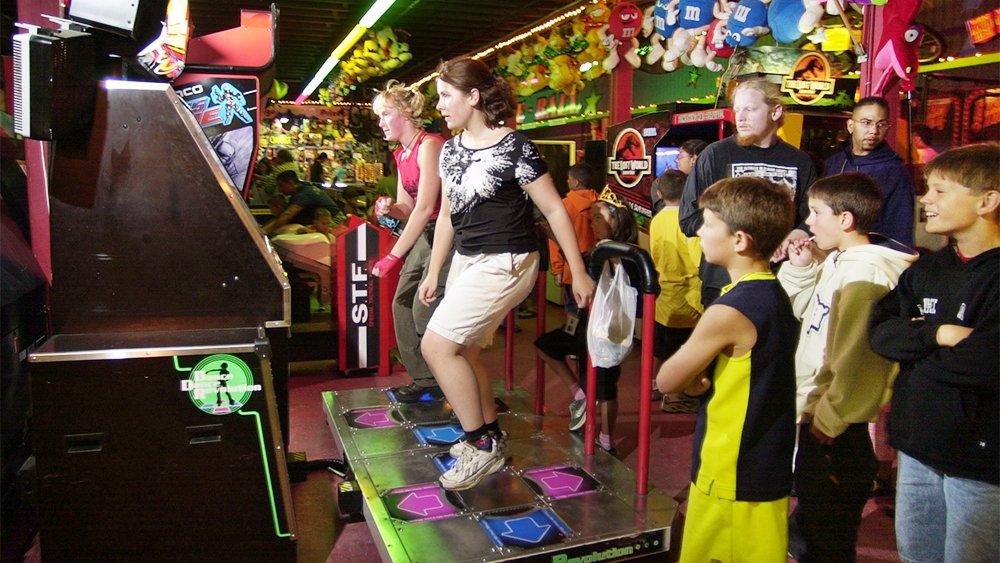 Source: variety.com
But it wasn't until the release of Wii Fit that exergaming got serious. Made for Nintendo's Wii console, it quickly became one of the best selling exergames of all time, with over 22.67 million copies sold. Wii Fit comes with a Wii Balance Board for the user to stand on while they perform a selection of strength training, aerobics, yoga, and balance games.
Wii Fit has since influenced the exergames that have come since. The game and console are now a fixture in health clubs around the world. After Wii Fit came games like EA Sports Active and Nike+Kinect Training for the Xbox. In fact, the prominence of the genre in gaming saw the term "exergaming" entered into the Collins Dictionary. While these games were a giant leap forward in the fusion of technology, gaming, and exercise, what was to come next was even more revolutionary.
From Exergaming to VR Fitness  
As exergaming went from strength to strength in the late 90s and early 2000s, VR struggled to impose itself on the market. A lot of this was to do with how expensive the technology was and how underdeveloped it was. In the mid-2000s, technology such as smartphones, tablets, and wireless technology emerged and became more advanced and, more importantly, was less costly to produce. 
It wasn't until 2012 that VR came into the mainstream with the launch of the Oculus Rift. 18-year-old tech entrepreneur Palmer Luckey had developed a prototype of the headset back in 2010. Through his start-up the Oculus VR company, Luckey raised $2.4 million through a Kickstarter campaign. In 2014 the company was bought by Facebook for $2 billion, after which VR rapidly gained momentum. Soon after this, companies like Sony, Google, and Samsung began launching VR headsets, some of which would incorporate a smartphone. 
From around 2015 on, VR became more widely available on the market with the BBC and The Washington Post releasing immersive VR experiences. VR has now progressed significantly and is currently used in a variety of different walks of life – most notably fitness. A host of different games flooded the market that has been incorporated both in-studio and at home. Companies like Icaros, Black Box VR, and Mayweather Boxing + Fitness VR are starting to make an impact in both the gaming and fitness industry. In the next part of this article, we will look at the overall effectiveness of VR fitness. 
How Effective Is VR Fitness?
Is VR technology the way forward when it comes to getting fit? As VR becomes more available, the number of studies on its effectiveness as a workout has increased. First, we look at if you can get fit with VR, and then we will see how studios are adapting it. 
Can You Get Fit with Vr Fitness?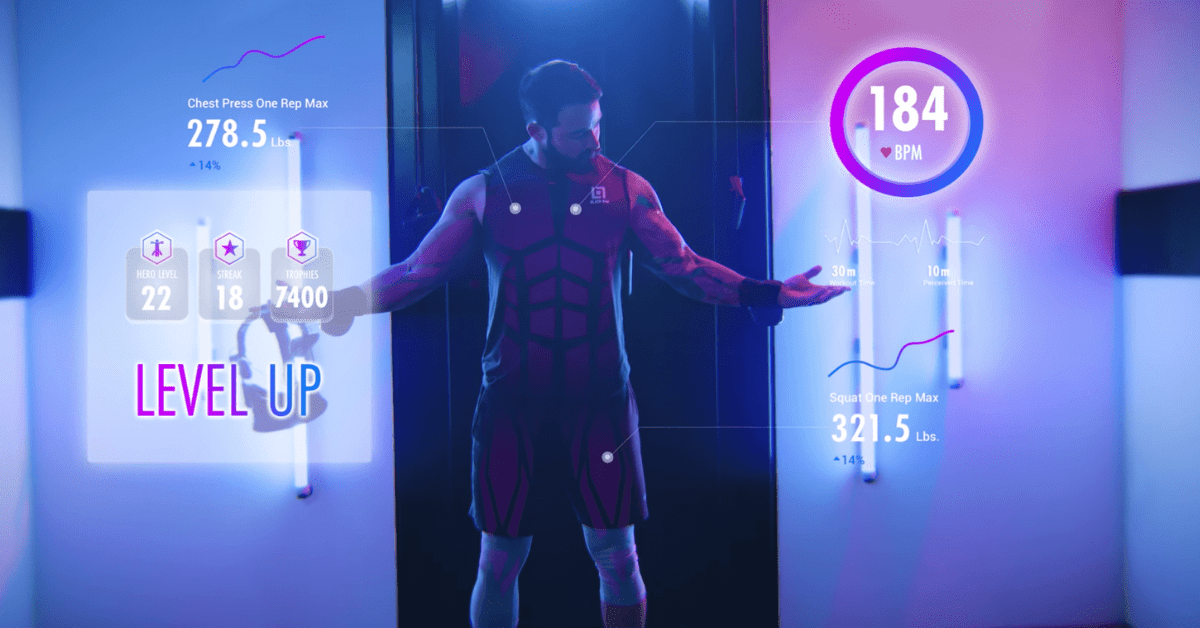 Source: blackbox-vr.com
In a recent CNN article that looked at virtual reality and its use in fitness, they highlighted a study by San Fransico State's Department of Kinesiology that put 41 men and women between the ages of 18 and 39 through three games and measured their heart rates and oxygen consumption. The study found that 30% of general virtual reality games give you a pretty good workout.  Another finding from the study was to do with the participant's "rating of perceived exertion" – basically, the effort people thought they were putting in. They found that people thought they were putting in less effort than they actually were – an offset of the immersive and engaging environment they found themselves in. 
The Customer
Engagement Playbook
for Your Fitness
Business
Discover more
Another interesting study published in the Psychology of Sports and Exercise looked at how virtual reality can reduce the feeling of pain and effort while exercising. The study split 80 participants into two equal groups, with 40 wearing VR headsets and 40 without a headset. They were then asked to perform a bicep curl. The room was recreated down to the arm holding the dumbbell for VR participants. The results showed that the VR group reported 10% less pain intensity and were able to hold the weight for 2 minutes longer. 
These studies are just a snapshot of what is possible with the combination of VR and exercise. What they show is that a virtual reality environment can help ease the fear that comes with heavy training and encourage everyday people to exercise more. 
Are Fitness Studios Adapting VR Fitness?  
So if VR technology is showing some results when it comes to helping people get fit, should studios adapt it into their exercise programs? Or have they already?   
Leading commercial gym equipment providers Life Fitness has added VR capable equipment to their inventory. Studios and gyms now can buy an exercise bike powered by virtual reality. VirZoom, a developer of VR content and vSports technology, have partnered to provide VR workouts on specialized bikes across the world. Believed to be a first for the fitness industry, users can access fresh VR content regularly and even compete against friends from around the world. 
VR may seem like something only trendy boutiques have embraced, but big-box gyms are getting in on the act too. 24 Hour Fitness is trailing a VR concept called "The Trip" where 3D wall to wall screens surround the rider, bringing them into anything from a vast mountain range to a densely forested park
While some studios and gyms are introducing some aspects of VR, one studio is taking VR to a whole new level. Black Box VR, is a totally immersive fitness game that takes place in a Colosseum- like an arena. The San Francisco based studio is one of the first VR only gyms in the world, and it will be interesting to see if this starts a new kind of fitness studio.
The 3 Companies Shaping the Reality of VR 
Black Box VR is just one of several companies using VR in new and exciting ways. They are using the latest in virtual and augmented reality to restructure how to deliver fitness to the consumer. Let's take a look at 3 forward-thinking companies in the world of VR fitness. 
1. Mayweather Boxing + Fitness VR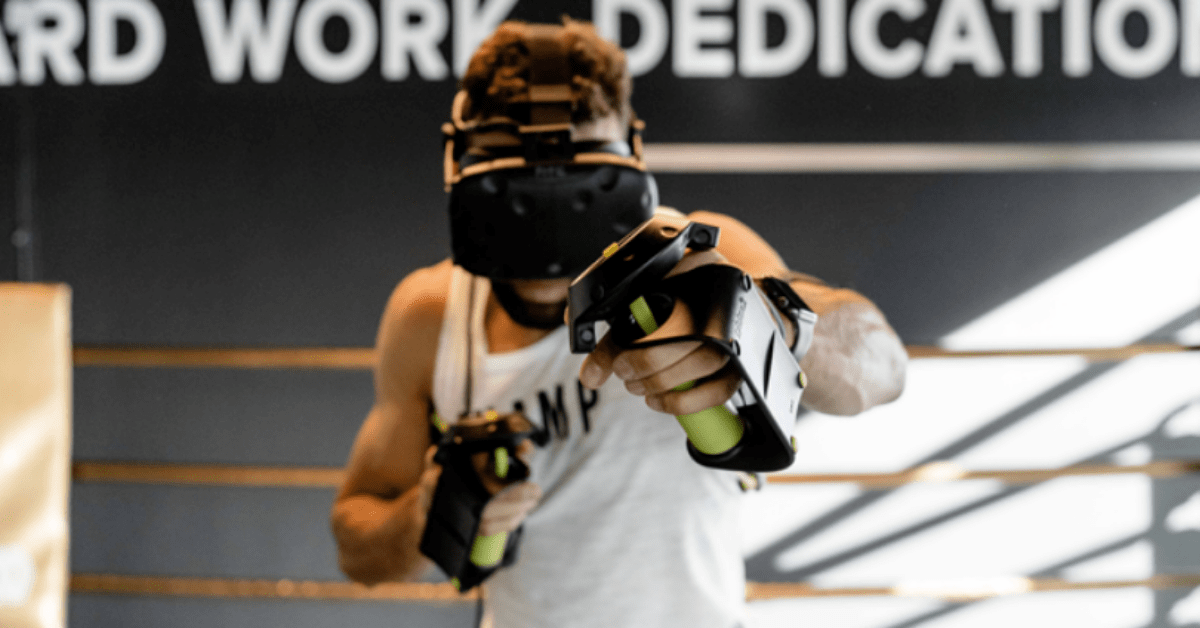 Source: mayweather.fit/vr
We profiled this briefly in our guide to creating great fitness video, and it's one of the more exciting companies on the list. Founded by boxing legend Floyd Mayweather as part of his fitness studio franchise Mayweather Boxing + Fitness, it's currently only available in studios. Wearing a headset and "gloves," the user can choose three different programs:
Training: A 20-minute session of various boxing drills like the speed bag, heavy bag, and endurance punching. It claims to burn over 300 calories in a session
Mitt Work With Floyd: Get in the ring with the man himself as he puts you through a pad workout.  This is an intense session that will teach you all the fundamentals of boxing.
Competition: In this program, compete against virtual opponents in the ring to get a high octane, full-body workout.
2. Icaros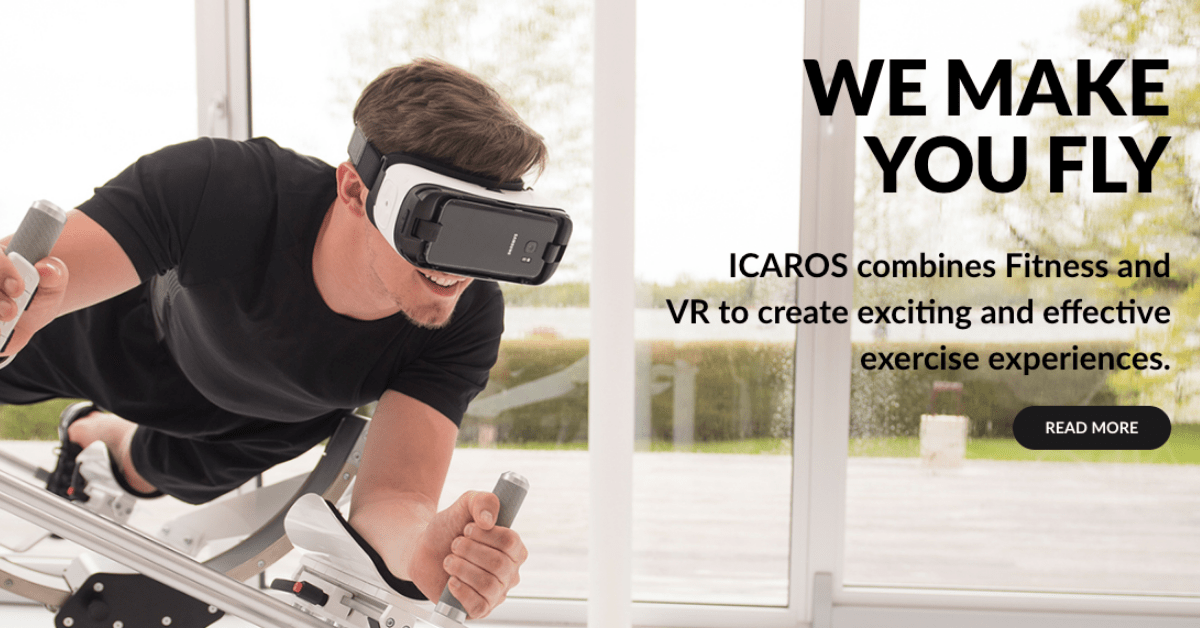 Source: icaros.com
On the About section on the website of this Munich based start-up, they claim their vision is "to provide the most motivating and health-promoting training to combat our society's sedentary lifestyle." And to achieve this, they have created a VR experience that makes them the main character in a video game, all the while working out key muscles throughout the body.
Founded in 2015, Icaros is compatible with both Oculus Rift and Samsung Gear VR. The machine itself allows users to slide their legs forward and backward and roll from side to side. Apart from getting a workout, the system also improves reflexes, balance, and concentration.  There are several games available for the system, including FLIGHT, GRAVITY, DEEP, and AIM. All of these take place in various environments on land, sea, and air.
3. YUR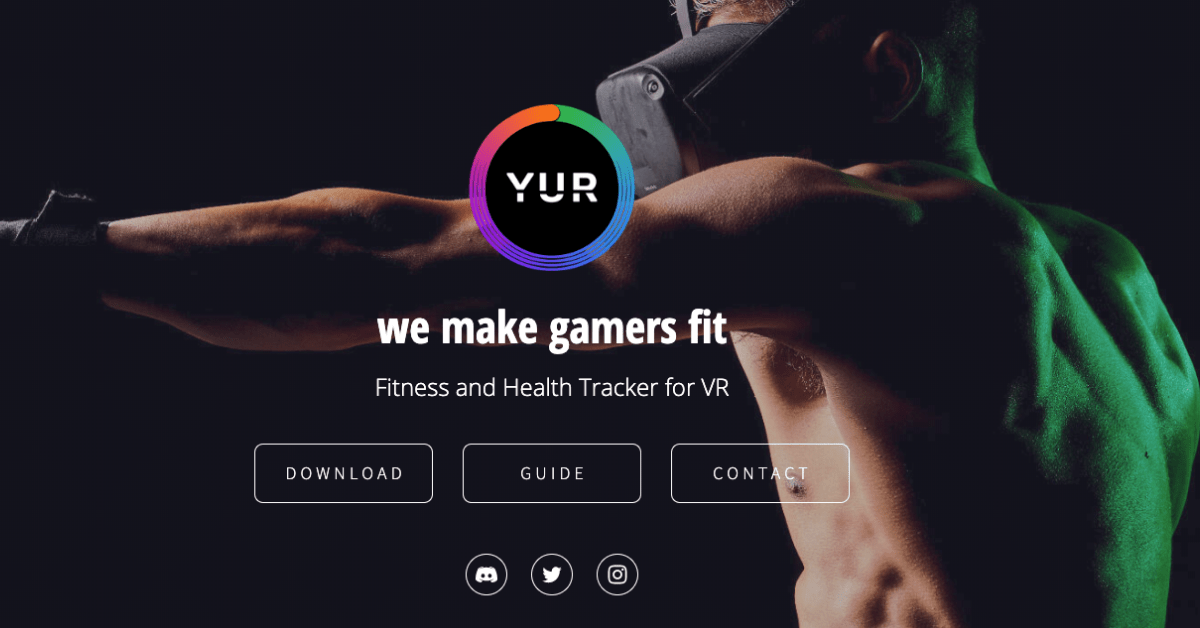 Source: yur.fit
YUR (why you are) is different from other VR companies mentioned on this list as it a fitness tracker that is added on to a VR game. The integration means you can track your effort during any game, fitness-based, or not.  Their tagline is "we make gamers fit," and they are already proving popular, with over 100k downloads so far.
The idea is to make games more engaging fitness-wise and to track progress. The founders of YUR noticed that VR gamers were becoming fit more passively. They realized the could open up a whole new way into fitness for those not traditionally motivated by it. The first game they integrated with was Beat Saber, one of the biggest VR games on the market. Currently, YUR is an unofficial modification to the game. However, there are plans to launch a mobile app and build a real community around VR fitness.
In Summary
Virtual reality may have seemed like something from the world of science fiction a few years ago. But now it looks like it will play a significant part in many aspects of our lives, including fitness. A lot of this innovation seems like it will fuel the at-home workout industry rathar than the gym and studio industry. And, while it may not seem like a threat now, the future comes at you fast, and gyms and studios will have to react to a potential new reality.
The Customer
Engagement Playbook
for Your Fitness
Business
Customer engagement is the way in which a brand
connects with its customers on a deeper level than a
simple business and consumer relationship.
Discover more