Influencer marketing has been a significant topic for a while now. Statistics show that 63% of marketers plan on increasing their influencer marketing budget over the next year. The combination of word of mouth marketing and celebrity endorsement makes for a unique marketing opportunity.
Fitness influencers dominate social media; it's no secret. Influencers offer significant value to brands with more customer engagement, sales, and return on investment. With a base of loyal followers that regularly engage with the content they post, influencers allow brands to access a world of marketing possibilities.
There's much to be learned from the industry's top fitness influencers, especially for gyms and studios. Here are four key lessons from fitness influencers that you can apply to your brand's social media strategy, and 12 excellent example to follow for inspiration.
What Businesses Can Learn From Fitness Influencers
From workout videos to fitness and recipe inspiration, influencers are intertwined with every part of social media. They have transformed the way brands interact with their customers. Leaders in the fitness influencer space effectively market themselves and have figured out a robust strategy to thrive through creative content marketing and exposure. Let's take a look at four of the key elements of this strategy.
1. Engage and Create Meaningful Connections
Fitness influencers have revolutionized how brands use social media. Influencers engage and develop meaningful connections with followers by creating a level of intimacy. They post real content about their lives and develop close relationships with followers. This creates a base of loyal and engaged followers.
2. Embrace Authenticity
Social media users are becoming increasingly more averse to online ads. As more consumers demand transparency from both brands and advertisers, the fitness industry must embrace authenticity. Fitness influencers connect and authentically engage with users, building trust, and creating a safe space to interact with one another.
3. Include Customers in the Story
Social media marketing is an integral part of your overall marketing strategy. Including customers in your social media content is an excellent way to make your brand more relatable. Some of the fastest-growing influencers show real content; they are body inclusive and promote self-love. They are posting content that the user can relate to. Nowadays, consumers are moving past wanting a perfect-looking Instagram. Consumers want to be able to connect to your content. By making your brand more relatable, it helps to foster your online community.
4. Show Experience and Credentials
When you think of health and fitness influencers, often, they showcase both their experience and credentials. This is because it puts them in a position of authority, and it makes all their content credible. If you were looking to start a new exercise regime, who better to give you tips than a personal trainer and fitness coach. You're going to listen to what they have to say because they can demonstrate experience and education. Fitness influencers always tell you exactly who they are and why you should listen to them. Position your brand as an expert and trustworthy provider of services.
12 Top Fitness Influencers You Need to Follow in 2020
Social media is everywhere throughout all industries. Whether you're looking to partner with a leading fitness influencer or want to get some ideas for your next social media strategy, check out how these 12 fitness influencers reach a wider audience and grow a loyal base of engaged followers.
1. Kayla Itsines
Follow her here: https://www.instagram.com/kayla_itsines/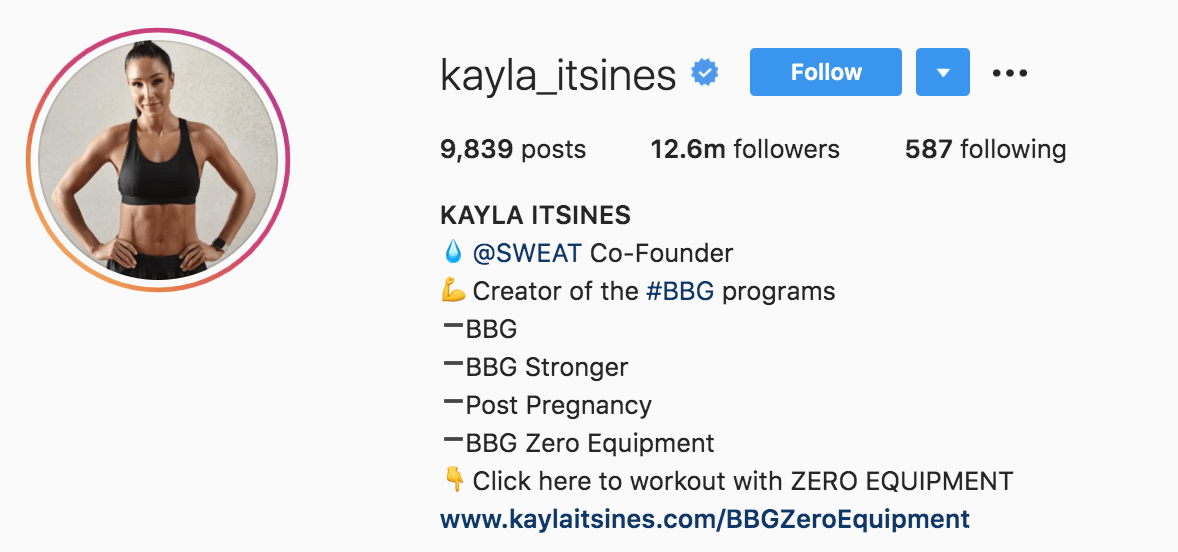 Kayla Itsines is an Australian personal trainer who has amassed a huge following on social media. The woman behind the Bikini Body Training Company, SWEAT, and author of the Bikini Body Guide (BBG), Kayla, is a major influencer in the fitness industry.
In the beginning, Kayla established her platform by posting workout videos on YouTube daily. Over time, her brand has developed into a thriving fitness community of 12 million followers. She often posts her followers before and after photos to showcase their BBG journey. Kayla uses a ton of user-generated content to demonstrate her clients' results. It gives the reader the feeling that anyone could do it, making the content super relatable.
2. Michelle Lewin
Follow her here: https://www.instagram.com/michelle_lewin/

With almost 14 million followers, Michelle Lewin is another prominent influencer in the fitness space. Michelle went from working in a health clinic in Venezuela to being one of the biggest fitness influencers on social media. She posts short motivational workout videos to get people moving and behind the scenes snippets of her life.
Her content is authentic and down-to-earth. This helps to make her feel both approachable and trusting. Following her rise to social media fame, she created her own line of supplements, home workout equipment, and fitness apps. This is an excellent example of an influencer building a massive following then going on to develop on-brand products.
3. Chrissy King
Chrissy King is a fitness coach, writer, and creator of the Body Liberation Project. Her content focuses on helping users to improve their relationship with their bodies. She wants to create a fully inclusive wellness industry that's accepting of all things.
Chrissy uses her social media as a platform to spread messages of anti-racism, equality, and body positivity. She uses a combination of Instagram Stories, live, videos, and images in a candid way that encourages a safe space of expression. Inclusivity and accessibility in fitness are so important. Consumers want transparency; they want to use brands that support current issues in the world.
4. Massy Arias
Follow her here: https://www.instagram.com/massy.arias/

Massy Arias is a health coach and CEO of Tru Supplements. The fitness trainer is based in Los Angeles and has gained millions of followers with her short snappy workout videos. She combines different styles of home workouts like cardio and yoga into her workout routines. On her Instagram page, you'll find before and after shots of her followers as well as a glimpse into her life as a proud mother.
Massy is open about her struggles with depression and how a healthy lifestyle has transformed her life. She's created a program that allows followers to hit their fitness goals and live a healthier life. The fitness program, Coconut Guide 2.0, is a 60-day program that combines workout videos and a meal plan to help you effectively achieve results.
5. Emily Skye
Follow her here: https://www.instagram.com/emilyskyefit/

Emily Skye is another big name in the fitness influencer world. The fitness guru and personal trainer is an excellent example of how niching down can benefit your brand. Emily's content is aimed at women wanting to get back in shape after having a baby. She wants to inspire other women who want to exercise throughout pregnancy and encourages others to set realistic targets.
A quick look on Emily's social media pages and you'll find a combination of workouts, inspiration, family photos, and real behind the scenes shots of her life. Emily doesn't cover up the effects of having a baby on your body and is very truthful to her followers. She is open and fully embraces authenticity by showing that not everything is perfect all the time.
The Top 10 Barriers
Slowing Your Fitness
Business Growth
Discover more
6. Simeon Panda
Follow him here: https://www.instagram.com/simeonpanda/

Simeon Panda is a British bodybuilding professional and fitness entrepreneur. With almost seven million followers, he posts a mixture of workout videos, user-generated content, and competition shots.
Simeon is the creator of the Elimina8 Challenge, an eight-week training platform to help followers boost their health and fitness. The fitness influencer has made a name for himself within the fitness industry. With online workout programs, accessories, and a sportswear line, Simeon regularly promotes his own products on his Instagram account as well.
7. Ally Love
Follow her here: https://www.instagram.com/allymisslove/

Ally is a Peloton instructor, Adidas ambassador, and founder of Love Squad, a community empowering women to release their inner boss. The certified health coach uses her platform to encourage others to stay active and be positive.
Ally's main message is of self-love and acceptance. With over 400K followers and growing, she's an influential figure in the fitness industry. She uses a combination of workout videos, motivational words, and images to create an approachable and welcoming platform.
8. Rachel Brathen
Follow her here: https://www.instagram.com/yoga_girl/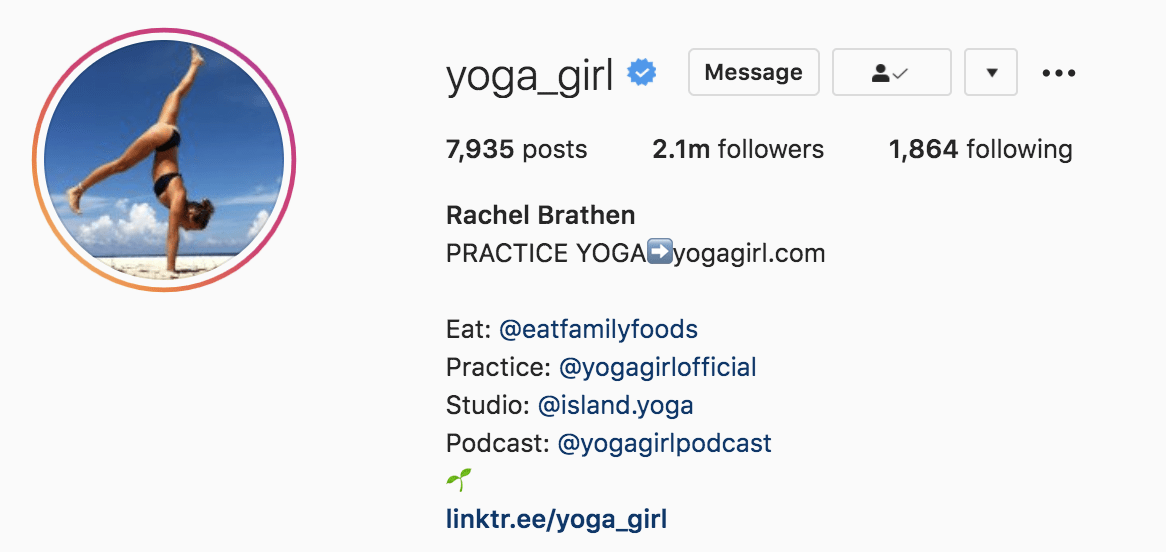 Rachel Brathen is also known as the Yoga Girl. The yoga teacher and author of the New York Times bestseller, the Yoga Girl, founded the yoga studio Island Yoga Aruba and online yoga service oneOeight.
With just over two million followers, she uses her platform to talk about the benefits of yoga, CBD, and healthy living. As one of the top Instagram yoga influencers, Rachel gives followers a look into her personal, family, and professional life.
9. Jonelle Lewis
Follow her here: https://www.instagram.com/jonelleyoga/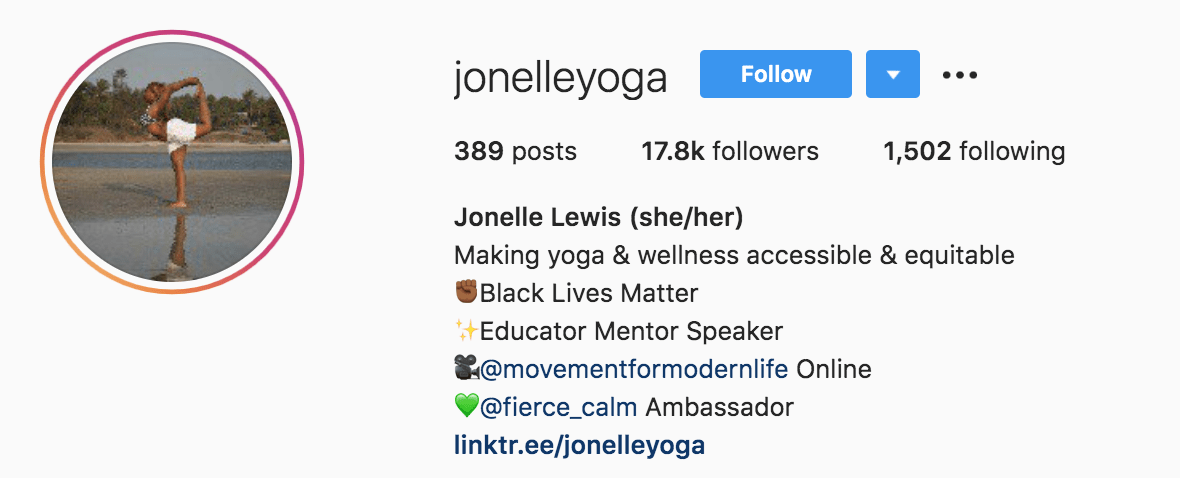 Jonelle Lewis uses her platform to make yoga and wellness inclusive and accessible. She speaks openly about racism and uses her voice to make a difference. Jonelle shares personal posts, yoga inspiration, and motivational words to empower her followers and change the industry.
With just over 17K followers, Jonelle has a loyal base of engaged followers. The yogi posts beautiful pictures of poses in combination with highly relatable content. The result is an engaged audience who are listening to what she has to say. This shows how powerful it can be to voice your opinion and actively support issues. Going forward, consumers will want to see brands have an opinion on controversial issues. It will become a big influencer in decision making.
10. Joe Wicks
Follow him here: https://www.instagram.com/thebodycoach/
Joe Wicks, the body coach, originally started on Twitter before making a name for himself on Instagram. He shot to fame with his Lean in 15 recipe book. More recently, he is known for his YouTube channel series PE with Joe. The series helped to keep children and adults fit during lockdown by providing free daily PE classes for the whole family to enjoy.
Joe now has 3.8 million followers on Instagram, sharing fitness tips and videos, and recipes. Wicks uses his influencer status to promote his 90-day fitness program, including workouts and recipes, to help followers achieve results. Joe regularly posts about the benefits of exercise and staying active as well as including user-generated before and after photos.
11. Jen Selter
Follow her here: https://www.instagram.com/jenselter/

Jen Selter is a fitness influencer based out of New York. With 12.6 million followers, she has a huge following. Jen turned to social media as a hobby to create motivational content for like-minded people. Over time, her hobby transitioned into a fitness empire.
The influencer demonstrates that fitness comes in all shapes and sizes. Part of her rise to social media fame was the trending use of the hashtag #seltering, which many users tagged to show off their fitness results. She mainly posts content such as workout videos and nutrition tips encouraging you to move no matter where you are.
12. Cassey Ho
Follow her here: https://www.instagram.com/blogilates/

Cassey Ho, aka Blogilates, is the founder of Pop Pilates and product line PopFlex Active. Cassey has over ten years of experience as a YouTuber and fitness influencer. Her content usually includes rigorous Bootcamp-style workout videos, Pilates, and behind the scenes, look at her life.
The Blogilates star uses tongue in cheek humor to create an easy-going and approachable environment on her social media channels. Cassey is a great example of a fitness influencer who tends to adopt the latest social media trends in a way that boosts her reach dramatically. She regularly posts on TikTok and uses Instagram Stories and IGTV Live to communicate with her followers.
In Summary
Whether you're looking to partner up with a fitness influencer or want to give your social media strategy a little edge, fitness influencers can be a great source of inspiration and ideas. Influencers show the importance of authenticity and building a fully engaged and loyal following. If you're going to take away one thing from some of the top fitness influencers, it's to use your social media to create meaningful connections by being authentic and building trust.
The Top 10 Barriers
Slowing Your Fitness
Business Growth
In this e-book, we will list the most common barriers that
slow fitness business growth and list some of the tips to
help overcome them.
Discover more