On October 6th, 2010, Instagram debuted exclusively on iOS. Within its first week, the new photo-sharing app had 100,000 downloads, and by December, it boasted an impressive 1 million users. Fast forward to the present day, and it's one of the fastest-growing social networks in the world. And with the platform's global success came a breed of new internet stars – the influencers.
The term 'influencer' was officially added to the Mirriam-Webster dictionary in May 2019, and it's now a huge part of today's online world. But influencers have recently been scrutinized for misleading audiences and the negative impact they're having on society.  
Last year, Netflix released a documentary exposing the events that led to 2017's disastrous Fyre Festival. Described as an 'immersive music festival,' Fyre sold audiences the dream of a VIP party on an idyllic island in the Bahamas.
High profile influencers, including Hailey Baldwin, Bella Hadid, and Emily Ratajkowski, promoted the event on social media. With tickets starting at $1,500, guests were expecting to fly out and party VIP style on sandy white beaches. The cost included gourmet food and the promise of luxury accommodation.  
Reality didn't quite live up to expectations.
The influencers involved earned thousands of dollars – to sell something that didn't exist. It was a marketing disaster that highlights both the power and the danger of influencer marketing. 
Fyre is just one example; influencers have stolen the media spotlight on many more occasions, and it's prompted society to question whether they deserve to be trusted.
So is their impact on society positive or negative? And how are they affecting the fitness industry? Skip ahead to:
How Influencer Marketing Has Changed Fitness 
Influencer marketing is set to become a $15 billion industry by 2022, and it's played a key role in globally establishing a host of well-known brands. 
The UK based athleisure brand Gymshark was one of the first to leverage fitness influencers for marketing and did so with huge success. No one else was doing it, so it was a cost-effective marketing strategy that excited and engaged audiences at the time.
"At the time, no one else was doing it. It came totally naturally to us because we were just fans of the guys." Explains Founder, Ben Francis, in a YouTube video. Initially, Gymshark sent its clothing to bodybuilder influencers on the video platform. "The concept has always been around, but people just weren't doing it with YouTubers and people like that at the time. It wasn't really a planned thing, but we were one of the first people to do it in our space, and then we led."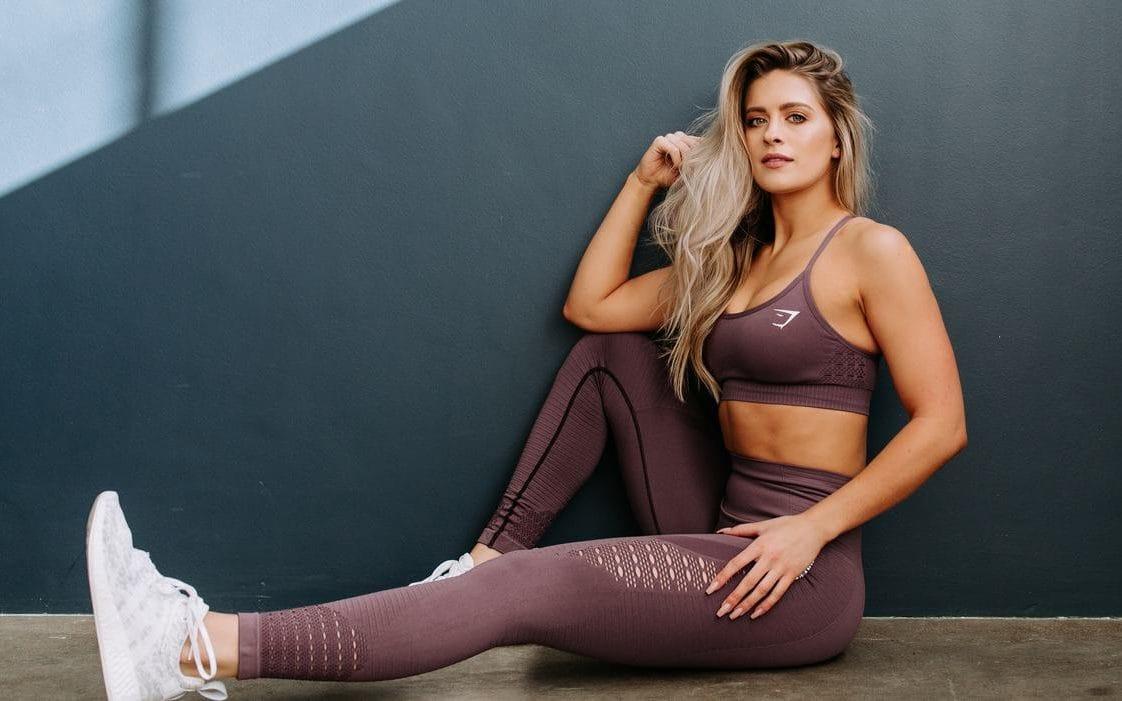 Following success with YouTube, the brand quickly pursued a further 18 influencers who had a combined following of over 20 million people. Gymshark is now a globally-recognized brand valued between £300M and £400M. Its three Instagram profiles have a combined following of over 5M users, and the Gymshark hashtag has been used over 7M times.
If you're a new fitness brand coming to market today – there's serious competition to work with the 'top' fitness influencers, and they come with an equally serious price tag. In this Vox article, Viral Nation co-founder Joe Gagliese explains that pricing can differ depending on the influencer and what content they're sharing. Those with 1M followers or more can charge up to $100,000 per post. 
Its overwhelming popularity means that today, influencer marketing is a widely used strategy on an oversaturated platform. We've reached the point of influencer overload. And while the 'Instagram influencer' is only ten years old, it's an area that's transforming almost as quickly as it started – especially when it comes to fitness.
Is the Influencer Impact Positive or Negative?
Like any industry, social media and fitness are influenced by shifting consumer preferences, habits, and awareness. Often the negative changes have inspired positive ones to follow. 
Either way, it's these changes that are shaping the future of the industry. Let's take a closer look to understand what's changing.
The Negatives 
Social Media and Body Image
Recent years have seen social media scrutinized for its impact on mental health, and it's especially prevalent in the fitness industry.
Fitness obsession in the online sphere is rampant, and influencers are contributing significantly to the pressure; a study of 160 female graduates found that those who only viewed #fitspo content had less self-compassion. Influencers have also been at the center of a backlash against diet culture, with headlines calling for Instagram to ban celebrities from promoting diet products. With this, audiences are demanding more authenticity from the platform and the content that its influencers are promoting. 
This rising awareness of social media and its impact on mental health has inspired the "body-posi" movement. Body positivity aims to fight the culture of Instagram perfection by bringing attention to the fact that real bodies aren't perfect, and every-body is different.
As a result of these shifting culture trends, the latest generation of fitness influencers is bringing audiences together with more than fitness. It's a new message, and it's not "hey look at my six-pack, buy these diet shakes."
Trust in Influencers
In a recent survey from Universal McCann, only 4% of users trust the content they see from influencers.
Khloe Kardashian plugging a magic diet shake that's going to give us abs? We're just not buying it any more guys.
We want authentic content and transparency. And when it comes to fitness advice, we want information from people who are 1. Qualified to give it and 2. Not afraid to be real about wellness. 
The Positives 
Society Wants Wellness
Society's views of health and fitness have shifted to include a more holistic vision of overall health and wellness. Essentially, there's a growing emphasis on feeling good, and this is unrelated to how someone looks. Social media has allowed people to have a platform to spread this feel-good message, like personal trainer and body image coach Carolyn Viggh. She sums up her message in the quote below:
"Body positive fitness isn't about never wanting to lose weight again. It's about having those feelings and desires but approaching fitness from a place of compassion, self-care, and joy (instead of fear, punishment, and compensation) anyway."
Quote via Carolyn's Instagram.
The Top 10 Barriers
Slowing Your Fitness
Business Growth
Discover more
No, people aren't boycotting gyms or exercise. They're exercising to feel good, eating foods that make them feel good, and just generally trying to feel good. 
It means eating a piece of chocolate and not feeling guilty. It means working out and not caring if you get a six-pack. It means making time to do whatever makes you feel good and finding balance. Namaste.  
Consumer Perceptions of Fitness
Four years ago, pioneering gym chain Gold's sparked media controversy when one of its franchisees promoted a series of offensive adverts. 
The ads were called out by actress Abigail Breslin on Instagram, who reposted the content saying, "Working out should be something you do for yourself, your health and your mind & body, not cuz a corporation declares your body shape isn't what girls should look like."
The ads are offensive. They were offensive four years ago, and they're still offensive today. But in that same year, Equinox's spin-off brand Blink Fitness launched its "Every Body Happy" campaign and restored our faith in the fitness industry.
The ads featured a diverse range of people in all shapes, sizes, ages, and colors. Everybody is different, and everybody is happily exercising. With its slogan "Feeling good is the new looking good," the brand is focusing on the positive. It's showing a community, embracing the feel-good fitness movement, and welcoming everyone to join in.

And it's not just the big-box gyms embracing #bodypositivefitness. Setting out to encourage conversation on body image, diversity, and inclusion in the fitness and wellness industry, BloomFit Training is a studio that's built on the movement.
So What Is the Answer?
The future of fitness, both online and in real life, is inclusive to every-body. Whatever your size, whatever you want to achieve: fitness is here to make you feel good, not guilty.
Fitness influencers today are still entrepreneurs. They're building a brand and selling workout plans, nutrition guides, and merchandise. But they're not just sharing their meal-prep, workouts, or toned bodies to inspire followers. 
Because these aspects alone aren't authentic. Yes, they worked out and ate a nutritious meal, and you can buy the workout and recipe through their paid app or ebook. 
But they also went out for dinner with friends, had a few drinks, and ate pizza – and we want to know it. We want to know that these people are living 'normal' lives, not spending 4 hours a day photographing a chicken breast with some sweet potato. 'Normal' is relatable, authentic, and makes us feel like we're a part of something.
As we'll see in the examples below, people buying into the workouts and recipes from these influencers aren't doing it just because they want to 'get fit.' They're buying into the person, their values, and the community of like-minded people that they get to be a part of. 
Authentic Influencers and the Future of Fitness
Lucy Mountain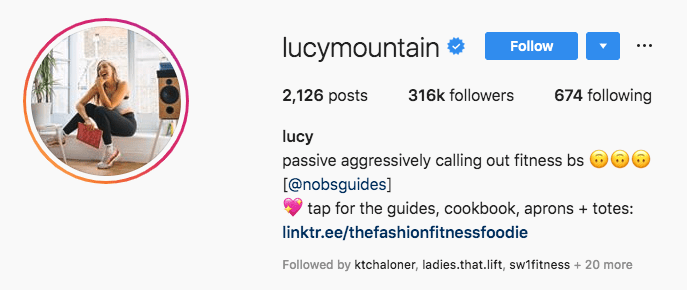 Known for: Calling out fitness "BS." Founder of the Nobs Training & Nutrition Guide
"This isn't just another influencer workout guide stringing together a bunch of my favourite exercises with zero qualifications, little purpose and no programming principles backing it."
Lucy Mountain is a qualified PT with an alternative approach fitness, one that involves "No BS." From $57-$65 depending on which you choose, the Nobs home and gym training guides are for every-body. Anyone who wants to exercise is supported and motivated, with programs designed specifically for people who are new to exercise or intimidated by the gym. 
With an aggressive stance against diet culture, Lucy's funny, relatable posts include infographics debunking common nutrition myths and calling out diet brands. She's encouraging people to accept and enjoy all foods as part of a normal, balanced lifestyle.
You won't see any transformation photos shared on the Nobs Instagram feed, because it puts an emphasis on what people look like – and that's not important in this community. 
Aside from the training programs, Lucy has also created her own cookbook. Like the values and messaging spread across all of the influencer's content, the book is about changing people's negative association with diet and fitness: no carb shaming, no guilt.
Chessie King
Known for: Her message of body confidence, Fiit App Trainer 
Chessie King is on a mission to bring the real to Instagram. This body-positive influencer shows the 'true' side to her otherwise perfect looking photos, by highlighting the different angles and poses in both.  Chessie, who is also a trainer for digital fitness app Fiit, uses her account as a platform to emphasize that you don't have to look a certain way or meet anyone's expectations to exercise and feel good. 
Her self-professed fitness mantra is "do it to feel good, not to look good," and the influencer has always been open about her own struggles with fitness and body image in the past. It's this transparency that shows her message is coming from an authentic place, making her all the more relatable to audiences.
The Future of #Fitspo
#Fitspo in 2020 is no longer about getting the 'Instagram bod,' because this has contributed to a social pressure that's impacting people's mental health. Looking good isn't necessarily feeling good, and health, strength, and happiness don't have to come with a six-pack.
People want to work out. They want to join something. But they want to join something real. They want authenticity with like-minded people. 
Really, fitness influencers have a lot more in common with studios and gyms than you think. They're both selling an experience and a set of values. And both are inviting people to join a community of like-minded people – one that gives its members support, guidance, and motivation to reach their own individual goals. 
The Top 10 Barriers
Slowing Your Fitness
Business Growth
In this e-book, we will list the most common barriers that
slow fitness business growth and list some of the tips to
help overcome them.
Discover more