As we return to a new normal, the pandemic continues to impact every industry, and fitness is no exception. Fitness businesses worldwide have been navigating the effects of coronavirus for months, first being forced to close their doors and take their businesses online. Now in many parts of the world, they have reopened but must adhere to strict new guidelines. 
It's an understatement to say that the traditional in-person fitness model has been severely interrupted. Still, on a positive note, this disruption has accelerated an exciting aspect of the industry's future. While the pandemic has driven its recent popularity, online fitness has been growing for years, and this is because its appeals extend beyond being a quick-fix solution during lockdown. 
In a world where we do everything from buying clothes and grocery shopping online to ordering take-out with the click of a button, online fitness caters to a key aspect of our lives that we've grown to expect: convenience. It's what people want when they want it, anytime, anywhere.
Many relied on digital fitness throughout lockdown. But as gyms and studios reopen, members will have new expectations for a convenient offering with both online and in-person options. The fitness industry's future is undoubtedly a hybrid one, but what does this mean for boutique fitness, both now as the sector opens back up and in the future?
In this article, we will look at the statistics that reveal member sentiment on returning to the gym, how online fitness will bridge the gap at this time, and what boutiques can do to succeed now and long-term in a post-pandemic world. 
Before we dive in, we'll look at what sets boutique fitness apart from traditional gyms.
Skip ahead to:
The Fitness Industry and Member Experience 
Member experience in the fitness industry is crucial for long-term retention, and the boutique sector knew this from the start: boutiques have mastered the member experience. 
A report from Club Intel shows that the experience members had at the gym before lockdown has had a significant influence on their attitude to returning as studios open back up. Engaging members online throughout lockdown has also had an impact.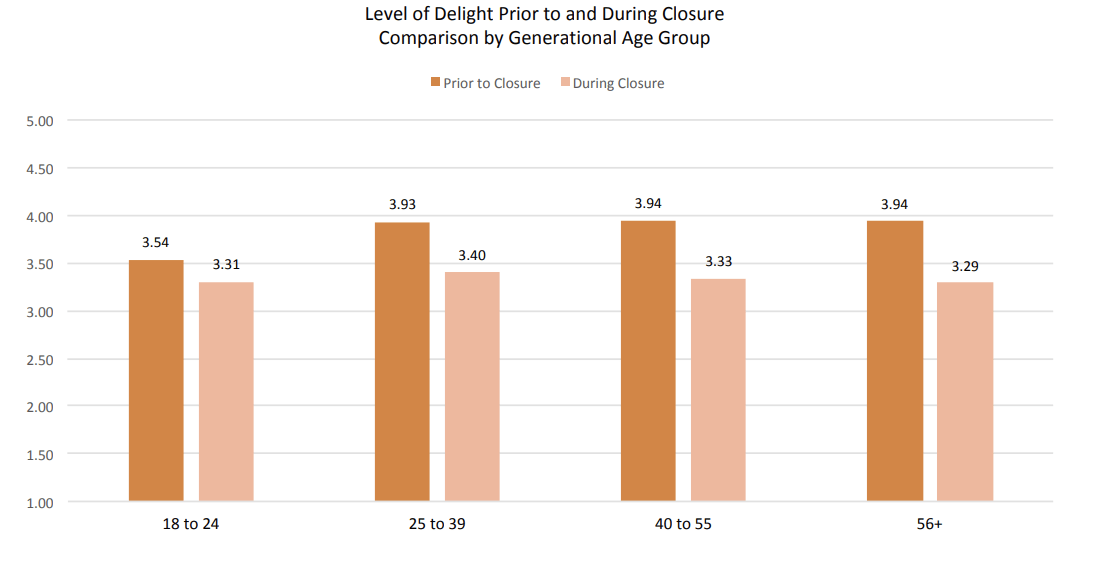 So, both online and in-person: the member experience matters. Let's take a look at this in more detail. 
Boutique Fitness In-Person
When you think of traditional big-box gyms, you think large open spaces with weights, equipment, and machines. There's ample choice and space so that members can help themselves.
By comparison, the boutique experience is much more intimate. These studios aren't getting members through the door so that they can pick up some dumbbells and get on with a workout. They're offering specific workouts and classes in a small group setting, emphasizing community – everyone's in it together. 
Boutique fitness isn't running 10k on a treadmill after work, it's an experience, and members are part of something about more than exercise alone.
Boutique Fitness Online
Fitness businesses were quick to adapt and pivot to online services. Initially, this was a matter of survival, but as lockdown continued, the most successful brands were those recreating the same experience for members that they would get at the studio.
It was never a case of "here's an online workout, off you go." Many aspects have given boutique studios an edge over free online workouts, and they all relay back to the member experience. It's a combination of the community, service, guidance, and value that these studios provide both in-person and online.
The experience is personalized, with the same trainers keeping members accountable for their efforts, and everyone 'in it together,' albeit virtually.
Club Intel reveals that member delight pre-Covid 19 will be an influential driver in the decision to return to the gym. Essentially, if members had an exceptional experience at their studio before the pandemic, they are more likely to remain loyal and return to their studio once it opens again. The report also indicates that member delight, especially among members who rated their experience during closure, has a favorable impact on the likelihood of returning.
Both online and in-person, delivering an exceptional member experience is crucial for success. And boutiques have shown that they have it down to a T. 
The Boutique Fitness Bounceback
In this section, we'll explore what boutique studios can expect from members as they reopen. We'll also outline what they can do to succeed during these challenging times and in the future. 
Are Members Ready to Get Back to the Studio?
Even though boutique fitness has the upper hand when it comes to member experience, Club Intel reveals that fitness studios face a more significant challenge than big-box clubs concerning drawing members back into the gym when they have reopened.
Highlighting that 44% of Millenials and 18% of Gen Z are fitness studio members, the study also finds that these generations are more hesitant than older ones to return to the gym. 42% of men reported being very likely to return compared to 33% of women, casting a greater challenge to fitness studios when it comes to returning to pre-closure peaks.
While it's encouraging that the older generations, such as Boomers, are more enthusiastic about returning, Millennials comprise the largest generational segment of the fitness industry. They are essentially the bread and butter for boutique studios, and Gen Z is the industry's future. Boutique studios face the greatest challenge from these findings, as their membership base is heavily made up of these two generations.
The Customer
Engagement Playbook
for Your Fitness
Business
Discover more
In short, just because boutiques are opening back up, it doesn't mean getting members back in will be easy: Their core customers are hesitant to return. Studios will need to maintain engagement and continue nurturing their relationships with members to help bring them back in. 
Luckily, especially where Millenials and Gen Z are concerned, there is a way boutiques can continue to engage members until they're ready to come back. And it's a service the majority of fitness businesses are now accustomed to providing. 
Bridging the Gap With Online Fitness
We know that the pandemic has accelerated consumer expectations when it comes to online fitness. Long-term, the future of our industry is certain to be hybrid. But what about the short-term?
And by short-term, we mean now.
Studios are reopening, and gym owners are excited to get their businesses back up and running. But as we've discussed, not all members are as enthusiastic about returning. 
Virtual fitness emerged as essential during lockdown, and Club Intel's data shows that it was primarily used by those in the Millennial and Gen Z generations, and women. These same groups also rated the provision of online fitness as a significant influence on their decision to return. 
Lockdown provided gym owners with a unique opportunity to reach out and engage members. The leading offering was on-demand/streaming group exercise content at 27%, followed closely by on-demand/streaming coaching at 22% and regular communications via social media at 21%.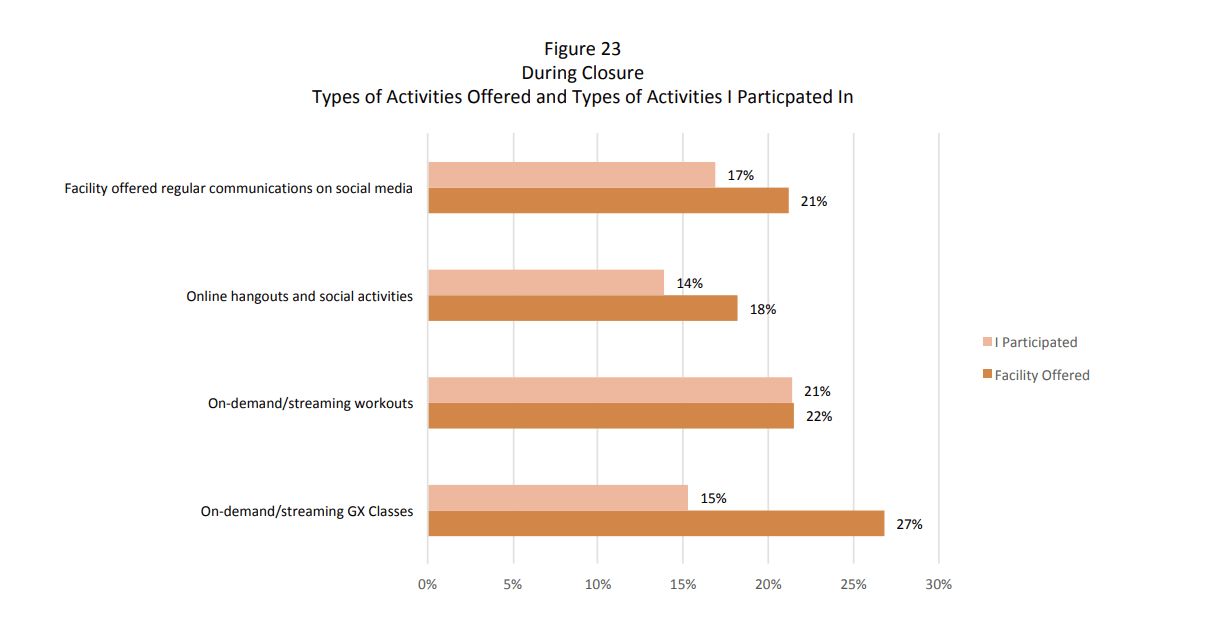 With an existing interest from members, boutiques must be ready to integrate an in-studio and online offering now. 
This strategy needs to be an omnichannel digital approach combining on-demand/live workouts and group exercise, social hangouts, events, and perhaps even selling home exercise equipment.
A digital offering is not just a backup in case lockdown restrictions are imposed again. And it's not something that a fitness studio can shut down for now and work quietly on in the background. Just like a physical studio, online fitness services must continue to deliver. And they need to adapt and improve to keep up with trends and member expectations as time goes on.
The Keys For Success
Now that we understand the importance of member experience and having a digital offering let's take a look at the key areas boutique's will need to focus on to succeed in our changing industry. 
1. A New Value Proposition
In Club Intel's study, 31% of members indicated they resigned during gym closures. This percentage is higher among Millenials and Gen Z, jumping to 45% and 50%, but remains lower for Boomers at 12%. 
The challenge as studios reopen is getting those members back. Boutiques will need to resell their value proposition to around 30% of all members, and almost half of the younger generation groups. 
The value proposition will need to change with the times; we're living in a different world to pre-Covid19. Studios will need to reshape their value proposition and convey it with new messaging, and digital services are a vital element of this proposition both now and in the future.  
2. An Innovative Digital Offering
As we've highlighted, members who participated in online fitness offered by their studio were more likely to return at reopening. The online pivot during lockdown was and will continue to be vital in maintaining a connection with members; digital offerings must carry on. 
However, the mass-move to online for most fitness businesses also meant that members had more choice than ever. In this instance, we are not comparing online memberships to free virtual workouts. The accessibility of digital means that people can try out different studios and brands, where pre-pandemic, perhaps personal schedules or studio locations, made this inconvenient. 
Both now and in the future, boutiques will need to be innovative with their online offering to hold a competitive advantage when it comes to getting new members through the door, and existing ones to return. Once they're back in, it's this competitive edge that will keep them loyal in the long-run. 
3. A Continued Focus on Member Experience
Relating directly to the member experience, we know that member delight both pre and during lockdown has had a favorable impact on the likelihood of return.
Ensuring that members are delighted with their experience, whether they're in the physical studio or online, is crucial for long-term retention in our changed industry. Boutiques will need to start measuring their members' emotional engagement through a variety of measures, and understanding these metrics and introducing strategies to drive emotional engagement is critical. 
Video games create an emotional engagement in the virtual world, and now fitness businesses will need to do the same. From the study's findings, Club Intel advises that a hospitality-driven service strategy similar to leading hotels and restaurants will help fitness businesses develop a competitive advantage for long-term survival and success. 
In Summary
As fitness businesses reopen and members return, everyone is facing a new normal. Success for boutique studios in our transformed industry comes down to addressing three vital areas: a focus on member experience, member engagement, and an innovative digital offering. 
The Customer
Engagement Playbook
for Your Fitness
Business
Customer engagement is the way in which a brand
connects with its customers on a deeper level than a
simple business and consumer relationship.
Discover more