Transitioning from a single studio to a fitness franchise is the dream for most fitness entrepreneurs, but it's a process that takes great planning and consideration. 
So how do you know when you're ready to franchise?
In the 20th episode of The Fitness Founders Podcast, we're joined by Katie Daniel, founder of Ambition Fitness. Leaving corporate America behind to become a fitness entrepreneur, Katie has never been afraid of a challenge. Taking the fitness industry head-on in 2018, Katie has grown Ambition Fitness into a franchise ready business in less than 12 months.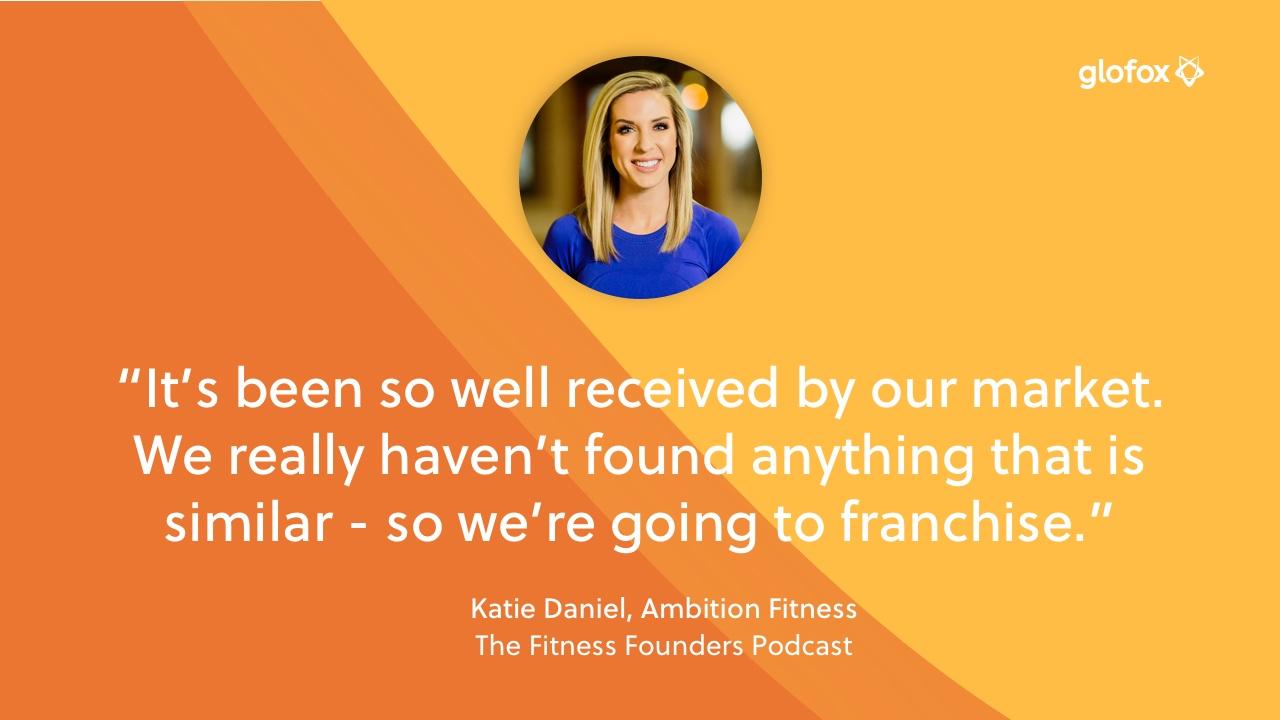 So how did she do it? 
There are several critical areas of your business that you need to lock-down before you're ready to take the leap. 
From getting a successful fitness studio off the ground to becoming a franchise ready business in less than a year, Katie's story highlights how with passion, a plan, and the right team – you can do the same. 
You can listen to Katie's epic journey here and find out how creating the perfect member experience has played a massive role in growing Ambition Fitness. Read on below for the key takeaways from her success and how you can apply them to your own journey. Skip ahead to:
Knowing Your Niche is Crucial
Knowing your niche is what sets you apart from the gym around the corner. It helps to create a continuous buzz about your business. But while knowing your niche is integral to running a successful single studio set-up, it becomes all the more crucial once you franchise. It's a part of your brand identity, and you want to make sure that every one of your locations reflects this. 
Katie realized the niche for her own fitness business naturally, spotting a distinct gap in the market – herself. There were no studios offering group weight training for women. More specifically – there were none that Katie actually wanted to join. 
Knowing your niche comes down to offering something unique to your brand. And it's an essential step in getting franchise ready. Take a look at global fitness franchise F45 Training.
In 2011, F45 was a single studio based in Sydney, charging $65 a week for members to attend their now-iconic 45-minute circuit sessions. At the time, no other fitness business was offering the same experience. Flash forward nine years and the brand is one of the fastest-growing fitness franchises in the world – there are now over 1,300 studios in 33 countries across the globe.
Defining your niche means understanding what you offer that no one else does, and making it a crucial part of your brand messaging. 
You Need More Than Passion For Growing a Business 
According to research from Guidant Financial, 23% of entrepreneurs start a business to pursue a passion. But while pursuing a passion is exciting, one of the most challenging aspects fitness entrepreneurs often face is learning and understanding how to actually run a business. 
You have a great concept for franchising. You've found your niche, know there's an audience for it, and know that you can sell it. But what next? What are the next steps from idea to reality?
A lot of ground effort goes into opening a brick and mortar fitness studio or gym, and you can learn the most from the people that have done it all before. So once you have your idea, you need to do your research: 
Ask around your network of fitness professionals for advice. 
Search for online forums. 
Approach existing franchise owners to see what insights they might have.
In the early days of her business journey, Katie turned to a friend and fitness franchise owner for advice, which led to her taking part in a business plan workshop – a crucial step for turning your idea into reality.
"It gave me the first structure of how to make it into something real."
Without funneling your passion into a logical approach from the beginning, your business will be lacking direction, making it difficult to progress. Developing a business plan is essential for structuring your business and its future – it's what can turn a franchise dream into reality. 
Research and Reach Your Target Market
In such a competitive market, one of your main goals as a fitness studio is to get people to try your workouts, to see the difference, to meet your trainers and ultimately – to experience exactly what you offer. 
You can't do that without getting people in through the door. 
Reaching your target audience relies on understanding them. Don't assume that everyone already knows who you are or what you offer. 
Speaking from experience, Katie notes that she uses social media to answer common member questions. It's sometimes surprising when information about Ambition Fitness is apparent to Katie and her staff, but it transpires that it's not common knowledge to potential and existing members. 
"We can never assume that they already know what we're thinking." 
Today's fitness market is so competitive that if you're not regularly promoting your business to your target audience, another studio will be. 
So are you going to miss out? Or are you going to get those prospects through the door and show them why they should become your members?
Building a Fitness Community Drives Retention
"Every single boutique fitness studio is doing something. It's become the norm, and it's become the standard. You have to be doing it, or else your consumers are going to notice it".
Community in gym workouts is the top motivator for consumers to go to gyms, and it's essential when it comes to franchising. 
The key to building a fitness community comes down to the relationship you create with your members and how you encourage them to bond with each other. It's creating a reason for your members to get together outside of classes, like events that extend beyond fitness. Think along the lines of 1Rebel's 'Prosecco Friday'. The studio celebrates everyone's hard work from the week by inviting members to sweat it out in class and enjoy some socializing afterward. From Katie's experience, adding the simple concession of a coffee machine in the reception at Ambition Fitness has become a social activity for members – they'll grab a drink and chat before class. 
When someone joins your studio, you want it to be more than a place they go to workout. You're inviting them to become part of something bigger, by fostering a sense of loyalty and a reason for members to keep coming back. 
Again, F45 shows that a sense of community is crucial for building a successful fitness franchise. You know the brand is about more than exercise alone from the get-go with the tagline: 'Team training, life changing.' 
It's a brand built on community. Trainers and members support each other. During class, staff are pushing you to go further with words of encouragement and ready with a sweaty high-five when it's all over. And you'll find this team spirit, this community, is apparent at every single F45 studio. 
Your Team Is Your Brand
Finding and retaining good talent can be challenging for a fitness business.  
You can have great music, killer classes, and an impressive facility. But as the gym owner, it's down to you to take the lead on implementing what the member experience should be. Ensuring you have a team that deliver that experience is crucial.
While there are thousands of really great trainers out there, it doesn't mean they're great for your brand. This is all the more challenging when you're running a franchise. How do you make sure that all trainers, across all locations, are performing to your standards and delivering the right experience?
Alongside defining your niche for brand consistency, you need to define your ideal trainer. 
Leading your classes will require a specific personality that aligns with your brand – people who understand how to represent you. When you hire these people, retaining them and really making them feel valued and like they're a part of a team is very important for the success of your business.
"You have to find the trainers that have the independence and have the confidence to do it in their own way."
When it comes to franchising, it's crucial that you can trust your trainers without having to micromanage them. You'll find it challenging to micromanage across multiple locations, so you need a process in place to ensure consistency.
Playbooks Will Streamline Your Business Processes 
From defining a niche to building community, business planning, and hiring staff – everything at Ambition Fitness has gone through a clearly defined process. It's these processes that have enabled the brand to run efficiently and grow to be franchise ready so quickly.
Having playbooks makes for a streamlined process – across all locations, for everyone involved. From the franchise owner to the franchisee and the staff that they hire. Everybody is on the same page and knows what they should be doing.
Everything that's important to the efficient running of your studio needs to be written down – no matter how small the task may be! Even if it's basic housekeeping rules like stacking up new towels as the pile gets depleted throughout the day – if it's written down, there's no excuse for it not being done. 
Your team needs to know these processes because the more you grow and the more locations you have – the more staff you have.
In Summary 
Ultimately, through proper planning and execution, Ambition Fitness has had an incredibly successful first year in business – and it's this that has the brand franchise ready. 
Do you have all of the preparation and groundwork in place, and are you ready to take the leap?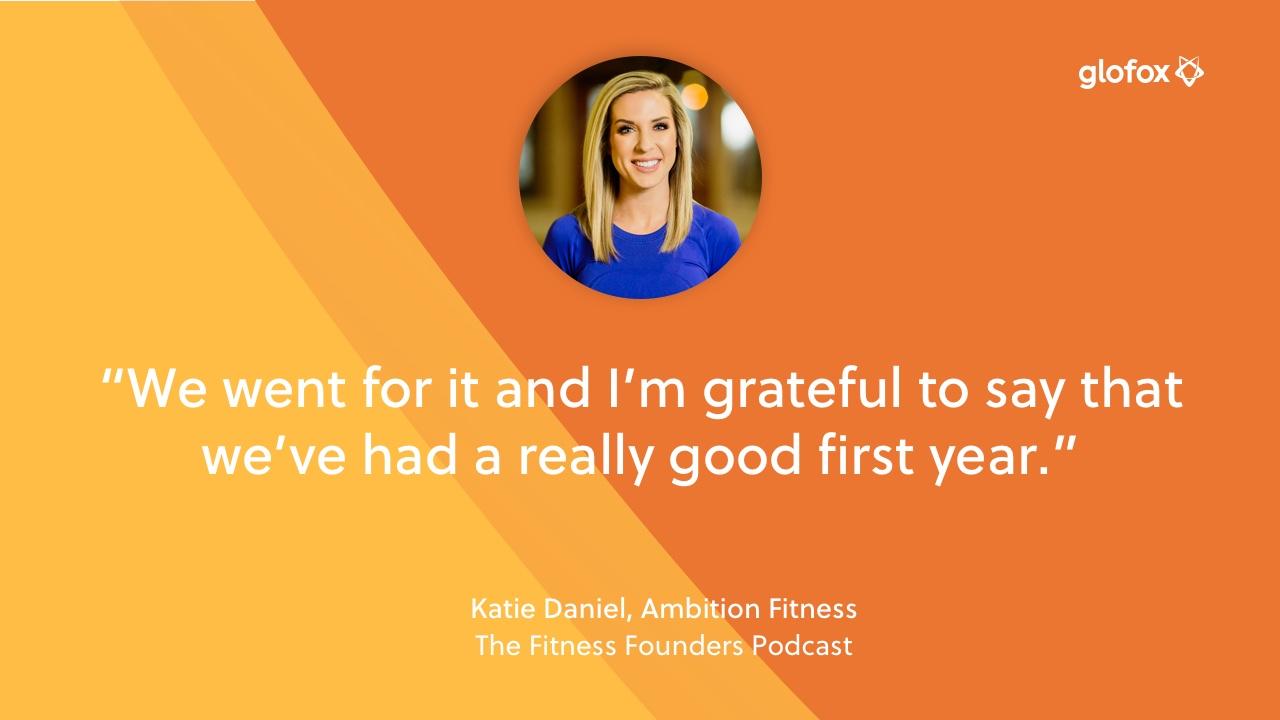 The Customer
Engagement Playbook
for Your Fitness
Business
Customer engagement is the way in which a brand
connects with its customers on a deeper level than a
simple business and consumer relationship.
Discover more