Nowadays, most people turn to internet searches to answer their questions. 46% of Google searches are for local businesses, and search types like "near me" and "close by" have grown by 900% in the last two years. Put simply, if you're not easy to find with a quick Google search, you're missing out on a lot of potential members.
Fully optimizing your website will give you a better chance of ranking in general search results, but this isn't enough on its own. If you're sitting on pages 3, 4, and beyond, potential members might never find you – and end up at the gym a few blocks away instead. You need a prime spot on the first page of results.
If you're struggling with this problem, you're not alone: getting traffic from Google is a challenge for many businesses. But there are a few tactics you can use to increase your chances of ranking at the top. Here, we'll explore the importance of local SEO and what you can do to help your fitness business rank at least in the top 5 for "gym near me" searches.
What Is "Local" SEO?
While general search engine optimization will help rank pages based on keywords related to a topic area, a "near me" search is local, which prioritizes results in a specific location. As we covered in How to Drive More Sales with Fitness SEO Keywords, organic search engine results can play a crucial role in generating leads for a fitness business. 
But optimizing for general and local SEO requires different approaches because you're optimizing for people searching for different things. For example: with a relevant, optimized blog post, you're building brand awareness and providing useful content to answer the searchers enquiry.
With effective local SEO, you're actually catching the leads who are literally just around the corner. They want a gym, they want it close by, and you want to be the first they see.
How to Optimize Your Gym for Local Search
Ensuring that your business ranks locally is an ongoing process. Below, we'll outline what you need to get started, what you need to maintain, and what you'll need to focus on in the future.
1. List your business on Google My Business
To get your business to the top of "near me" searches, you need to rank locally with SEO. To do this, you'll need your business up and running with an account on Google My Business. A GMB listing gives you opportunities to connect with new potential customers and rank highly in relevant searches.
But to make the most out of Google My Business, you'll need to be active in using it and optimize your profile. It's not something you can just set up once and leave. We've outlined the basics of this below, but it's an extensive topic in its own right, so check out this blog for a detailed guide. 
To optimize your Google My Business Profile:
Create your Google My Business account and verify that you are the business owner.
Fill in all of your information, including your business name, address, email, and phone number, and ensure it's accurate and up-to-date.
Include your business hours, the services you sell, and a good selection of images that capture your classes, facility, and community. 
Encourage happy members to review your business on Google. GMB reviews will be displayed as part of your listing, so the more, the merrier. We'll cover reviews in more detail in the next section.
Respond to reviews – regularly!
Use the Google My Business dashboard to share posts, including events and special offers to your profile.
2. Have a Process for Collecting Google Reviews
Positive reviews are a powerful factor when it comes to Google's ranking algorithm, and those 5 stars can go a long way in driving leads to check out your website. According to research from SEO software company MOZ, online customer reviews gain almost 6.5% more weighting in local organic searches. 
But as we mentioned in the previous section, reviews are something you have to actively work at – they won't just appear by themselves! And to keep Google happy and give you the best chance of ranking, you'll want to have new reviews consistently. To Google – a couple of 5-star reviews from 4 years ago are old news.
If you're new to collecting Google Reviews, the very first place you should start is with your existing happy members. For example, if you have 50 loyal, happy members who've never left you a review – there's enough potential there to earn 5 new reviews a week for the next 3 months.
Reach out and ask for a review, and spread your requests out to keep new ones coming in.
3. Run Keyword Research for Your Local Area
Conducting keyword research is a must for any SEO and optimizing your business for a "gym near me" search is no different. Many free tools can help you with keyword planning, including the Google Keyword Planner. 
As we're talking about optimizing a search for the term "near me," you'll naturally want to find keywords that are relevant to local customers. The Google Keyword Planner allows you to filter keyword searches based on your location, giving you an idea of your area's popular search terms. From there, you can create a list of local keywords to target and use them wherever you can on your website's copy, relevant URLs, and meta content.
You'll also be able to see local searches related to online fitness, so you can focus on ranking for these as well. This way, when a local prospect is searching for online fitness, they'll see you. It gives you a better chance of getting them in as an online member first, which is useful if gyms in the local area are currently closed. It's a win-win for the prospect; they can now access online fitness, but they can also visit the same physical gym once you open up again. 
4. Find Local Link Opportunities With Relevant Businesses 
To rank well organically, you need to earn links for your gym. Put simply, if a selection of local businesses link to your website, Google views this positively, and you're more likely to come up in local search results.
Local backlinks will link from a page on one website to another. If someone links to your website, then you have a backlink from them. The more backlinks a page has, the more search traffic it gets from Google – these words link to an Impact Plus report on SEO statistics. They now have a backlink from us, and Google will like that. 
The Top 10 Barriers
Slowing Your Fitness
Business Growth
Discover more
Partnership marketing is an excellent way to build your local links, boost reach, and bring in new leads. So whether it's the health food store around the corner, sponsoring your local football team, or a local event, it's time to look for relevant opportunities around you.
Do some research and come up with a list of suitable partners, keeping your eyes peeled for:
Similar brand values.
Similar sized business, even better if it's slightly bigger and their website generates a good amount of traffic.
They have a large and engaged customer base.
Once you've found a few opportunities that are a good fit for your business, reach out and pitch whatever your partnership offer may be. It could be something simple, like a mutual discount that both of your customers can benefit from. You can then link out to each other's websites on your own domain for visitors to find out more information.
5. Make Your Website Mobile-Friendly
Google prefers sites in the search results that offer the best experience to the user, so ensuring you're mobile friendly is an excellent way to improve your site experience and get noticed by the search engine.
Plus, traffic from local searches can be especially lucrative on mobile. According to a report from Acquisio,  75% of all mobile searches that exhibit local intent actually producing in-store, offline visits within 24 hours.
If you apply this to your fitness business, someone who searches locally for a gym on their mobile could be your new member in less than a day. To stand out from competitors with local SEO, your website must be mobile-ready.
Keep these tips in mind when optimizing your site for mobile:
Focus on images and short, snappy copy. People are looking for a local gym to join on their mobile – they want key information quickly. There's no room for endless scrolling to find what they're looking for. 
Optimize your site's load speed. Again, people want that information quickly. Optimize for a load speed of no more than 3 seconds.
Ensure the user experience is excellent. This goes without saying – it could be a prospect's first experience with your brand. So make it exceptional.
Check out more of our top tips for an effective gym website in this article.
6. Create Dedicated Pages for All of the Services You Offer
It might be tempting to throw a lot of information on one page, but this will negatively impact your SEO. Google won't see your business as an authority in any one specific area, which will lower your chances of ranking. 
Let's say you're a gym that offers group classes and personal training with online and in-person options. There's a host of information in there that can be split up into several pages:
Home 
About
Online Memberships
Group Training
Personal Training
Pricing
Contact
Take a look at the example below. This is the homepage for Spartans Boxing Club, a boxing franchise currently based in Singapore: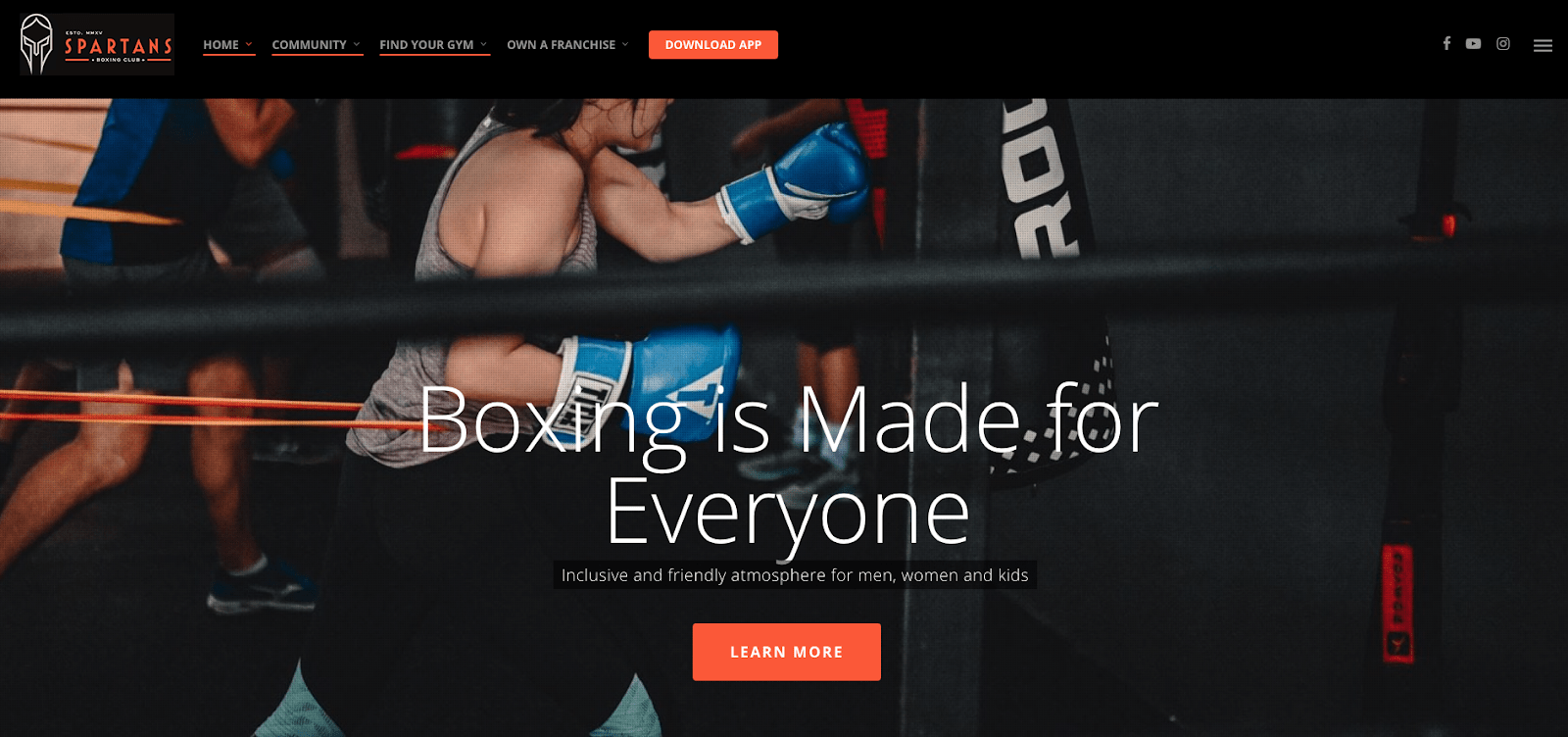 It would be easy enough to have an endless scrolling webpage filled with information. But here, you can see there are separate pages that link out to specific details.
7. Optimize for Voice Search
While it's already popular, voice search is growing rapidly, and it's something you'll need to focus your local SEO strategy on in the future. The feature allows users to find information from a search engine by speaking into their device. With no need to touch a keyboard, the device will pull up the information they're looking for. 61% of 25-64-year-olds say they'll use their voice devices more in the future, and it's predicted that its use will more than double by 2023.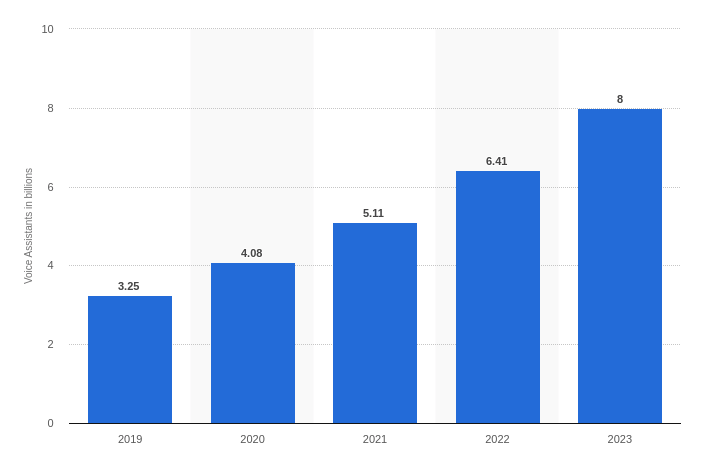 In terms of local SEO, it's important to optimize for the way people actually ask questions, as opposed to typing them. According to word usage trends in voice searches, 20% of voice queries include 25 keywords. 
Essentially, this means that people use more long-tail keywords when doing a voice search. The very simple "gym near me" search becomes specific, more along the lines of "where can I find a gym that does group training near me."
It might seem that this search is similar enough to a typed "gym near me," but unfortunately, Google won't see it this way. Because of this, you'll also need to adjust your SEO to fit a more conversational tone.
In Summary
Optimizing your gym for local search is an excellent opportunity for attracting leads. But it's an ongoing effort to come out on top – and you have to be there to ensure that your gym is the first one that a potential member sees.
Essentially, you want to be Google's favorite – ranking at the top with positive reviews, loading quickly and effortless on mobile devices, and delivering an all-round great user experience. All of these play a part in Google's ranking factors, so you have the best chance compared to your local competition. Following and maintaining the steps in this post will help you do just that.
The Top 10 Barriers
Slowing Your Fitness
Business Growth
In this e-book, we will list the most common barriers that
slow fitness business growth and list some of the tips to
help overcome them.
Discover more