We analyzed data from over 800 of our customers and we found some really valuable insights to help you take your conversions to the next level
Have you ever wondered what time of the week your members are most likely to book into your classes?
Or what devices they are spending their time one?
Or what are the best ways you can maximize booking conversions?
Gathering this type of information can take up time you don't have as a busy fitness entrepreneur. And we want you to be spending your time doing what you are passionate about.
At Glofox, we took a look at our fitness studio management software usage from an aggregate level. From this, we were able to identify different types of trends and we are now able to share these insights with you.
We gathered all the data we had from September and condensed them down into some key insights that you can use to target your members and get them booked into classes. You can use this to decide on the best times you can market your fitness classes, what channels you should be marketing on, and what devices you should be targeting.
So let's dive in!
Mobile Vs Desktop Vs Tablet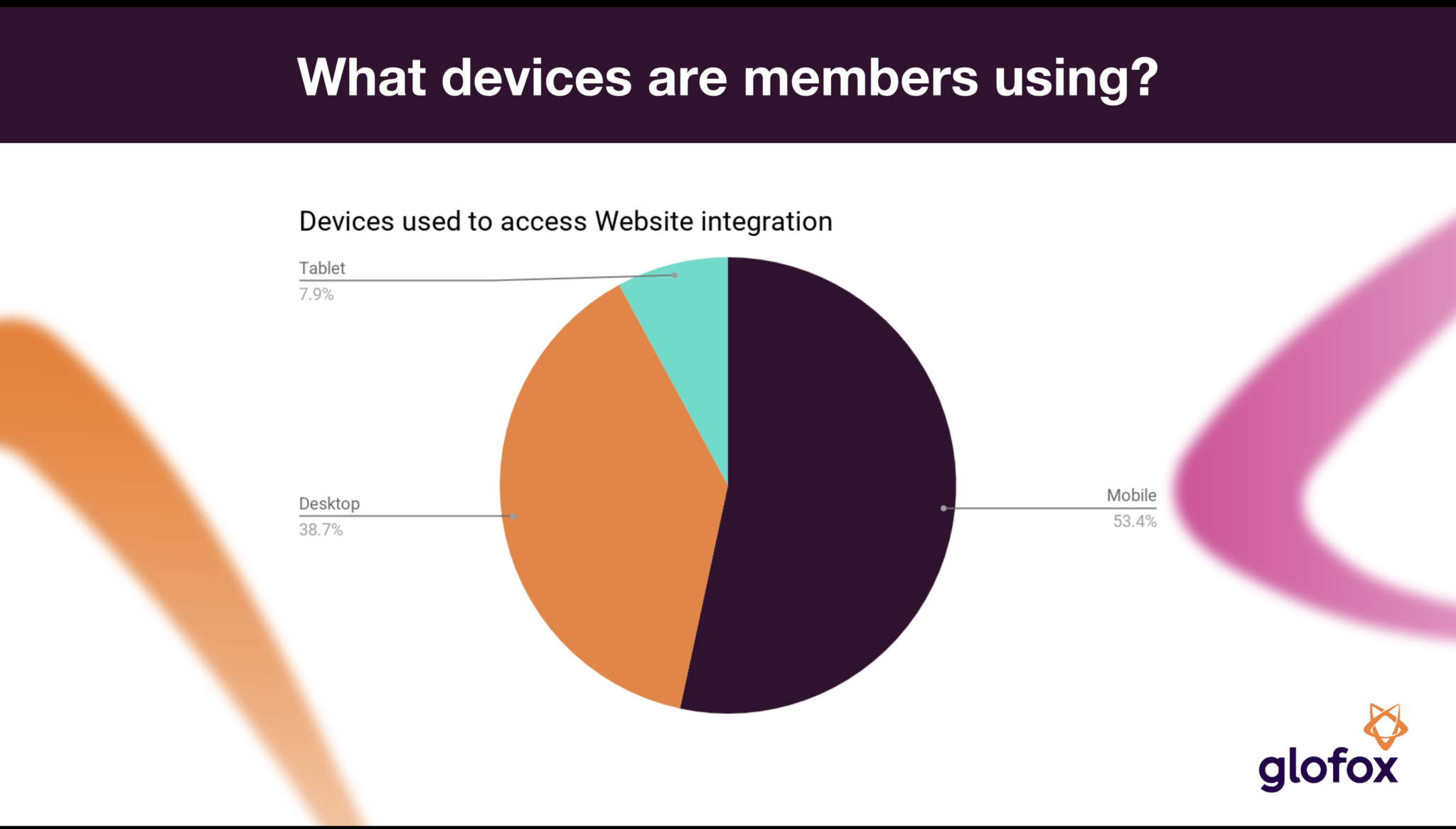 It's clear from looking at the world around you that everyone's lives are on their mobile phone. And this is no different for how they book their fitness classes.
When we look at the graph above we can see that the Glofox website integration is used the most on Mobile with 53.4% of users accessing it from their phones.
Coming up in second place is Desktop 38.7% which could amount to people access the website integration during work hours.
In the final place, by quite some distance, is the tablet at 7.9%
The critical point to take away from this is that your actual website needs to be mobile optimized. Make sure you run this past your web developer before you integrate the web portal.
What Marketing Channels Are Conversions Happening On?
There is a multitude of channels by which you can reach your members, but the burning question is:
Which one is the most effective?
Before we get into the graph above, let us take a look at what each channel really means!
Referral: Going through a different channel to get to your website and web portal – i.e. a blog post or Youtube page
Direct: Directly through your website
Social: Facebook/Instagram, etc
Email: Email marketing campaigns
As we can see very clearly, there is a separation between what channels work for booking conversions and what works for membership conversions.
On the booking side, we see that conversions are happening directly on the website, through social media, and through referral. Email, on the other hand, had a much lower conversion rate for booking.
However, email performs really well when it comes to converting memberships.
The next step is to look at the real value Glofox can give you in targeting on these channels.
Let's look at two specific channels – Email and Social.
Email – Drive Membership Conversions with Glofox's Integration into Mailchimp
Glofox integrates with MailChimp, a popular email automation software. MailChimp allows you to send out automated sales and marketing emails based on a specific date, event or activity that is predetermined by you.
The Customer
Engagement Playbook
for Your Fitness
Business
Discover more
We have a great overview on how you can integrate MailChimp with your Glofox system here.
Social – Drive Booking Conversions with Our Social Integration
With our social booking link you can copy a specific course link from your schedule and link directly from Facebook and Instagram stories. This is a great way of interacting with your members as the "Story" feature on social media has become immensely popular, as well as giving them the ability to book into your course.
Take a look at how you can do this here.
Knowing what channels people are converting on and how you can target them is really a half the battle.
The other half is finding out when.
Starting The Week On The Right Foot
Timing is indeed everything, and throughout our in-depth research into member behavior, we discovered a couple of critical insights into when your members are most likely to be active and booking.
Firstly let's take a look the days booking conversions are happening.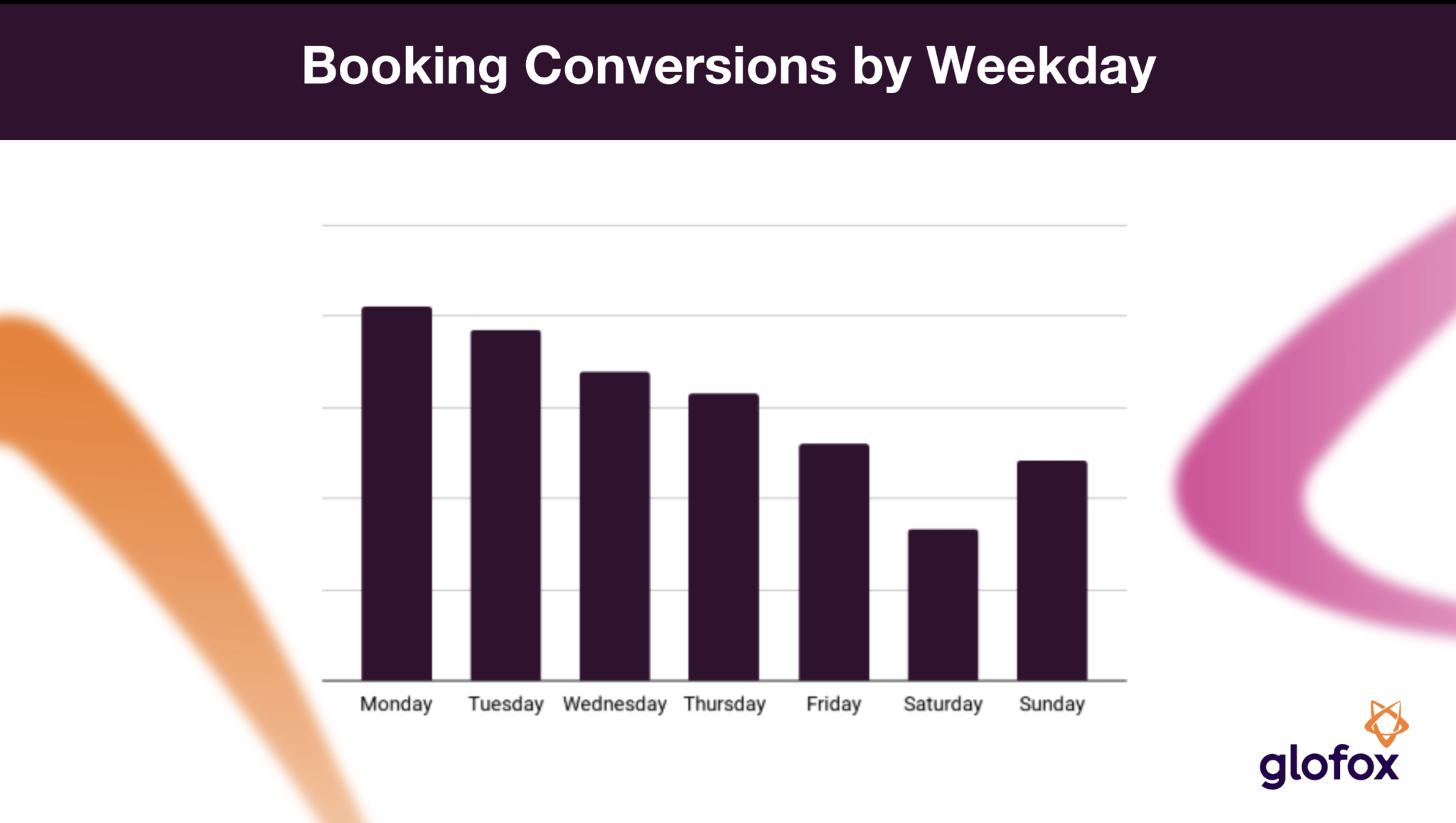 What we found is the members are booking way more frequently at the beginning of the week, peaking on Monday and declining steadily through the week and picking up again on Sunday.
One of the main reasons for this is people are more than likely in the process of planning the week ahead on Sunday and Monday. They are thinking of everything they have to do for the week, including their fitness routine.
Unsurprisingly, Saturday is the lowest for booking conversions.
Let's go further into this by looking at when people are booking in the app.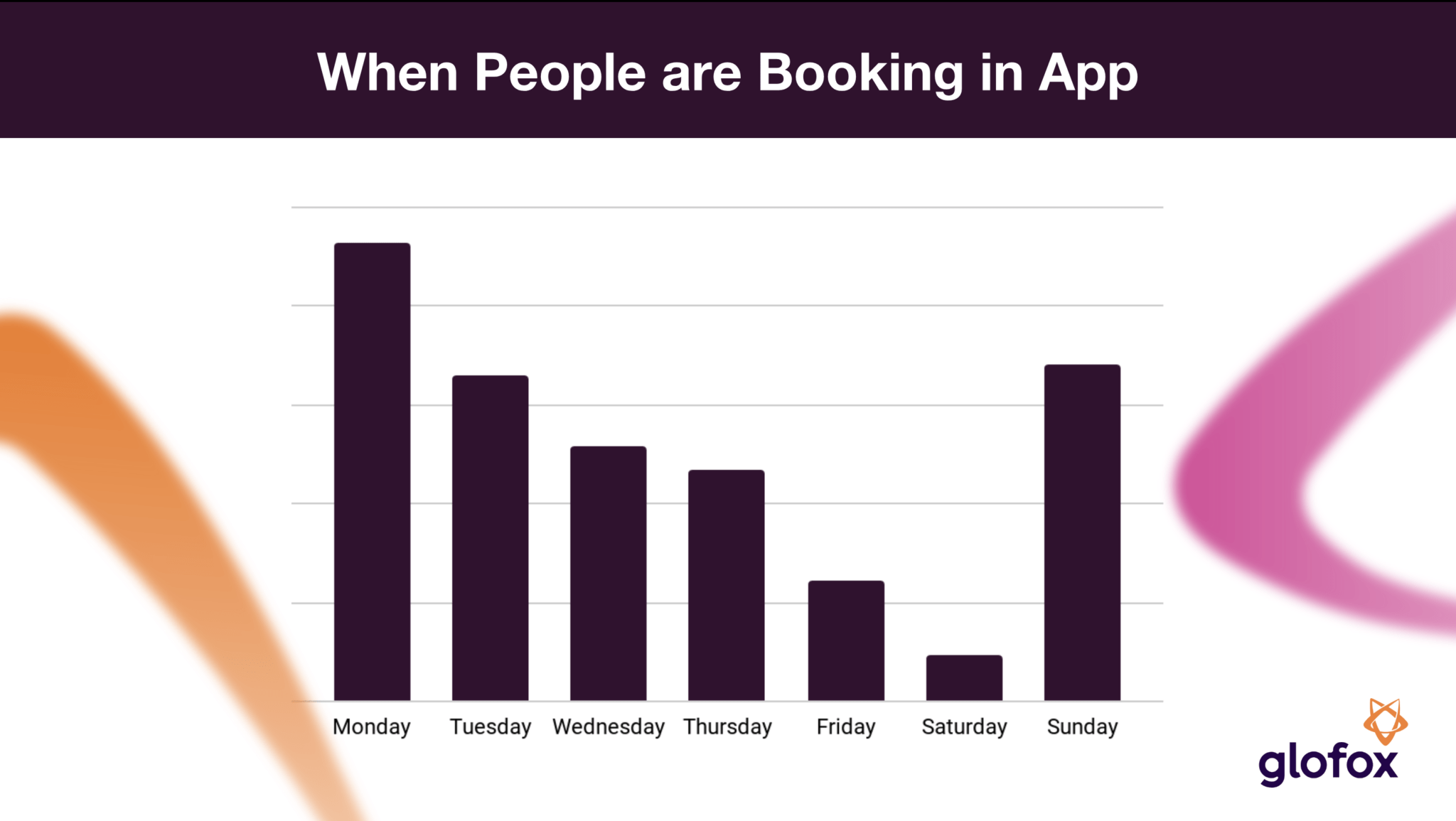 As we can see the trend is similar to before when booking in the app
Lastly, let's talk about the time of day people are using the app.
The key takeaways here are:
A small spike in the morning at 7-9pm. Members are more than likely on their phone on their commute to work.
A leveling off in the afternoon
Big spike at 5 pm when most people are finished work. This goes down again at around 8 pm
What is very clear from this data is that the period before and after the typical working day is when someone is going to be more engaged and booking with your studio.
If you're sending messages to your members, they will be more likely to read them and take action during these times of the day. A great way to capitalize on this is through push notifications.
From your Glofox dashboard, you can send out a custom push notification in-app at a specific time of day to really target your members when they are most active. You can learn more about this here.
So let's take a review of the key takeaways from our research.
Mobile is King
Make sure your website is mobile optimized.
Sunday and Monday Are Popular Times for In-app Activity and Bookings.
Your marketing campaigns are more likely to be effective on those days
The usage time is between 3pm and 8pm with the highest spike at 5pm
Send push notifications at times of the day where user are highly engaged with their mobile phone
So now we have laid out this valuable information the next step for you is to take this information and start implementing it into your own booking conversion strategy to start getting real results for your fitness business.
The Customer
Engagement Playbook
for Your Fitness
Business
Customer engagement is the way in which a brand
connects with its customers on a deeper level than a
simple business and consumer relationship.
Discover more