There's no shortage of fitness studios in New York. From strength training and sculpt sessions, to boot camp and martial arts, the workout scene is vast, and there's bound to be a fun class to help you reach new goals. The rise of boutique fitness, the latest trends that have come with it, and growing interest in health and fitness means there are now more options than ever for spicing up your routine. We've curated a list of the best classes in the city to choose from. 
Each of these boutique fitness studios has its own unique appeal. So whether its high-intensity interval training, circuit training, or improving cardio strength that you're after: there's plenty of options to get your heart rate going.
1. CONBODY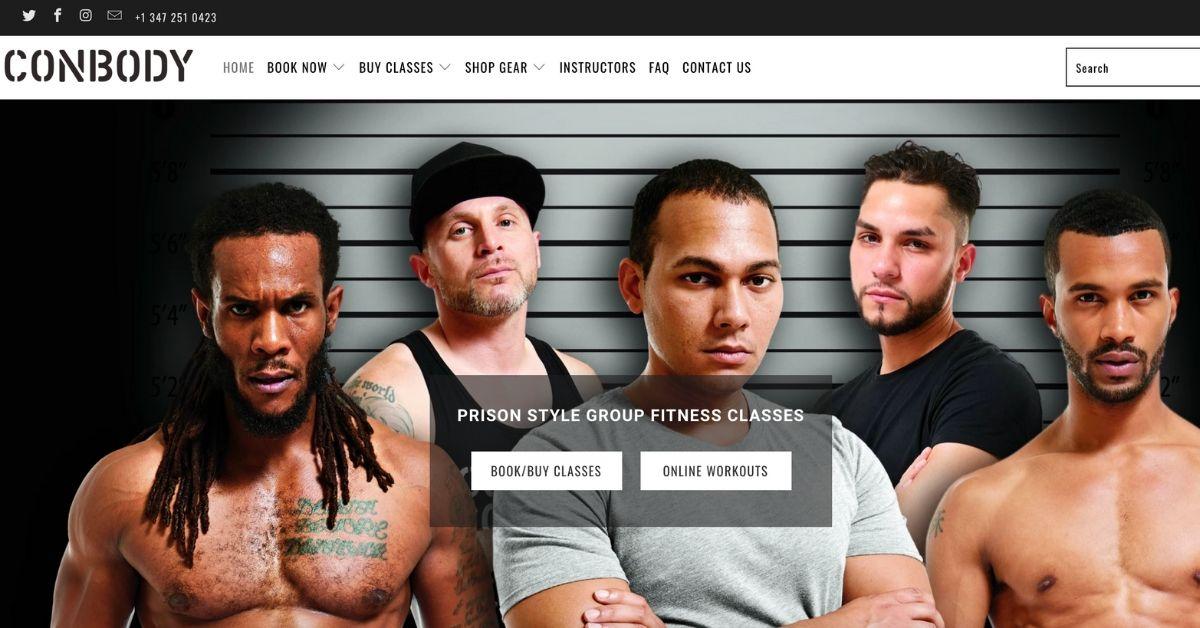 True to its name, CONBODY is a prison-style fitness boot camp. Developed by former inmate Coss Marte, CONBODY is the ultimate no-equipment workout. Don't let the lack of equipment fool you – the programs are hardcore. Marte developed the exercises when he dropped 70 pounds in 6 months with nothing but the walls and floor of his 9 by 6 prison cell and realized he was onto something. 
Using military-style bodyweight training techniques, workouts include a combination of cardio, HIIT, strength training, and metabolic conditioning all in one class using only your body weight.
Get down to a class or grab a taste of the CONBODY action from anywhere that works for you – with online workouts available for just $5 a month.
2. Work Train Fight
Work Train Fight is a results-driven boxing gym. The WTF concept is dedicated to empowering people by making them mentally and physically strong. 
The studio only recruits the city's top trainers, who all undergo a year of specialized training. They each have their own style and are there to help you every step of the way. Classes are 55 minutes long and include boxing combined with strength training to maximize results, with a focus on proper form and technique. Expect a tough session, including bag work, shadow boxing, mitt work, and high-intensity circuit training. 
With over 70 sessions a week to choose from, the classes range to suit boxing of all levels, advanced classes, semi-private training, and sparring classes. 
Pick up a new member package, including one personal training session, two semi-private sessions, and three boxing classes for $97 when you book online. 
3. Switch Playground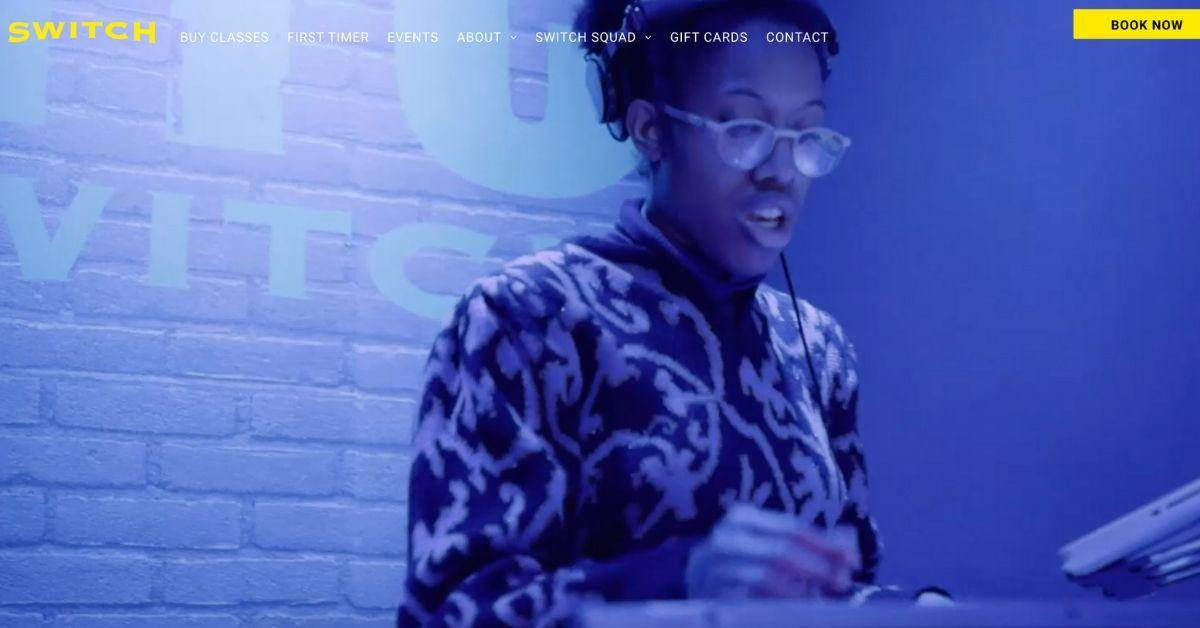 Switch is New York's highest-rated partner based HIIT workout. The concept combines cutting-edge fitness tech with state of the art facilities. With classes set to strobing lights and live DJ music, you're guaranteed to leave feeling good. 
An instructor will lead the class with a team of trainers, guiding you through a 'labyrinth of playground activities.' Think trampolines, step mills, TRX bands, and stacks of tires for an insanely intense HIIT workout. The classes focus on fun and take group training to the next level, with multiple trainers available to provide personal attention. 
Switch's mission is simple; bring out the best in everyone that walks through the door and have them feeling stronger and better than when they walked in.
Class prices and memberships vary, you can get your first class for $24 when you buy online. 
4. Shock Therapy Fitness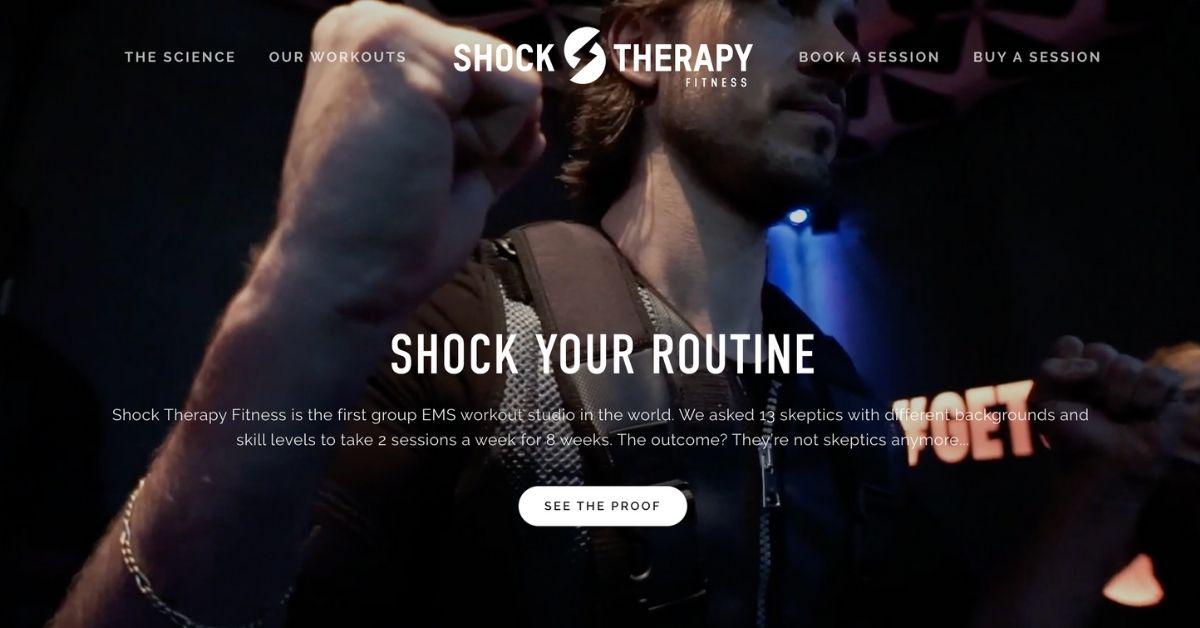 Shock Therapy is the first electrical muscle stimulation group workout studio in the world. 
Whether you want strength training, calorie-burning or body conditioning, Shock Therapy's 30-minute Strength and Metabolism workouts have got you covered. All programs are limited to six people, allowing for personalized attention. 
If you're a first-timer, you're best opting for a Strength session to get familiar with the studio's trademarked Powersuit and the sensation of EMS workouts. In spite of its name, you won't actually be physically shocked during class – the feeling feels more like a vibration. 
Workouts are intentionally low impact on reducing the risk of injury, meaning people of all ages and fitness levels are welcome. Classes are efficiently programmed to give you a highly effective workout in just 30 minutes, where you'll work 300 of your muscles simultaneously and achieve more results in less time than traditional classes. The studio claims that you'll see results after just four sessions!
Classes start from $55 a session. Try your first class for $30 when you book online.
5. Y7 Studio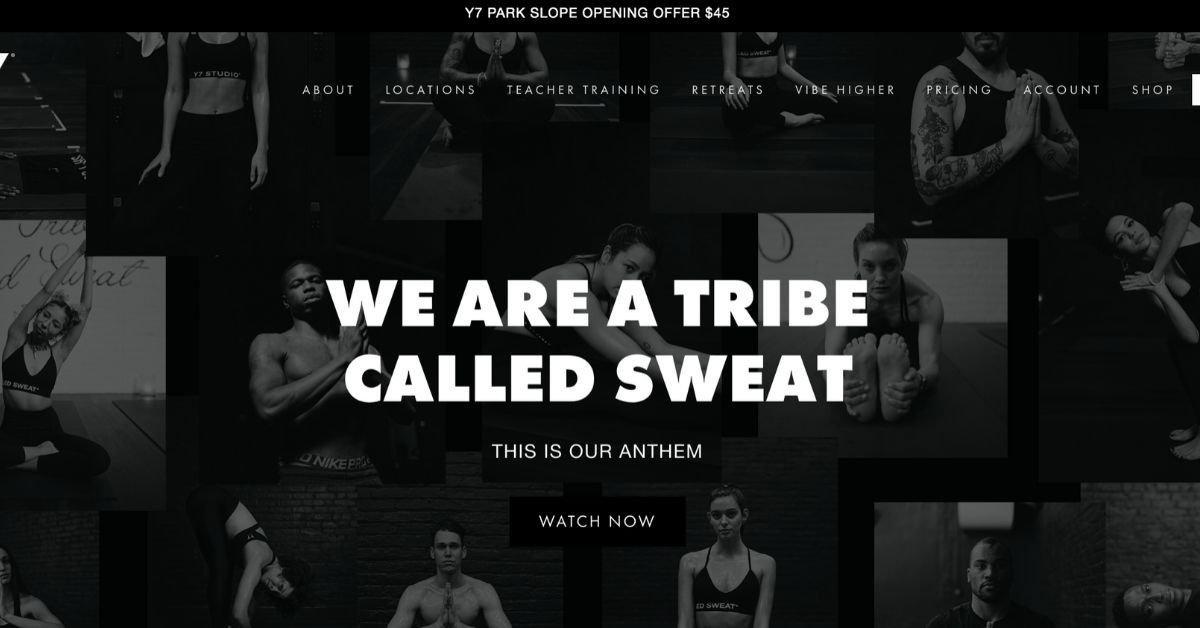 Y7 is far from what you expect from your typical yoga studio – the brand brings grit to the ancient practice. 
Flow to pumping music in a dark, candlelit, mirrorless room for up to 75 minutes of intense yoga. With multiple locations, Y7 focuses on connecting choreographed sequences with feel-good music ranging from Stevie Wonder to The Weekend. 
Tailored to suit yogis of all levels, classes are accessible to everyone, with teachers offering modifications to students as needed. 
Choose from a range of vinyasa classes that last between 50-75 minutes, including burn, flow, and restore. The yoga room is heated with infrared technology; temperatures will reach around 80-90 degrees so you can really sweat it out. 
You can take your practice one step further with the studio's 8-week health and lifestyle group coaching program. 
The Customer
Engagement Playbook
for Your Fitness
Business
Discover more
Price packages and memberships vary. Pick up the 'First Flow Special' for $45 when you book online. Offer includes 3 yoga classes and complimentary mat and towel rentals. 
6. Mile High Run Club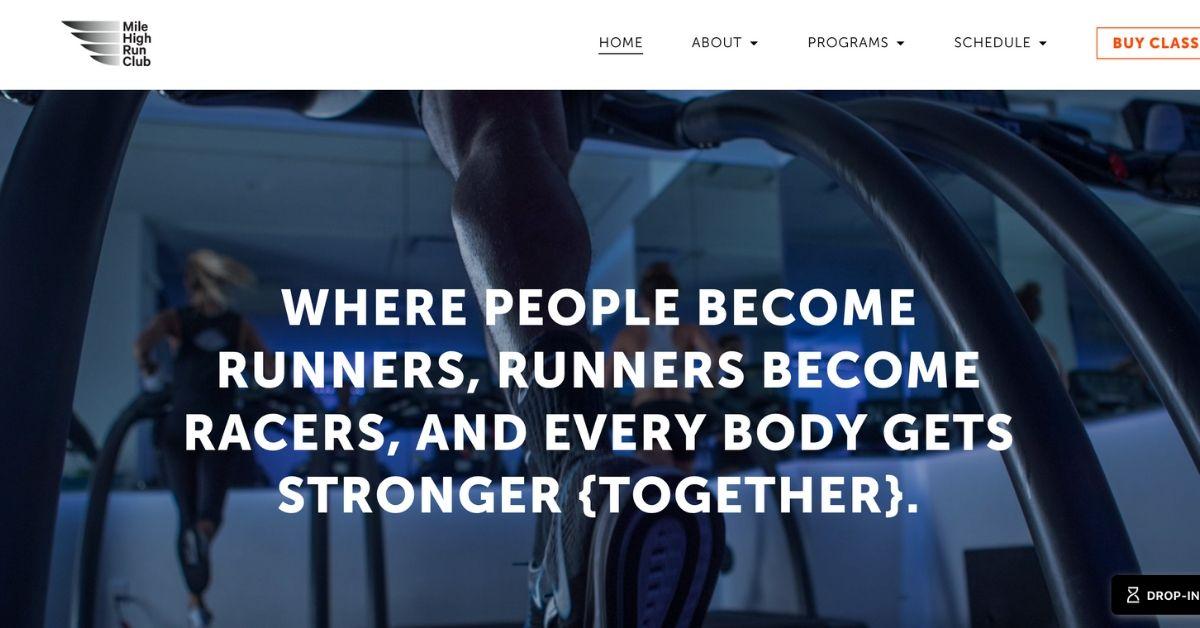 Rows of treadmills line this tech-savvy studio, with neon lights set to the beat of the music. Classes welcome runners of all levels, and each treadmill has its own RPM guide, with speeds to match beginner, intermediate, and advanced runners. 
Classes are designed to improve speed and endurance while protecting the body and preventing injury. Choose from 4 class options depending on your goals with workouts combining HIIT and kettlebell training, or 30 minutes of all treadmill action. 
If you're already a keen runner, Mile High Run Club will help you reach a new PB, and cardio newbies will learn and push to run without stopping. 
Price packages and memberships vary. If you're a first-timer, pick up 2 classes for $40 when you book online. 
7. Tone House
Tone House's workouts follow the training principles of professional athletes. Train like an athlete with sports conditioning workouts in team-oriented sessions. Classes are competitive, fun, and supportive, guaranteeing optimal fitness results, and a fun workout.  
Classes vary to target different areas and suit different levels. Choose from conditioning, full-body, upper body core lower body, and total body workouts. Expect an hour-long session with warmups, including sprints, moving burpees, and bear crawls performed at pace over hurdles. Buddy up for resistance training with harnesses, battle ropes, weighted sleds, and more. The majority of the training is either a partner or group-based.
Tone House is not for the faint-hearted, so if you're a newbie, start with the TH Fundamentals intro class to get familiar with the pace, studio, and techniques you can expect.
Prices and memberships vary. Make the most of the new athlete offer when you book online and get your first 2 classes for $45.
8. Dogpound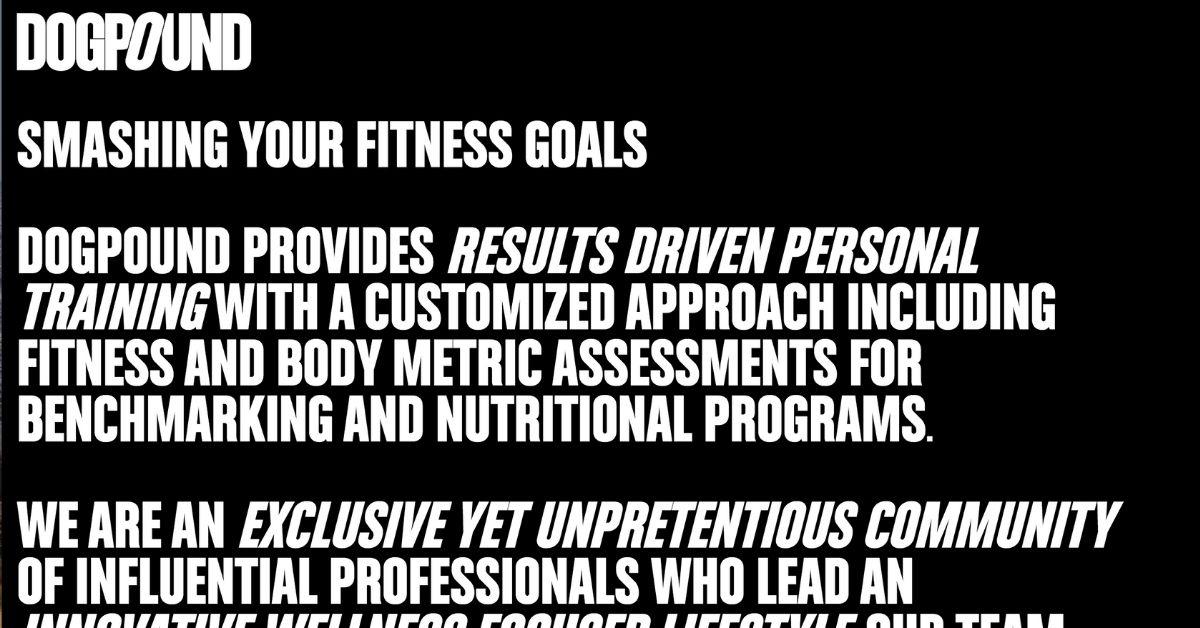 If you're looking for personal training, look no further than Dogpound. Opt for a one on one session, or go for semi-private and sweat it out with up to two other people. Workouts include high-intensity training, strength training, boxing, and more.
With buzzing energy as soon as you walk through the door, Dogpound's training sessions are results-driven and use a tailored, customized approach to help you improve your fitness levels and reach new goals. You'll take part in a fitness and body metric assessment so you can track your progress and even have different options for nutritional programs to follow if you want to. 
9. CITYROW
New Yorks's most famous rowing studio has been making waves since its first studio opened in 2014. 
Expect a dimly lit room with pumping feel-good music in to get you in the zone for their signature rowing class. Heart-racing cardio, rowing drill work, and strength training deliver a triple threat workout: high-intensity sweat, low-impact burn, and total body results. 
Each stroke of the rowing machine works 84% of your muscles in the 'Legs, Core, Arms' class, with intense circuits of leg, arm, and core moves to deliver a total body workout. Opt for 'Burn, Baby, Burn' to build endurance with HIIT training, or 'Results Today, Body For Life' for a quick low-impact workout. 
Class prices and memberships vary. First-timers can pick up 3 classes for the price of one at $22. 
10. SLT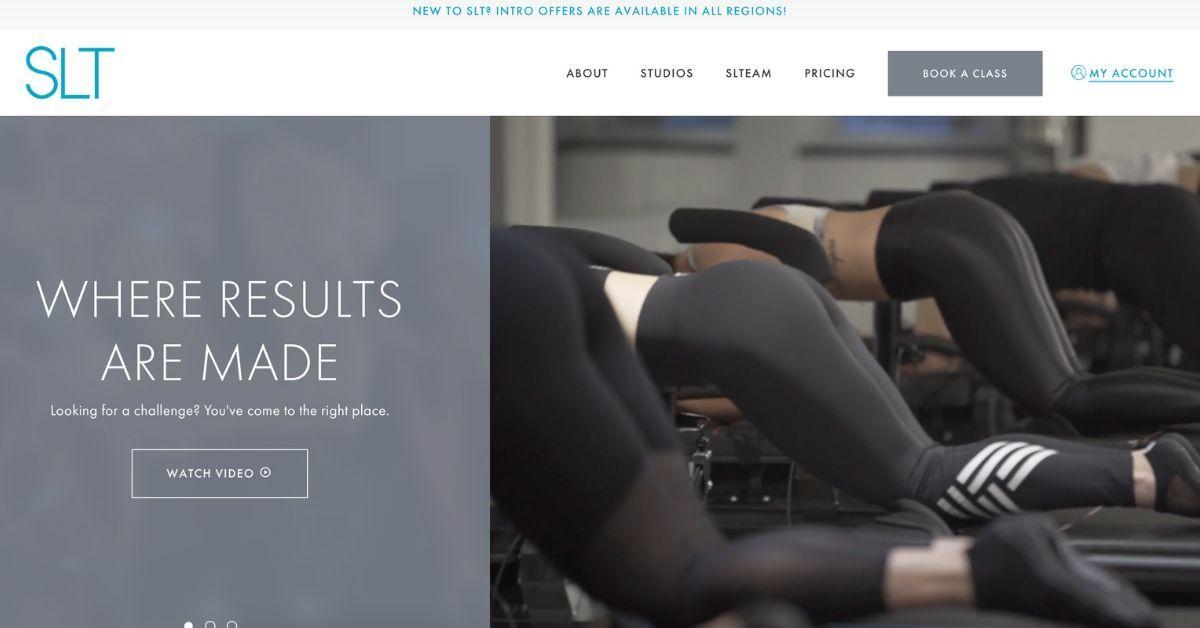 SLT, short for strengthen, lengthen, tone, combines cardio with strength training and the most challenging elements of pilates to deliver an effective 50-minute workout. 
Strengthen your core, lengthen your limits, and tone your body.
Expect slow, controlled movements to maximize results and counter-resistance with the studio's reformer Pilates equipment. Classes vary to suit all fitness levels, get started with the 'Essentials' class to familiarize yourself with SLT's sessions. Work your way up to the 'All Levels' workout or push your body to the max in 'Hardcore.' 
11. Bode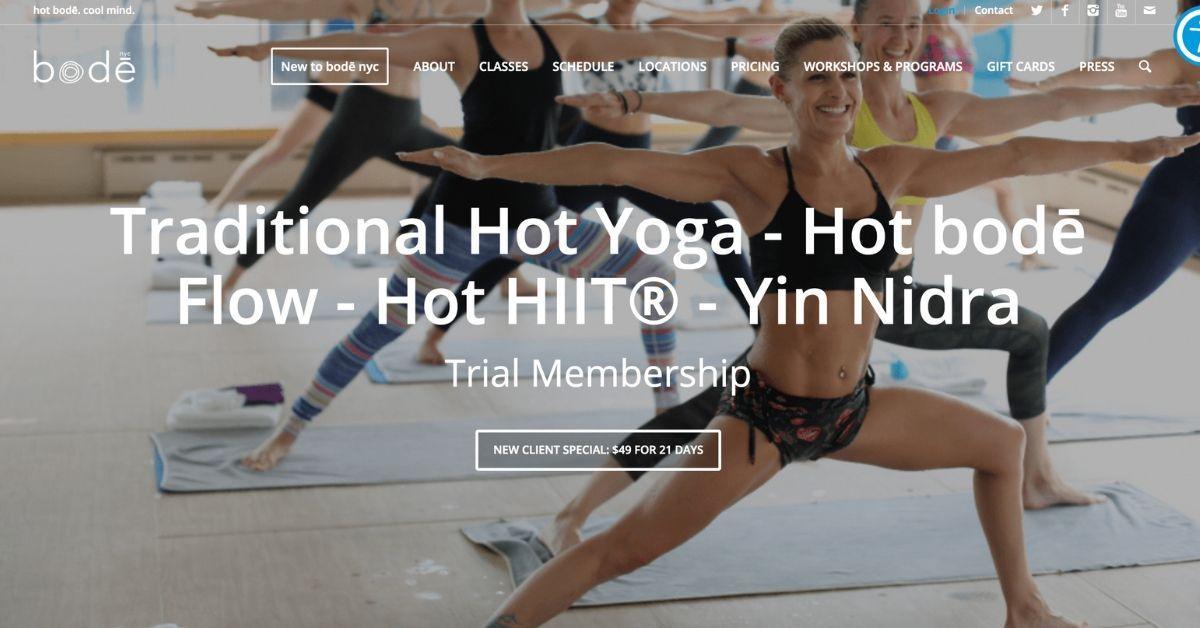 Bode first opened in 1999 as 'Bikram Yoga NYC' and became Manhattan's first Bikram yoga studio. The brand quickly grew to become the first multi-location boutique fitness brand in NYC and now offers a range of classes, providing an all-round fitness experience. 
It's predicted that we'll be seeing more hybrid classes in boutique fitness, and the hot HIIT at bode is the perfect example. 
During this intense class, HIIT training encourages a rapid fat and calorie burn in less time than other workouts. In this Hot HIIT class, the exercises are completed on a yoga mat, and with no equipment. The session combines HIIT, muscle toning, and cardio in a heated room. 
Membership options and prices vary. Start your 21-day trial membership for $49 when you buy online.
The Customer
Engagement Playbook
for Your Fitness
Business
Customer engagement is the way in which a brand
connects with its customers on a deeper level than a
simple business and consumer relationship.
Discover more