Franchising your fitness business is an excellent way to grow your empire. By expanding a successful fitness business using proven methods, you can grow your business at a rapid rate. If you decide to franchise out your business, unique opportunities arise. 
Fitness entrepreneurs who have built a successful brand often look to franchising to continue to expand. Like any business model, franchising has its benefits and drawbacks. While it may not suit everyone, a franchise opportunity can help you grow your business fast in a unique way. This article discusses what a fitness franchise is and 10 opportunities that come from franchising your fitness business. Skip ahead to:
What is a Fitness Franchise? 
The fitness franchise industry is a billion-dollar sector. Over the last few years, the industry has benefitted from a more health-conscious population with growing gym membership levels. Some of the top players include Planet Fitness Franchise, Pure Barre, Crunch Fitness, and Gymguyz. 
A franchise is a business with an owner known as the franchisor. The franchisor has a proven, established, and successful business model. When you franchise your business, you sell the rights to use your company name, business plan, marketing, and trademark to other operators known as franchisees. This is usually in return for a one-off fee or ongoing royalties, depending on how you operate and the franchise agreement you have in place.
For someone who wants to run a fitness business but wants to minimize risk, investing in a franchise is a great alternative. Franchise opportunities exist across various businesses, including fast-food restaurants, car dealerships, gyms, and fitness centers. If you're already successful, franchising is a fantastic way to grow your business.  
If you're considering franchising your fitness business, listen to Russ Harrison, the Group Managing Director of Spartans Boxing Club, talk about growing a successful fitness franchise from the ground up. Russ talks about opening his first location in Singapore to having five locations and building a fitness franchise.
4 Successful Gym Franchise Businesses 
Some of the most successful fitness franchises have been around for a while and continue to grow. To give you an idea of how other successful businesses franchise their business, here are four brands crushing the fitness industry. 
Orangetheory Fitness
Website: https://www.orangetheory.com/en-us/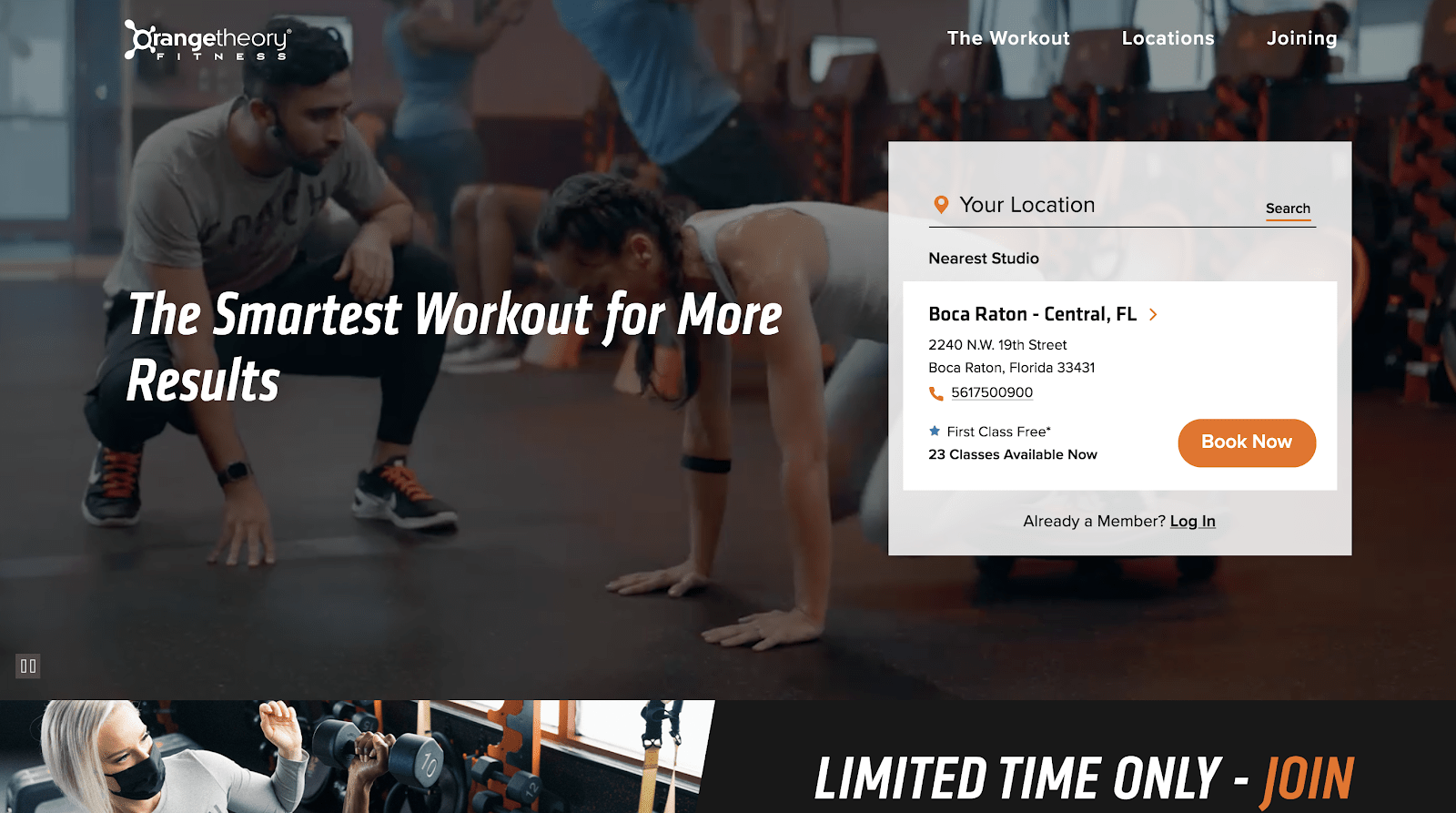 Orangetheory Fitness was founded in 2010. Fitness classes focus on treadmills, free weights, and rowing machines. With over 1,200 locations, you need an upfront investment of $560,000 to $1,000,000. Orangetheory is known for its heart rate monitor training, which helps members to maintain a target zone for optimal results during fitness training; the fitness brand requires an ongoing royalty fee of 8% and an ad fee of 2%. 
Anytime Fitness
Website: https://www.anytimefitness.com/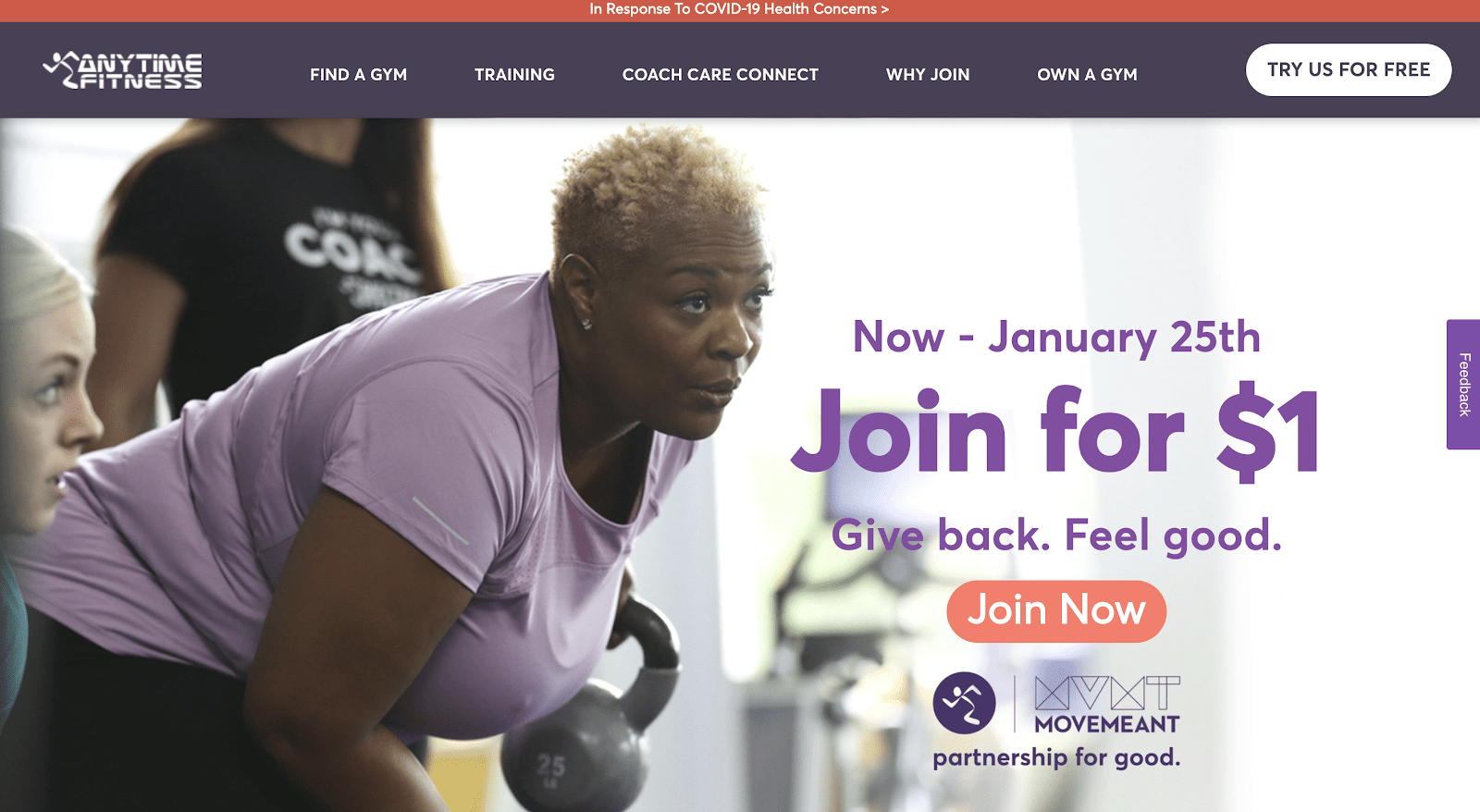 A major name in the world of 24-hour gyms, Anytime Fitness Franchise Franchise was founded in 2001 before franchising in 2002. The franchise has more than 2,300 locations nationwide, with more than 600 locations outside of the United States. The total initial investment costs as much as $677,800. To join the franchise, you are required to pay ongoing royalties and advertising fees based on gross sales. 
F45 Training 
Website: https://f45training.com/
F45 Training is known for its high-intensity group workouts lasting 45 minutes. The F stands for functional as all the workouts are designed to help with daily functional movement. The fitness franchise uses technology-centered solutions to create a high-tech fitness experience with TVs displaying individual performance. You can invest with as little as $300,000. F45 Training was founded in 2010 and started franchising five years later in 2015. Royalty fees and advertising fees are ongoing charges. 
Snap Fitness 
Website: https://www.snapfitness.com/us/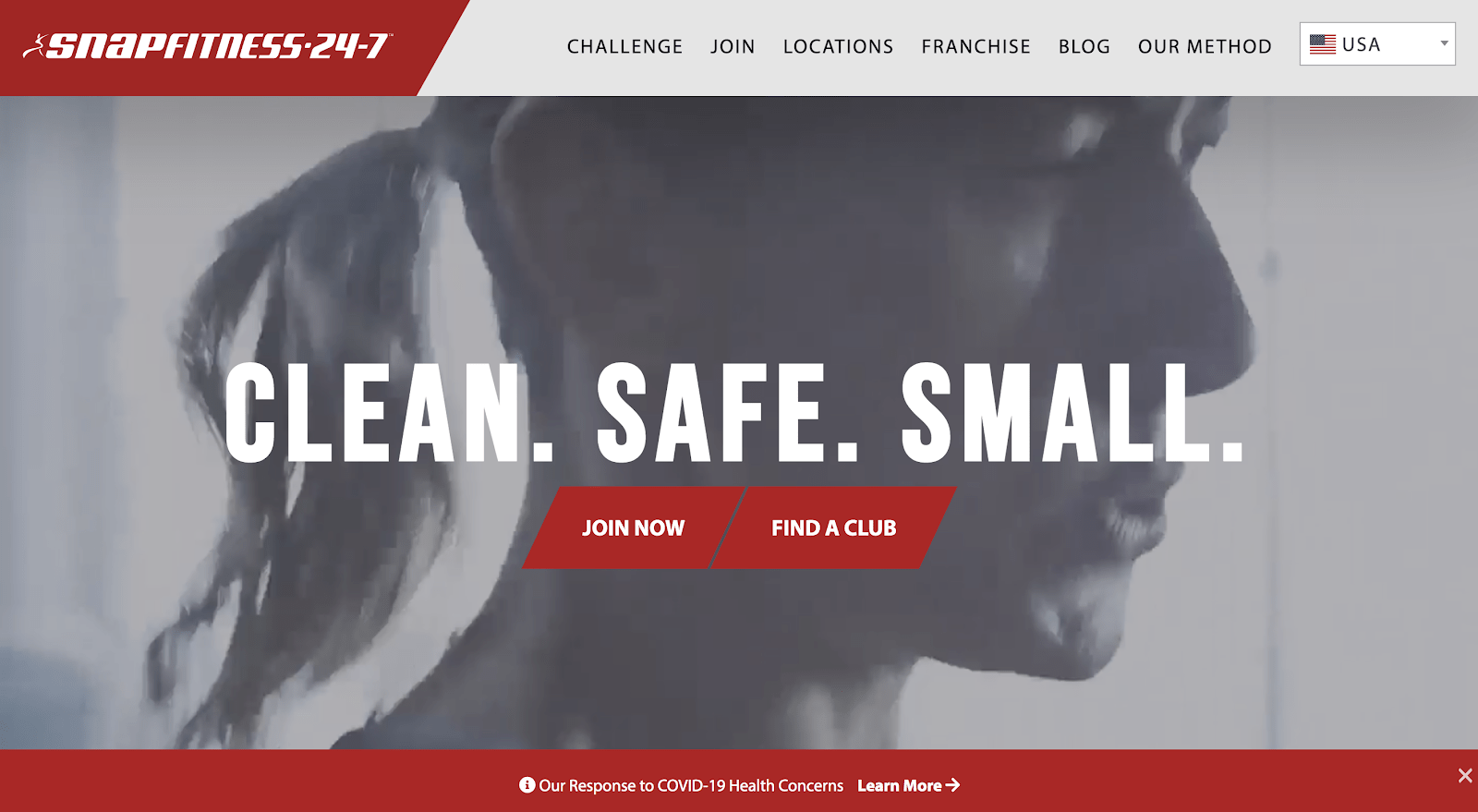 Snap Fitness provides members with 24/7 access to traditional weights and machines. They offer daily classes, personal trainers, group training, and heart rate monitors for members. Snap Fitness started franchising in 2010 and now has over 850 locations. The initial investment can start at just over $150,000, depending on the size of the business. The franchise's royalty fee is 6%. 
The Top 10 Barriers
Slowing Your Fitness
Business Growth
Discover more
The Fitness Founders Podcast has an interesting episode on how franchises are navigating a transformed fitness industry. Andy Peat, the Chief Product Officer of Lift Brands Inc., which includes Snap Fitness and the 9Round International Franchise, talks about his career and how Snap Fitness and 9Round are dealing with the coronavirus pandemic.  
10 Fitness Franchise Opportunities for Your Business
As you can see the initial investment, net worth requirements, royalty fees, franchise fee, and contract length can all differ from one franchise to another. If you decide to franchise, you will set the rules and guidelines for franchisees to follow. Here are 10 unique opportunities that arise if you choose to franchise your fitness business. 
1. Rapid Growth 
Franchising your fitness business can be a cost-effective way to grow and expand your business at a rapid rate. When you open a gym or fitness club, you usually have to invest in the equipment, the building, staff, and more. When you franchise your business, someone else is using your business model, branding, and method. They are investing their money into your business growth. A successful franchise location leads to additional profit and royalties as well as a growing fitness empire.  
2. Receive Franchise Fees and Royalties 
As a franchise owner, when a fitness franchisee invests in your franchise, they cover the costs. A franchisee finances the business venture. While they will receive income and pay their own way, you will receive royalties and franchise fees, and potentially a mark-up on products if you were to sell your own brand products. The initial investment, franchise fee, and royalty fee can differ from one brand to another. You may need to consult and offer additional support in the beginning, so you can think about how you will offer your services. During the initial stages of opening a new franchise location, your expert knowledge and guidance will help the business succeed. 
3. Franchise Partners with Expert Local Knowledge 
When you combine expert local knowledge with your proven and successful business model, it gives you a competitive edge. Although you may be an expert in your business, location can have a big impact on a business's success. By finding potential franchisees with fantastic local knowledge, they will be able to figure out the best location to make the most out of your brand. It's hard for you to know exactly where your business will succeed without having local knowledge. When a potential franchise partner comes to you and knows that your services are in demand and that you have the edge over your competition, it's much more likely to be a great location for a new franchise spot. 
4. Bigger Purchasing Power 
A larger business with secure and additional turnover tends to have better access to good deals on equipment and other business purchases. As your franchise grows, your business should be able to access cheaper gym equipment, technology, and software at a very competitive rate. This is something that is very attractive for someone who is considering your franchise as an investment opportunity. If you can give them access to great prices, it cuts their costs. Bigger purchasing power gives you an extra edge over your competition. It's more enticing for franchise partners and a more cost-effective way to kit out new locations. 
5. Create a Franchising Network of Support 
Sometimes being a business owner can feel isolating. You can create a network of support with franchise partners. It also allows other franchiseesfranchisee's responsibility to speak to other owners and partners. Some of the most successful franchise owners are hands-on with their approach. It's not as simple as selling the right to the name, sitting back, and watching your business grow. You still need to offer the support and create a network of resources for yourself and your community to grow together. Your franchise network can offer help and advice to other partners to help your business scale up. 
6. Highly Motivated Franchisees 
One of the benefits of franchising your fitness business is that franchisees are likely to be more motivated than your managers or employees. After all, they run their own business, and when the business succeeds, they benefit. Franchisees have a vested interest in the success of the business. Whereas a manager still earns their salary whether you're having a good or bad month. When you work with highly motivated franchise partners, it's exciting to see how they will take your business model and grow. Franchisees have used their own money to invest in your business. That's a pretty big motivator. 
7. Increase Brand Awareness and Recognition 
The more franchises you have, the more locations and the more money you spend on marketing, the better your brand awareness. As it's the responsibility of the franchisee to pay for marketing, you have the opportunity to increase brand awareness and recognition without directly spending your budget. You can develop your brand, and with more franchisees, you will be better known throughout the nation. One of the benefits of buying into a franchise is purchasing an already established brand and business model. Although you may already have brand awareness, franchising your business has the potential to propel you into a global view. 
8. Boost Revenue and Profits 
When you decide to franchise your fitness business, it's not all smooth sailing. It takes hard work and time to create multiple successful franchisees. By diversifying your income, typically, you can continue to generate revenue and profits, even if you have some franchisees running at a loss. This gives you a chance to work with franchise partners and offer the support needed to succeed. Franchising can potentially generate huge financial returns for minimal risk. Unlike adding company-owned locations and services to your empire, you put relatively little financial investment into each location. 
9. Raise Capital Value  
As your franchise empire grows with new partners, locations, and services, you have the potential to develop your fitness brand into a national or global name. When your franchise network grows, so can the capital value of the business. Put simply, franchising your business offers a relatively low risk, high return on your investment. Getting your fitness business franchise ready is by no means easy; it takes a ton of planning and consideration to switch up your business model and take on the world of fitness franchises. For more advice, listen to fitness entrepreneur Katie Daniel, founder of Ambition Fitness, talk about how she took Ambition Fitness into a franchise-ready business in less than 12 months.  
10. Generate Fresh Ideas for Future Success 
A major advantage of creating a fitness franchise is that your franchisees can contribute fresh ideas to your business. As they are managing the day-to-day facilities and services, they may spot an opportunity that will develop your brand even further. Although you set rules and guidelines for franchise partners to follow, it's a good idea to encourage creative thinking and ideas. Your franchisees may find an opportunity that you would've missed. The importance of good and effective communication cannot be stressed enough when it comes to franchising. Steve Pirt, the CEO of Friction Free Fitness, has some great insights into how large franchises operate, and in particular, how to communicate with franchisees effectively. 
In Summary 
Deciding to franchise your fitness business is not an easy one. It's not a solution to business or capital difficulties. You should only franchise your business if you already have a successful business up and running. After all, you will teach franchisees how to succeed using a tried and tested business plan. If you decide to franchise your fitness business, you will experience unique opportunities. By going down the franchise route, you have the potential to grow at a rapid rate. When initially setting up your franchise, it will take time, money, and you will need to deliver excellent training and support for every franchisee. But the growth potential is incredible and, when done correctly is an excellent option for business expansion. 
The Top 10 Barriers
Slowing Your Fitness
Business Growth
In this e-book, we will list the most common barriers that
slow fitness business growth and list some of the tips to
help overcome them.
Discover more