A great fitness culture comes down to providing something that's about more than exercise alone: it's a set of shared values and a connection that your members won't find anywhere outside of your gym. 
Your culture is a combination of a few different elements, but ultimately, it's the personality of your brand and the experience your members have when they interact with any part of your business – whether that's online or at the studio. 
A Great Fitness Culture is Powerful
We live in a world where people value community, authenticity, and human connection more than ever. Fitness culture is how you provide this for your members and ensure they have a reason to stay loyal in the long-run. 
In today's hyper-competitive fitness market, the options for working out are endless. And without a culture helping you drive brand loyalty, members are more likely to shop around thinking the grass (or class) is always greener.
Here are four reasons you need a great fitness culture, what one looks like in action, and 8 ways to create an effective one for your fitness business.
The 4 Real Benefits of Having a Great Fitness Culture
1. First Impressions Count 
We have all heard the saying, "You never get a second chance to make a first impression," and that's because it's true. Experts believe you have about seven seconds to make a good first impression. Some research suggests you have even less time before customers start to make assumptions on how trustworthy your business is. When you have a great culture, you are delivering a fantastic member experience in a positive environment. This gives you the best opportunity to make an excellent first impression. 
2. Member Retention 
Your fitness culture is at the core of your retention strategy. Good culture with a community of like-minded individuals and great experience make for a solid foundation for any fitness business. Retention is about loyalty. It's about creating an environment where people are willing to turn down another business or product for a better price because they want to continue being your member. 
Fitness brands like Soul Cycle and Orange Theory not only offer hugely popular classes and fitness programs, but they have created cult-like communities with a fierce following. These brands focus on experience, community, atmosphere, and the group energy of like-minded individuals. They are people-driven and have created a fitness culture with an individual training style. 
3. Great Culture = Happy Members 
An excellent fitness culture creates happy members. And happy members tell their friends and family about your services. Take a look at Mark Fisher Fitness (MFF) as an example. Although they are based in New York, you can access the community from all around the world. The MFF blog features a ton of content for people who don't like going to the gym but need extra help. They have created a culture that's fun, inclusive, and all about community.
4. Create a Positive Working Environment
Your fitness culture is to do with your people, both members and staff. When you're creating a positive culture and environment, this, in turn, helps to develop a positive working environment. Your employees are the face of your brand and exert your culture. When they feel appreciated and empowered to support members and grow the business, you create a happier workplace. 
Now that we've highlighted the benefits of having a great fitness culture let's take a look at one in action on social media and how you can implement one at your gym or studio.
What a Great Fitness Culture Looks Like in-Action
Take a look at the example below of a studio with a fantastic fitness culture that shines through on their social media.
The Squad
Instagram link: @t_h_e__s_q_u_a_d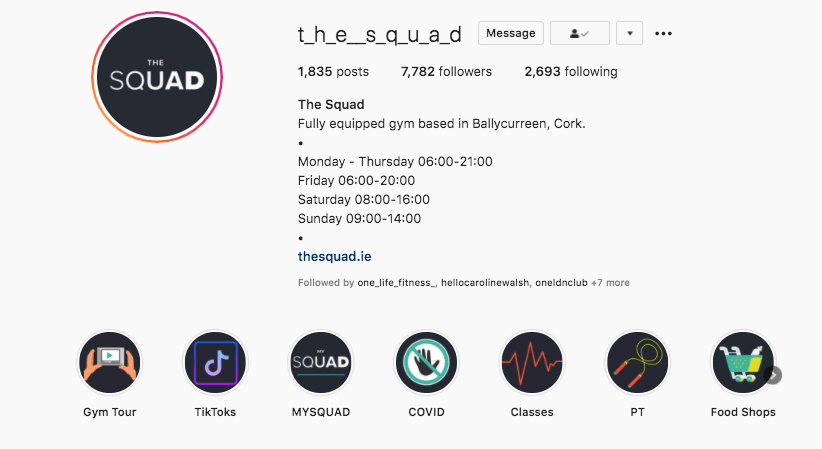 From just a quick look through their account, which has almost eight thousand followers, it's clear that this brand has a great fitness culture: 
They're tagged in hundreds of photos from their members.
They engage with their community through their posts and stories.
They regularly upload valuable content to their IGTV channel, with videos receiving thousands of views.
The brand's fitness culture has enabled The Squad to build an engaged community of loyal, happy members. So how can you create the same experience at your gym or studio?
How to Create an Effective Fitness Culture 
For your business, you'll need to actively take steps to identify your culture because it will be unique to your brand. Here are 8 aspects you'll need to consider.
1. Know Exactly What Your Business Stands For 
Although this step may sound a bit like going back to basics, it's essential. You need to fully understand what your business stands for. This will form the base of your fitness culture and help you to align your beliefs and behavior. 
Your culture is about your approach to fitness. It doesn't matter if it's cardio or yoga; your approach should remain the same. Maybe you're focused on bodybuilding and want your members to have fun, or perhaps you want to help people feel more relaxed. All this plays a role in creating your culture. To start developing your fitness culture, ask your team to choose five words that describe your brand personality. Words like friendly, welcoming, and fun are all words that might describe your culture. 
The Customer
Engagement Playbook
for Your Fitness
Business
Discover more
2. Have a Compelling Vision Statement, Values, and Beliefs 
Your culture should be based on your vision statement, values, and beliefs. You need to have a well-thought-out set of core beliefs so that you can demonstrate them efficiently through your culture. From the themes in your workout programs and the music you choose to how you treat instructors and personal trainers, it's intertwined throughout your studio. 
A great example of a distinct culture is New York-based yoga studios Y7. When you walk into their studios, you get an immediate feel for their culture. Their signage, music, and design all point towards a culture that emphasizes community, freedom, and the powerful benefits of yoga. Currently, the yoga studio has pivoted to online classes during the coronavirus pandemic. They continue to show off their culture digitally with content created for their community. 
We recently spoke with Jack Thomas, owner of BASE and host of the Fitness Business Asia Podcast. ⁠BASE has a culture that shines through all of the business's communications, and this played a huge part in Jack successfully keeping members engaged and active online throughout the gym's closure. In this episode, he shares some great advice on delivering more value as your business goes remote and how to price and package your online offering. 
3. Appreciate Your Employees 
To create an effective fitness culture, it needs to be part of your business. That means your employees should exert your culture in every interaction. To cultivate your workplace culture, it's a good idea to show your employees you appreciate them and make your culture part of the hiring process. 
Align your culture with potential candidates during the interview stage. Define your values when looking for new candidates and foster positive and engaging relationships from the very beginning. Hire enthusiastic fitness instructors and employees with a can-do attitude. To create an engaging work environment, it's a great idea to make it clear to your employees that you care about their future. You can do this by investing in their training and development. Your employees' success is good for your business. 
4. Have a Goal and Make a Plan 
When thinking about your fitness culture, consider your employees, managers, and members. Your business mission and values are defined by your members but led by your management team. Your business mission and goals should align with your fitness culture. 
To create an effective culture, you need to make a plan. It should tie in with your overall business strategy, be part of your hiring process, and shine through in how your brand interacts with customers. Develop a plan that will ensure your fitness culture is intertwined with your business and pushes you towards your goals. 
5. Enforce Your Fitness Culture 
It may sound a little aggressive, but you do need to enforce your fitness culture. It's not enough to write down a few words that describe your business personality; you need to actively ensure that your culture is present in your member experience and fitness environment. Even something as simple as greeting your members by name when they work through the door shows off your culture. If you're friendly, welcoming, and encouraging, when you address someone by name, it encompasses all of those things. 
Your management team should lead by example so that your employees follow and members take notice. Your team should continue to reflect on their behaviors and align with the brand values and mission statement. Making sure employees feel appreciated and supported is a key part of developing your fitness culture. 
6. Create a Sense of Community 
It's difficult to talk about culture without touching on the community: a studio's culture is how your customers engage with your brand. The community is how your members engage with each other. A fitness community encourages members to join exercise plans, spend time, and connect with one another. 
When you build a strong sense of community, you help to develop a stronger bond to your studio. The more passionate members feel about your community, the more likely they are to bring friends. To create a fitness community, you have to communicate your philosophies effectively and attract people that share the same values as you and each other. 
7. Culture and Community Go Hand-in-Hand 
Culture and community give you the best of both worlds. When you create a unique feel and attitude towards fitness, you're creating a culture that attracts certain individuals to your studio community. They are both so important in getting people to come back again and again. A toxic environment that focuses heavily on body image or the perfect bikini body can be very offputting to new members, so it's vital that you encourage a positive culture and community. 
Fitness is no longer just going to the gym on your own for an hour and sweating it out. Fitness is a social experience. Some of the most popular fitness brands offer classes, training programs, and immersive experiences that allow members to engage and build friendships. During lockdown, many people struggled to connect with others, which has had a significant impact on mental health. The COVID-19 crisis emphasized the need for meaningful connections and healthy living. It's clear that fitness's social aspect will continue to be a major contributor in choosing where to workout next. 
8. Align Your Marketing to Your Values, Beliefs, and Mission 
A business with a clearly defined purpose, values, and beliefs, are well-positioned for long-term success. Your entire business should align with your values and mission, including your marketing. By creating an effective fitness culture, you're attracting people that share your values and engage with your brand personality. 
Your marketing strategy should align with the personality and culture of your brand. Your fitness culture is portrayed through every interaction with customers, which includes your marketing messaging.   
In Summary 
Your culture is essential for building a unique community, and having that community means happy, loyal members that want to stick around long-term. 
By developing this community of like-minded individuals and incorporating a fantastic fitness culture, you will attract and retain members efficiently for long-term success. 
The Customer
Engagement Playbook
for Your Fitness
Business
Customer engagement is the way in which a brand
connects with its customers on a deeper level than a
simple business and consumer relationship.
Discover more