Over the last year, the pandemic has totally transformed consumer behavior and purchasing habits have changed along with it. When it comes to joining a gym or fitness studio in 2021, people aren't necessarily looking for a cheap gym membership or even the most premium one. They're looking for value. 
And as we look to the hybrid future of our industry, your pricing and packaging will likely be different depending on whether a gym member has an onsite or online membership, or maybe even a combination of both. It's essential to understand the value of what you're offering, so you can use it to reinforce how it sets you apart from competitors. 
Here, we explore how you can maximize the value your gym has to offer when selling new memberships. Before we dive in, we'll take a look at some of the latest gym membership statistics.
What is the Average Gym Membership Price?
According to the IHRSA 2020 Global Industry Report, The health club market is worth $96.7 billion globally and has grown every year since 2008. While 2020 was the year that shook the industry, Americans were spending more than $35 billion per year on gym memberships with more than 20% belonging to at least one gym.
More recently, a report from Run Repeat analyzed the prices of 16 popular U.S. gym chains, including the likes of Gold's Gym, 24 Hour Fitness, and Anytime Fitness. The report shows that the average gym membership price in 2021 across these examples is $37.71.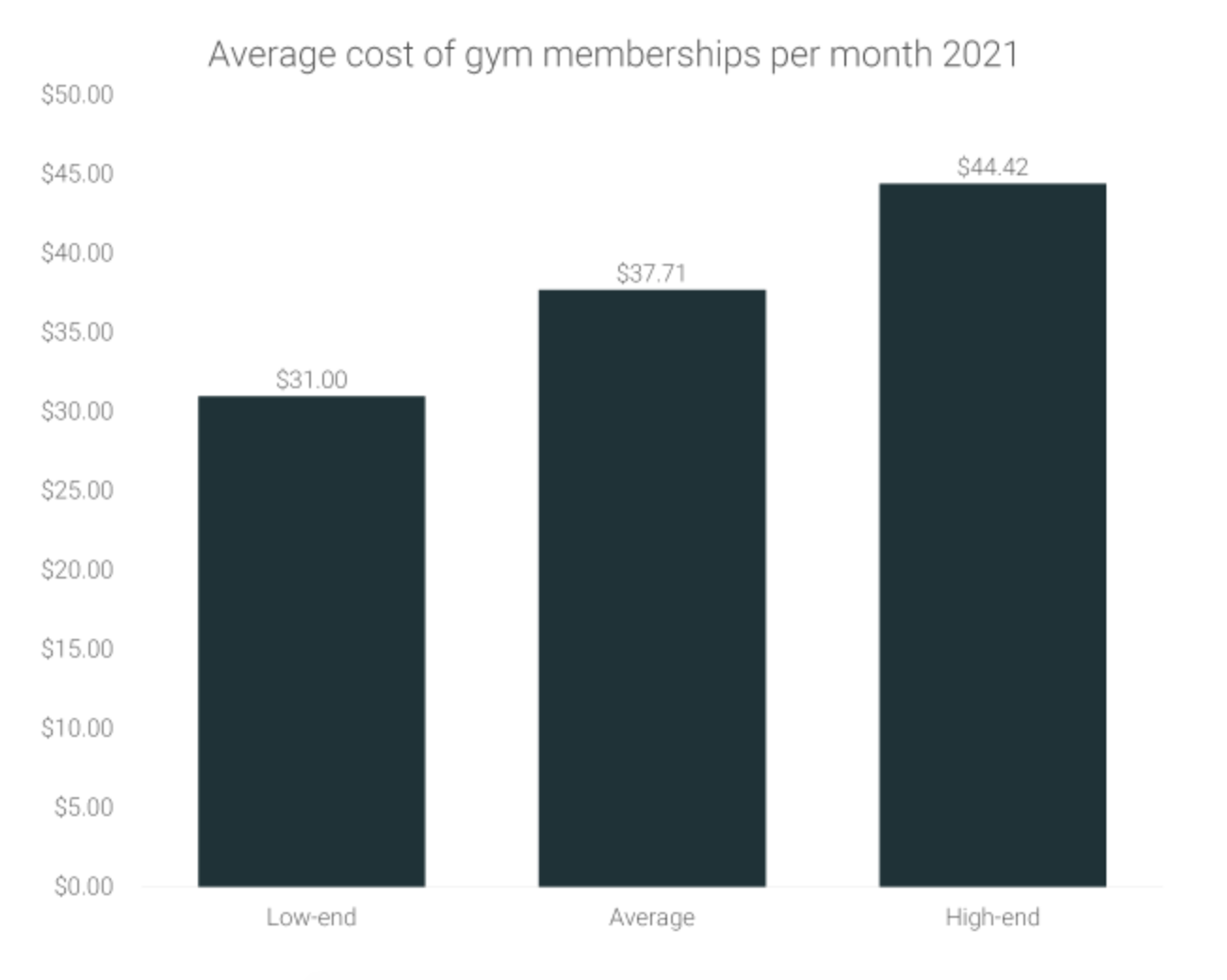 Prices were varied based on the membership; ranging from $31.00 with lower-tier memberships to $44.42 on higher-tier memberships. 37.5% of the 16 gym chains charged $20 or lower each month for lower-tier memberships, while the higher-tier plans remain relatively inexpensive, ranging from $22.99 to $36.99 per month.
Now that we've highlighted the latest average gym membership price, we'll take a look at why it's essential to reinforce the value you offer, as opposed to focusing on price alone. 
What Does 'Value' Actually Look Like to Your Members?
In today's world, expectations when it comes to customer service are high. Consumers want a helpful, authentic service from the brands that they are choosing to put their time and money into. They're happy to invest more in a service that addresses their needs and provides value beyond the initial purchase. So how does your gym do this?
It comes down to the way that you help members reach a fitness goal. Whether that's keeping them accountable and showing up for a certain number of classes a week, weight-loss, or being able to complete certain exercises or workouts. Doing this sits at the core of your business, and it's where you provide your members and community with real value. 
Emphasizing your value is all the more essential in the world of online fitness. Throughout the pandemic, consumer investment in digital fitness has risen by 30-35%. The increase in demand for digital fitness has led to a huge increase in competition; what was once a market largely dominated by big names like Peloton and Beach Body now includes a huge majority of gyms and studios, as well as influencers who often provide online workouts for free. 
But what kind of long-term progress will a person realistically make by taking part in free influencer workouts? How long will they stay motivated with nobody to hold them accountable or keep them motivated? Your business has a competitive edge compared to a free workout like this because you provide more than a workout alone. A free influencer workout means people get to exercise. But being a member of your studio offers them more – and this is what they're paying for.
Ultimately, the price of a gym membership is literally just a number. What members actually get from that, and how it compares to what they would get for the same price from a competitor, is where the value lies.
When Jack Thomas joined us on The Fitness Founders Podcast, he shared some great advice on delivering more value as your business goes online.
"Charge someone for it and deliver much more for it."

Jack Thomas, BASE Gyms
Jack is the owner of BASE Gyms in Bangkok and the host of the Fitness Business Asia Podcast. In the episode, he talks about how he transitioned his business online during COVID-19 and the challenges that came alongside it: 
3 Ways to Maximize Value When Selling New Programs
We've taken the next 3 tips on incentivizing prospects with value from Alex Hormozi's book, Gym Launch Secrets. Alex is the founder and owner of Gym Launch; a business that helps gym owners build massively profitable gyms. To date, the Gym Launch model has transformed over 1500 gyms in four continents.
Alex has also joined us on The Fitness Founders Podcast, where he shares advice on making your business a revenue-driving machine, explains why accountability is the key differentiator, and lays out some top tips for mastering sales over the phone. You can check out his episode below, and read on for 3 ways to maximize value for members with your free trial.
1. High Price, High Value
Money earned from a high-value, high price offer leads to the knock-on effect of starting a client-funded acquisition model. The high prices earn revenue that you can then funnel back into your marketing. When it comes to gym memberships, people love getting something for free; but what if instead, you can use one of the services that you already offer as a bribe?
Entice members by offering to give something you would usually charge for, for free, if they purchase their full membership right there and then. This is known in sales as an 'either-or' situation, where you give two final options that both involve the prospect making a purchase from you. 
The Customer
Engagement Playbook
for Your Fitness
Business
Discover more
Option one: the low-ticket choice. They sign up for monthly a commitment with their membership. "With your monthly membership, you can take as many online and in-person classes as you like. All of our instructors are at the top of their game, so you're in the best hands."
Option two: the high-ticket choice. Offer the 6-week Bootcamp that you usually charge $600 for as a free gift if they commit and sign up for their membership right now. 
"If you sign up today, you can get everything the standard membership provides and I'll throw in access to our 6-week Bootcamp for free; it's usually $600 and there's only one spot left, it's yours if you're ready to take on the challenge!"  
From a psychological point of view; your high-ticket option is more appealing and by comparison, offers great value. Plus, in pointing out that it's your last spot, you're creating scarcity which adds even more value. The Bootcamp must be good if it's almost full up! 
With this technique, you're still incentivizing prospective members with a great deal by increasing the value of what you're offering. 
2. Downsell Your Upsell
When it comes to incentivizing potential members always remember one thing: nobody wants a gym membership. They want results and a deadline.
You can give this to them with your either or selling technique, but the best way is to provide members with a program that has a defined end. In Gym Launch, Alex notes that people will pay 2-4 times the price for something if it is not on continuity.
The key with this offer is to go in hard with your pricing at the beginning; when people are the most motivated and most excited to take part in the challenge. For example: Say you're running a 12-week program that costs $100 per week. Once the client completes the program, reduce the cost to $50 a week.
You're charging double the price when they're most motivated and likely to get their desired results. After this, when they're happy from reaching their goal at the end of the 12 -weeks, paying half the price to continue seeing results seems like an amazing deal. 
According to Hormonzi, gyms that use this technique keep double the industry average on the back end at a 58% higher price. 
3. Guarantee Results
Many people feel like guarantees are risky, but as long as you're good at what you do it eliminates the risk! For example, say you run a 6-week program. Instead of offering discounts like a 'get your first 2 weeks free' – offer to give the whole program for free.
Yes, you read that right. A crazy guarantee is better value for both you and your members than 2 weeks of free classes:
"We really think you're going to love our group training program and get amazing results. In fact, we're so confident, that we offer a personal satisfaction guarantee. Book onto the program and push yourself for 6-weeks. If you get to the end and in any way feel like we've not lived up to your expectations, we will reimburse you for the full 6-weeks. The best-case scenario is we change your life. The worst-case is you worked out for free."
You're asking for commitment but you're also willing to put everything you have on the line. That's how confident you are that you can provide members with the tools to help themselves and in their ability to push through and get great results.
With this kind of incentive, you're establishing a sense of both commitment and trust from the get-go. If you deliver on what you promise, it's very unlikely that anyone would try to claim their money back if they're happy with the results. If anything, they'll be signing up to do it all again.
In Summary 
At the end of the day, a price is just a number. And when it comes to setting your gym apart from the rest, you don't want to get wrapped up in the details of your membership fee; competing on the average gym membership cost is like taking part in a race to the bottom.
People aren't signing up for a monthly membership just so they can workout. It's not just for group fitness classes or a personal trainer. 
They're paying to join your community and be supported by your team. They won't get the accountability or motivation they need to reach their fitness goals from a free online workout video. 
Providing value means knowing your value, and delivering on it. 
The Customer
Engagement Playbook
for Your Fitness
Business
Customer engagement is the way in which a brand
connects with its customers on a deeper level than a
simple business and consumer relationship.
Discover more