Black Friday is notorious for crowds of people trying to get their hands on the best deals, though this year, the crowds will be virtual. It's a great time to increase sales, memberships, and sell your services. Take advantage of the busiest shopping day of the year by offering unique deals to attract customers. Whether you launch seasonal classes or announce a new product line, consumers are looking to spend during the holidays. 
Even though things are a little different this year, you can still take advantage of Black Friday with the right plan in place. Before we highlight the ways you can get the most out of this year's major spending season, let's take a look at how brands are preparing for Black Friday amidst the Coronavirus.
How to Prepare for Black Friday During a Pandemic 
Over the years, Black Friday has become one of the biggest spending days all over the world. This year, Black Friday falls on November 27, followed by Cyber Monday, another massive day for sales. 
Amidst the pandemic, many industries are leaning on technology to support their customers, and this year, the Black Friday focus for most will be entirely online. Instead of one day of deals, we're seeing Black Friday turn into a whole month of deals and low prices. With more and more people at home and online, shopping is more virtual than ever. 
But economic uncertainty is on the horizon, consumer spending is down, and there's no hiding that times are tough. With the potential for stores, gyms, and studios to be closed, there's still a massive opportunity to leverage Black Friday and boost sales. 
So, how can fitness businesses not only manage Black Friday during a pandemic but benefit from it? 
By positioning your Black Friday marketing well and showing the importance of health and fitness, you can tap into the consumers' need to support their own physical and mental health. Whatever your plan is, create a sense of urgency. Everything is more digital now, so you need to be where your target audience is. That means upping your social media presence and engaging with customers where they hang out online. 
Two Great Examples of Black Friday Campaigns From Athleisure Wear Brands 
If you're in the process of planning your Black Friday fitness deals and marketing strategy, here are two examples from the fitness industry. Although both brands offer a discount, they use a different strategy. Let's break it down. 
1. Alo Yoga: A Deal That Gives Back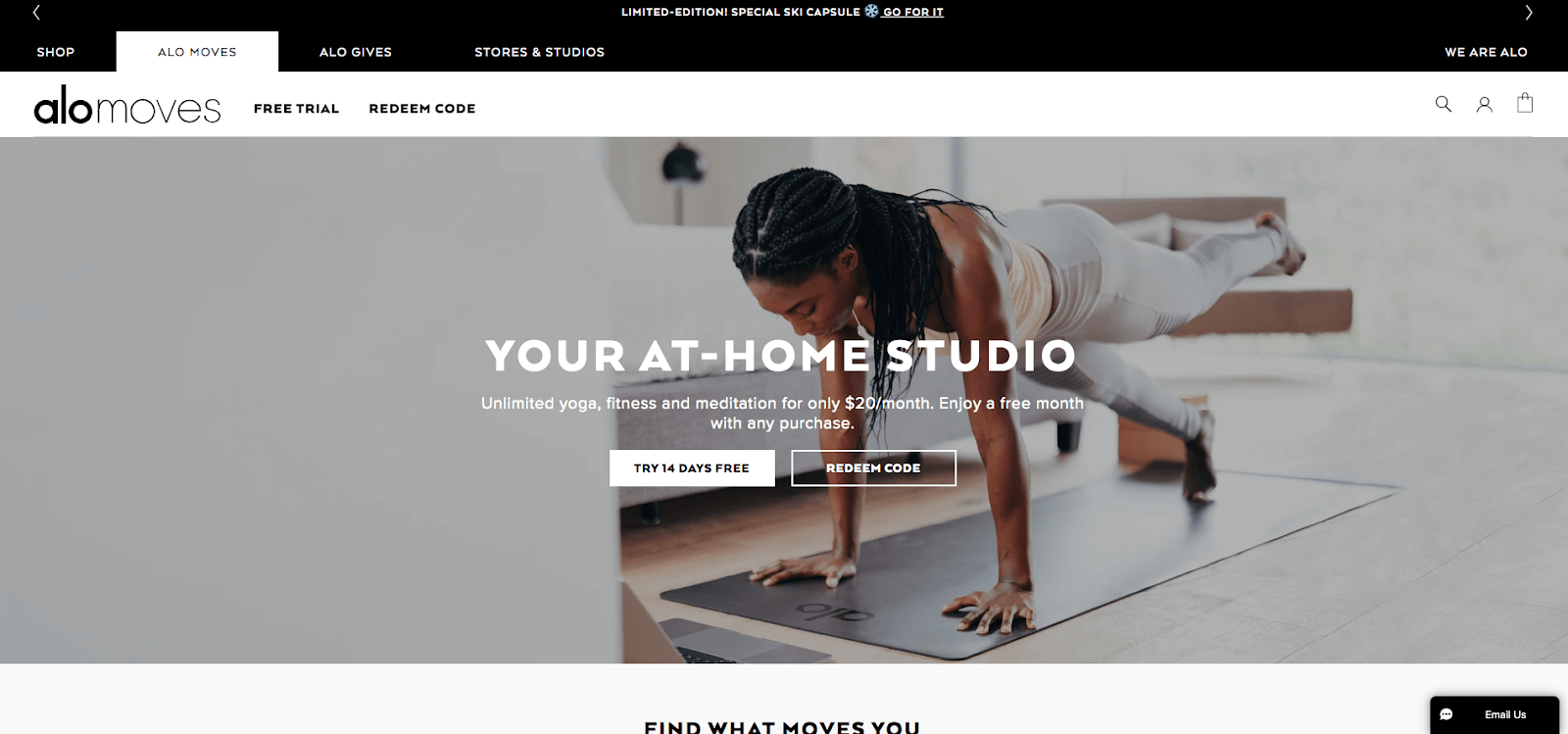 Alo Yoga has built up a cult-like following in the yoga world with its high-quality clothing. On a previous Black Friday, Alo Yoga offered discounts across their range. On top of this, they donated a percentage of the sales to spreading mindfulness to children in school. 
Although the brand is making the most out of Black Friday by offering discounts for deal-seeking consumers, the message fully aligns with the brand mission. This helps to build brand trust and continue to nurture the kind of reputation that Alo Yoga is known for. 
Get inspired by Alo Yoga: When developing your Black Friday offers, ask yourself how your members would like to see you give back. Perhaps for every 10 Black Friday class packs purchased, you can pledge to donate a free class to a charity. 
2. Gymshark: A Deal That Dominates Social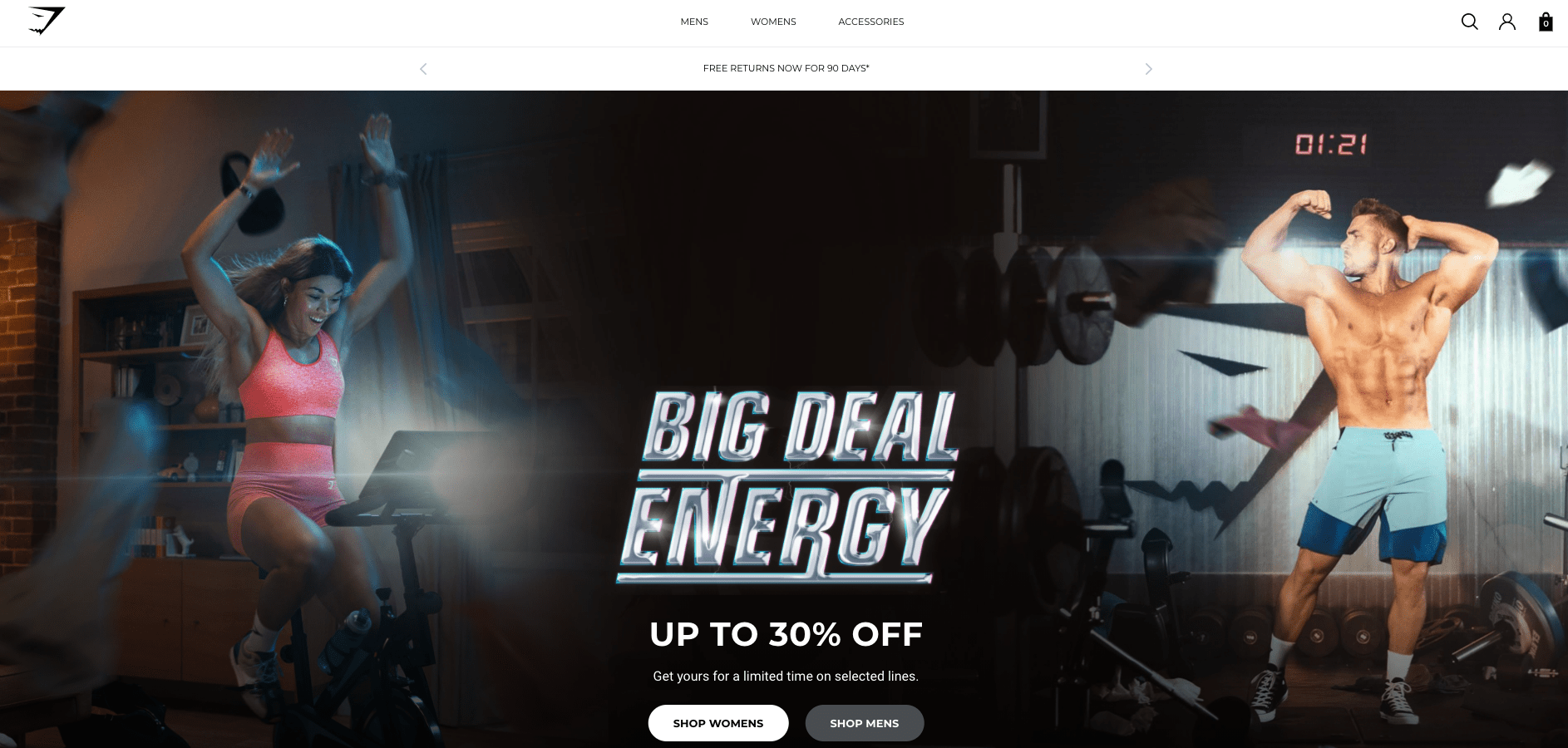 Black Friday is always a big holiday for Gymshark. In a previous campaign, the brand's Black Out Black Friday campaign on Instagram was a massive hit. They reached out to customers where they hang out the most online: Instagram. The campaign included a combination of product ads, models, and user-generated content. 
Gymshark only has two sales a year, their birthday, and Black Friday. Customers now get excited for the event each year. Gymshark continues to be one of the best examples of social media marketing. They make full use of user-generated content and influencers while quickly adapting to consumer demand. For example, Gymshark's 2020 Black Friday campaign uses a newsdesk-style announcement video for an early sale. This is a creative way to launch the sale. In normal Gymshark style, you can find the campaign video ad all over popular social media platforms like TikTok and Instagram. 
Get inspired by Gymshark: The nature of your fitness business and your core target audience will determine where you focus your Black Friday Efforts. But in today's up and down lockdown world, it's highly likely that every fitness business can tap into a new audience on social media. So whether it's a one-off Black Friday workout live on Instagram, or a fitness challenge you can promote with a unique hashtag like #BulkFriday – get creative with ways you can promote brand awareness and engage a new audience with Black Friday this year.
11 Ways to Make the Most of Black Friday This Year 
It's that time of year when Black Friday starts to fill your every waking thought. With some creative ideas and clever marketing, you can get in front of potential customers who are ready to spend. Here are 11 ways to make the most of Black Friday this year. 
1. Start Early!  
It's never too early to start planning your Black Friday and Thanksgiving strategy. Depending on your current situation, some ideas may suit you much more than others. By taking a look at where your target audience spends most of their time, you can actively target the right platforms with the right message. 
For example, Instagram is very yoga-centric. The aesthetic of yoga naturally lends itself to the image and video-focused platform. As a yoga studio, Instagram is a great place to spread your Black Friday message. Using a combination of organic and paid targeted ads, you can get the word out and get potential customers excited for your event or offer. 
2. Host and Stream Post-Thanksgiving Classes 
Thanksgiving tends to involve a lot of food. If your members have over-indulged over the holidays, it's a great time to host or stream special post-thanksgiving classes. This could be a one-off class on Black Friday or a whole week of classes aimed at getting people moving after the holidays. 
If your gym is closed, streaming may be your only option. If you can, it's a good idea to offer both in-person and digital classes as you can cater to multiple audiences. A special holiday class is a fantastic time for new members to try out your services. Allow non-members to join your stream with a one-off payment and make sure you spread the word about your event. You can encourage the use of fitness trackers and smartwatches such as Fitbit and Apple to help members keep track of movement where possible. 
3. Offer Discounts on Classes 
Black Friday is known for its killer discounts. You want to appeal to both members and non-members. The idea is to attract newbies with your Black Friday deals and give them a chance to try your class before turning into a repeat customer. You can either offer a percentage off or a dollar amount on both single classes and block sessions. This applies to both online and offline classes. 
The Customer
Engagement Playbook
for Your Fitness
Business
Discover more
After you have created your special offer, remember to create a sense of urgency so that your audience knows they have to move quickly. You can choose to offer discounts throughout the week in the run-up to Black Friday or stick to the day only. The Black Friday flash sale buzz is captivating to consumers. 
4. Home Gym: Free Digital Membership Trial for New Members 
Your business is probably looking a little different from previous Black Fridays and you now likely have a digital arm to your fitness business. If you're running a hybrid fitness business, offer a free digital membership trial for new members. 
A free trial for your digital platform could last for one week or one month, it's down to you. By giving new members the chance to trial your platform, they begin to trust your brand. Loyal members are much more likely to listen to what your brand has to say. This gives you the opportunity to upsell your in-person services to your digital membership base where relevant. 
5. Gym Equipment: Cut Prices on Gym and Studio Merchandise 
If you have an eCommerce element to your business, now is the perfect time to cut prices on gym and studio merchandise. Maybe you have branded t-shirts, your own line of protein powder, or basic equipment to supercharge a home workout. 
Market your Black Friday offer to your target audience. It's important that the user experience from viewing the ad to purchasing any items is seamless. Users should be able to swipe up from a social media ad and land directly on your website ready to buy. Activewear and loungewear are hugely popular, even more so in the current climate. With the potential for another lockdown, many people are looking for ways to be comfortable and work out from home. If you can, focus on selling products that improve the home gym experience such as dumbbells and barbells. 
6. Support the Community 
Despite Black Friday being a big-spending opportunity, it's also a good time for you to support your local community. Perhaps a certain part of the community has been particularly hit by the pandemic and could benefit from your help. Or maybe you have a local charity that you donate to throughout the year. Either way, donate a percentage of your Black Friday earnings to support the local community or a cause; like the Alo Yoga example we referenced earlier.
However, you choose to help the community, make sure you position your marketing accordingly. If your target audience knows they will be helping a good cause with the purchase of a product or class, they may be more likely to spend. 
7. Offer Gift Card Deals 
Offering gift card deals is a quick way to generate cash flow while providing members and non-members with an attractive deal. Consider offering a 20% discount on all gift cards. In the run-up to Christmas, many people are looking for gifts for loved ones. 
Gift cards make a great gift for the holidays. You also have the option to create multiple offers on Black Friday. You may want to drip feed offers during the Thanksgiving week. Offers that are live for 24 hours create that sense of urgency that encourages a quick purchase. A good example of this is Amazon who uses the whole month to launch offers that are time-sensitive. 
8. Plan a Black Friday Live Workout Stream 
Just because it's Black Friday doesn't mean your members don't want to work out. Plan a live full-body workout stream for the day and make it special. Usually, Black Friday is a chance to save big with many people shopping in-store for deals. However, Black Friday shopping is likely to be a very virtual experience this year. This means that all those people are probably at home. 
Take advantage of an increased home audience and create a killer workout. You can choose to offer the workout for free for everyone or have a one-off cost for joining, it's down to you. By encouraging people to get moving and stay active over the holidays, it emphasizes the need to stay healthy right now. For more on live streaming tips and best practices, check out this blog post.
9. Add a Free Gift with Each Buy 
Some studios and gyms will have a healthy stock of fitness equipment like water bottles and protein shakers. For those who don't; get creative with what you can offer! 
Think along the lines of creating a 7-day meal plan that you can offer as a free gift to Black Friday buyers. It's a great incentive and adds value to the purchase.
If you have physical items that you normally sell, take an inventory and use a free gift that makes the most financial sense to your business. For example, if you have an excess number of t-shirts already in stock, it makes sense to use this as a freebie. 
10. Show Gratitude to Existing Members 
Black Friday isn't just for attracting new members but making your existing ones feel appreciated. Now it's more crucial than ever to your existing members. Mike Acre shared some excellent insights on this topic when he joined us on The Fitness Founders Podcast:
Take the time to show gratitude to your members by creating a member-only gift or discount. For example, you may want to give your members access to your premium digital content or the opportunity to join a member-only event on Black Friday. Depending on your current circumstances, you may have the option to create a virtual event that nurtures member loyalty and your fitness community. 
11. Use Social Media
Your social media strategy will form a big part of your Black Friday success. It's the ideal place for getting your audience excited for Black Friday. Start by offering a sneak peek of the kind of deals and events they can expect from you. 
Make the most of each platform and use a combination of Instagram Reels, TikTok, Facebook Live, and more. While you create excitement around Black Friday, it also gives you the chance to boost engagement and brand awareness.
In Summary 
A lot has changed this year and although you might not be hosting your normal Black Friday events, you can make the most of one of the biggest spending periods. By adapting to consumer needs and demands, you can leverage your online presence to increase membership and sales. 
Create the right offer and nurture existing relationships to come out on top this Black Friday. 
The Customer
Engagement Playbook
for Your Fitness
Business
Customer engagement is the way in which a brand
connects with its customers on a deeper level than a
simple business and consumer relationship.
Discover more