Text message marketing has been around for a long time. But in recent years, we've seen changes to the way consumers interact with text messages, and it's a relevant way to communicate with members and market your services. After all, most people are never too far away from their phone at any one time. 
With crisis communication essential right now, it's important to stay connected to your members. Whether it's sending a text reminder for your next class stream or a welcome message for a new digital membership sign-up, text can be a useful communication tool that drives results.
So why should you use SMS, and how can you use it to nurture relationships, increase brand awareness, and boost sales?
Why Your Business Needs to Use Text Message Marketing
Right now, around 5 billion people can receive and send texts, and approximately 75% of consumers are happy to receive texts after they have opted in. Now for the big number, text messages have a staggering 98% open rate. The kind of open rate every marketer dreams of. 
SMS marketing or text message marketing uses texts to promote your brand or services. You can use texts to launch a new fitness class, announce a product line, or just send a gentle reminder to members to renew their membership. You can use it in several different ways; it doubles as both a communication and marketing tool. 
Text messages allow you to quickly inform your members of news and make it time-sensitive. When it comes to SMS marketing, there are a few features you will come across, including:
Short codes. Five or six-digit phone numbers used to send SMS messages.  
Keywords. The unique words members can text you to carry out a specific action.
Campaigns. A series of texts you want to send to subscribers, similar to an email campaign. 
Autoresponders. Messages that are sent automatically after receiving a certain keyword or opt-in instruction. 
So, why should your gym or fitness studio use text messages?
SMS marketing is great for increasing brand awareness, boosting member engagement, and ultimately, generating more sales. By using short and simple messages, you can encourage engagement and get in front of more people. 
The podcast from Chatitive has an interesting episode that discusses the difference between first-generation SMS marketing and innovative leaders in text marketing. The hosts talk about how you can achieve more with your text marketing campaign. 
4 Best SMS Marketing Practices 
While text messaging feels like it's been around forever, marketers must refine their marketing strategy in a way that's relevant for today's consumers. Here are four of the best SMS marketing practices.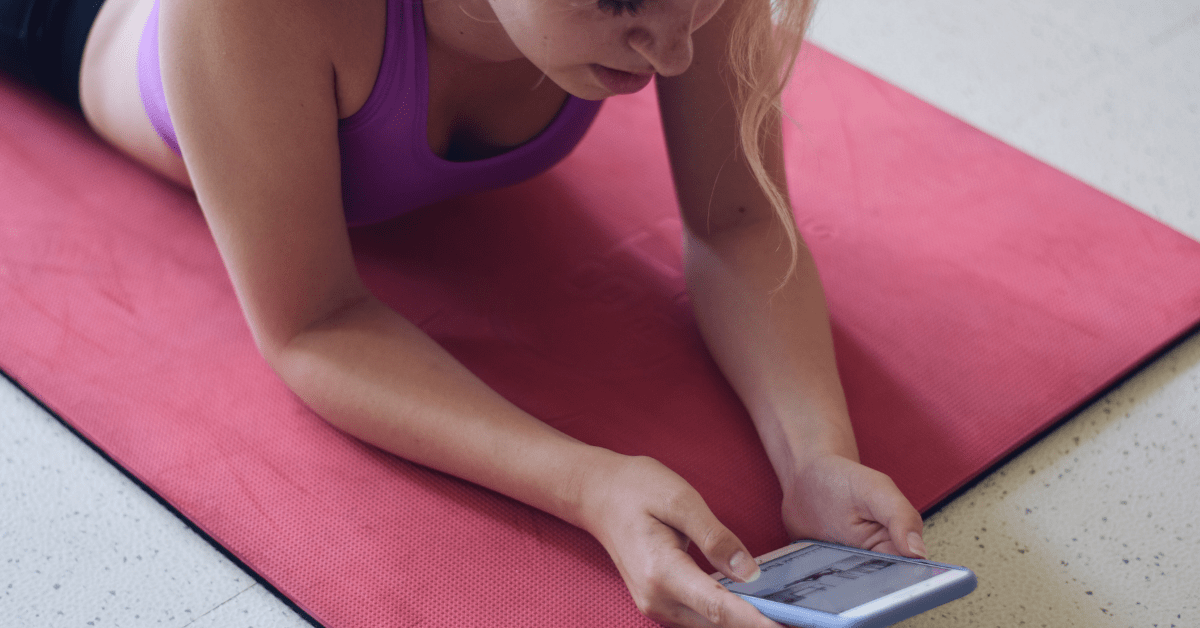 1. Obtain Permission 
When talking about the number of consumers that are 'OK' with SMS messages, you may have noticed that it was after opting-in. Permission is key to using text messages successfully. Just like any other marketing, it's essential to get approval and keep it. Give your members a full disclosure of what they can expect from you and the type of messages that they are opting into. 
2. Keep it Short and to the Point 
You have a handful of characters to play with in your text message and only a few seconds of attention. Keep your call to action short, sweet, and straightforward. Send the right amount of messages, and don't bombard your contact list with multiple campaigns. If you need to send important information but want to keep the message short, it's a good idea to include a link within the text. That way, they can choose to find out more information and are already interested when they visit your website or landing page. 
3. Add Value 
As with anything you do, you need to think about how it will add value to your members. Always ask yourself, does this SMS message add value? If the answer is no, don't send it. Although SMS messages can be a powerful channel, it also has the potential to burn out quickly. If you overuse it, it won't create that same level of urgency. So, always make sure your adding value to your members. Maybe you're offering a free guest pass for a friend or giving them a chance to book brand new classes. Either way, you're adding value. 
4. Personalize Your Text Messages 
Personalization is a big deal in the marketing world. That statement applies across multiple marketing channels. From email to push notifications and social media, people like to feel that you are speaking to them and not just another number. For your campaigns to be successful, they need to be relevant. Considering SMS is a more intimate and closer channel, using your members' first names or personalizing the message is key. 
The Top 10 Barriers
Slowing Your Fitness
Business Growth
Discover more
When sending text messages, think about your timing. The majority of people have cellphone notifications turned on. So, if you're sending a text message at odd hours, you may have some unhappy customers. This is especially something to consider if you have customers in different time zones. For example, a digital streaming and on-demand fitness platform could have members spanning multiple cities and time zones. 
10 Ways to Boost Gym Member Engagement and Sales with Text Message Marketing 
As a gym owner, text messaging gives you another way to market and communicate with your members. By combining best text message practices with creative ideas, you can look to boost member engagement, retention, and sales. Here are 10 ways your fitness business can use text. 
1. Confirm Attendance and Send Class Reminders 
One way you can use text messages is by improving the overall customer experience. You don't have to use texts just to sell or promote your services. Help keep your members accountable by sending confirmations of attendance and class reminders. This applies to both digital and in-person classes. If a stream is about to start, send out a class reminder for those who have signed up. This might be just what your members need to commit to the class and show up for themselves. 
2. Refer a Friend Program 
If you have a referral program, you can get members excited about it through a quick text. If you don't have a referral program, you can read our guide on setting up an effective referral scheme. Drop a text message to members informing them of your referral program and include a referral code. Make it easy to bring a friend by having a link within the text and entering a simple referral code. The reward should be immediate.  
3. Promote Special Offers and Deals 
If you have a Black Friday special offer or maybe a New Year New You class pack, text messages are an excellent tool for promoting special offers and deals. Think about any classes that you struggle to fill or a premium online membership that you want to reach more people. Create a short campaign that adds value, gets to the point quickly, and includes a link to a landing page where potential customers can find all the information they need. 
4. Collect Customer Feedback 
Use a quick SMS survey to find out what your customers are thinking. Feedback forms are perfect for peaking into your members' minds and getting to the base of any potential issues before they arise. Perhaps you want to find out what people think of your new HIIT class, or maybe you want to know what they would love to see on your fitness streaming platform. Make the survey short and easy to fill out and submit. Your customers may be more inclined to give honest feedback if it's anonymous. 
5. Motivational Messages 
When you combine your communication strategy with the data you have available, you can put your efforts in the right place. This can even help to prevent members from leaving you if you step in at the optimum time. For example, if you notice a member who usually visits you weekly has missed their last three classes, it might be time to check-in. Send a motivational message to see how they're doing and motivate them to show up to their next class. This is especially important for members when they can't visit you in-person. 
6. Membership Renewal Reminder 
Sometimes members simply forget to renew their memberships. When life is so busy, it's easy to overlook small dates. It's your job to keep their reminder date and your brand fresh in their mind. Send a membership renewal reminder message a week or so before their membership is up. Make the process of renewal simple and straightforward. You want to send the reminder in enough time so that they can ask any questions or contact you before their membership expires. 
7. COVID-19 Crisis Communication 
One of the main benefits of text messages is that they are instant. With the pandemic still gripping the world, sometimes you need to communicate quickly with your members. Perhaps you had a positive COVID case at your fitness club and need to close for a 48-hour deep clean, or maybe your city is going into lockdown, so all classes will be online for one month. As things change quickly, you must be able to adapt and communicate your crisis plan efficiently. Sending out bulk messages is especially useful during the pandemic as you can update members quickly with the same message. 
8. Gym and Fitness Centers Re-Opening Strategy 
With some parts of the world going into another lockdown, it's never too early to start planning your re-opening strategy. As gyms and studios need to reduce capacity and increase cleaning and hygiene protocols, text message communication can form part of your re-opening strategy. When your members expect to hear from you through text, they are more likely to open your messages to stay up-to-date with how you're handling the situation. 
9. Join a Virtual Fitness Challenge Text 
Like a lot of industries, the fitness world has pivoted to a mostly digital way of working. Virtual fitness challenges are a great way to add value to your members while keeping them motivated to work out and stay fit. Text members encouraging them to join virtual fitness challenges and benefit from the fitness community. With location no issue, members can work out from home or the park and set a realistic and achievable goal. From a 30-day yoga challenge to a couch to 5K, create a challenge that your members will appreciate.  
10. Welcome New In-Person and Digital Members 
Finally, show new customers you care with a welcome message. If they have just signed up for your in-person membership or are new to your digital fitness platform, a quick welcome message can make them feel like they are joining your community. Perhaps you can give them a class recommendation or mention that you can't wait to see them on your next live stream. The customer experience should feel exceptional from start to finish. Text messages are a way to add another level of engagement and communication. 
In Summary 
Attracting members is one thing but getting them to stick around is another. Gyms can use text messages as a way to stay in touch with members and keep them engaged. There are various ways to use SMS, from special promotions and collecting customer feedback to welcoming new members. Continue to add value to members by using text messages the right way. 
The Top 10 Barriers
Slowing Your Fitness
Business Growth
In this e-book, we will list the most common barriers that
slow fitness business growth and list some of the tips to
help overcome them.
Discover more