---
We've just added a new feature to the ABC Glofox platform that will have enormous benefits for your business and your customer experience: Spot Booking.
At ABC Glofox, we have a customer-focused approach to our product.
What does this mean?
It means that every feature and update we provide is influenced by your feedback and needs.
This is exactly how our Spot Booking Feature was born. We spoke with our customers and realized that their members needed a way of reserving their favorite spot in their spin, boxing, yoga, pilates, and other classes.
With that, we developed a customer-facing feature that allows them to choose the spot that suits them best. Whether it's front and center with you or at the back where they can go at their own pace, now they can reserve their spot and relax before your class.
What Does This Version Include?
The current version of the Spot Booking Feature allows you to:
Easily switch spot booking on/off for any class.
Upload an image of the room layout and display to members when booking
Rename spot names to suit your studio (e.g. Bike / Bag / Mat) – this feature is currently only available on Platinum
Members can pick a desired spot after booking a class and view it in-app
Auto-assign spots when members don't pick one, so no one is left without
Members can view their assigned spot in the app and in the confirmation email
How Do I Implement Spot Booking For My Business?
If you're already an ABC Glofox customer, you can enable spot booking for your business by following the instructions in our Customer Knowledge Base.
If you're yet to sign up for ABC Glofox's service, you can do so by clicking below:
How Will My Members Use This Feature?
Members will be able to use the feature once it's enabled through the ABC Glofox dashboard.
After booking a class via the member app, your members will have the option to select an available spot or skip a spot selection. If a member skips spot selection, a spot will automatically be assigned to them prior to the start of the class.
If they'd like to choose a spot themselves, they can click to view the room map to see the location of the spots in the class.
Once they've picked their favorite spot, it will be displayed on the class details screen after booking.
Finally, the member will receive a confirmation email with their spot number when they select a spot or when it's automatically assigned to them.
Here's how it looks on the mobile app: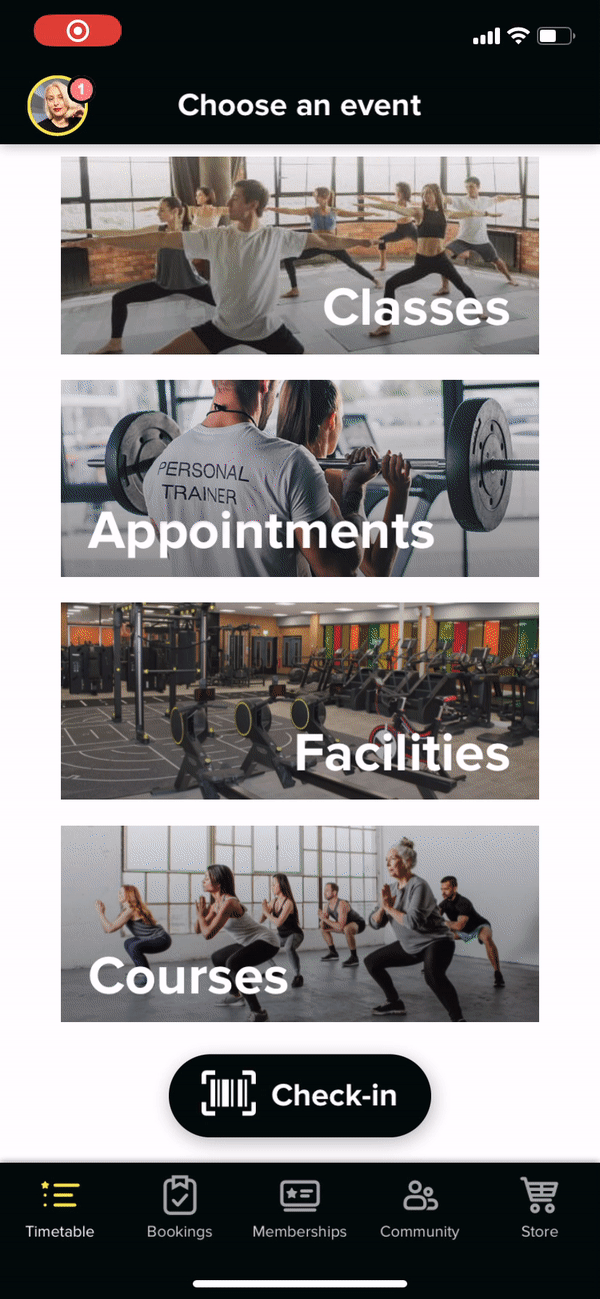 How Does This New Feature Help My Business?
Enhanced Workout Experience: Spot booking adds a new layer of personalization to your fitness classes. Members can reserve specific spots, regardless of whether it's a bike in your spin class, a boxing bag for kickboxing, or a mat location in Pilates or Yoga. This enhanced offering ensures that members have their preferred spot, leading to higher satisfaction and retention.
Competitive Differentiation: Now you can stay ahead of the competition by providing a level of personalization and convenience that sets your studio apart. Not all fitness businesses offer spot booking, and this feature can be a game-changer in attracting and retaining members.
Time Saved: Say goodbye to the hassle of organizing spots manually before each class. Instructors can save precious time, and members can enter the studio with the assurance that their preferred spot is already secured.
Who is This Feature For?
The spot booking feature holds a whole lot of benefits for all types of fitness businesses, but it mainly has use cases for the following groups:
· Indoor Cycling & Spin Classes
· Boxing or Kickboxing Classes
· Yoga Classes
·       Pilates Classes
Have More Questions for Us?
Our Customer Knowledge Base is the best place to find answers to your questions and queries, but we know that sometimes there are more pressing things that need answers.
For that, don't hesitate to reach out to our Support Team which can help solve any issues that you may have.
Not Yet a Glofox Customer?
You can learn all about our platform and how it can help your business by speaking to a member of our team.
6 Keys to Building a Loyal Fitness Community
Community is the core of any successful fitness business, but it's not easy to cultivate. Here, we show you exactly how to build a fitness community that will bring your fitness business to new heights.
Discover more