It's no secret for gym and business owners a killer social marketing strategy to do wonders for your business. It's a great way to increase exposure, drive sales, engage with your target audience, and position yourself as an authority in the fitness industry. 
Social media is a valuable tool that can have a powerful impact on your business. By sharing content that resonates with your audience and creating meaningful connections, you can make the most out of social media channels to grow your business. In this article, we discuss the steps you need to take to craft a winning strategy and 10 fresh ideas to get you going in 2021. Skip ahead to:
Social Media Marketing Strategy: Determine Your Goals and Make a Plan 
A solid social media strategy underpins your business goals and supports a growing brand. Unsurprisingly, during the COVID-19 crisis, there's been a huge increase in online and digital activities. A report from Datareportal shows that 43% of people aged 16-64 are spending longer on social media.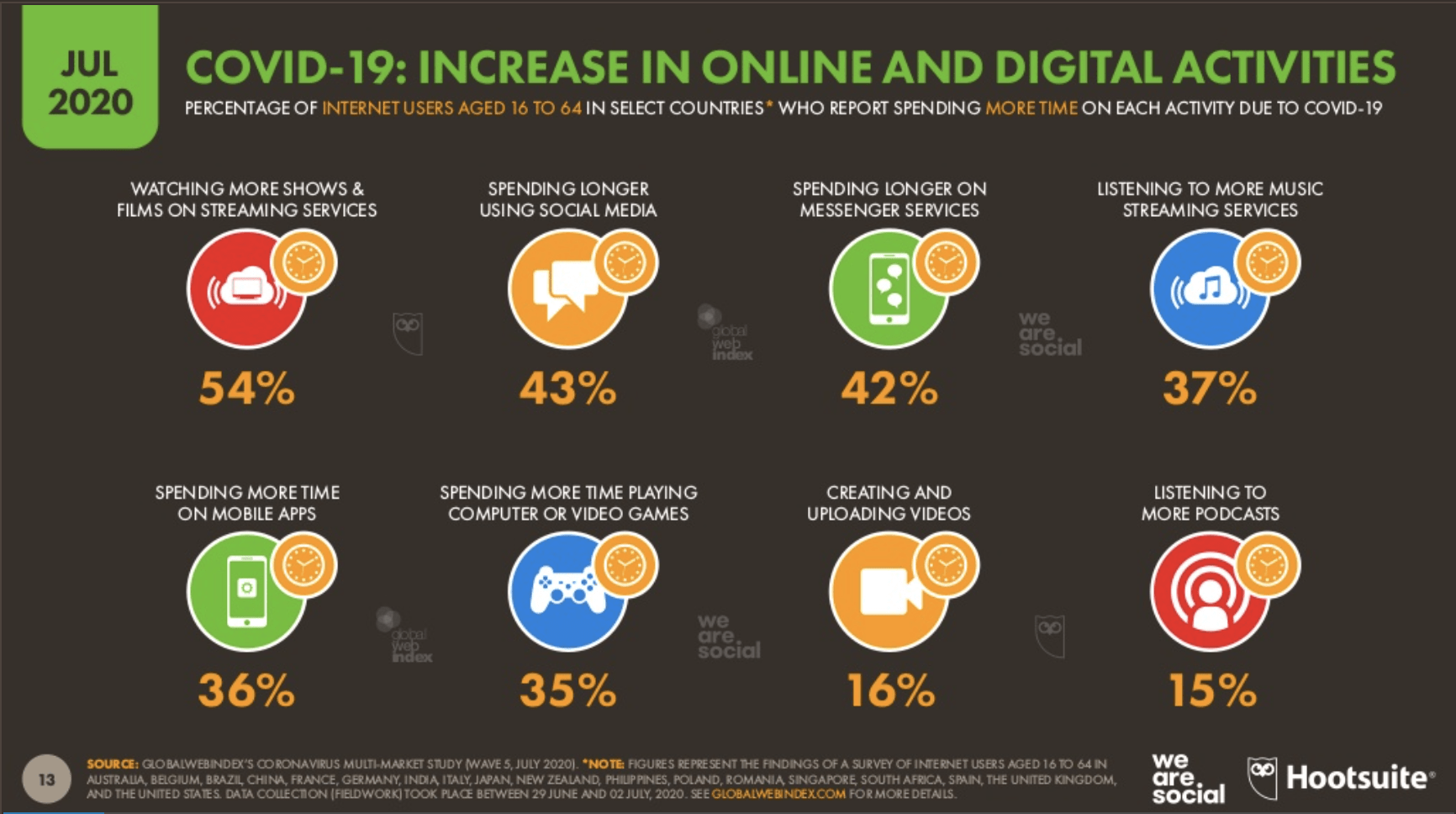 With more than half of the world using social media, it's a huge marketing opportunity. To leverage the power of social media to engage and attract new clients, it's a good idea to start by making a plan. Determine your goals and form a social media strategy. At this point, you can decide which social media platforms are best for you and your business. A safe bet is to start with Instagram and Facebook. Keep in mind the different types of content each platform prefers. For example, Facebook is great for sharing videos and longer posts, while Instagram is perfect for high-quality images, quick videos, and inspirational content to get your members moving. 
Your social media marketing plan will help you decide how often you plan on posting, how you will engage with your audience, and the type of content you will use. Nowadays, you can craft, schedule, and post content on several social media tools and management platforms. You want to make your job as quick and as effective as possible without having to spend hours of your time posting every day. Some of the best solutions for social media marketing include:
Your social media platforms should align with your brand voice. The messaging should remain consistent across all channels. The best marketers on social media engage, follow, comment, and reply to their followers. Think about ways that you can add value to your audience. Consider going live on Instagram or Facebook for a quick stream on the best ways to move more at home or how to drink more when you don't like water. 
5 Benefits of a Winning Social Media Strategy 
Think about what a typical day looks like for you. You wake up, scroll through your emails, check your socials, and then get in with the day. Smartphones are such a massive part of modern society, and the majority of people are never too far from a social media notification. Here are five benefits of a winning social media strategy. 
1. Establish Authority 
With consistent visual branding, messaging, and brand tone, your social media strategy can help establish and build brand authority. When you provide valuable content in your social posts or live streams, you prove your fitness industry expertise. This shows why a new customer should choose you to solve a problem or hit a new fitness goal. 
2. Engage With Your Audience 
To build a positive brand experience with exceptional customer service and satisfaction, you need to engage with your members. Your social media channels are an excellent place to create a good level of engagement while developing meaningful relationships with your members. Often, the first place someone will look for information is on your socials or through a direct message. When you engage with your audience, it leaves individuals feeling positive about the experience. 
3. Drive Traffic 
Every social media profile you have is a gateway to your website. If you don't utilize social media as part of your larger digital marketing strategy, you're missing out on an opportunity to drive more traffic.  
4. Build Awareness and Brand Loyalty 
Social media is one of the most cost-efficient ways to build brand awareness. Although it takes time and consistency, you can increase your brand's visibility. By sharing content and encouraging user-generated content, you can engage with a broader audience and drive value. 
5. Showcase Brand Personality 
When you create social profiles and share content, you are humanizing your business. With each post, you can engage with more people and really showcase your brand personality. Being more human and authentic are both essential to social media success. 
10 Fresh Fitness Social Media Marketing Ideas for 2021 
With 2021 fast approaching, it's time to look forward to next year and think about how you can revamp your social media marketing plan. Your social strategy is a significant part of your wider fitness marketing plan. Here are 10 fresh ideas for fitness social media marketing in 2021.   
The Top 10 Barriers
Slowing Your Fitness
Business Growth
Discover more
1. Share Success Stories and Winners  
Share member success stories and show real-life winners. This could be members who wanted to lose weight and get healthier or who have changed their whole lives. There's nothing more powerful than proof that your training methods work. When potential members can relate with a person, it's easier to think about how you could help them, rather than seeing someone who looks perfect. 
2. Run Competitions and Virtual Fitness Challenges 
Social media channels like Facebook or Instagram are a great place to run competitions and virtual fitness challenges. With changing restrictions and social distancing guidelines, virtual fitness is a must. Your social media challenge should encourage photo sharing with a competition hashtag. Challenges and competition give you the opportunity to produce a ton of user-generated content that you can re-share over time.  
3. Provide Valuable Content and Encourage Sharing 
Adding value is key. This is relevant in all areas of your business. When you provide valuable content and share helpful information, you're supporting your audience with a current problem. When you are the solution to a problem, potential customers will want to engage with your content. It's a good idea to encourage post sharing as well, as this is an organic way to expand your reach beyond your initial followers. 
4. Take Advantage of Instagram Reels and TikTok 
Video-sharing platforms like TikTok and Instagram's new Reels take video marketing to a new level. Considering videos consume a massive chunk of internet traffic, it's important to add video to your marketing mix. Depending on your business and the type of content you produce, you may prefer to stick to one platform over another. 
5. Show Special Access Content  
Make your audience feel special by using your social channels to share unique access content. This could be a behind the scenes glimpse of one of your latest class streams or a new product you have in the pipeline. Facebook and Instagram Live or Stories are perfect for this type of content as you can share a little bit of information to get your audience hooked and excited for further announcements. 
6. Take Advantage of Instagram Shopping 
Social media platforms update and change regularly. With the in-app shopping experience on Instagram, users no longer have to leave the platform to make a purchase. If you sell retail or have an eCommerce section on your website, take advantage of Instagram Shopping – especially if your target audience favors Instagram over other social channels.  
7. Personality is Key to Growth 
Your brand personality is one of the main drivers behind a person's decision to follow you or not. Even with interesting and educational content, you need personality to hold your followers' attention. If you like to be fun and inclusive in your gym or fitness center, this personality should come across in the content you post and your streams. You can establish personality on social media by asking questions, sharing memes, being funny, and showcasing your expertise. 
8. Social Media Marketing With Memes 
Meme marketing is a powerful social media marketing strategy. No matter what platform you use on social media, you can't escape the memes. Memes are usually in the form of images and use a joke or catchphrase. They are simple pieces of content that have a big impact if done well. When you can make people laugh and make light of a situation, it builds a positive connection. Memes have a big potential to go viral, which increases brand exposure. 
9. Coronavirus Content Remains Strong 
One of the top social media trends for 2021 is that people want to hear about the four big C's: coronavirus, contactless, compassion, and cleanliness. The coronavirus has had a big impact on almost every person's life, and it doesn't seem to be going anywhere fast. It's still a massive topic of conversation. Consumers want to know how fitness brands are dealing with it by discussing the four big C's. They want to know how your brand is going to help them with their day to day lives. Consider running COVID-19 marketing campaigns on social media accounts explaining regular cleaning and updates to your protocols. 
10. Socially-Conscious Content 
Consumers are increasingly aware of issues in the world. They are actively seeking out how brands are responding. When you share social-conscious content, it helps to enhance brand awareness while creating a real connection between users. Social media is a good platform to share this type of content and to show where you stand. Gradually, there won't be an option to stay silent on important topics and social issues. Consumers are looking to brands to see where they stand to check if their morals align. There is now a lot more that goes into a purchase decision. 
In Summary 
Your social media strategy is an essential part of your wider fitness marketing plan. Determine your goals and make a plan by creating a content calendar and scheduling posts ahead of time. When you engage with your audience and share valuable content, you can build brand authority and awareness. As new marketing tools and features rise, you can create even more targeted content. 
The fitness industry is an already saturated market. Your competition will constantly be looking for ways to improve their marketing and increase their social media presence. Fitness businesses are now searching for new, fresh ideas to start the new year right. 
The Top 10 Barriers
Slowing Your Fitness
Business Growth
In this e-book, we will list the most common barriers that
slow fitness business growth and list some of the tips to
help overcome them.
Discover more