At ABC Glofox, we are more committed than ever to providing you with the most powerful gym and fitness studio management solution available. Over the last few months, our team has been focused on making your life easier by:
Removing friction from scheduling

 

Saving you time with appointment management

 

Enhancing your ability to grow your membership 

 

Improving member engagement

 

Giving you greater overall visibility into your revenue stream

Boosting the performance of SMS marketing

 

Partnering with Trainerize to boost our platform's performance

 
Here, we'll provide you with a recap of some recent product updates and feature enhancements that are available for you on ABC Glofox.  
Full List of Product Enhancements & New Features: 
New Version of Appointments

Amplify Enhancements

SMS & Email Reminders

Spot Booking Release

Reporting Enhancements

Shopping Cart Improvements

SMS Improvements

Trainerize Integration
1. New Version of Appointments
Trainer Availability for Appointments  
We recently launched Trainer Availability for client-facing appointment bookings. Admins, trainers, and receptionists can now set trainer hours for Variable Appointments on the Dashboard Calendar under the 'Appointment Availability' button.   
This is a huge bonus for you as it can allow staff to manage their own schedules, letting you take a more backseat approach. This feature is also designed to make sure that you're never double booked, saving you from frustrating clashes or poor experiences with your clients and trainers. 
How does this help you?  
Makes scheduling easy and frictionless. This feature lets clients self-schedule and manage their appointment bookings 24/7 in the Member App 
Enables staff to manage their own schedules. Share the scheduling burden with all staff – Trainers can now manage their availability
Fully optimised scheduling. Simply set the schedule and let ABC Glofox manage your bookings and conflicts, ensuring you're never double booked
But wait, there's more: 
We're also adding recurring trainer availability: This is now in rollout and should be available on your Dashboard already or over the coming days!
Appointment Bookings on the Web Portal: This is also now in rollout, and if you would like early access, please email [email protected]
Recurring Appointments
The entire purpose of ABC Glofox as a service is to save you time as a business owner and allow you to focus on the bigger picture. Earlier in the year, to help with this, we introduced Recurring Appointments. This feature can save hours of admin time and ensure your clients secure their preferred weekly slot. Over the last quarter, our team made two updates to this feature:  
Book up to 6 months in advance: You can now set up a recurring appointment booking on behalf of your client for up to 6 months, an increase from the previous 3-month limit.
Bulk delete: You can now make amendments to existing appointments more efficiently with the bulk delete option for recurring appointments.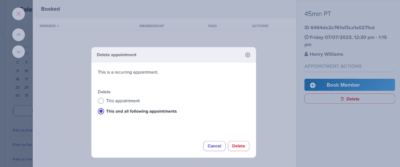 Not on the new version of Appointments yet? You can fill out this quick form to have your account migrated.  
2. Amplify Enhancements
Amplify, our customer engagement add-on, has just gone through some major improvements. Now, you can: 
Add new messages to all Amplify workflows
Automatically log member interactions from Amplify workflows 
Adding new messages to your Amplify Workflows
Now, you can fully customize your sequence of messages when converting:
New leads
Onboarding new clients 
Retaining expiring members
Re-engaging lost members
This allows you to create a unique member experience, creating key email, SMS and push notifications to keep them engaged with your business. It also makes it much easier to re-engage lost or expiring members, significantly increasing your chances of keeping them as paying customers. 
Automatically log member interactions from Amplify workflows
Now, you can gain full visibility into how you're engaging with your leads and members as Amplify-sent messages are automatically logged in their profile as interactions. This way, you can see how engaged your customers are in your communications.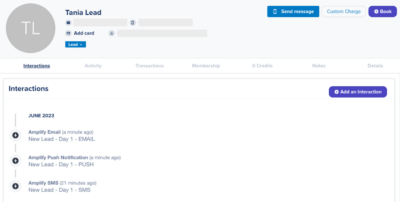 Still not using Amplify? Try it out today. 
3. SMS & Email Appointment Reminders
Clear and consistent communication is one of the most important factors in retaining and engaging with your members. With SMS & Email Appointment Reminders, you can now automatically alert members of their upcoming appointments. 
This can significantly reduce appointment no-shows or drops in bookings. Not sure how to implement this into your business? You can learn more here. 
3. Spot Booking
Do you have a window spot in your studio that customers are particularly fond of? Or maybe some more shy members that prefer to sit at the back rather than front and centre? Your clients book sessions with you because they appreciate the tailored and personal touches of your business. Now, with Spot Booking, you can elevate your members' experience by enabling them to pick the exact spot in your studio that suits them best.
How Does Spot Booking Help You?

 
Empower clients with the ability to select and view spots within the Member App Easy to get started through quick activation of Spot Booking in Class Settings
Creates a more personalized experience with customizable spot labels (e.g., Bike / Bag) and a visual room map
Improve class management by displaying reserved spots in the Class Details screen 
Want Early Access?
Familiarize yourself with Spot Booking by checking out our detailed Knowledge Base article. Then, you can see the difference this feature can make by joining our early access program.
4. Reporting Enhancements
Improved

Visits Report
Want more insights into how often your clients visit you? 
You can now see how often your clients are visiting your location for a customizable period. 'Visits' combines client data from class/appointment attendance and access scanning (if enabled) to give you a clear picture of your client visit activity.    
You can use this information to reward frequent visitors or to help understand and improve the performance of clients who have a poor visit rate. For a period of your choosing, you can view:
Total visit count or totals for those who visited vs. those who did not visit
Average and median visit counts
Average days visited by clients by membership
Total visits and unique days visited by clients
All client visit details 
Paired with Amplify, this data can help you spot trends in your client journeys and highlight when clients are beginning to reduce their visits, allowing you to reach out to them and re-engage.
Discount Insights
To support customers in gaining better understanding of their discounts and promotions performance, we added a new insights tab allowing you to review insights and direct future offers to members.
Some of the key metrics visible in Discount Insights include: 
Usage data – how many times have discounts been applied, and where were they applied
Total discounted amount – the monetary value of the discounts given
Revenue from discounted charges – the total revenue earned from charges that included this discount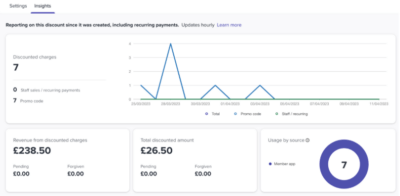 With this data, you will be able to see how your discounts are being used and easily gauge how effective your promotions are. Each Discount will have its own Insights tab, giving you even more in-depth information into how your customers are engaging with your discounts. 
Important Note: Insights are not visible for deleted discounts.
Want to learn more about how you can use discounts to boost your business? You can find it all here. 
Payout Report Improvements

 
To help present this new detail as clearly as possible, we have made some small changes to the report layout. We now present three distinct cards atop the Payouts report. 
Completed

 

–

These are the payouts that have arrived in your bank account  

 

In transit

 

–

These are payouts that are currently on the way to your bank account 

 

Estimated in future

–

These are the payouts that are currently being compiled by payment providers. These will in time move into 'In transit' and then 'Completed' 

 
Based on feedback, we have also added tables for each payout category broken down by payout date. All payout groupings can be analyzed at a payout, transaction and item level. 
Money Owed Reporting Improvements 
We know how important having a clear understanding of your payments can be. This is why we have released new enhancements to our Money Owed Report. These improvements primarily focus on performance and usability.  Specific improvements include:
Improved loading times 
Improved download times 
Key data points and insights added 
Ability to customise table columns 
Ability to filter tables by membership status 
Click through to client drawer now includes an avatar
Overall, this gives you a much clearer insight of your members' payment history. Not only does this allow you to keep on top of your finances, but it can also help you in knowing when it's the right time to send a reminder or push notification to less engaged clients.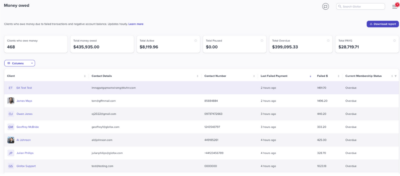 Want to find out how you can use this feature to receive more regular and on-time payments? You can visit our knowledge base here.   
Add-on Reporting
You can now easily find out which of your members have an active Add-on, what type of Add-on they have, and how much they've spent so far. This information can be found via the new ''Members by Add-on'' table in your Members Report. The same information is also available at a member level if you drill down into any of the key member metrics at the top of this report. 

To help with the visibility of recent Add-on sign-ups, we have also added a specific Add-on table at the bottom of our ''New Memberships'' report. 
Here, you can select a time and date period of your choosing to see the number of Add-ons purchased. This is also broken down by type and with member-level details available via further drill-down, giving you an even deeper insight into client behaviour.

6. Shopping Cart Usage
We've added a small quality-of-life improvement to the shopping cart in Dashboard, changing the behaviour of the default payment method. 
Previously, the default payment method selected was Cash, but we found that for the majority of customers, it made more sense to have the default set to use a client's stored card or direct debit details. The new logic we've implemented is as follows: 
If the client has a saved card, -– this card is selected by default 
If the client doesn''t have a saved card but has a saved direct debit, this is selected by default
Otherwise, the system defaults to cash 
This improvement helps save users time and avoid mistakes when selecting payment methods. 
Waitlist Improvements  
We understand that having a smooth and responsive waitlist is important to both you and your members. Members are looking to pursue their fitness journey and you, of course, want to maximize class capacity and deliver a great experience. To help you get the most out of your waitlist, we've made some improvements.
Improvement #1 – 30-minute waitlist window 
Previously, a client would be automatically moved from the waitlist any time before the class started. In a perfect world, we would all be able to make it to our classes with just 30 minutes'' notice. However, we know that many customers won't have enough time in their day to make it to your session in half an hour.
Now, we have introduced a waitlist window that prevents a client from being moved automatically within 30 minutes of the class start time.
Know that a particular client lives next door and can make the class? Don't worry, staff members can still move clients manually any time before the class or even after the class starts. 
Improvement #2 – Spot available email notification 
In the past, if you opted to notify customers when a spot became available in a class, only push notifications would trigger for clients with a Member App account. For those without the member app, they would receive an email notification.  
We've updated this rule to ensure that all clients now receive the email notification about the available spot. This way, all your customers now have the same clear communication channels.
7. SMS Improvement
With an average open rate of 98%, SMS is one of the most powerful ways for engaging with your members. 
Not only is it great for class or session announcements, but it can also be an excellent method of promoting discounts or other campaigns you may be running. To help boost your experience with SMS and ABC Glofox, we've added a few new features.
SMS is available in new regions 
We're now able to support SMS in 4 new countries – Australia, Saudi Arabia, Singapore, and the United Arab Emirates. 
However, that's just the start. Over the coming weeks, we'll be further expanding this list to be able to support 45+ new countries with the ability to send SMS. If you're in a region where we still don't support SMS, let us know if you'd be interested in using it, as we may be able to support your needs going forward.
Send automated SMSs to remind members of their upcoming class and appointment bookings 
Now you can add an extra guarantee that members show up with automated texts for both Class Booking Reminders and Appointment Booking Reminders. 
This is a great safeguard against clients forgetting a session or class – we've all missed calendar reminders before, but a text message is much harder to miss.
Send automated SMSs to celebrate members' birthdays 
With boutique businesses, it's the little things that count. 
Besides email, you can now celebrate members' birthdays with an automated text. This is a great opportunity to engage and reward them (maybe with a promo code).
7. Trainerize Integration
This quarter we joined forces with ABC Trainerize to bring a market-leading integration to our customers that will enhance their member's experience in and out of the studio. 
With this integration, you will be able to offer a complete 360° coaching experience, including fitness, habit, and nutrition coaching, and meet clients wherever they are – be it in-studio, at home, or on the go – while still maintaining the management and operation of your studio or gym.
This integration offers you: 
All new digital offerings and memberships to grow your business and retain your members, including: 

Trackable workouts and programs 
Access to an on-demand library of workouts 
Live coaching sessions 
Client progress check-in via in-app messaging 
Flexibility to workout anywhere, anytime 

The very best personalised PT experience for your members  

Members can access online PT sessions and packages 
Connect with their coach and community 
Stay accountable to their personalized fitness journey to meet their goals. 

For customers right now, the Trainerize integration will allow: 

Glofox client data to be synced in real-time to Trainerize, eliminating the need to maintain data in both systems and giving you time back to focus on other areas of your business
Continued integrated development to ensure that both platforms provide you with the most optimized and seamless experience available. 
Important Note: The integration is currently available to ABC Glofox customers on only Gold or Platinum packages. 
Coming Soon
We hope you take advantage of all the new features we've made available in the last few months.
Still need more features to help your business grow? Don't worry, in the near future, we will be working to make new capabilities available that will help you better manage your business. Below are just a few highlights: 
Payroll – Trainer Pay Rates 
We are working on our first Payroll solution! We know Payroll isn't everyone's favourite task, so let us help alleviate that burden. By tracking trainer pay rates, we can help calculate the correct amounts to pay your trainers for classes and appointments.  
Sound like a game-changer? You can gain early access to this feature here. 
Bulk Price Rise
Considering increasing the price of your existing subscriptions? We can now work with your studio/gym to increase the price of your Unlimited subscriptions without needing to cancel and re-add the memberships. If you are interested in increasing the price for a few clients or all clients, please contact your Customer Success Manager.
We're thrilled with the capabilities we've added over the last few months and we hope you take advantage of them. Of course, please send us feedback and let us know how we can continue to improve ABC Glofox so that you can grow your business, delight your members, and make your community healthier!