We have kicked off 2023 as we mean to go on – with strong, results driven product updates to improve your business operations and enhance your member experience. Below is a roundup of our product updates and feature enhancements from Quarter one which are all available on your dashboard.
At Glofox, we are constantly improving and updating our product features. We have also included details about some of the upcoming exciting features coming soon, some of which you can help us shape by requesting early access.
New Dashboard Navigation
We're excited to release Glofox's new navigation layout to boost your team's productivity and enhance the organization of your tasks. With no structural or operational changes, your system will work and perform in the exact same way with an easier navigation layout located to the left of your dashboard.
In these first few weeks you will still be able to move back and forth between your new and old navigation layout in a simple process, shown here: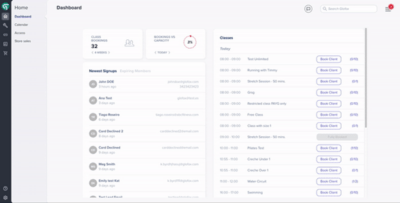 This is the start of our transition towards our new and improved brand as part of the wider ABC group, for more information on this, check out our recent post.
Amplify – add new emails, SMS, and push notifications to workflows!
Amplify, our end-to-end customer engagement add-on, has been continuously evolving and we're excited about our latest feature enabling you to more deeply customize how you engage with your leads and clients!   
All Amplify workflows have pre-defined templates that follow the industry's best practices, but we know that you may want to tailor them further to your audience. Up until now you could enable/disable individual messages and now you can take it a step further.
You can now add new emails, SMS, and push notifications to all Amplify workflows, giving you full customization of your sequence of messages when:
Converting new leads 

 

Onboarding new clients  

 

Retaining expiring members  

 

Reengaging lost members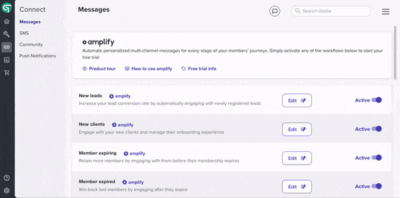 Still not using Amplify?
Start automatically engaging with your clients and leads today, and see the difference it can make in one month. Try it for free for 30 days – there are no obligations to sign up after the trial, you can cancel at any time.
Recurring Appointments
We're excited to announce that Recurring Appointment Bookings is now available for any customer on the new version of Appointments.
Multiple appointments can now be created simultaneously in one booking from your Dashboard  – saving hours of admin time and ensuring your clients secure their preferred weekly slot.  All membership types are supported, simply set up the recurring appointment as unpaid bookings and charge for the session later. Find out more here.  
Still not using the new version of Appointments which offers the flexibility to set up any appointment type at any duration i.e. PT 30mins, PT 60mins, Massage 60mins, Massage 90mins? Learn more here about how you can get access.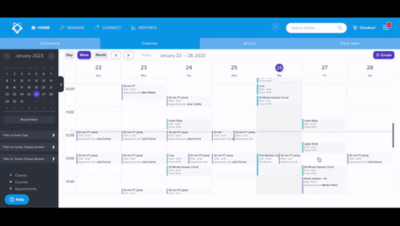 Promo codes – Web Integration, Credit Packs & Usage Limits
We are delighted to announce some of our latest updates to promo codes that we've rolled out to customers. These updates add the following functionality:  
Set limits on the number of times a client can use a promo code

Allow promo codes to be used for Credit Pack purchases

Allow promo codes to be used on the Web Integration 

 
Limit client usage of promo codes  
You can now set a limit of how many times each client can use the promo code, helping you to better control the offers you share with your clients.  On the discount definition screen within the dashboard, simply check the checkbox to enable the limit, and edit the number of uses view the text field as shown in the screenshot below:
Allow promo codes for Credit Pack purchases
Promo codes are now usable for credit pack purchases in addition to membership purchases. Clients using the Member App (and Web Integration if enabled – see below), will be presented with the promo code field where they can enter and apply a promo code.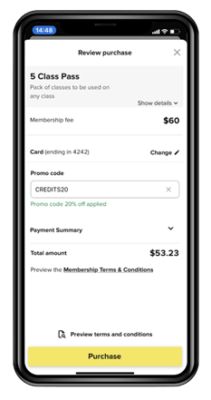 Allow promo codes to be used on the web integration
With this feature enabled your clients will be able to use promo codes on Memberships and Credit Pack purchases on the web integration.
To find out more about discounts and promo codes please visit our knowledge base article here.
Access Insights 
This new report provides very powerful information relating to several aspects of your location access activity. You can see how many members accessed, how many did not access, the total number of accesses and the average accesses per member. You can see how busy your location is by hour of the day, day of the week and by week/month of the year. The report also details all member accesses, grouped by days accessed so you can see who is attending regularly and who is not attending at all. Find out more here.
Quick Book next class in the Member App
We have released a new feature in the Member app, introducing a new quick booking flow that allows members to easily save their spot in future classes. When members book a class using Quick booking, they now see a call to action on the success screen to book next week's event at the same time. With this enhancement, we aim to reduce the time needed to book recurring classes and increase the number of bookings in a session.
Add-on Reporting Improvements
You can now easily find out which of your members have an active Add-on, what type of Add-on they have, along with the price paid. This information can be found via the new 'Members by Add-on' table on your Members Report.
Also, to help with visibility of recent Add-on sign ups we have added a specific Add-on table at the bottom of our 'New Memberships' report. You can see the number of Add-ons purchased, broken down by type and with member level details available via further drilldown so you can see who has purchased and at what price.
Add Card UX Improvement
As part of continued improvement to the user experience within Glofox we released an update to our Add Card flows across the product suite that we believe will make a really noticeable positive impact on many users by adding additional in-line validation to this form.
These enhancements immediately highlight common errors in the data entered to this form, making the process to add a card much simpler, efficient and streamlined.
Early Access 
To gain early access to any of the below features, please email [email protected] with the feature you're interested in.  
Trainer Availability – Member Facing Appointments  
The final piece of the puzzle is almost here! We'll soon be releasing the ability to add trainer availability on the Dashboard which is necessary when offering client side appointment bookings. If you're using the new version of appointments and would like to open up appointments to your clients to book, this release is for you!  
To gain early access and to provide feedback on the new navigation layout, please email [email protected] 
IHRSA Update
This year's IHRSA event in San Diego was one to remember as we unveiled a new brand identity as part of the ABC Fitness group. Outlining a new "branded house" approach, the bold new look comes with an even bolder mission to enable our customers to bring their vision of fitness to their members by removing obstacles that come from running a fitness business in ways that best suit them. For more on this launch see here.
You will start to see more of these new branded elements in our communications, across the platform and online in the next few months.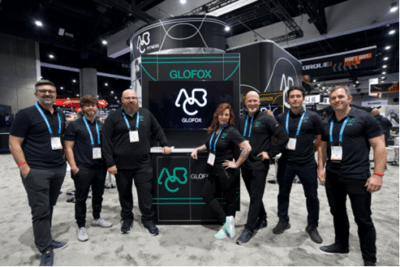 Trainerize integration
As part of the ABC Fitness group we will be collaborating and partnering with ABC brands to bring the best operating system and features to our customers by harnessing the insights and expertise of all platforms.  
Our integration with Trainerize, the number one digital PT solution for trainers, will bring an enhanced 1-2-1 training experience to your members plus engaging digital solutions such as: digital library of workouts for members to use when on the go, virtual coaching sessions and digital memberships.  
Learn more about this exciting new feature here.