January seemed to last forever and February flew by in an instant! Well, we're taking charge of March and keeping our productivity up. A big focus for us, this year, has been to remove the barriers that stop you from getting people booked into a class and then onto a membership plan. And March is no exception!
We've made some major advancements around Lead Management and Lead Conversions. Both of these are integral cogs in the machine that is your business. Spending some time focusing on these areas will have a huge impact on your membership numbers and in turn your overall revenue.
We know that successfully growing your studio is your number one focus and we aim to provide you with the necessary tools to make that happen.
Glofox Sales Tools
Last month we announced the Glofox Marketing Tools. Well, in addition to that, we are adding the Glofox Sales Tools. They both work in conjunction with one another and the joint focus is on converting leads into members.
When it comes to new leads it's all about timing. You need to follow up with them at the right time, with the right message. And the more information you have, the better that conversation will be.
The Glofox Sales Tools allows you to filter your leads and message specific groups. For example, someone whose trial is going to expire in 3 days and has booked over 3 times during their trial has clearly been enjoying your classes, so reach out and get them signed up to a membership before they start looking at other studios.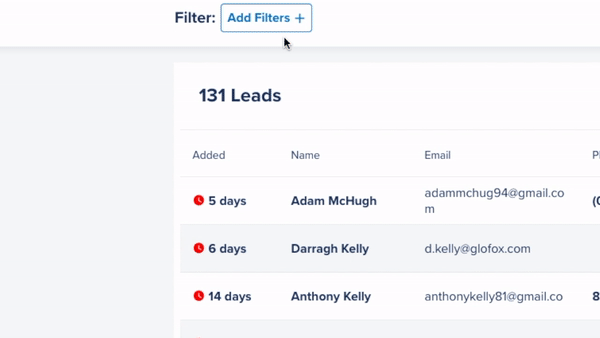 When a new lead comes through your sales pipeline it's vital that you are actively managing them at every stage. The Glofox Sales Tool makes this very easy for you.
You can see who is new and take the necessary steps to reach out to them.

You can also see who has talked to you (or your trainers) before and what has been discussed. From there you can decide the next course of action.

And, you can see who hasn't had any engagement in a while and reach out.
You and your team will have a more holistic and complete picture of each lead, so you can have a more personal conversation with them. They won't feel like just another email in your system, but rather, someone who is valued.
If you want to find out more about how the Glofox Sales Tool can work for your studio, either reach out to your account manager or contact our sales team at [email protected]
---
Paid Trials are now LIVE!
Lead Capture is an area that we are highly focused on. Improving the lead capture flow and removing the barriers to booking a class will have an immense impact on your conversion rates. We are continuing to make this better and better.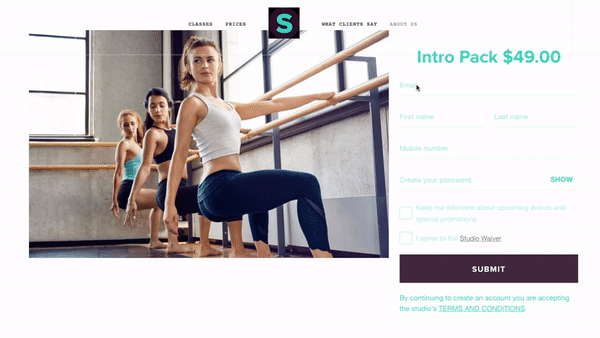 With that, we have just added 'paid trial' as an option for the sign-up process. Now, you have the option to offer your new sign-ups the chance to select a paid trial right after they have filled in their details online. Keep the momentum going!
Also, not only does this move your leads through the sign-up flow and into a class with ease, but it also captures payment details in a very seamless way. 
If you have any questions about this you can either reach out to your account manager or contact our sales team at [email protected]
---
Check-In Kiosk
The Check-in Kiosk will free up your time ahead of a class. Instead of booking in latecomers, you can direct them towards the Check-in Kiosk to book themselves in. This will give you more time to spend welcoming newcomers, catching up with members and getting the studio ready for the session.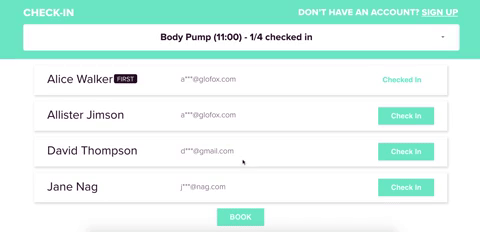 It will also improve your reporting capabilities:
More data will give you better insights into how your studio is doing. What is working? What isn't working? What can be improved?

It will feed into performance reports – both class performance reports, and trainer performance reports.

The Check-in Kiosk will also give you additional insights into your members. With the 'No Show' report, you can see who's booking but not turning up. You can ensure spaces in popular classes aren't taken by people who don't show up.
For more information on how you can set this up, click here
---
Glofox Pro Update
Managing your business on the go is important in this industry. The Glofox Pro App gives you admin capabilities right from your phone, so you can stay engaged even outside the studio.
We continue to make the app better and better by updating its performance and functions. This month we've added:
Direct Debit options when buying memberships.

Location Switching.
Our partnership with GoCardless last month has continued to add value to our products. With this enabled, you'll be able to set up Direct Debit payments from your Glofox Pro app, when setting up memberships.
With Location Switching you can now manage bookings and scheduling for multiple locations within the Glofox Pro app.
---
If you are an existing customer, depending on your plan, you should find these features in Glofox now. If you're evaluating Gym Management Software, you can click here to speak to one of our team members about scheduling a demo.