This quarter was a big one for us and for our customers. We've rolled out some significant updates and new features to the ABC Glofox platform, making it more accessible and intuitive than ever. In this article, we want to share those milestones with you.  
So, what did we roll out for our customers this quarter?
Here's a list of the main features:
A New Payroll Feature
Price Increase Capability
Significantly Improved Appointments Feature
New and Highly Anticipated Spot Booking Feature
Amplify Improvements: Loyalty Flows
Two-Way Emails for Customers and Members
Kisi Single App Launch
Brand New Insurance Feature
Fiscal Receipts Upgrades
Visitor Tag Released
A Whole New User Experience (Plus a Big Rebrand)
Impactful Reporting Upgrades
You can see just from the list above how excited (and proud) we are of the current state of the ABC Glofox platform – but that doesn't mean we won't be rolling out even more updates in the future (more on that later).
Let's dive into all the product updates we've rolled out for you this quarter.
1. Payroll & Pay Rates  
For most businesses, payroll is an essential part of the weekly, monthly, and annual operations. For gyms and studios, tracking the different pay rates of classes and the payments to staff can quickly become a nightmare. This is why we developed the new payroll & pay rates feature.
This feature will allow you to streamline your payroll operations, saving you precious time to focus on other, more important aspects of your business.
Key Highlights of Our Pay Rates Feature
Ultimate Transparency: Under the 'Manage' tab on your Dashboard, you can now easily manage pay rates and generate payroll reports.
Clear and Understandable Class & Appointment Base Rates: You can now easily set base rates for different classes and appointments.
Easily Editable Pay Rates: Easily edit existing class or appointment base rates.
Understand the Bigger Picture: With a few clicks, you can generate a CSV report that captures the event details, pay rates, bookings, and attendees for a given date range.
For more details on Payroll, see our Knowledge Base article here. If you would be interested in executing your staff payouts from Glofox, please complete this survey to let us know you're interested.
2. Subscription Price Change: Make Membership Price Adjustments with Ease and Clarity
Having complete control over your membership pricing is critical. With our new subscription price adjustment feature, you can now adjust prices on the fly, directly from the client profile. Fine-tune your subscription pricing strategy to improve monthly revenue or to react to changes in your expenses or trends in the market.
Key Highlights of This Price Change Feature
Easily adjust the price of an Unlimited or Group subscription directly in the client profile on your Dashboard
Too many subscriptions to update? Our team can help you out. Simply contact

[email protected]

to raise your request and we'll help you take it the rest of the way. 
Active, paused and locked states are all now supported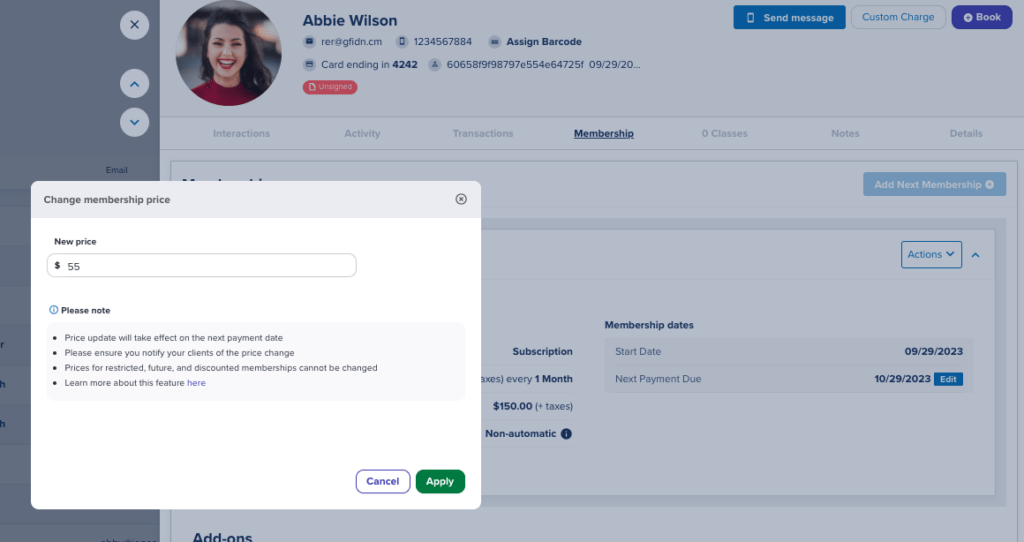 Want to know more? You can check out our Knowledge Base here.
3. New and Exciting Spot Booking Improvements
We've made some exciting improvements to our Spot Booking feature, all to enhance the experience for you and your members:
Instant Access: Spot booking is now available to test for everyone! You can activate it for your classes with a single click on your Class details page. 
Room map: Upload your room map and provide members with a visual layout of your studio, making their spot selection process more intuitive. 
Auto-Assign: Say goodbye to the hassle of unassigned spots! Our system takes care of it for you. Auto-Assign ensures every member secures a spot, easing any concerns about availability. 
For a deeper dive into these Spot Booking improvements, check out our Knowledge Base here.
4. New to Amplify – Monthly Loyalty Milestones Workflow
Ensuring members attend your studio frequently is a great indicator of their long-term retention and loyalty. Incentivizing that with timely and consistent messages and rewards can be a great way to drive that engagement. With Amplify's new workflow – Monthly Loyalty Milestones – you can automatically message members with emails, SMS, and push notifications based on how many times they visit in the current month.
Top Tip: Not sure what works with your members? Don't be scared to experiment with a range of workflows available on the Amplify feature
Light nudges, for example, like a push notification with a simple "Congrats on your 8 visits this month, keep it up 💪" can be a huge winner to some businesses.
Full rewards, like including a promo code for top attendees, for example, an SMS "Congrats on 20 visits this month! You can use LOYALTY10 to get 10% off your next pack of classes!" are majorly helpful in boosting retention and engagement.
You can find the new workflow on Connect > Messages and you can also learn more through our Knowledge Base article.
5. Highly Requested: Members Can Now Directly Reply To Emails
Up until now, all emails sent by ABC Glofox on your behalf were 1-way only, with no ability for your members to reply back directly. While members could start new email threads through the contact link in the email footer, this involves an extra step for your member, and it misses the context of the original email when you receive it.
Now, we're excited to release the ability for members to reply directly to emails sent through Glofox! Going forward, members can now easily reply to emails they receive, and their reply will be sent to your club email (you can change your club email under Settings). This ensures all replies from members go directly to your existing email client, centralizing all queries there, and ensuring you can quickly reply to your members.
If you want to disable the ability for your members to reply to a specific email, you can do so when editing its content in the "Enable message replies" toggle, as shown in the image below.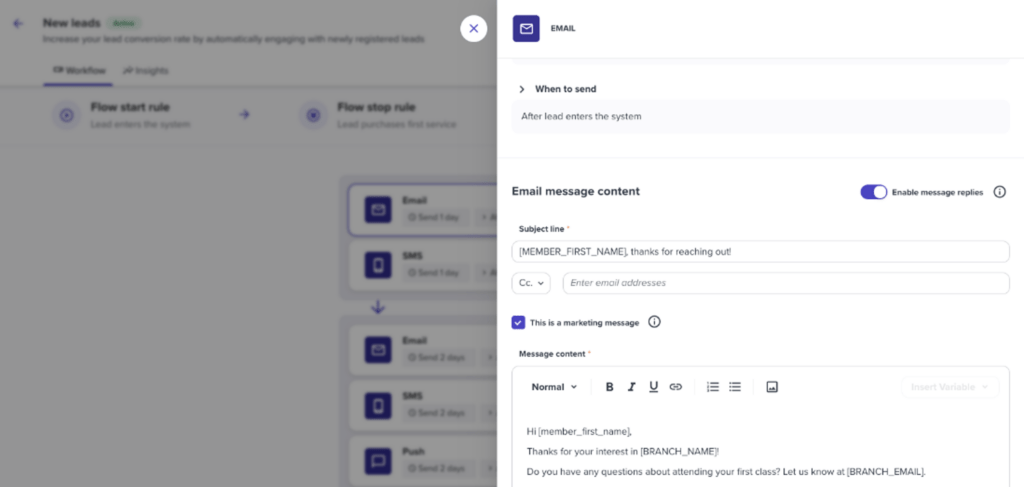 You can learn more about it in our Knowledge Base article.
6. Glofox & Kisi: One-App Door Access
We're delighted to share a game-changing development in our partnership with Kisi, the door access provider. This update is all about streamlining your mobile entry experience, making life easier for your members.
Say farewell to the days of juggling multiple apps or searching for elusive key fobs. Now, with a simple tap of a button, you can effortlessly unlock doors directly from the Glofox Member app.
Selected customers already have access to this feature. If you're using Kisi and want to see if you are eligible to join the Beta, please reach out to [email protected].
7. Appointments Improvements
Time filter in the member app
Introducing a time filter option for appointments in our member app! Members can now easily filter slots by "Morning," "Afternoon," or "Evening," making it a breeze to find the perfect time for their workouts and saving them valuable time.
Variable Appointments on the Web Portal
Appointments are also now visible for clients to book on the Web Portal, making your business more accessible than ever.
What to Expect:
The appointments will be displayed in a list view (similar to classes)
It will display the appointment name, start time, duration and trainer
Filter by one or multiple trainers, one or multiple appointments, or a combination of appointment & trainer
8. ABC Glofox App Rebranding
Get ready for a fresh look! Our central member app, ABC Glofox, has undergone a rebranding to align with our consolidated brand identity. While your custom studio/gym settings have remained unchanged, you may have already noticed:
A new ABC Glofox logo/app icon on the home screen.
Refreshed splash and search screens with ABC Glofox branding.
For those using branded standalone apps, don't worry, your visual identity remains intact. For more details, check out this post.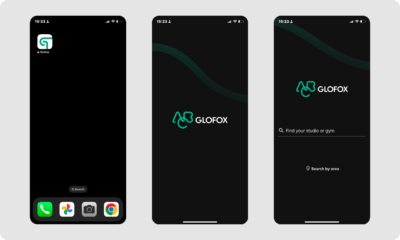 9. Visitor Tag for Roaming Members
We're excited to announce a small yet impactful change to the Access Log on the Dashboard. This update will help staff to identify non-home club members more efficiently.
What's Changed?
Previously, it was difficult to identify a visitor when accessing the club.
To improve the visibility on the Access Log:
A 'Visitor' tag will now be displayed against any non-home club member
On hover, it will display the name of the visiting member's home club
10. New Insurance Feature
Our new Insurance feature is designed to significantly cut administrative hours per month, streamline member insurance tracking, and safeguard against revenue loss.
What's New?
Capture Client's Insurance Details: now you can easily input and store your client's insurance information directly on the client profile.
Track Client Visits: Monitor your client's access and attendance seamlessly using the 'Visits' report
Streamlined Reporting: With just a few clicks, download reports to aid your insurance reimbursement submissions. 
11. Updates to Dashboard Reports
We released new versions of the Lost members, Account balance & Unsigned e-agreements reports. This can significantly improve your experience when using these reports, helping to boost your business insights and performance. Highlights of this new feature include:
New visual report user interface
30% faster report loading speed
More intuitive report download experience
Ability to click on a client name to quickly bring up the member profile
Customizable table of member data
We plan to introduce similar improvements throughout our dashboard reports in the coming quarter.
Usability improvements Q3:
📱 Easier to filter appointments and facilities by preferred time of day and trainer
📱 Booking cancellation popup to ensure members don't accidentally cancel their booking
📱 Integrating Kisi access into the member app for a more seamless access experience
💻 Old navigation layout is finalised – users no longer have the ability to switch back to the old blue nav
💻 Visitor tag on access log making it simpler for users to identify non home club members
💻 Page heading duplication fix (rolling out) – this is removing legacy duplication of page headings
💻 Old duplicate floating help widget blocking settings icon (among other UI elements) removed in dash and relocated on Login page
💻 Reports consistency improvements to pages layout / tables & column selection / download options
💻 Reports secondary navigation collapsible menu improvement for better visibility and grouping
What's next?
We're looking to constantly keep on delivering new features and enhancements and we'd love to get your feedback on some of the upcoming features we're currently piloting!
Two-way conversations: we're building a conversations hub, where you can easily reply back and forth with your members, helping you have full visibility and easily engage with your members. We'd love it if you test our prototype and share your feedback!
Trainer Pay Rates: We're improving our Pay Rates feature to include different pay rates for trainers, and a bonus structure to incentivize your trainers. Keep an eye on the updates.
Embedded payroll: We want to support you throughout the full payroll process, from capturing pay rates to processing your trainer's pay. Would you be interested in executing your trainer payouts directly from the Glofox Dashboard? Eliminating the need for additional payroll providers? If so, please complete this survey to let us know you're interested.
Retail partnership: Our partners at Gym+Coffee, one of Europe's fastest-growing athleisure brands, have a special offer for you and your members. They're giving a 30% discount on their products, and you earn a commission on sales. Reach out to

[email protected]

if you're interested!