All over the world, the fitness industry has shifted. As we know by now, the Coronavirus has made a lasting impact on all gyms, studios, and fitness businesses. We also know that as a result of the pandemic, online fitness is massively on the rise. We're seeing new trends disrupting the traditional fitness scene: live-streaming platforms, fitness apps, and on-demand classes are taking center stage. 
With the digital fitness industry continuing to expand, it's more important than ever to stand out online and truly bring your fitness studio to life in the virtual world. The digital experience is key to an online fitness studio's success. As more and more gyms bring their services online, it's not enough to just jump on Zoom five minutes before a class. 
But before you dive in with bringing your gym to life online, you need to know what your members have come to expect from a digital fitness offering.
COVID-19: Sharp Rise in Digital Fitness as Competition Grows Online 
With social distancing, increased hygiene procedures, and limited capacity facilities, it's hardly surprising that people have turned to their homes for exercise. The fitness industry has been experiencing massive growth in digital and out-of-studio fitness. With fitness becoming more and more inclusive and completely accessible, consumers are looking to digital fitness solutions to stay in shape from home. 
Consumer investment in digital fitness has increased by up to 35% compared to pre-COVID levels. The sector is well-positioned for fast growth. But with this level of growth comes a lot of competition. As the digital fitness landscape becomes even more competitive, fitness studios will need to develop digital solutions that encompass their brand essence. 
At the beginning of lockdown, many brands shifted to online teaching through tools such as Zoom, Instagram Live, IGTV, and other social media channels. While this allowed businesses to continue to connect with their members, it may not create the kind of experience that your members align with your fitness studio. 
The fitness experience you deliver in your members' living room is essential, if not more so than in-studio. This is because you have to do more to bring that level of experience that is expected. Think about how you will create the kind of energy and community that your members love, but in a digital setting. That's the hard part. It requires a lot of planning and personality, combined with the right technology to compete in the fast-growing digital fitness sector. For more insights on coaching on camera and how to provide high-quality online workouts, check out this episode of The Fitness Founders Podcast with Barry Ennis and Shay Kostabi:
Now that we've highlighted the high-expectations consumers have for online fitness in today's world let's look at some brands excelling with their digital offerings.
5 Fast-Growing Digital Fitness Studios to Inspire Your Online Experience 
During the peak of the coronavirus, some studios launched live-streaming platforms in weeks instead of months. Digital fitness looks here to stay, and many boutique fitness studios are integrating a digital platform into their business model, running both online and in-person memberships. Here are five studios with popular online platforms to inspire your digital experience. 
1. Barre3
Website: https://barre3.com/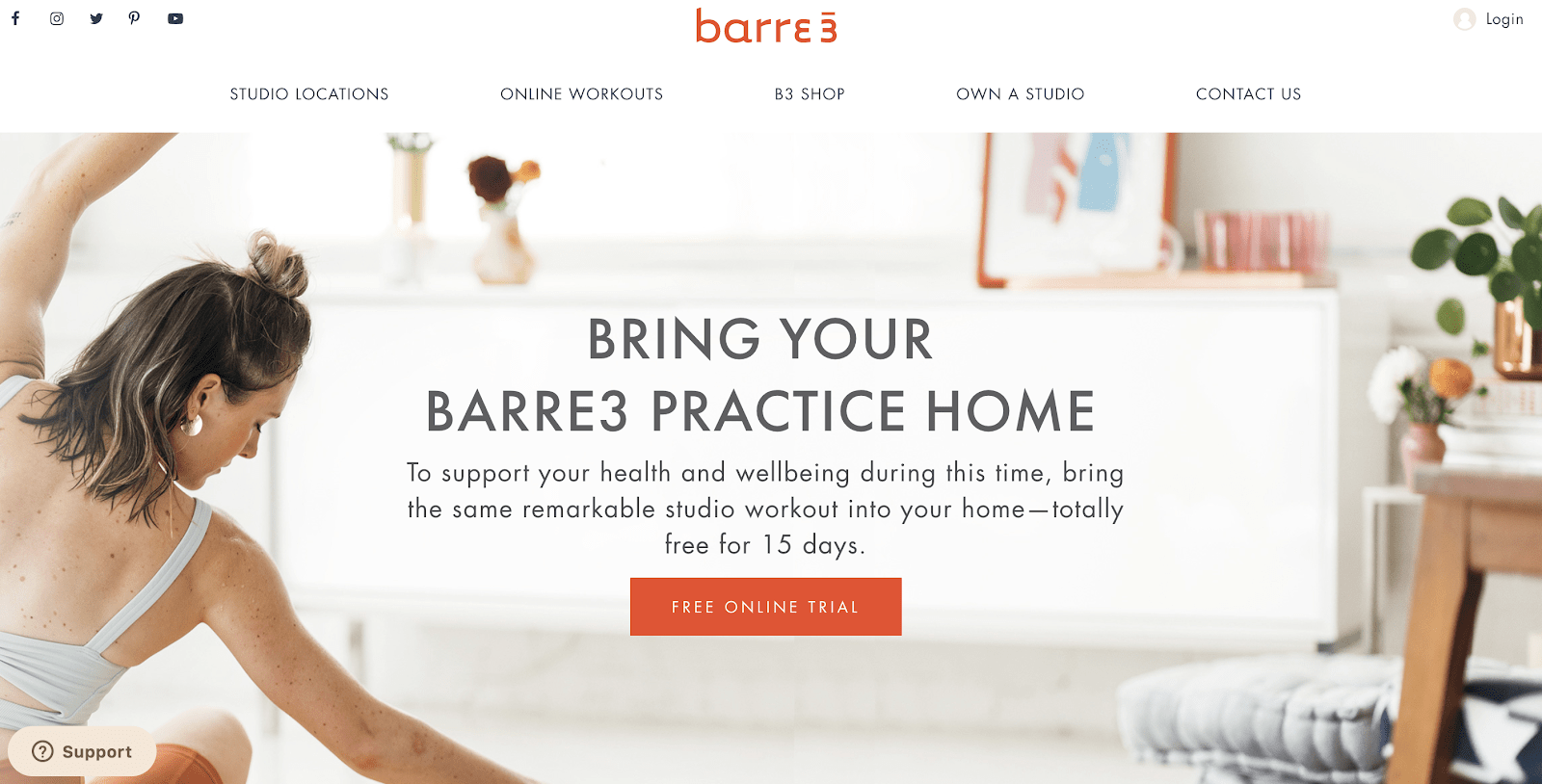 Barre3 is a popular full-body workout with over 160 locations around the world. To support members from home, the brand launched the online subscription Barre3. With live-streaming fitness classes and hundreds of on-demand workout videos, you can stream the workouts to any device. The fitness solution offers a personalized experience to users and helps navigate them to the right workout. 
2. Psycle at Home 
Website: https://psyclelondon.com/
Psycle is a London-based studio offering four workouts: yoga, strength, barre, and ride. With a holistic approach to health, the studio aims to help people live healthier, happier lives through movement. Ideal for strength training and cardio workouts, Psycle is a popular destination. To reach a growing home audience, Psycle at Home is a monthly digital fitness subscription platform that offers users unlimited classes. Led by London's top instructors, the workout classes range from 20 to 60 minutes and can be done anywhere. 
3. Rumble: R2TV
Website: https://www.rumble-gym.com/r2tv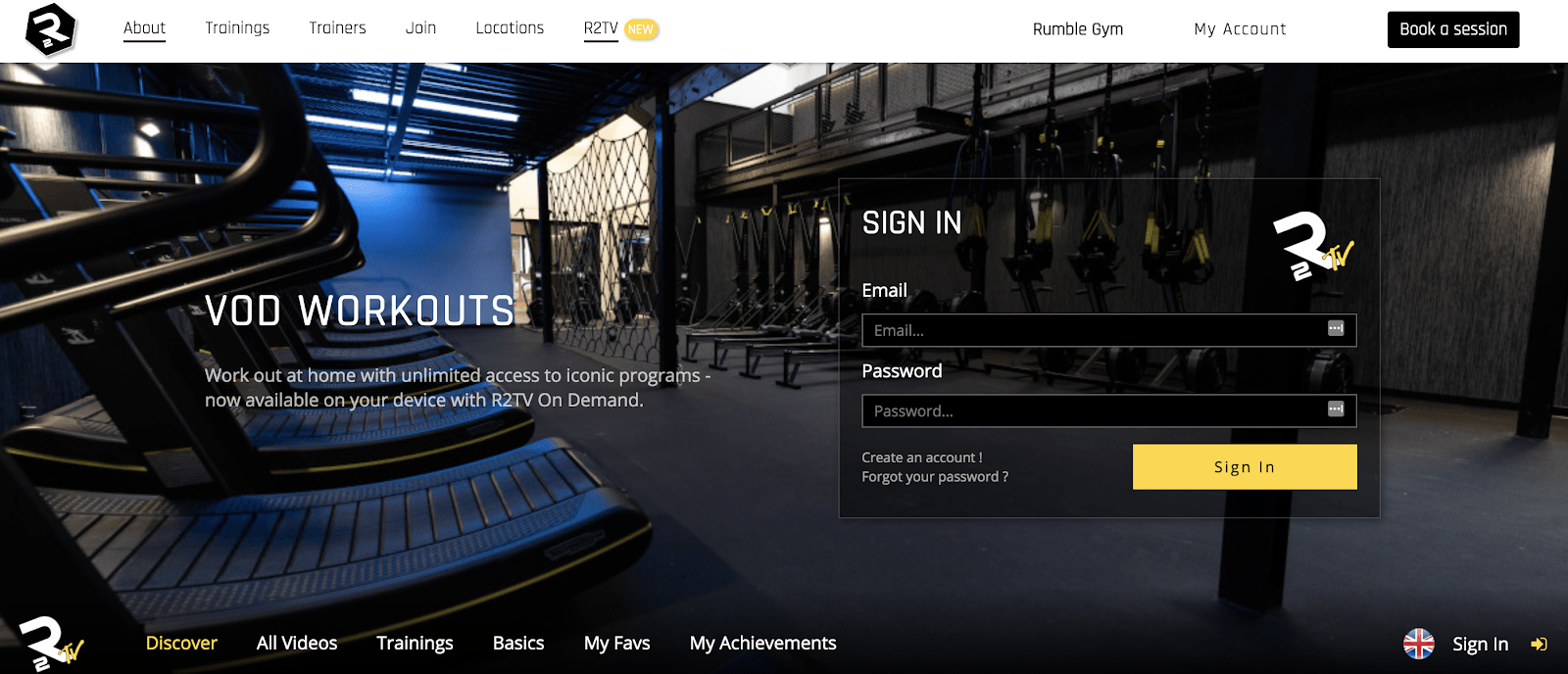 Rumble is a boutique fitness gym offering a diverse range of classes like boxing, climbing, yoga, and cycling. The gym recently launched R2TV, a video on demand platform for online workouts. You can access Rumble's iconic workouts from the comfort of your own home. The gym offers in-person and digital memberships and a combination to give members access to both parts of the business. 
4. Y7 Online 
Website: https://online.y7-studio.com/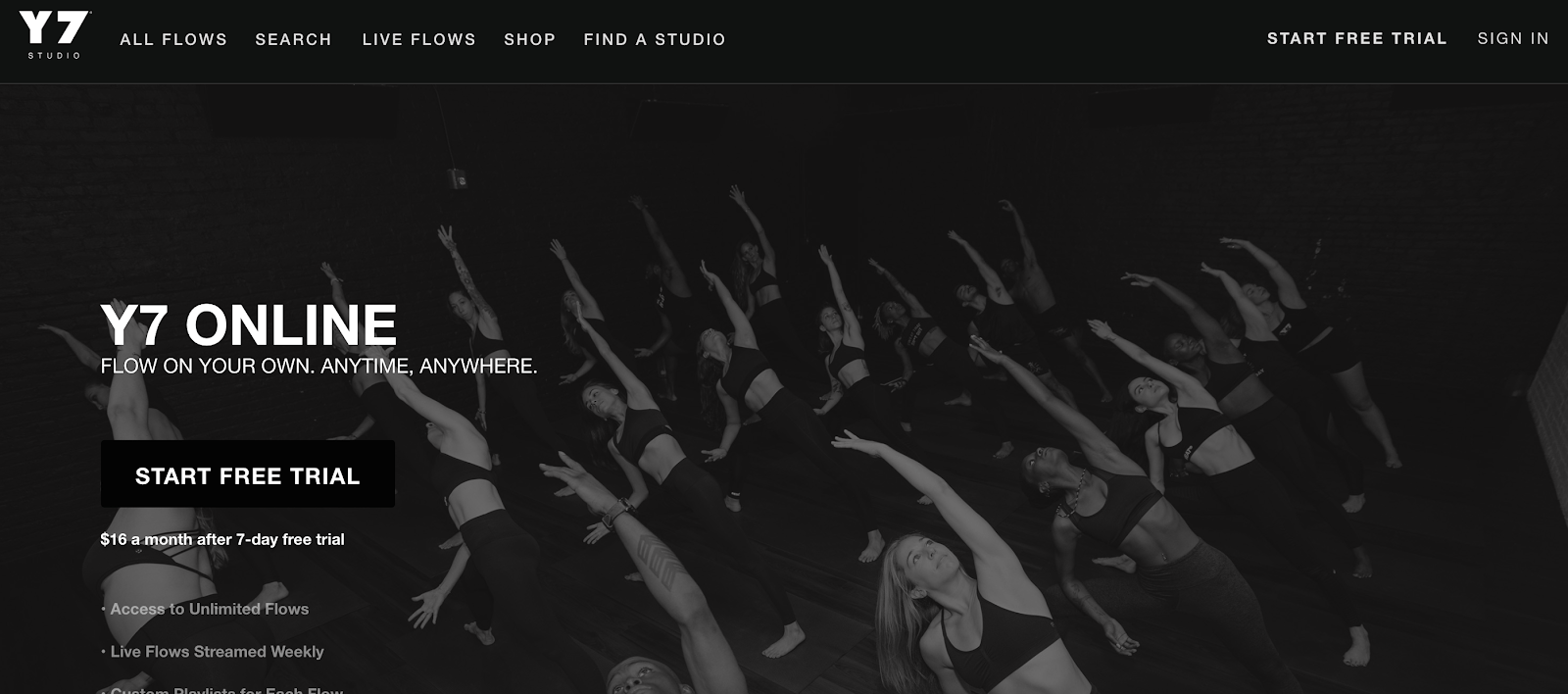 Y7 studio offers members sweaty hot yoga classes by candlelight. With state-of-the-art studios, classes are held in the dark to help members turn inward and focus on health and wellness. The studio launched Y7 Online to encourage members to "flow on your own." The online studio offers live flows, customized playlists, unlimited flows, and new classes specifically for digital members. 
The Top 10 Barriers
Slowing Your Fitness
Business Growth
Discover more
5. The ness digital 
Website: https://www.thenessdigital.com/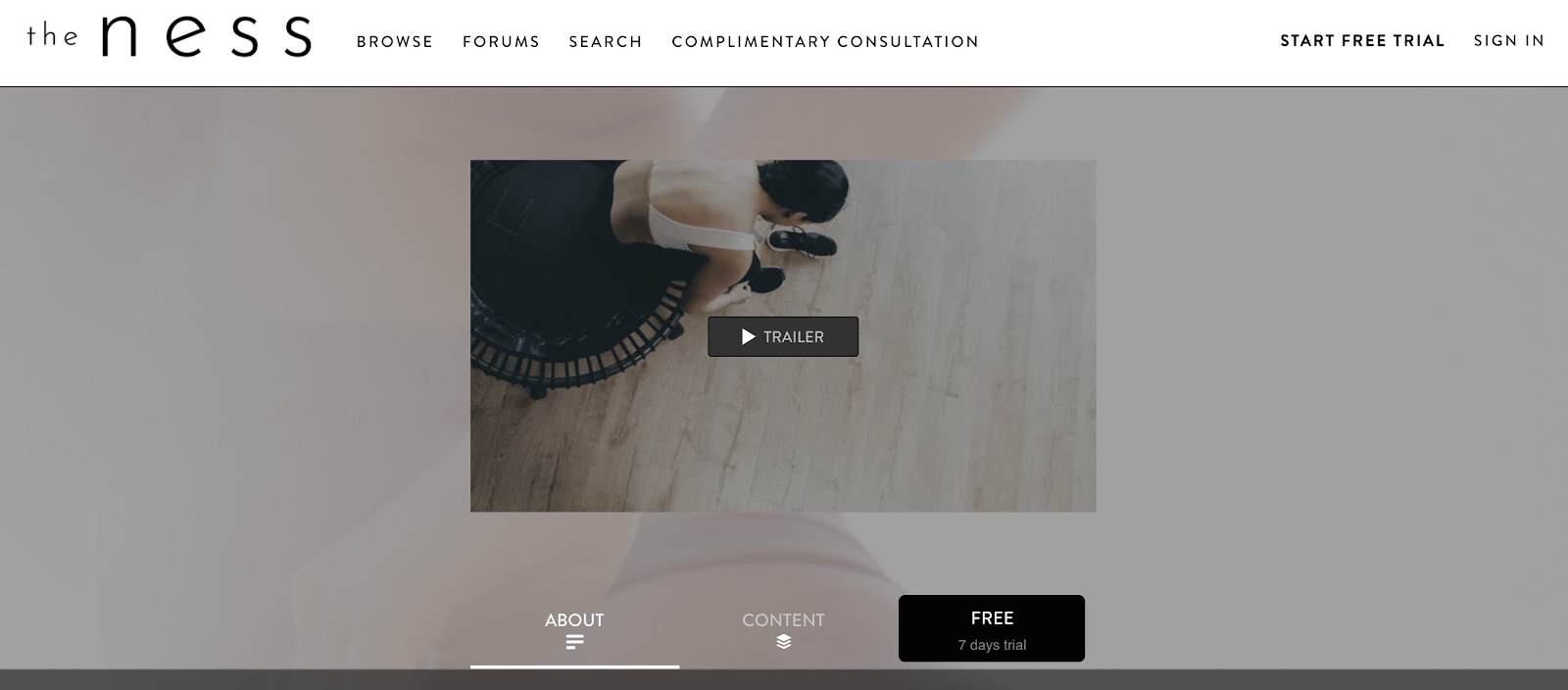 The ness is a studio in New York with a focus on trampoline workouts. The ness digital allows members to perform the studio's signature workouts from anywhere. You need to buy the trampoline and some small pieces of equipment to do the workouts properly. They offer a range of classes online. The studio caters to all abilities with plenty of beginner classes to help users get started.
The main takeaway from these platforms is that they all try to create the same feeling as a studio class. They want to give members the experience of an in-person training session. The online arm of the business supports the overall mission and goal of the brand. It's all packaged into a seamless experience from the initial sign up to the first class. 
Now that we've seen some excellent digital offerings in action, we'll look at how you can elevate the online experience for your members.
10 Ways to Elevate Your Online Fitness Studio and Digital Experience  
Your online fitness center involves more than teaching a class. It's about delivering a studio experience digitally. This means that the entire process should be smooth and easy to use and be 100% on-brand with your business.
1. Always Test Your Set-Up Before Live Streaming 
It may sound like an obvious one, but always test your set-up before live workouts. The fitness experience should be seamless, which means no lagging or dip in connection just as the music drops. A bad connection or sound can put members off joining another class if they can't get a workout in due to technical issues. For more information, we've pulled together a step by step guide on recording live streams.  
2. Continue to Innovate 
When you focus on delivering the right experience for your members, innovation is very important. Whether it's the kind of technology you're using, adapting to fitness trends you're seeing, or finding new ways to deliver home fitness, it's crucial to think about how you can improve your online fitness studio. Listen to your members and make changes accordingly. Think about how members will stream classes and get the most out of every workout. Stuart Brauer puts this point perfectly during episode 25 of The Fitness Founders Podcast: "You have to evolve between day one and day twenty one." Listen to the episode below for top tips on providing value for members when they go online, how to keep your customers loyal, and how to use your brand to engage your members. 
3. Build a Niche-Centered Community 
A significant part of your online fitness studio is your community. It's essential to continue to nurture your fitness community both offline and online. A niche-based community tends to be more loyal and engaged. This means they will continue to use your offerings despite other options available on the market. Building community drives value and helps motivate members to work out, which is essential for home fitness. 
4. Talk More Than You Would In-Person 
Although you don't receive the same vocal feedback online as you would in a regular class, it's important to talk more. Speak to your audience more than you would in-person. Offer verbal encouragement throughout the session. Your voice has to work harder than usual to motivate users, so feel free to be louder than normal. Peloton instructors are a great example of fitness professionals who use their voice well on live-stream classes. They regularly shout out to different users, which makes the experience even better for members. 
5. Show Off Your Brand Personality 
Your live streams and on-demand content should show off your brand personality. This means using your studio location members' love and really showcasing who you are as a brand. If you're all about inclusivity and fun, make sure this comes across in all your fitness content online. Whether your studio is currently closed or you're looking to run a hybrid business, your online studio is an opportunity to connect with members and support them on their fitness journey from afar. 
6. Create Accountability 
One of the top reasons members join a gym is to be held accountable. Often, people can fall off home workout routines from a lack of motivation and accountability. Your online studio should hold members accountable, just as you would in-person. That could look like an online fitness challenge for the number of live streaming check-ins or following up with digital members through push notifications and emails. As Alex Hormozi says in this episode of The Fitness Founders Podcast, "They can Google a nutrition plan. They can Google a free online workout. People pay for you to pay attention." In the episode, Alex shares advice on making your business a revenue-driving machine, explains why accountability is the key differentiator, and lays out some top tips for master sales over the phone. 
7. Make the Online Experience as Personal as Possible 
Personalization is relevant in all areas of the business. From marketing to the fitness experience, people like to feel appreciated and addressed. Things like welcoming members as they join live streams or offering a personalized approach to fitness goals are all beneficial. By creating a more personal experience, you can help members hit their goals faster and provide a more enjoyable experience. 
8. Get Your Members Amazing Results 
If you have a signature workout that your members love, make sure you deliver those same amazing results in your online format. Your members should be able to achieve results from anywhere using your platform. Of course, this is dependent on how often members work out, but in general, there's nothing quite like showing off amazing member results to support your platform. 
9. Proactively Offer Modifications and Progressions 
In your studio classes, it's easy to see where members need help or advice. With online classes, it's a good idea to proactively offer modifications and progressions during each session. Although you won't see all of your class, you still want all movements to be carried out safely. By offering modifications throughout, it gives members the feeling of a studio class. Home fitness members won't have anyone to correct their form during a session, so it's important that they nail the form straightaway with clear instructions. This is especially true for beginner classes.  
10. Engage and Connect with Your Digital Members 
To bring your online fitness studio to life, you need to engage and connect with your members. By creating a home studio experience, you can keep users engaged and motivated to work out. When you develop a connection and continue to deliver a premium fitness experience digitally, you can maintain long-term success in the digital fitness market. 
In Summary 
Many fitness brands had to quickly get to grips with virtual training to generate income amidst a full lockdown. Now, consumers are looking for ways to stay fit and healthy from home. They are turning to online fitness studios for support and expert guidance. By delivering a studio experience to members' living rooms, you can successfully implement a hybrid business model. Combining both digital and physical elements means you can expand your target audience. Your digital arm needs to embody your brand and continue to produce the type of fitness experience your members love. 
The Top 10 Barriers
Slowing Your Fitness
Business Growth
In this e-book, we will list the most common barriers that
slow fitness business growth and list some of the tips to
help overcome them.
Discover more