The new Glofox Homepage will give you the information you need, when it matters most – all so you can take action to improve your fitness or wellness studio in real time!
In July, we launched a weekly update email, giving you a snapshot of your studio's performance over the previous week. Glofox users around the world told us that they loved the update, but would find it even more valuable if they had access to this information in real time.
In response, we created the Glofox Homepage, bringing you a host of useful metrics on your studio's daily performance – no need to even click "run report". This dashboard will ensure you can action underbooked classes, welcome new signups and reach out to expiring members faster than ever before.
Know the Numbers
Moving forward, admin accounts will have the ability to monitor revenue and all accounts will have the option to view the performance of your class bookings over the day, week, month or year. With this, you'll gain insight into how the actions you take impact your performance in the short and long run. You can also keep an eye on how full your classes are on a day by day basis.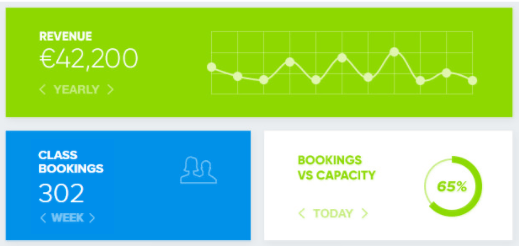 New Signups and Expiring Members
When you engage with your newest signups, you have the opportunity to convert them into an active member of your studio. With the Homepage, you can quickly access a list of members on memberships expiring in the coming days, so you can take action to retain them as loyal members.
Take Action Fast
With the new Homepage, you have instant access to upcoming classes. This means you can book clients into classes in seconds, saving you time in your busy day. This class list will also display important information, such as the number of signups and remaining spaces, so you can identify classes that may need some extra attention to boost bookings. 
Faq
What if I want to look at courses, trainer appointments or classes past tomorrow?
You can still access your Calendar from the navigation bar:
Where can we leave feedback?
We love to know what is working for you, and what you'd love us to go a step further with. Let us know by emailing us at [email protected] and someone from our product team will be in touch.
---
About the Author
Norma O' Mahony |Product Manager 

Hi I'm Norma, Product Manager at Glofox. I work closely with fitness and wellness professionals across the world, to ensure Glofox does what they need to be more productive and successful.