With over 2 billion users globally, Facebook is one of the fastest-growing social media platforms in the world. 
In the last 18 months alone, the number of advertisers using Facebook has more than doubled. Back in December 2017, the most extensive media agency in the world found that Google and Facebook accounted for 84% of global digital media. The pair often referred to as "the digital duopoly" now accounts for more than 60% of the U.S. digital ad campaign spend. 
Throughout this article, we'll use a few "techy" terms. So before we dive in, here's a quick overview to get you comfortable:
Remarketing
Remarketing is a form of digital marketing that targets visitors who have already visited your website, but not made a purchase. It's a tactic that monitors website traffic and follows prospects, and remarketing is mostly used as an email marketing method.
Abandoned Cart Emails
Abandoned cart emails are an example of remarketing. The term describes an automated email reminder that gets sent to a website visitor. The automated email is sent after they've added some items to their online shopping basket, but not checked-out and paid. 
Facebook Pixel
The Facebook pixel is an analytics tool that lets you measure the effectiveness of an ad campaign. It's a piece of code for your website that reads and understands the actions that your audience takes while they're on your page. With Glofoxs gym management software platform you can integrate the pixel to track interactions on your booking timetable. With this, you can send out specifically targetted ads that reach the right people. 
In this article, we'll help you get to grips with your Facebook retargeting ads strategy. From understanding how they'll help your fitness business and planning your ads, to setting them up.
What is Ad Retargeting?
Retargeting is a form of online advertising designed to bring back visitors who view a website for a short period but don't make a purchase.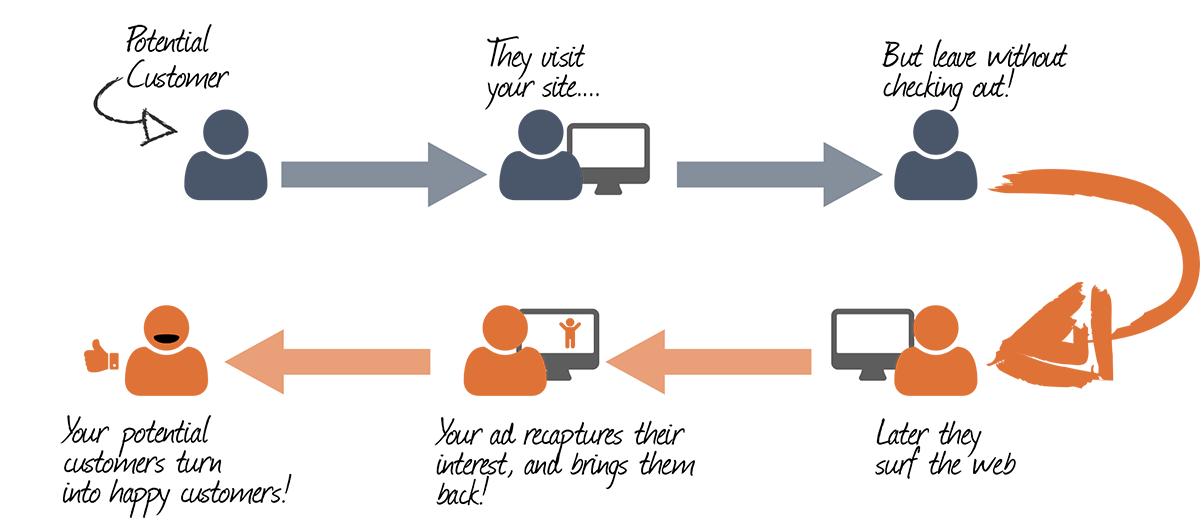 Retargeting is a great tactic to apply to your ad funnel, as you're advertising to an audience that is already interested in your brand. In terms of your fitness business, website visitors will have visited your page and left without taking any action. Maybe they read your latest blog post but didn't sign up for your newsletter. Perhaps they viewed your classes or memberships but didn't book. For most websites, only 2% of web traffic will convert on the first visit.
Facebook's retargeting is simple: it gives you the chance to re-engage with your target audience once they've shown an interest in your studio. They let you subtly encourage your audience to come back to your website and commit to taking action. We've discussed the importance of following up with prospects in everything you need to know to increase your membership sales in 2019. Think of Facebook ad retargeting as your gentle, automated follow-up.
What's The Difference Between Retargeting and Remarketing?
A quick Google search for ways to use an online marketing campaign to boost your fitness business will reveal that 'retargeting' is used interchangeably with 'remarketing.' While both are great marketing strategies that share similar goals; remarketing and retargeting do have some differences. As mentioned, retargeting is a form of marketing that focuses on serving ads to your website visitors. These ads are delivered on Facebook and other platforms like Google. Remarketing, on the other hand, is based on an email campaign sequence. 
Remarketing typically collects user information which is used to create an email list of audience segments. These segments could be based on numerous demographics. With typical examples including "abandoned cart" emails, remarketing is a tactic that allows for automation. If you get creative, there are ways you can implement a remarketing campaign for prospective members of your studio. For example; if you're a class-based studio, it would be useful to use remarketing to create lists of your audience based on their specific fitness interests. You'd then contact these members with a targeted sales email campaign focused on the class that best matches that area. 
This mirrors the style of an "abandoned cart" campaign, with a twist that makes it relatable to your business. As with any social media ad campaign, it's worth testing out some different versions of your retargeting ads. Create content that your potential members might find helpful, and try sending out one batch that includes an offer and one without.
That HIIT class is waiting for you. Book now and save 10%
Have you thought about trying our class this week, but haven't selected a time?
Did you know that HIIT training can:
Burn a lot of calories in a short time
Keep your metabolic rate higher for hours after your class
Help you lose fat
Help build muscle
Improve oxygen Consumption
Reduce heart rate and blood pressure
Reduce blood sugar
Book your class with the link below and save 10%.
See you there!
When comparing retargeting and remarketing, the similarities and differences are evident. Their shared goal is to increase conversions to prospects who have already shown an interest in your business. Their difference lies in the strategy; remarketing is focused on email, and retargeting is focused on paid advertising. Both use cookies to track prospects and provide you with the data you need to create a targeted campaign.
The Top 10 Barriers
Slowing Your Fitness
Business Growth
Discover more
Why Your Fitness Business Needs Facebook Retargeting Ads
Goal-setting is an essential part of any business. In the fitness industry, it's not just crucial for growing your business; it's important for your members as well. How can they further their fitness without goals? Typically, you'll work with clients to help them set, achieve, and exceed their goals. The journey looks something like this:
Begin by assessing their current level of fitness.

Work together and set some goals, with a time-frame.

Track their progress. At this stage, you'll see what's working and what isn't and make changes, so you get the best results possible. 
As a fitness business owner, you need to apply the same way of working to all aspects of your business; especially when it comes to marketing. We've previously touched upon the importance of setting goals with Facebook advertising. That's because If you're not tracking, assessing, and improving your results, you're wasting your time. Do you ever wonder if a campaign is working? Can you pinpoint exactly what's working and why? Does your campaign lead to membership purchases or class bookings? If your marketing strategy is based on guesswork, you can't assess what you need to do to get better.  
Your Marketing Strategy Needs Data to Work
Across a range of 17 different industries, the fitness industry has the highest conversion rates with Facebook Ads. The platform guides your target audience straight into your hands, with conversion rates for the fitness world averaging at 14.29%.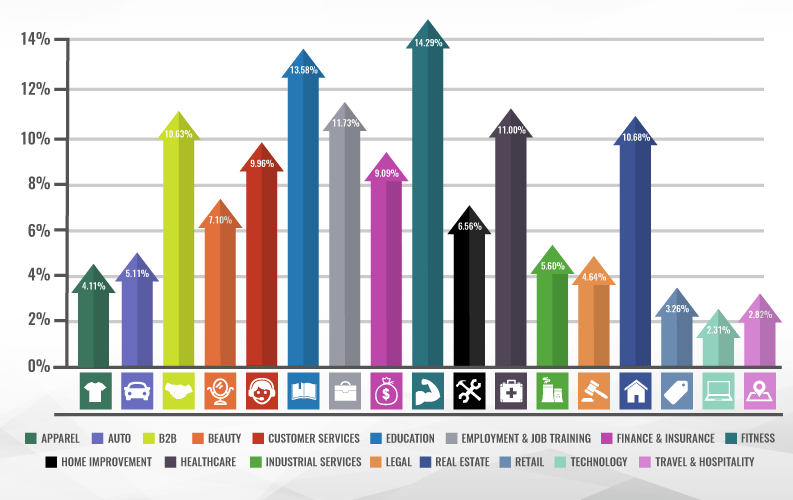 Facebook retargeting ads work because they use detailed user information for audience targeting. This means you can make sure your ads are served to relevant prospective members. On average, Facebook Ads cost almost a dollar less than Google Ads, and offer more comprehensive targeting options, such as the ability to create a custom audience. A recent study from the Pew Research Center found that 74% of Facebook users visit the site daily, with 51% saying they do so several times a day. It's easy to see from these sky-high user numbers and ad conversion rates why Facebook retargeting ads are an excellent tool for engaging your target audience and increasing website traffic. 
How Facebook Collects Audience Data
Facebook collects a lot of personal information from its users. From marital status, interests, and purchase history to lifestyle metrics and job, this information is gold for your online advertising strategy and retargeting options. Facebook's Ad retargeting capabilities take online advertising to the next level. Whether it's demographics, behaviors, interests, age ranges, connections, or locations: Facebook lets you get picky with targeting. You can then layer the options to ensure you're hitting the exact audience you want. In terms of Facebook ad retargeting, "Facebook Custom Audiences" is the term you'll most commonly hear. Facebook's ad retargeting enables you to define a custom audience for your retargeting campaign. A custom audience is a group of prospective members that; you already know, have engaged with you on Facebook and Instagram, or those who have visited your app or website. 
How To Leverage Your Audience Data
The Facebook Ads Manager allows you to track your campaign spend and measure the success of each one. You can then use Facebook Insights to reveal the performance of paid vs. organic posts. The key takeaway here is; with your metrics in one place, you can make strategic decisions for targeting and retargeting with future ads. 
Once you've successfully mastered targeting and found an audience that converts well, Facebook makes it unbelievably easy to find your next lead. With "Lookalike Audiences," you can use a custom audience to target new, similar users, and therefore more likely to be interested in your brand. Within this feature, you can further define targeting options to make sure your lookalike audience is an accurate representation of your targeted customers. Say goodbye to guesswork with member acquisition and hello to increased revenue. 
Getting Started With Facebook Retargeting Ads
Planning Your Ads
Like any marketing campaign; to get the most out of your Facebook retargeting ads, you need a solid strategy. Start by setting your goals, objectives, and metrics. Who do you want to target? What is the best approach to get them back into your sales funnel? Maybe a website visitor went to your class timetable page and then left without booking or making an inquiry. You could retarget them with an ad highlighting that class times are made to work for the member. Once you decide on your audience and goals, you need to make sure you have some high-quality images to create content; showcase your brand. 
Budgeting for your ads
Members who have already shown an interest in your brand (by visiting your website) are more responsive and more likely to take the desired action. They're worth the investment: so using a small budget for running your retargeting campaign will help to make sure that your ads aren't served too often. You don't want to annoy your audience!
The best way to do this is to create a range of ads that simultaneously target the same audience. You can use the Frequency Cap feature to ensure that people see each advertisement no more than once a week.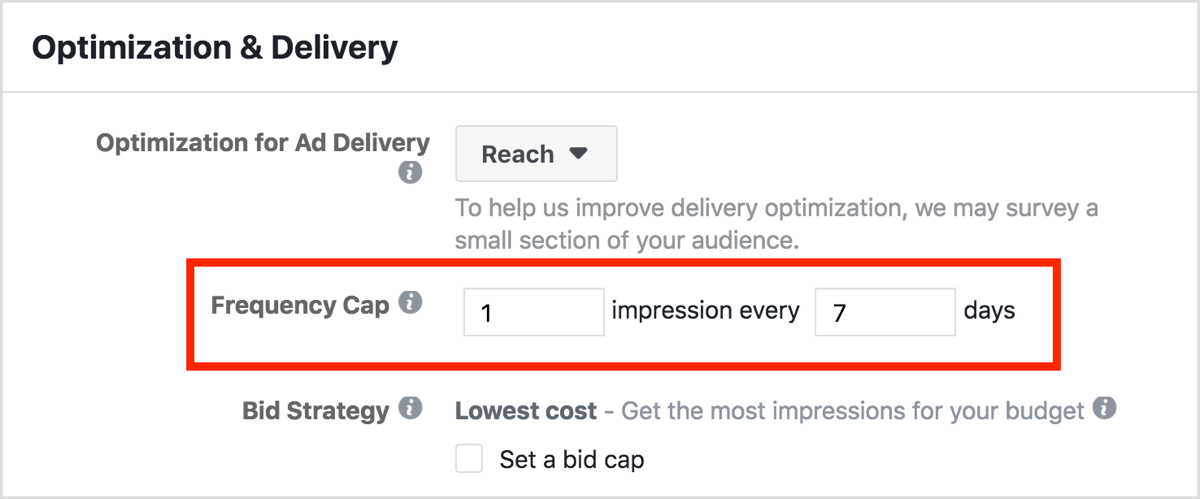 When you create enough ads, you'll also be able to set up retargeting campaigns that can run automatically for months, with no need to adjust them. 
The Facebook Pixel 

The Facebook pixel is an analytics tool that lets you measure the effectiveness of an ad campaign. It's a piece of code for your website that reads and understands the actions that your audience takes while they're on your page. You can then use this insight to optimize and build audiences for your retargeting campaign. To get your Facebook pixel code, head to the Events Manager on Facebook, and follow the simple steps.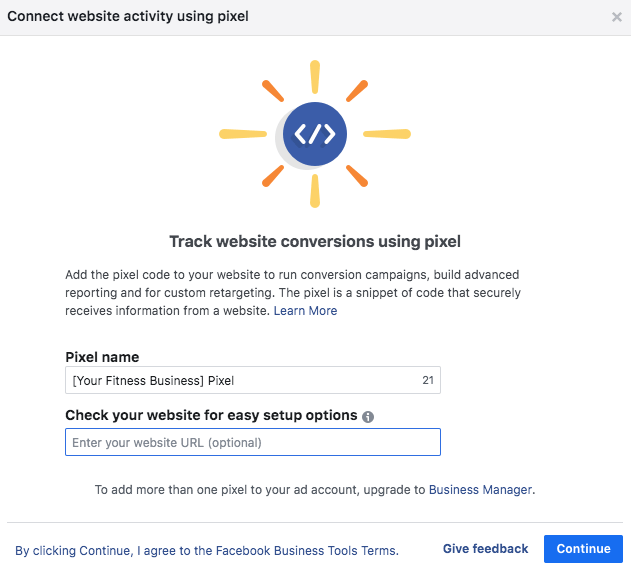 Once you've embedded the Facebook pixel on all pages of your website, you can set up a specific ad for an audience based on which page they've visited. For example, say you're a class-based studio with a range of options to offer. You want your ads to specifically target an audience that has been looking at your dance classes. With Facebook retargeting ads; you can set up a specific dance class ad. Choose to serve it to an audience that has visited pages on your website containing 'dance classes' in the URL.
Benefits of the Facebook Pixel:
Make sure that your ads are shown to the right audience.

Find website visitors who have viewed a specific page or taken a desired action on your website.

Drive more sales.

Set up automatic bidding to reach members who are more likely to take action that you care about, such as booking a class.

Measure the results of your ads.

Better understand the impact of your ads by measuring what happened as a direct result.

Boost Conversion.

A knock-on effect of sending the right message to the right people is that you'll have more successful campaigns. You'll get more new clients, more classes booked and more membership purchased.

Better ROI.

You'll get a better return on investment for your paid Facebook or Instagram marketing campaigns.
In Summary 
The customer insights available on Social Media marketing are crucial for understanding your prospective members browsing habits and ultimately, what they want from you.
The benefits of the Facebook Pixel integration extend beyond your ad retargeting. Optimize your unpaid marketing by having insights into what works when it comes to your client's online experience. Keep an eye on where leads struggle and don't complete the action of buying a membership or booking a session.
Once you know where leads struggle, you can work on improving their experience and in turn, increasing your website traffic. Facebook retargeting ads earn one of the highest returns on ad spend. They're an accessible and effective tool that your fitness business can use to close prospective members. Once you understand the basic steps of setting up your retargeting ads, it's simple, and you'll be able to track your progress and results from the get-go.
The Top 10 Barriers
Slowing Your Fitness
Business Growth
In this e-book, we will list the most common barriers that
slow fitness business growth and list some of the tips to
help overcome them.
Discover more