Developing a fitness Facebook Ads strategy is as important as ever in 2021. Covid-19 has changed the rules of the game for many fitness businesses around the world. However Facebook Ads is still one of the best ways to advertise your fitness business. There are a few primary reasons for this, but chief among them, according to SocialMediaToday.com is that digital attention is at an all time high. 
People are now turning their attention to social platforms way more than they would normally so there is a whole new market potentially out there. Business.com reported that there was a 10.5% increase in social media usage globally in July 2020. This increased market size may be the perfect motivation to get your ads out there but beware with increased market size comes increased competition for attention.
In addition to that trends are regularly changing when it comes to Facebook Ads and updates are made to the platform on a daily basis. In this article we want to help you create a fitness Facebook Ads strategy that will increase brand awareness, drive revenue and ultimately grow your business. 
Skip ahead to
What Are Facebook Ads? 
Facebook ads are now one of the most effective forms of marketing and can be incredibly profitable if you know what you are doing. Facebook boasts a massive 2.8 billion monthly active users. That means you have an advertising audience of almost three billion. There's a huge opportunity to expand your reach and grow your business. Facebook has the highest number of ads and click-through rates.
Although Facebook ads come in various types of formats, the main components of an ad are:
Text 
Creative: image, video, animation, infographic 
Headline
Call to action 
Through your Facebook Ads Manager, you can control all aspects of your ads. The majority of ads have similar core components. What changes is the type of ad, objective, placement, and target audience.
Nowadays, there are a ton of different ad types to choose from. The type of ad you pick will be based on your goals. Different Facebook ad types include:
Stories 
Dynamic
Augmented reality 
Video 
Image
Poll 
Carousel 
Collection 
Instant experience 
Messenger 
The good thing about Facebook Ads is that you can choose to focus on a marketing objective that aligns with your current business goal. Maybe you want to raise brand awareness and become an authority in the fitness and wellness space. Or you're looking to drive sales to your new digital fitness studio and send your digital memberships flying. Facebook has 11 marketing objectives for your ads that fall into three broad categories: 
Awareness 
Conversions 
Consideration 
As your fitness business evolves, your goals will change. To start with, you might be looking to drive traffic to your website. You can then start to focus on driving engagement, video views, lead generation, and conversions. 
The Top Facebook Ad Trends You Need to Know About in 2021 
With the right guidance, you can maximize your Facebook results and see a better return on ad spend. It's important to stay on top of the latest trends so that you can adjust your ads accordingly to have the biggest impact on your target audience. 
Facebook Ad Formats Evolve 
It feels like the list of Facebook ad formats and features continues to evolve every day. Video, animation, augmented reality, and mobile ads are some popular types of ads. As technology continues to evolve, more and more formats will become available. It's always good to be ahead of the curve and be an early adopter as it gives you the opportunity to outperform your competition.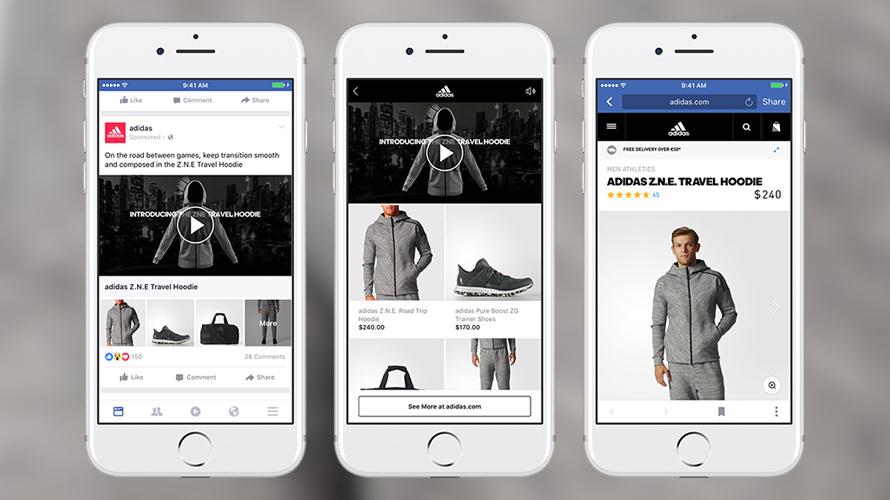 Video Continues to Rise 
Video continues to rise in popularity coming out as a major player in Facebook ad formats. Going forward, video ads should be a priority for many businesses with mobile-first Facebook video ads increasing brand awareness by up to 67%. The key is to show the right video to the right audience at the best time.  
Emphasis on the Customer Experience 
In the competitive world of fitness, businesses must differentiate themselves on the customer experience and this applies to Facebook ads too. An ad campaign is a small part of the larger relationship-building puzzle. It's one touchpoint in your customer journey and experience. By focusing on how your marketing efforts help to build customer relationships, Facebook ads can support your business in the long-term. It's not just about quick-wins, clicks, page likes, and comments. 
4 Key Components of an Effective Facebook Ad
To create an effective Facebook ad, it's a good idea to start with the following four components. By having a good understanding of what you need, you can start to align your ad copy, creative, and target audience in a much more effective way. 
Visual Aspect 
The visual aspect of your Facebook ad is important. How it looks on the newsfeed or in messenger is essential. Think about images, video, color, font types and any other aspects of your creative. The ad should be eye-catching and pop. It's a must-watch video that tells a story about your business or gives the user information they need to know. 
The Top 10 Barriers
Slowing Your Fitness
Business Growth
Discover more
Make it Relevant
Aligning copy and visuals in a way that is relevant to your target Facebook audience is key to effective social media marketing. Being relavent also has a role to play in the customer experience and creating a seamless and transparent customer journey. To get the most out of your digital ad budget, your ad should resonate with your target audience and be entirely relevant. 
Value Proposition 
What value are you offering? Whether you include a high-quality image or infographic, your value proposition should be clear. Your value proposition is how you convince potential buyers or members that your services are superior to your competition. It's about showing what makes you unique and demonstrating the benefits you will bring to your new clients. 
Call to Action 
Finally, a great Facebook ad has a clear call to action (CTA) with trackable metrics. After all, you want to find out if your Facebook ad is doing the job. Your CTA is one of the most important elements of your Facebook ad; it provokes action. A great video stops a user scrolling, a great CTA is where people will make a decision to click or buy. 
10 Ways to Master Your Fitness Facebook Advertising Strategy in 2021 
Facebook is one of the most effective marketing channels to drive awareness, sales, and advertise your business. Even with a limited budget, you can go far and see real impact off the back of Facebook ads. Here are 10 tips to help you master your fitness Facebook advertising strategy in 2021. 
1. Use the Facebook Pixel 
If you're not already, use the Facebook Pixel. It's a simple yet powerful bit of code for retargeting, tracking, and identifying Facebook users on your website, creating custom audiences, and measuring conversions. With the Pixel, you can create better-targeted ads. It helps to ensure that your ad is in front of the right people. From an analytics standpoint, it's a fantastic tool to measure the effectiveness of your ad. This helps you to put your budget into the best-performing ads. 
2. Define Your Audience and Member Personas 
Before you even create our first ad, you should have a good understanding of your audience, member personas, and the overall customer journey. Think about the path someone takes from not knowing who you are to choosing you to solve a problem they have. What steps did they take to purchase your solution? This helps you to show your ads to the right people by knowing what point of the customer journey they are in. In the long-term, this can save alot of money as you're more likely to convert the right people with the right ad. 
3. Target Your Audience 
Facebook has sophisticated targeting options and capabilities. When you create your ad, you can choose who to target based on several factors as well as create lookalike audiences. Effective targeting is essential to maximizing your return on investment (ROI). Within Facebook Ads Manager, you can see two options to make your audience targeting as specific as possible: Detailed Targeting and Connections. You can use these areas to choose elements such as:
Include and exclude interests 
Behaviors 
Demographics 
Target or exclude existing connections to your Facebook Page, app, or event 
4. Focus Your Ad Content and Creative 
Your ad content and creative should align with your customer journey. You can then target ads to the different stages of the sales funnel. Starting with top-of-funnel, you have ads that will look to increase brand awareness. Next, you can start to show ads that encourage more consideration. Finally, you have bottom-of-funnel, the people who are ready to make a decision. All of these target users will need different content and creative that is relevant to them as people, as well as customers in the sales funnel. 
5. Make Video a Priority 
A key takeaway for your Facebook ad strategy in 2021 is that video should be a priority. Across all platforms, video content is king. When it comes to Facebook advertising, video has a critical role to play. Every day, 500 million viewers watch 100 million hours of video content on Facebook. 65% of views come from mobile devices. So, mobile-first video ads should be a major part of your social media fitness marketing strategy. 
6. Set a Measurable Goal 
Determine an objective for your ad but set a measurable goal. Facebook offers 11 marketing objectives that you can align to your business goals. You need trackable and live data to measure the success of your ad. That way, you can decide whether it's the best place to put your ad spend or cut the ad before it wastes more resources. Facebook ad metrics you can track include:
Click-through rate (CTR)
Engagement 
Reach 
Clicks 
Cost per action (CPA) and cost per click (CPC) 
7. Plan Your Ad Content 
If you want to get the best results on Facebook ads, you need to plan all the different types of ads, targeting, and placement. As you will likely be running multiple ads at any one time, it's a good idea to plan your ad content ahead of time. You don't need to define every element on a granular level but you should have an idea of your ad content calendar so that it aligns with your goals and timelines. If you're running ads around certain holidays, Facebook campaign planning is an essential part of your overall strategy. 
8. Track Everything 
It's a good idea to track everything you can with Facebook ads. The Facebook Ads Manager, Google Analytics, and Facebook Pixel give you insights into performance that you can use to make well-informed data-driven decisions. You can evaluate your Facebook ad performance in several ways by assessing awareness, website traffic, sales, digital fitness membership signs up, or track referrals from social media. Measure your return on ad spend (ROAS) so that you can determine which ads perform better. Elements such as placement, ad creative, copy, headline, and call to action can all make a huge difference in performance. 
9. Test All Levels of Your Ad 
Overall, a Facebook ad structure consists of a campaign, ad set, and ad. The campaign level is where you set your advertising objective. The ad set includes your audience targeting, budget, and scheduling. The ad includes your creative, copy, and design of the ad. You can test all levels of your ad from using a different image on the same target audience to trialing a different CTA. By testing parts of your ad, you can find the combination that's most effective. 
10. Consider Facebook Group Ads 
Facebook Groups are rising in popularity. They are often home to a micro-community that's engaged within a certain niche. The social network continues to emphasize the importance of Facebook Groups. To leverage these small communities, you can partner up with Facebook as a paid partnership. The content appears much like a sponsored post. You also have the option to place your ad within Facebook Groups. 
In Summary 
Facebook advertising can feel overwhelming. But it's important to stay on top of the latest trends and updates so you can leverage the social network's massive potential reach. As one of the most effective digital marketing platforms, Facebook offers targeted marketing to get your message in front of the right people at the best time. Continue to experiment with your ads and measure performance to get a better return on ad spend and expand your business.
The Top 10 Barriers
Slowing Your Fitness
Business Growth
In this e-book, we will list the most common barriers that
slow fitness business growth and list some of the tips to
help overcome them.
Discover more