Over the last couple of months, gyms and studios have been forced to adapt quickly and take their businesses online to survive. The sudden turn of events shocked the world – nobody was expecting the Coronavirus to take over to the extent that it has. 
Before the pandemic, many gyms and studios were resistant to adapt to digital fitness and felt threatened by its potential for taking a dominant proportion of the market share. Now, it has been the savior of the fitness industry. 
But as quickly as it's come to the rescue in unprecedented times, it's also transformed the future of fitness. Recently, we've spoken with many fitness industry experts about the challenges that gym and studio owners are navigating following the impacts of COVID-19. As inspirational leaders in the areas of fitness, business, and entrepreneurship, they've joined us on our podcast to share their experiences and advice on how to act now, prepare for the future, and come out on the other side with a strong fitness business. Skip ahead to:
6 Things We've Learned From Industry Experts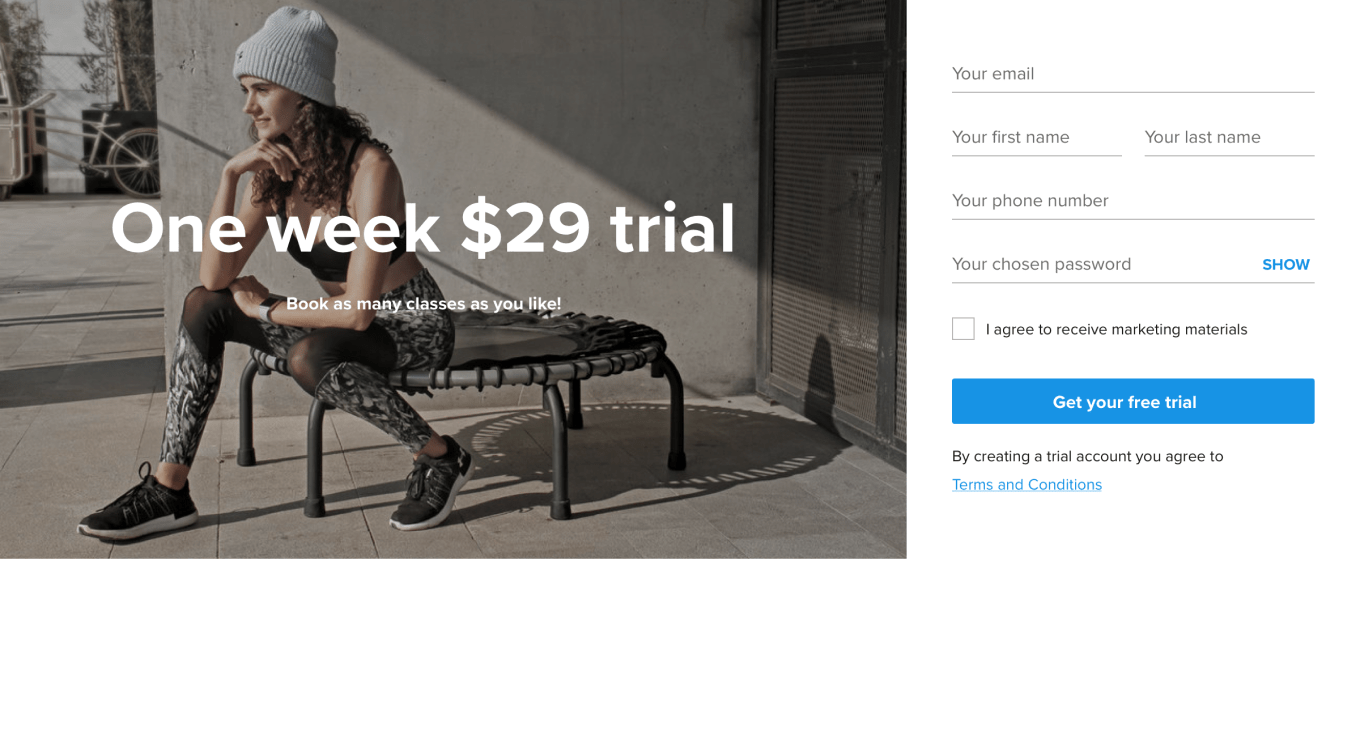 Below, we've curated some of the excellent advice these entrepreneurs have shared with us into six key takeaways that every fitness business owner can learn from. Catch up on all episodes of The Fitness Founders Podcast here and read on for insights from Brittany Welk, Mike Arce, Erik Charles Russell, Alex Hormozi, Jack Thomas, and Stuart Brauer.
1. Online Fitness is Here to Stay
A resounding message from all of the experts we've spoken to is that the future of fitness is a hybrid one. Coronavirus has created a surge in online fitness, and growth across the digital fitness sector has soared in recent months. But even before the pandemic – its popularity has been climbing for years:

Wearable technology has been in the top 3 of ACSM's Worldwide Survey of Fitness Trends for four years.
Brands like Peloton, launched in 2014, have become household names. A lead industry analyst at research firm IBISWorld recently told CNBC that Peloton's market share in the gym and exercise equipment manufacturing industry had grown from almost nothing to 7.3% in its first five years. 
The online workout boom will likely decline as lockdown restrictions ease, but the market's trajectory will continue to grow. Digital fitness has come a long way and will develop further as consumers continue to invest in the trend in its many formats. We recently welcomed Alex Hormozi, founder of Gym Launch, onto The Fitness Founders Podcast. During the show, Alex points out that offering in-person and online workouts can be beneficial to both your customers and your business: your members get convenience, and the online side of your business is a higher margin service. 

"It may actually work better for your customers, and that's okay because it's a higher margin service. And so what happens is you start to adopt what's called a hybrid gym model. You have both remote services, and you have in-person services, so you have a dual revenue stream. And the secondary revenue stream, the remote revenue stream, is not geographically confined and is higher profit."
A lot of people will eventually return to their in-studio fitness routines. Still, gyms that also offer the option of online workouts will be giving members the flexibility and convenience they've grown used to in recent months. Gym sales expert Erik Charles Russell also highlights that online fitness is an excellent tool for introducing potential members to your studio, as it takes away the 'intimidation' that some people feel when they're first joining a gym.
In a recent Men's Health article exploring the future of the fitness industry, Andrew Mantiet, founder of Turf Games, notes that the growth of the home gym will be substantial in the future: "People now know they can get a really great workout within the confines of their home and will engage with brands that offer flexible programming around progression, accountability, and support online."
Online workouts are here to stay because consumers will expect gyms and studios to offer a hybrid service – it's a long term situation that you'll need to adapt to. Right now, your priority is steadying the ship and retaining your existing members. But there's a lot to consider when it comes to preparing for the future of hybrid fitness. Knowing now that your members will have new expectations means there's plenty of time to plan and deliver – you'll need to have an online offering even when the gyms open back up.
2. Success is a Mindset
Listening to Mike Arce in episode 26 of our podcast is a masterclass in mindset. Mike is the CEO and founder of Loud Rumor, a fitness marketing agency helping thousands of fitness studios around the world.⁠ He's a step ahead with his insights into providing value as your business goes online, and in this episode, he lays out some key strategies to help grow your gym during this challenging time.
"It's changing your mindset from 'why is this happening? how could this happen to me?' to 'what could I do right now that will help me gain more business?'"
The core takeaway from this conversation is Mike's own mindset and approach to our current climate. He's optimistic about the future of the fitness industry, as he has believed for some time that online fitness can open the door to new opportunities for gym and studio owners. 
In essence, when you're faced with a challenge; your mindset is everything. Along with some excellent advice on driving revenue online, Alex Hormozi also stresses this advice when it comes to the way you think about running a fitness business. According to Alex, it's a matter of shifting your mindset from "I was in person, and now I'm remote" to "I was doing group training, and now I'm one on one." 
Once you make this pivot in your mind, you can really understand the value of what you're offering to members: essentially, you're providing personal training and charging dramatically less than you would in person. When you break it down this way, it's easy to see how the value discrepancy creates something that someone would want to pay for. 
3. Accountability is the Key Differentiator 
Online fitness is hugely competitive. Longstanding brands such as Beachbody, Peloton, and FIIT App have experienced success with paid digital fitness subscription services long before Coronavirus, and there are also thousands of free workouts available online. 

During our conversation with Alex Hormozi, he points out that the workout itself is mostly the same for every online offering. The key differentiator that separates your business from all of the others is accountability: "What are the competitive advantages that a small business owner has in a local or super local marketplace? It's accountability." 

Now more than ever, it's crucial that you over-communicate with your members to keep them accountable. Whether it's emails, texts, social media, calls, or a combination of everything – checking in with members shows that you're invested in their progress and keeps them engaged. Try and create a support system for your members with a private Facebook or Whatsapp group – these are tools you can use to hold them accountable and encourage them to share their journey with other members. 
Once you have your groups set up, get into the habit of posting them after class to tell them they did a great job and let them know you're there to answer any questions they might have. If one of your regular virtual members has been absent from a few sessions – reach out and find out why. It's up to you to get them back in the game and an opportunity to ask for feedback and find out what kind of workouts, content, or advice will help keep them on track. Accountability and support go hand in hand – and that's what you're there for.
4. Personalization Creates Loyalty 
When it comes to your members, you understand their goals and what motivates them – something that they won't get from a pre-recorded video with a random instructor. At LadyStrong Fitness, founder and owner Brittany Welk took her studio online and retained 100% of her members in the process. 

A key focus for LadyStrong has been ensuring that members continue making the same progress at home, and Brittany dedicates time to making sure this goes beyond her workouts alone. The studio calls its members every day to check in on them and keep them on track. Again, this isn't something a member will get from watching free Youtube workouts. 

"We knew we had a responsibility to these people, more now than ever, to make sure that when they're at home, they're making progress and not going backwards." 

Stuart Brauer, the founder of WTF Gym Talk, also points out your accountability call provides members with some social interaction during lockdown. "If that client only does two workouts a week, I promise you they will still sign on to those calls, and they just like having someone to talk to."

You've built a relationship with these people over time – and that's why they keep coming back to your studio.
5. Reinforcing the Value You Bring is Essential
The COVID climate has completely transformed people's routines, and their purchasing preferences have changed along with it. People aren't necessarily looking for the cheapest or most premium option when it comes to online fitness, they're looking for value. 

In episode 29 of The Fitness Founders Podcast, we spoke with Jack Thomas, owner of BASE and host of the Fitness Business Asia Podcast. ⁠In this episode, he shares some great advice on delivering more value as your business goes remote and how to price and package your online offering: "Charge someone for it and deliver much more for it."

The value you're creating for your members ties in with accountability: you have a competitive edge compared to a free workout from a fitness influencer because you're providing more than just a workout. While influencer workouts are abundant online, that doesn't mean they provide real value, and it's important that you focus on the value your studio offers over price. A free online workout means people can exercise. Being a member of your studio means a supportive community with personalized guidance and accountability to ensure progress.

Know your value and deliver on it. 
6. You Need to Evolve Between Day 1 and Day 21
Live-streaming classes and on-demand workouts are the keys to retaining members right now. Adapting quickly to the situation means you've been able to deliver consistent workouts to your members and make sure your business survives. But while you may have started on day one filming on a camera phone in your living room, this is no long-term solution. The quality of your workouts isn't a means to an end 'for now,' you need to improve them.
In this episode of our podcast, Stuart Brauer makes the point that in the beginning, your members will forgive a lack of quality. However, he says that if your workouts look the same on Day 21 as they do on Day 1 – you're in trouble. The key is to learn and evolve as you go, so you are improving the value and quality of your workouts. 
In Summary
With the right mindset, a focus on accountability, personalizing your member experience, and knowing your value, growing a successful fitness business is possible, even in the face of the industry's biggest challenge to date.