Are you tired of scraping by month after month? How convenient that our partner, NPE, just released a brand new fitness business guide that covers all the steps you need to get your pricing and packaging right.
What's the Right Pricing Strategy for Your Gym or Studio? 
Wages in the fitness industry vary extremely. Did you know that the average fitness professional with advanced qualifications earns between 20.42 – 28.23 per hour? Yet some earn as much as $150 – $250+ per session…or run semi-private or group training sessions that can gross as much as $350.
But what's the difference? A lot of people think that discounting their services is the answer, but that's business (and financial) suicide. Lucky for you, there is another way to earn money in this industry, while still keeping your brand value high! NPE have all the answers to your burning questions in their brand new ebook. 
If you want to learn how to deliver what your clients need and grow a profitable fitness business fast, this is the guide for you!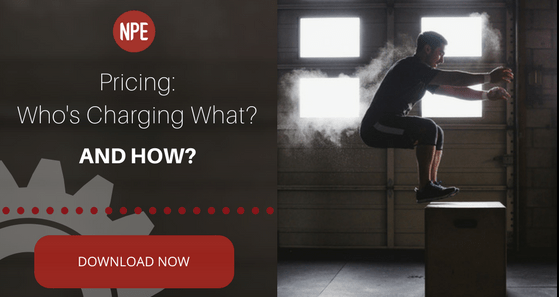 Download the Free Guide (€147.00 Value) and Discover:
2 major packaging and pricing mistakes that you're probably making right now
The best way to restructure your programs regardless of your business model
Why discounting pricing will cause your to backslide in your business quickly
How to fix bad margins and what to charge for profits (and success!)
The one equation that will crush your competition and make your clients love working with you!
And much, much more!
Find Out How Glofox Can Drive Your Revenue:
https://glofox.com/blog/4-ways-to-drive-revenue-with-the-glofox-website-integration