Feature image: Kaya Health Clubs via Twenty20
In 2020, about 3.58 million people participated in barre workouts. Although barre has been increasing in popularity over the last few years, recent lockdowns have reignited the love of the Pilates and ballet fusion workout. As barre studios open up all over the world, people continue to enjoy the benefits of barre.
Barre classes are a mixture of Pilates, ballet, and yoga. It's an extremely popular way to work out and improve fitness. With substantial mental and physical benefits, the barre community is growing as more people look to find a sense of belonging, connection, and community. Now, there's a huge opportunity to niche down in barre and open your own studio. In this article, we look at some of the top barre brands, the benefits of barre, and why now is a great time to open your own studio. Skip ahead to:
What Are Barre Classes?
Barre was created back in 1959 in London by a ballerina called Lotte Berk. After a back injury, she had the idea that she could combine elements of ballet with her rehabilitative therapy to create a new style of exercise.
Jump forward about a decade to 1971, and Lydia Bach, a student of Berk's, brought barre to the United States. Lydia opened the first Lotte Berk studio in New York. Over the years, fitness instructors began to create their own styles of barre like The Bar Method and Core Fusion.
A barre workout is a technique that's inspired by ballet, yoga, and Pilates. It's a low-impact form of exercise that incorporates isometric movements to strengthen your body. The reason that it's different from other classes is that you can get in an entire body workout while not putting too much impact on joints.
Depending on the barre brand, there may be a slight variation in the techniques. For example, some barre classes only include the barre and your body weight to engage muscle groups and increase strength. Other classes may bring in resistance bands, free weights, exercise balls, and sliders.
3 of the Top Barre Brands
Barre classes are now a fitness phenomenon as an all-in-one strength and flexibility workout. These classes cater to all abilities, fitness levels, sizes, and shapes. There's a reason that barre has such a cult following. Here are three of the top barre brands right now.
1. Pure Barre
Website: https://www.purebarre.com/
Pure Barre is the largest barre franchise with over 500 locations across North America with over 550,000 clients. They offer a range of classes that target strength, flexibility, and cardio for all abilities. The brand also provides Pure Barre Go for on-the-go barre classes with weekly streaming classes and on-demand video workouts.
2. The Bar Method
Website: https://barmethod.com/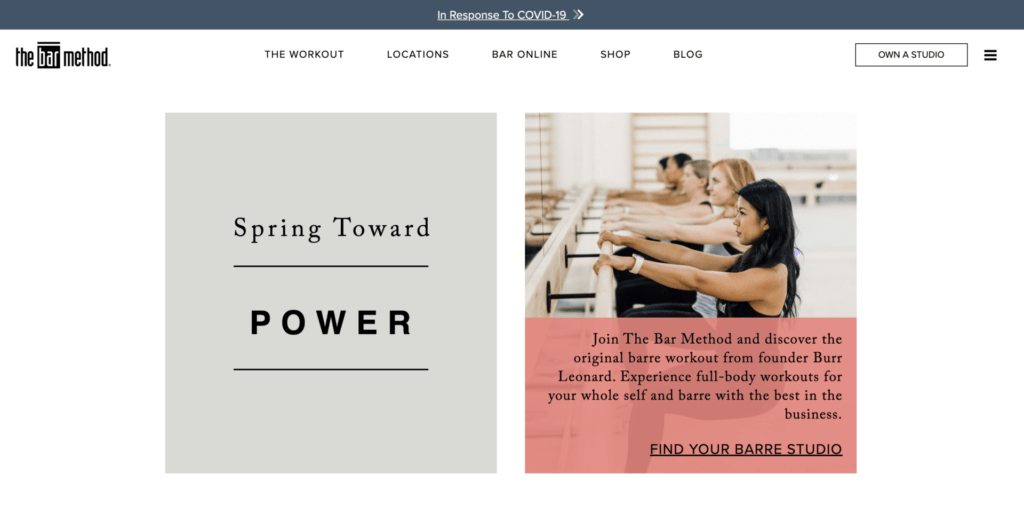 Another big name in the barre world is The Bar Method. Each workout begins with a traditional warm-up followed by upper body and lower body exercise to target the whole body. The Bar Method mainly uses bodyweight resistance but does include some basic props like free weights, blocks, straps, and mats. The workout incorporates Pilates, ballet barre, and strength training with high repetition and low impact. Every instructor undergoes very rigorous barre training and understanding of human anatomy and adjustments. In addition, Barre students receive personalized adjustments during classes to adapt the workout to their specific body.
3. Barre3
Website: https://barre3.com/
Barre3 has over 170 studios and an online platform in more than 98 countries. The balanced full-body workout is all about strength, cardio, and mindfulness. What's different about this barre brand is they also incorporate wellness retreats and the B3 shop with purposeful products. Interestingly, they continue to widen the concept of barre into on-brand and profitable parts of the business. Barre3 focuses on inclusivity, community and celebrate body positivity.
6 Benefits of Barre Workouts
Barre is popular for several reasons. One is how it drives results and helps you achieve lean muscle in a way that's gentle on the body. As the workout technique was originally started to support recovery and reduce the risk of injury, it's pretty different in the way that it's not as intense on the body as other workouts such as HIIT and running. Here are six benefits of barre workouts that have helped to create a cult following.
1. Improve Posture
Because barre helps to strengthen your core, it can improve your posture and body alignment. In addition, it does this in a way that doesn't put on bulk. If you can improve your posture and spine positioning, it can help relieve lower back pain, lead to fewer headaches, and improve overall circulation and digestion. By having a beneficial effect on your posture, barre can boost other areas of your health.
The Top 10 Barriers
Slowing Your Fitness
Business Growth
Discover more
2. Increase Strength and Flexibility
Barre builds full-body strength through isometric movements. These are movements that you hold for longer periods. In a barre workout, you hold and tense muscles without changing the length. This is what creates lean muscles. Often, anyone looking to improve their flexibility opts for a barre class. Flexibility is a core focus in barre workouts—several movements within a class focus on increasing flexibility and range of motion throughout the body.
3. Tone Muscles
A barre workout will help tone the glutes, improve core strength, calves, and hamstrings, giving students a long and lean muscle tone. Barre fitness classes tend to offer quick results that students can visibly see. As you can see, great toning results as you go; this increases motivation and builds up barre as an effective and quick workout.
4. Reduce Stress and Improve Mental Focus
In general, exercise helps to reduce stress and improve your overall sense of well-being. While yoga has proven health benefits on stress, barre lands somewhere in between. Barre acts as mind-body practice, helping to increase mindfulness and mental focus. It can be a form of meditation as you have to stay present in each movement. Many students leave barre feeling calm and refreshed.
5. Boost Endurance
According to the American Heart Association, improving endurance benefits your heart, lungs, and circulatory system. By incorporating barre workouts into your routine, it can help to boost endurance. These exercises help reduce the risk of developing diseases like heart disease, diabetes, and stroke.
6. Low-Impact Workout
Barre is a low-impact exercise that you can do in a studio or include in-home workouts. Because the workout has a built-in handhold, it's a safer form of exercise. This is what makes the workout accessible to all ages and abilities. The ballet-inspired workout was designed to be soft yet effective on the body. As with any exercise, expert guidance and form is key to a safe workout.
Why You Should Consider Opening a Barre Studio
Although barre isn't a new type of fitness, it continues to grow massively in popularity. Techniques like The Bar Method and Pure Barre have allowed studios to pop up all over the world. Barre is no longer just a workout; it's an experience. The workout method offers a way to achieve effective results using low-impact and small movements. Here's why you should consider opening a barre studio in today's fitness market.
1. Effective and Safe Workout
One of the reasons barre workouts are so popular is that they offer a safe yet effective workout. Seeing progress and results is important in keeping members motivated. As you begin to see results, it encourages you to get back to the studio and put the work in. Barre classes are ideal for all levels of fitness, from beginners to the more experienced. During a workout, you will increase strength, endurance, burn calories, and build a super stable core.
2. Booming Boutique Fitness Industry
Boutique fitness studios provide a specialized experience. On average, they charge two to four times more than other health clubs. Interestingly, 40% of all health and fitness club members belong to a boutique studio. Over the past several years, the boutique fitness industry has experienced substantial growth, becoming one of the fastest-growing sectors within the industry. Although all sectors have faced an enormous challenge in the last year, it remains clear that fitness is an absolute priority for consumers. Fitness is more than going on a treadmill; it's a lifestyle and experience.
3. Create a Strong Sense of Community
With limited attendance and smaller classes, barre studios are quick to establish a sense of community. Often, it's easier to create a feeling of community in a boutique fitness setting. Your fitness community is one reason members will pay a more premium price than a standard gym. Whether you have an in-person or online fitness community, members crave interaction and genuine connections. In a world where more and more people are feeling isolated, the community benefits of a barre studio are a huge attraction for students.
4. Cater to a Growing Digital Audience
Opening a barre studio doesn't mean you have to open multiple locations or a massive studio. With digital fitness skyrocketing in popularity, some top barre brands are running online fitness platforms with regular streaming and on-demand content. Create multiple streams of income by offering both in-person and digital memberships. A great example is The Forme Method, which is a 60-minute dynamic barre class. Alongside their four studios, they run The Forme Barre virtual studio at the cost of $49.99 per month.
5. Transform Your Passion to a Business
If you have a passion for fitness and barre, it makes sense to transform that passion into a profitable business. With barre classes, you can genuinely impact students and help them to achieve visible results. Some of the best barre fitness concepts come from a place of true passion. Whether you are already a barre instructor for another brand or are addicted to your weekly barre sessions, launching your own business can be hugely satisfying.
6. In-Demand Niche
Barre sits somewhere between ballet, yoga, and strength training. As barre continues to grow in popularity, there's an opportunity to narrow it down even further with specific classes that cater to older participants, post-natal, and stress. With the ongoing coronavirus pandemic, health and fitness continue to be a priority as the message of public health spreads throughout nations. Because barre is an accessible form of exercise for many people, it can help students maintain a healthy weight and lifestyle without being too tough on joints.
7. Suitable for All Ages and Abilities
Barre classes are fun, approachable, and inclusive of all ages, sizes, and abilities. When members feel like they belong in a welcoming and inviting community, it can elevate a sense of well-being. What's more, is that an inclusive environment increases positive reviews and client testimonials.
8. Franchise and Independent Studio Opportunities
If you love barre and want to know how to open a barre studio, you have a couple of options. You can go down either the franchising route or open an independent studio. Within the barre, niche several franchise brands give you the opportunity to open your own studio with the help of a proven system. Brands such as Pure Barre and Barre3 are major franchises that provide training and support throughout setting up the business. The other option is to open an independent barre studio. For this, you would need to build up a following, find a location, and think about start-up costs.
In Summary
In today's world of barre workouts, brands tend to put their own twist on the original technique. This creates a range of ballet-inspired workouts that are slightly different, allowing them to compete with one another. Barre continues to evolve and grow with new certification courses, independents studios, and franchise locations growing in numbers. However, before you jump on the barre bandwagon, make sure you are well-educated in barre so that you can create a safe and effective offering.
The Top 10 Barriers
Slowing Your Fitness
Business Growth
In this e-book, we will list the most common barriers that
slow fitness business growth and list some of the tips to
help overcome them.
Discover more