As a gym or studio owner in today's world, offering online options is an essential part of running a thriving fitness business; consumers have grown to expect this offering.
But whether the online side of your business is running successfully, or you want to improve it, both in-person and online; fitness is a hugely competitive market. There are literally thousands of options for today's gym members to choose from.
So how do you create a fitness program online that stands out from the crowd, and what steps do you need to take to make it a success? 
Before you get started with developing a program, it's important to understand why you need to give members this option, and the business benefits that come with it. Skip ahead to: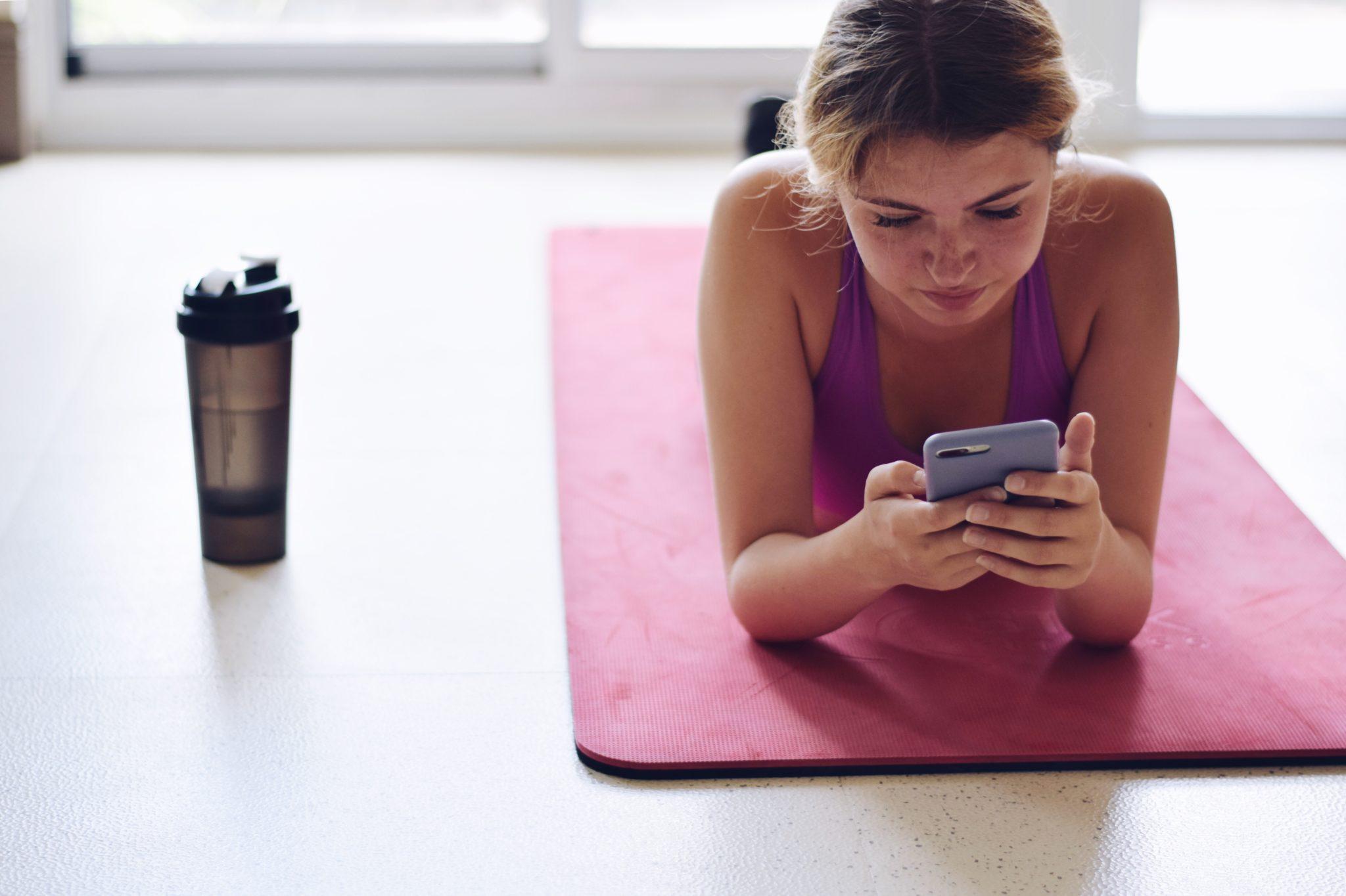 4 Reasons You Need an Online Fitness Program 
Aside from meeting consumer demand for online workouts, there's a host of benefits to creating a solid hybrid fitness offering. 
Online fitness programs give you the ability to deliver an effective home workout to multiple people simultaneously. You're no longer restricted by time or location to offer your services, and it's an excellent way to bring in additional revenue. It's a massive opportunity to scale up your business in a way that you can't do with in-person training alone. Let's take a look at these benefits in a little more detail.
1. Expand Your Revenue Streams 
With fitness classes, you have a set number of people who can pay to join. The same goes for gym memberships; your facility tends to have a limited capacity so that it can stick to social distancing guidelines and be COVID-safe. Online coaching programs give you the option to instruct a limitless number of people. 
With a fitness program, you package your exercise program digitally and send it out or use an online training portal for members to access resources. There are no time, capacity, or location restrictions holding you back. Online fitness programs allow you to deliver your services digitally, as you begin to take on a hybrid approach to your fitness business. This will enable you to combine in-person and online elements to effectively maximize your services and grow your business. 
2. Reach More People and Build Relationships 
Gyms and fitness studios are limited to a certain number of resources. You only have a specific number of trainers and instructors and the number of members who can attend a fitness class or gym session at any one time. However, online fitness programs don't have these types of constraints. Often, things like location or price get in the way of new customers. Digital memberships and programs tend to be more affordable, which allows you to target the home workout crowd like never before. 
You can create a vast digital library and fitness program that can be marketed to multiple people. Technology gives you the ability to reach and connect with your target audience. You can work with a practically unlimited number of people in virtually any location. 
3. Meet Consumer Demand for Convenience
You can access new movies and TV series in seconds on Netflix and order your favorite item off Amazon for same-day delivery. Convenience is intertwined into everyday life. When you can gain access to information with a click of a button or order a takeaway through your phone, convenience isn't in demand, it's expected. 
Fitness that is positioned as inclusive, attainable, and most importantly, convenient is a game-changer. Convenience drives consumers and is a significant influencer in buying decisions. Online fitness training is as convenient as it gets. 
4. Scale Up Your Business
Online training helps you to achieve the type of growth that you simply can't with in-person training. You are no longer limited to the number of hours in a day. Once you create the content and launch your fitness program, you're then managing members' progress and supporting results. 
Multiple people can use your program at any one time. Take the opportunity to leverage digital fitness to scale up your business. Use every tool at your disposal to grow your business. The coronavirus pandemic has shifted the fitness industry. During lockdown, many fitness businesses pivoted to offering a digital fitness platform to generate income and continue to connect with members. Creating a fitness program online helps to package your digital content in an effective way that delivers results for your members. If you have a unique form of exercise that has proven results, you can package that into a digital program that provides a solution to your customers. 
9 Steps for Creating an Effective Online Fitness Program 
Now that we've covered the benefits, let's outline how you can package up an effective online fitness program that can be delivered to members globally. Check out the nine steps below for creating an effective fitness program. 
1. Define Your Niche and USP 
Let's jump straight into step number one, which is all about defining your niche, target market, and unique selling point (USP). It all starts with understanding who you are creating your fitness program for, as this will affect how you market and build your program. If your program is too general and doesn't connect with your ideal client, you may find that your prospects are getting snapped up by competitors. When you narrow down your niche and your target audience, you can create a solution to a specific problem. Ask yourself the following questions from the get-go:
What makes your program unique? 
What aspects of your business stand out from the competition? 
When you nail down your USP, it will help you throughout the content planning stages. It will also help you to market your program more efficiently.  
2. Develop an Effective Home Workout Program 
In order to market and sell an online fitness program successfully, you need to develop an effective home workout plan that delivers results. Think about your members' number one problem and provide a solution for it. Maybe they struggle with weight loss or find it challenging to get the motivation to workout consistently. Your workout content should support certain health and fitness goals and solve a problem. 
During this stage, you can start to develop your workout routine. Include things like online workouts, exercises, nutritional recipes, and lifestyle tips. Decide how long the program will be and what workouts will need to be done each week. You have the option to include resources in nutrition, wellness, and motivation. Develop content that will help members overcome hurdles, thinking about how the content will help clients achieve results. 
The Top 10 Barriers
Slowing Your Fitness
Business Growth
Discover more
3. Plan Your Content Structure 
Once you have a good idea about your workout program, you need to plan your content structure. This section is all about how you want to deliver each individual piece of content. Think about various earning styles and what members will benefit from the most. Different types of content include:
Videos: live real-time and pre-recorded classes 
Images/inforgraphics
Interviews 
Text, PDFs, and written guides  
An example of good content use is F45. The fitness brand is known for a specific style of training. The F45 Challenge is an online training program that focuses on fitness, wellness, and nutrition. They combine F45's unique training style with meal plans, exercise video workouts, and the option to order ready-made Challenge meals. The online fitness program takes a holistic approach to fitness to help members transform their lives. The program uses video content, recipes, and the F45 app and website to deliver the program efficiency. 
4. Consider How You Will Deliver the Program 
The delivery of your program involves how members will access their resources. Think about what you need to do so that members know what they are doing when they are doing it, and give them a convenient way to access everything they need. 
It's a good idea to automate email so that when someone signs up, they get instructions on the program. You may want to create an online membership program area. You can put all your training materials in one place and allow members to log in to access all the content. A robust training portal allows you to scale up and work with more online clients. 
5. Decide on Your Pricing Structure 
Another important step is deciding on your pricing structure. Consider how you will price your program. You have a couple of different options. Maybe you'll ask for a one-off fee, where members will pay one upfront cost to access your program. This would be suitable for a program that you don't plan on adding content to. 
The other option is to create a monthly membership price. A membership pricing structure is ideal for a program where you plan on updating content regularly. Maybe it includes one weekly live fitness session with an instructor. Whether you offer a subscription or a one-off fee package will depend on what best suits your business, customers, and the type of program you're creating. 
Jack out The Fitness Founders Podcast episode with Jack Thomas below to discover some great tips on pricing and packaging your online offering. 
6. Think About Your Technology Set-Up
As a digital program, your technology set-up plays a pivotal role in the success of your course. The core features of an online fitness platform include the ability to offer pre-recorded and live-streaming classes. Depending on your program, you will probably need to create video content. Make sure you have the right video and audio set-up to record high-quality video content. You will also need to edit video, so will require access to video editing software. 
On top of your recording software and technology, you will also need to have an onboarding system in place for new clients. Think about creating a landing page, training portal, and member-only areas on your website. Consider developing a branded fitness app to deliver your program. Members need to access and pay for your program easily, and this means being able to accept global payments online easily and providing an excellent booking experience. 
7. Hold Members Accountable 
You need to figure out how you will hold members accountable online. Accountability is extremely important in fitness. If you don't hold members accountable, it can affect their consistency and motivation. When members stop working out, they stop seeing results, and your program stops delivering on its promise to provide a solution to a problem. 
Alex Hormozi, founder and owner of Gym Launch recently joined us on The Fitness Founders Podcast. During the episode, Alex points out that whichever strategies you use to achieve it – accountability is the key to getting your members results. And that's what sets you apart from the online competition. 
A member management system helps you to keep track of progress. Ongoing communication and support is the key to keeping members engaged, motivated, and accountable. For more ideas on keeping members accountable online, check out this blog post.
8. Promote Your Online Fitness Program 
For success with online fitness programs, you need to have a solid strategy for promotion. Who will sign up for your services if no one knows about them?
Develop a marketing strategy to drive quality traffic to your fitness program landing page. Use social media and content marketing tools like blogs, videos, podcasts, and live streaming to raise awareness of your new program. 
Your marketing strategy may include a combination of paid social media ads, influencer marketing, word of mouth, and in-person marketing. 
9. Deliver Your New Program 
Finally, the last step is to deliver your new program and fulfill your promise. Launch your program and start seeing client results roll in. Even though your program will be live, you will still always have the opportunity to tweak and make improvements as you go – and this is essential for creating a program that people can keep coming back to.
As you get more testimonials and feedback from the fitness program, you can take steps to improve and add content. Your target audience is often one of the best sources of information. Make your program better by using valuable data from members.   
In Summary 
It takes careful planning and time to develop an effective fitness program that your members will love, and just like your brick-and-mortar business; your online offering is something that you'll need to continue adapting and improving in-line with consumer trends. 
An effective online program comes down to developing a great workout, leveraging technology, and holding members accountable to achieve results. 
The Top 10 Barriers
Slowing Your Fitness
Business Growth
In this e-book, we will list the most common barriers that
slow fitness business growth and list some of the tips to
help overcome them.
Discover more