Social media plays a crucial role in marketing strategies and can be extremely advantageous when used well. Whether you're new to Facebook or are looking to revamp your existing fitness Facebook page, using the platform correctly is a smart move. 
But making the most out of your Facebook page means doing a little more than sporadically uploading a photo or sharing a video. Don't expect to generate leads and customers if you're not putting in the work. You'll need a comprehensive strategy to ensure that you reach your target audience and to engage them. 
In this article, we'll look at ten brands with a great fitness Facebook page and walk you through the basics of what your page needs, and how to manage it best. Let's begin by taking a look at the platform's potential. Skip ahead to: 
Facebook Usage in 2019

Source: www.broadbandsearch.net
Social media use is higher than it's ever been, and it's only set to grow. Around 45% of the world's population uses social media, 60% claim they are always connected, and 98% have used it in the last month.
With 23% year on year growth, 80 million small businesses now have a Facebook page. The social media channel now has 2.37 billion monthly active users. Of all of those users, 1.56 billion are logging into Facebook every day. 
The average user is currently spending 2 hrs and 23 minutes of their day on social media, and at 58 minutes per day – Facebook accounts for the majority of this. Given the number of users on Facebook, the potential to attract new visitors is more significant than any other social network. 
Maintaining Your Fitness Facebook Business Page 
If a potential client were to land on your Facebook page, what would they stumble upon? Would they find useful information about your company, the classes you offer, current promotions, and a regularly updated feed with valuable and engaging content? 
Make Sure You Page is a Business Page
Without a Business Page, you won't have access to several content creation tools, Facebook Ads, or analytics. Additionally, a personal page will require people to send you a friend request to engage with you. The last thing you want to do is to make it more difficult for customers to reach you.
Provide up to Date Information
There is some necessary information that every business page requires. It's essential to make sure this information is always up to date, as potential clients may be looking into your business on Facebook. The absolute basics include: 
Address
Contact Number 
Website 
Opening Hours 
The 'About' section of your page is also a key area of information. Keep it clear and simple, and use some keywords in your description so that your page is easy to find. Even though visitors no longer see a preview of your "About" section when they open your page (you now have to click on the option on the left-hand column), it's still one of the first places they will head to when looking for information about your page. 
Profile and Cover Photo
You want to pick a profile picture that is easy for your audience to identify – this can be a logo for a well-known brand or a headshot for a freelancer. Being identifiable is essential for getting found and liked, particularly in Facebook Search. It is the image that will show up in search results, on your profile, and the thumbnail that will be displayed next to your posts in other people's feeds – so make sure it represents who you are.  
You'll also need to choose an appealing cover photo. Your cover photo takes up the most real estate on your Facebook Page, so make sure that you are choosing a high-resolution and engaging image for your visitors. 
Know Your Audience
Before marketing yourself on any platform, it is always good to have a clear grasp of your audience and what they expect from you. Before you start creating any content, look through your customer base, analyze your business model, and evaluate potential newcomers. 
When constructing your buyer personas, consider customer demographics, behavior patterns, incentives, and goals. Knowing your target audience is essential for all of your business goals, but it's especially important when it comes to Facebook – and using the platform for targeted advertising. 
The Content for Your Fitness Facebook Business Page
Once your page is up and running, it's time to consider your content. Some people have an innate ability to adapt their content to their target audience intuitively; it's nonetheless worthwhile to write it down so you can visualize what your feed will look like and ensure your content is varied and engaging. 
The Top 10 Barriers
Slowing Your Fitness
Business Growth
Discover more
Types of Content
There are so many options for content sharing on Facebook. The best way to see what your audience likes, is to start by using different types and see what gets the best reaction. Here are a few ideas you can experiment with:
Team/member profiles. A simple photo post with a descriptive bio. Think 'Member of the month' to highlight the progress one of your members has made.
Useful infographics. Think workouts, nutrition tips.
A poll. Ask your audience what they'd like to see more of at your studio. Maybe it's workshops, or perhaps they'd like some more equipment options.
Helpful blog posts. Share content from your own blog, or curate helpful information from across the web.
Statistics. Use workout and nutrition stats and offer advice. For example: "X% of your breakfast should be protein-based. Here's why and 3 quick recipes to kick-start your day".
Videos. Share quick workouts, healthy recipes and behind the scenes footage from your studio.
Visualize who you want your audience to be and what your future clients may look like. Another way of doing this is by looking at your own interests (i.e., modeling your target audience on you). Is there a particular area of fitness that particularly interests you? If you are enthusiastic about a specific area, this may naturally develop into your area of expertise as you advance in your career. Sharing things that you are genuinely interested in will ensure that you remain well-informed and passionate about the topic. 
Top Tips for Fun Posts 
It goes without saying that you should keep clients informed of everything that is going on with your business; you may have upcoming events or promotions; social media is a great space to share these. It is also a great platform to post photos from classes to entice newcomers. Perhaps you use Facebook to upload a daily workout to inspire people who can't make it to class or to highlight a member's achievement.
Consistency is vital with posting. Keep things fresh and fun but make sure your voice stays true to your brand. Try some of these ideas: 
Tell stories, or share some fun facts about your company. Connect with your audience. 
Always be real and authentic. Remember who you are and what you want to promote.
Post about trending topics. Take advantage of social media when you can.
Share customer content. Let them know that you care. 
Don't be afraid to ask for feedback. 
Occasionally don't be scared to go off-topic. Perhaps you come across a funny image that you think your followers will relate to and engage with – that isn't necessarily related to fitness. An excellent example of this is content related to the days of the week – as they are universal.
10 of our Favourite Fitness Facebook Pages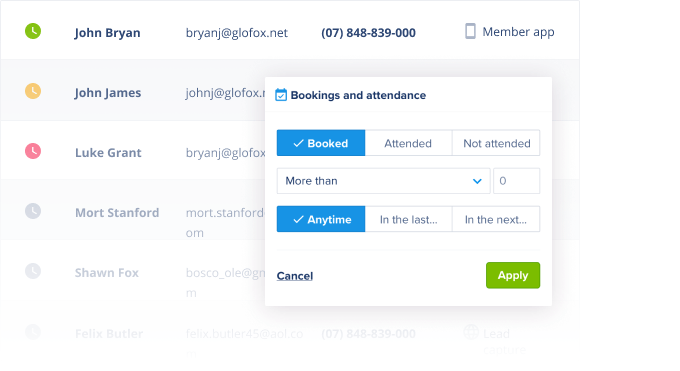 Everydaylate Health keeps it lighthearted and entertaining but provides tons of useful information. With articles like 7 Natural Flu Remedies that Actually Work, and 20 Tips for Building and Cultivating your Resilience, there is a little something for everyone. 


Steve Kamb, the founder of Nerd Fitness, is the king of making fitness fun. He has created a community for so-called nerds, desk-jockeys, and weekend warriors who are seeking to get fit. Whether your goal is to lose weight, learn a new technique, run a race, or feel better about yourself, this fitness Facebook page is the place to go. Expect X-Men references and quirky stories. 

Greatist is a one-stop-shop for all things healthy! They are one of the most trustworthy (and entertaining) health and fitness sources on the internet. They cover a little of everything, from workout tips, recipe ideas to mindfulness advice. 


Srdjan Popovic, author of Bloom to Fit, draws from his past experiences of overdoing things (studying all day and doing intense training at night) to create a system that would give him sustainable health and fitness. He shares all his tips on his fitness Facebook Page and offers a free e-book to users. He sticks to a simple philosophy and engages his readers with weekly workouts, nutrition challenges, and more. 


You may already be familiar with Cassey Ho from her Youtube page, where she shares her phenomenal POP Pilates workout videos, but her fitness Facebook page also provides a wealth of information. Expect great workout ideas and some delicious recipes too! 


Fitness Motivation is one of the most popular Fitness Pages on Facebook. It owes its popularity to a combination of great tips, serious inspiration, workout videos, and more. They update the page daily and stay on top of all significant health and fitness trends. 


Angela Liddon made a mark on the industry over a decade ago. She came to be known as the honest food blogger as she opened up to her continuously expanding audience about her struggles with an eating disorder, her path to a healthy lifestyle, and her rising interest in creating nutritious (and delicious) food. Today she has an award-winning blog, best-selling cookbooks, and an award-nominated app. Follow her Facebook page for great recipes! 


The brainchild of the internationally recognized trainer, speaker, and author Martin Rooney, Training for Warriors, is a hardcore strength and conditioning program initially intended for MMA fighters. It has since become prevalent among everyday fitness fanatics. The program is designed to be used by anyone from professional athletes to weekend warriors. Follow their Facebook Page for tips, tricks, and tons of inspiration. 


You may know Athleta from their cute and comfortable clothing line, but they offer a lot more than retail. Their ultimate goal is to help people feel beautiful on both the inside and the outside. Their Facebook Page is full of interviews with athletes (who tend to be their models), motivational stories from their customers, recipe ideas, discussions on mental health, and so on. They also promote great sales and promotions on their page, so be sure to follow them now! 


Girls Gone Strong is a global movement that empowers women to embrace everything possible for both their lives and their bodies. They provide tools and encouragement through body-positive, sustainable nutrition, training, and self-care guidelines. Their goal is to get more women in the weight room and show that strong is beautiful. Expect inspirational videos, great tips, recipes, and massive amounts of motivation. 
In Summary
The perfect fitness Facebook Page offers a neat and visually stimulating hub of information for both existing and potential members. As your fan base grows and expands, you can learn more about what they like the most and what they engage most with. 

The Top 10 Barriers
Slowing Your Fitness
Business Growth
In this e-book, we will list the most common barriers that
slow fitness business growth and list some of the tips to
help overcome them.
Discover more