Build it, and they will come…
While this advice worked out for Kevin Costner in the hit film Field of Dreams, in the real world, this is nonsense. A lot of first-time gym owners believe they have built the gym of their dreams and that people would be crazy not to turn up. But even when established franchises like F45 and Orangetheory roll into town, they put massive efforts into building up their membership base, despite their significant name recognition. So if they are putting effort into getting members in the door straight away, that means you can't let yourself fall behind the pack.
This process is called lead generation. In this article, we are going to go through the basics of lead generation for gyms, the typical lead generation channels for a gym and the best lead generation strategies for gyms in their first year of business.
Let's dive in.
The Basics of Lead Generation
From the times of cave dwellers touring the caves searching for people to barter with to the first tv and radio commercials in the 40s and 50s right through to the evolution of PPC and social media ads, the way we generate leads for business has evolved. In this part of the article, we will look at the basics of lead generation as it stands today.
What is Lead Generation?
Simply put, Lead generation is the process by which you attract and convert strangers into prospects that you can sell your products and services to. For a fitness business, this means getting your message out those who may be interested in joining your gym or studio.
The process works like this. You attract the prospective member through one of your marketing channels. After that, the person is directed to a landing page on your website. The copy on the landing page prompts the person to give their details into a form that you can then be added to your list of potential leads.
From here, you can hit this person with different marketing materials and strategies that will eventually take them along the sales funnel. This buyers journey takes them from being a prospective member (the lead) to a fully paid member of your fitness business.  This process can be made easier through effective lead management aided by a robust gym management software system. This graph below lays out the kind of journey a lead can go through.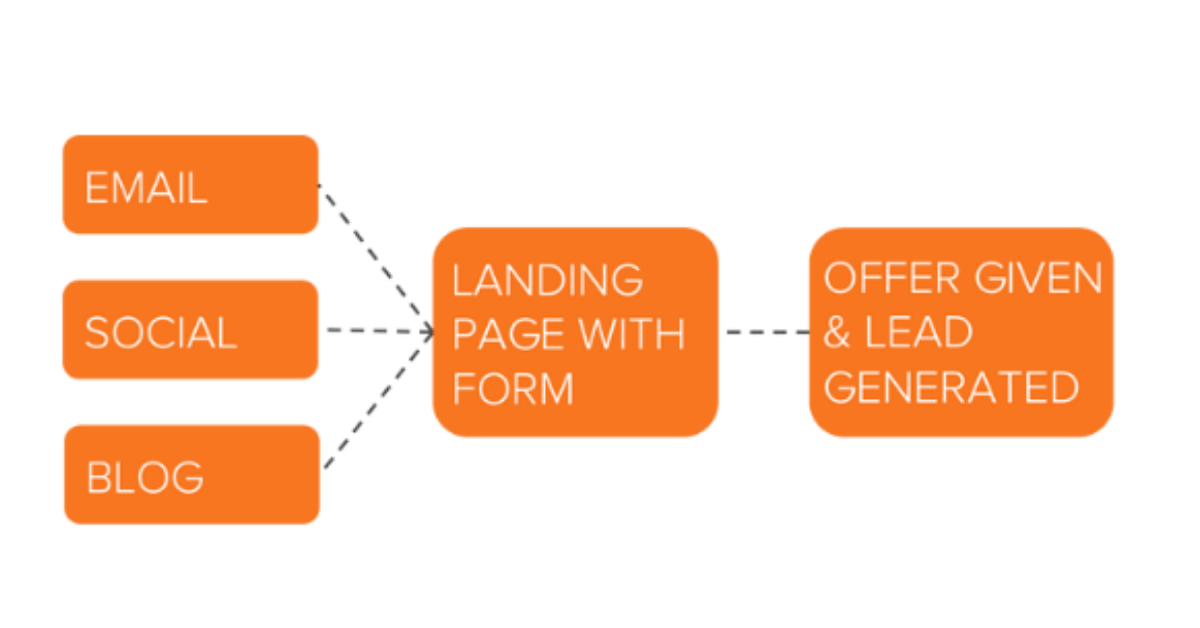 Source: hubspot.com
Sounds simple right? As with a lot of things in business, its easier said than done. So let's now look at the importance of lead generation to a fitness business.
Why Does a Gym Need Lead Generation?
Should the question here maybe should be "Why Does a Gym Need Aggressive Lead Generation?
Let me explain.
The fitness industry has become hyper-competitive over the last number of years, and because of that, you may find yourself in competition with a range of different studios in the beginning. And all of them are vying for the largest market share in your local area.
So to gain a foothold and grow and improve your business, you need to build that solid membership base from the get-go. That's what you need to be agressive. That's why you need to be exhausting all the primary lead generation channels you can to have any chance of surviving.
When it comes to lead generation channels, there are a couple to choose from. In the next part of this article, we will look at lead magnets and the typical lead generation channels used by a fitness business.
What Are the Typical Lead Generation Channels for a Gym?  
Gone are the days that lead generation meant plastering the town with posters, handing out flyers in the freezing cold and blowing your quarterly budget on buying ad space in the local radio or newspaper. Now, these methods still have some benefits, but they aren't the most effective in terms of costs and results. There are a number of better lead generation channels that will get you the results you want. Lets first taken a look at what a lead magnet is and what a lead generation channel is.
What Is a Lead Magnet?
To attract leads to your fitness business, you need to capture their interest. This requires what is known as a lead magnet. A lead magnet is something your prospective member will see value in. This could be something like an e-book, and Instagram ad or a marketing email. An effective lead magnet is something that makes a person want to hand over their personal details for. 
In the world of fitness, the most famous example of an effective lead magnet is the classic free trial. Everyone loves a freebie, and a lot of fitness business use the free trial to showcase what they have on offer. However, there could be the case made for charging a small fee as there are those who make a habit of skipping from trial to trial in an attempt to save money.  
Another type of lead magnet that is popular is the fitness challenge. This works both as a retention tool for current members and lead generation tool to sign up non-members. For more information, take a look at our article on 8 Fitness Challenges Ideas to Supercharge Acquisition and Retention.   
The Best Lead Generation Channels for Gyms
Social media: Probably the most effective channel in terms of cost and result generating leads through social media falls into two distinct camps: organic and paid. Organic involves posting regular content on your leading social media platforms. Paid lead generation is done through the ad platforms a social media channel. Currently, Facebook and Instagram offer the most value and is where fitness businesses have had the most success. We will go more into the merits of each in the next part of this article.
Content: As talked about in our blog on content marketing content has become increasingly popular over the last number of years. This because people are now looking for something that will inform them, entertain them, and ultimately give them real value. Content is an excellent example of a lead magnet. Included under this umbrella of content are things like blog articles, videos podcasts, and e-books. According to the Content Marketing Institute, over time content marketing generates three times more leads than paid search advertising.
Email: Despite what you may have heard from supposed digital marketing experts, email is not dead. In fact, it is is still one of the most reliable channels you can use. As well as that, email is still quite popular among the general population with more than 92% of online adults still using email and using it 15.6% more than social media. There is no doubt that email is still one of the critical lead generation tactics and should be baked into any gyms lead generation strategy.
The Top 10 Barriers
Slowing Your Fitness
Business Growth
Discover more
Word of mouth marketing: For a gym or fitness studio, the most powerful word of mouth marketing tool is the referral program. According to Hubspot, over 90% of people believe in product or service recommendations from friends. This is why referrals are successful as a low-cost way to generate leads. However, for this to work, you need to have built some sort of membership base. Another form of word of mouth marketing is online reviews, specifically, Google Reviews. Just like recommendations from a friend, reviews are powerfully persuasive.
The Cost of Lead Generation Strategies for Your Gym
Now that we have gone over the basics of lead generation lets look at some lead generation strategies, you can implement in the first year of business. Depending on the scope of your budget, you may use one or all of these in your overall lead generation strategy. First, let's look at an essential factor –  the cost.
How Much Should You Spend on Lead Generation?
Unfortunately, the answer to this is that you have to spend money to make money. There are a lot of different costs associated with starting up a gym, but if money isn't spent on lead generation, then you will fail quickly. However, this doesn't mean you should throw money at the wall and hope it sticks. Test out all your lead generation strategies to figure out the cost per lead from each.
To figure out your cost per lead simply divide what you spend on a campaign or channel by the number of leads that came in from that channel. For example, you spend $1,000 on a Facebook Ads campaign, and you get 20 leads from this. Cost per lead = $1,000/20 = $50 per lead. The end goal for all your lead generation strategies should be lower the cost per lead as much as possible so you can maximize your profits.
Have Your Strategy Ready to Go from Day 1
On a recent episode of the Glofox Fitness Founders Podcast, our guest Mike Arce talked about a couple of key points when it comes to lead generation strategy. Mike, who is the CEO of fitness marketing agency Loud Rumour, told us that the most important thing is to have as much as you can set up from day one. "There is one piece of advice I think people give. Just start with something. Do that really well and then add things as you go" said Mike.
For him, to have a great year, you need to have a lot of different lead generation strategies going at one to make your money back in the first month. "Here are all the things you need to have right off the bat in order for you to have a great, great year and get your money back almost instantly – Facebook Ads, Instagram Ads, Youtube Ads, landing pages, automated emails, automated texts, thank you pages that upsell and that's it."
For more great information, check our full interview with Mike Arce below.
7 Lead Generation Strategies in The First Year of Business   
1. Paid Social Media Ads
As Mike mentioned the advertising platforms where you will get the most success is Facebook, Instagram, and Youtube Ads. Facebook and Instagram Ads in particular work because these are the platforms that most of your target audience are spending there time. As well as that they have powerful retargeting capabilities with the Facebook Pixel.
And what exactly is the Facebook Pixel?
The Facebook Pixel is a piece of code that is placed on your website that tracks the action a visitor makes on the site so you can tailor your ads to meet their needs. For example, if you have a page on your site for the yoga classes you run, the visitors to this page will be targeted with Facebook and Instagram Ads about yoga classes. In fact, according to Uhuru, visitors to your website are 70% more likely to covert when they are targetted with an ad. While targetting is powerful retargeting is powerful and efficient, meaning your ads are reaching people, it a better frame of mind to purchase.
2. Organic Social Media
The simple fact is that if you don't have a regular social media presence, it will be as if you don't exist. Posting regularly to social media is a long term strategy and may not yield any results in the short term. In particular, Facebook's algorithm is making it harder and harder for content to be seen on the timeline.
So what is the point?
The reality is that not posting on social media regularly will give off a poor impression of your business and may stop potential leads coming to you. There so much content that you can post regularly, such as class pictures and videos, workout and nutrition tutorials, class timetables, motivational quotes, and member transformation stories. Posts about member transformations are particularly powerful as they are highly shareable and can bring in new followers that you can then convert into new leads through targeted advertising.  
3. Referral Programs
Generate positive word of mouth for your gym by using this key marketing strategy and add another string to your lead generation bow. There are two key benefits to running a referral program for your gym or studio. Firstly you reach potential customers who, despite your best efforts, have not seen any of your marketing campaigns to date. On top of that you these prospective clients are more likely to trust a friend over just another campaign by a fitness studio.
Secondly, as well as being an effective method of lead generation, referral programs can be a good gym membership retention strategy. If a member is resistant to recommend your services to a friend, then there may be an underlying issue with your studio. So use this as an opportunity to intervene early and potentially stop this member from churning.
4. Challenges
Both of these marketing strategies have been around since the early days very simply because they work. And they work because if done correctly they are the perfect way to build up a relationship with a prospective member.  Then you can nurture them along the path to becoming a full paying member.
You should aim to run at least four challenges a year that are either 4 to 8 weeks long. These challenges are the same in how they are laid out but are branded differently depending on the time of year, i.e., the "Summer Shred" for those looking to be in great shape for holidays or the "Winter Warrior" for those looking to keep in shape during the overindulgence of the winter months.
5. Trials
With trials, there are two types of trial you can go for. You can either do the classic free trial model or try the low-cost free trial model that has become popular with the more boutique fitness studios. The advantage of the inexpensive free trial is that by getting even a small financial commitment up front, you filter out the people who have zero interest The person who is willing to pay for a trial, however small, is more likely to sign up.
6. Email Marketing Campaigns
With email, there's no danger of a change in algorithm. When you have your list, the list is yours.  You can hit people with as many emails as you'd like until they tell you (politely) to stop! Email is still highly effective and should be a key lead generation tactic. In fact, according to Mailchimps most recent email marketing benchmark report, email open rates in the health and fitness industry are at 20.06%, which is close to the average across most industries.
The advantage of using email is that it is a cost-effective way of contacting leads. It also is the most easily trackable of all marketing channels and allows you to measure every step along the way.
7. Guerrilla Marketing
Sometimes there is no substitute for a little outside the box thinking. Guerrilla marketing is an advertisement strategy in which a company uses surprise and/or unconventional interactions to promote a product or service. This definitely won't be front and center of y0ur lead generation strategy, and in reality, there is no way to figure out your cost per lead.
However, they can be eye-catching and create awareness in the local area. For example, look at Oranagetheorys guerilla marketing tactics when they first started out.  According to co-founder Dave Long, they tried nearly every type of guerilla marketing campaign. Popular tactics that gained traction included placing 200 orange bicycles around the area and handing out flyers dressed in orange morph suits.
The Top 10 Barriers
Slowing Your Fitness
Business Growth
In this e-book, we will list the most common barriers that
slow fitness business growth and list some of the tips to
help overcome them.
Discover more