About us
Powering
the future of fitness
Innovative fitness management software, helping growing businesses retain and scale their brand and revenue
From fitness
for fitness
As fitness professionals and entrepreneurs, our vision was to create an innovative, agile management software tailored to the specific nuances of fitness businesses. Designed to evolve and grow alongside our customers, we're delivering fresh solutions to help businesses manage and nurture their brands in a highly dynamic industry.
>1,400
Product updates 2020
Our values
One team

One voice, one purpose. We strive to work collaboratively towards the shared goal of helping our customers succeed. We function well, only if we function together.

Growth mindset

We're innovators - we're curious and creative. We're not afraid to be the first to be bold and we're always seeking new opportunities to better ourselves and our offering.

Courage

We're willing to take calculated risks to achieve a better outcome. We're always questioning the status quo, whilst seeking to maintain authenticity with ourselves and our customers.

Determination

Tenacity and perseverance runs through our veins. We don't shy away from challenging situations and we're committed to working hard to achieve our end goal.

Trust

We're all owners here at Glofox. We trust in each other to make good decisions and hold high expectations of ourselves and others. Above all, we're transparent and humble.
Our journey to shape
the future of fitness
January 2014
Zappy Professional services launches custom mobile app and software development services across a range of industries
October 2014
Glofox is born! The Zappy name is dropped and the first iteration of the management dashboard is released from our coworking office space in Downtown Dublin, Ireland
December 2014
Glofox throws it's first holiday party, which was a pretty small affair - 3 guys with some turkey sandwiches
May 2015
And we're off to a running start. We get our first seed funding of €500K coming from Enterprise irelands high potential start up fund and business angel, Growing Capital
July 2015
We move into our first office space in the Dublin suburb of Ranelagh. A basement to call our own!
December 2015
Holiday party number 2 - Getting a little bigger! Now we are 8 and we headed to our local pub for some pints and greasy bar food platters.
January 2016
Glofox narrows its focus to be entirely on the boutique fitness industry and the first version of our branded member app is released to deliver on that promise.
December 2016
Our 3rd holiday party -14 Glofoxers head to a nice BYOB dinner at a local restaurant.
February 2017
We make the office official and move to a lovely open plan in an office park in a Dublin commuter town.
March 2017
Our first institutional round of funding comes through! Notion Capital, Partech Ventures, Tribal VC, and Enterprise Ireland back Glofox with €2M to meet global demand and expand the Glofox team
December 2017
Holiday party number 4 and we're hitting critical mass - 30 of us took over a cocktail bar and have quite the soiree
September 2018
We launch our new brand identity and redesigned website with a cleaner and more fitness focused look.
October 2018
Expanded our presence and opened our office in Galway in the west of Ireland.
November 2018
We launch a new and improved version of our member app with all new back-end architecture + enable global payment processing integrations that allow us to support clients in more parts of the world.
December 2018
We move into an even larger office space in a beautiful historic building in downtown Dublin. We host our 5th holiday party here - we're now up to 50 Glofoxers!
January 2019
We open our office in Sydney, Australia, expanding our operations, sales, and support teams into Asia/Pacific.
February 2019
We hit 1 Million end members booking classes and memberships with our studios!
March 2019
Our Los Angeles, California offices open in Playa Vista, which will serve as our US headquarters.
May 2019
We close a $10M Series A funding round led by Octopus Ventures, with additional investment from Partech, Notion Capital and Tribal VC. We'll be using the funds to expand our presence in the US as well as allocating funds to product, developing additional innovative solutions for the enterprise/franchise market.
Join the Glofox family
We believe in practicing what we preach, which is why we're a totally remote business! We wholeheartedly believe that working in this way not only offers a great work/life balance for our team but it also makes us better at our jobs and enables us to hire the best of the best without location limitations. We have four main regional hubs, U.S., Brazil, Europe and Australia. So, if you fancy joining a curious, energetic and collaborative crew looking to affect a positive change in the world, then Glofox may be the place for you! Check out our careers page for open positions.
See open positions
"The whole team is dynamic and passionate about what they do, making it a great work environment. Everyday is different!"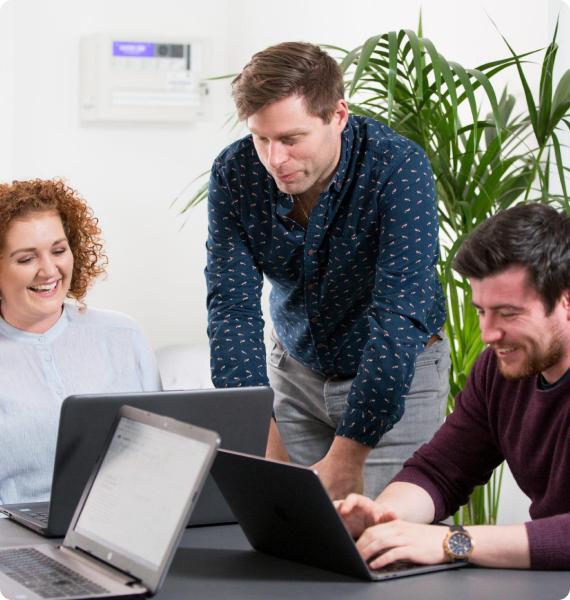 Get a quote
Take advantage of our flexible pricing structure. We'll show you the product and answer all your questions in 30 minutes.
"We align our success with the success of our customers which is why our offering transcends our software. "
Businesses and growing

Countries and growing